.
Garden Diary -October 2014
---
If you have any comments, observations, or questions about what you read here, remember you can always Contact Me
All content included on this site such as text, graphics and images is protected by U.S and international copyright law.
The compilation of all content on this site is the exclusive property of the site copyright holder.
---
October
---
Sunday, 3 October 2014
Open Hearth Cooking at the Bouman-Stickney Museum
Autumn, and time for another open hearth cooking demonstration at the at the Bouman-Stickney Museum in Readington Township, New Jersey.
I always enjoy these - the presenter is always deft, both with their cooking and their presentations. They generally offer a few different dishes, explaining the traditions of the time, foods that were available, and the work involved in getting a meal on the table.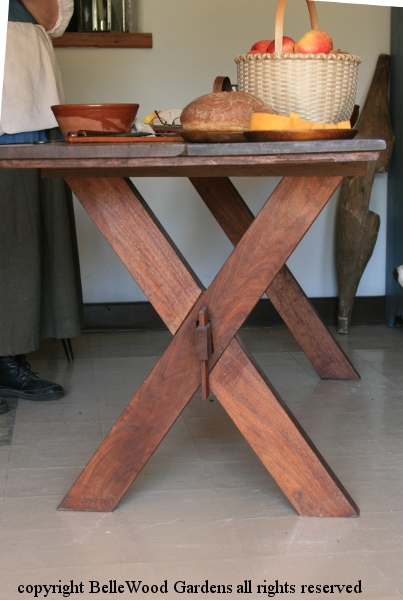 And what a lovely trestle table in the downstairs kitchen, in front of the open hearth.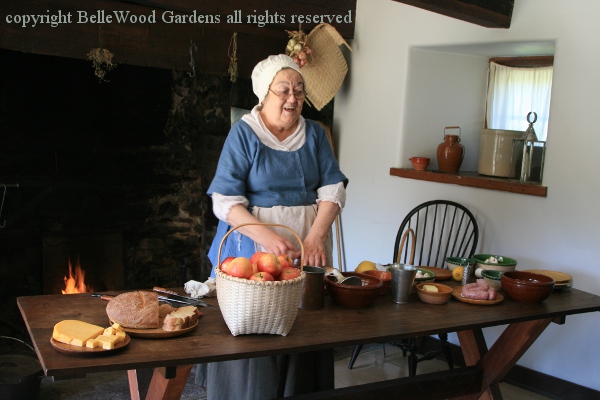 Today the historic interpreter is Joan Healy. Using 17th- and 18th-century Dutch recipes she's demonstrating open-hearth cooking, showing us bread, cheese, and an assortment of dishes from forcemeat to an apple pie.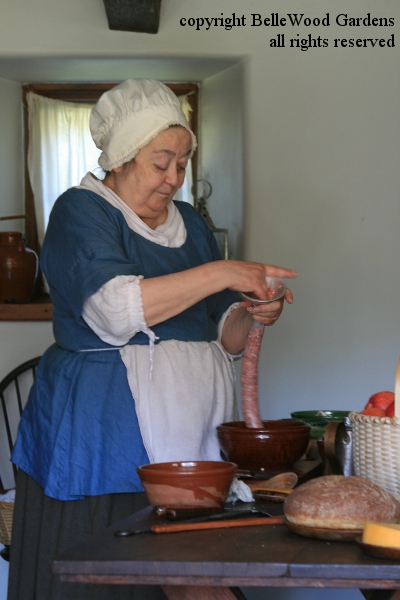 "Forcemeat" is what we would, today, call sausage. Meat, chopped fine, mixed with seasonings, and forced into sausage casing - the cleaned intestines of a pig.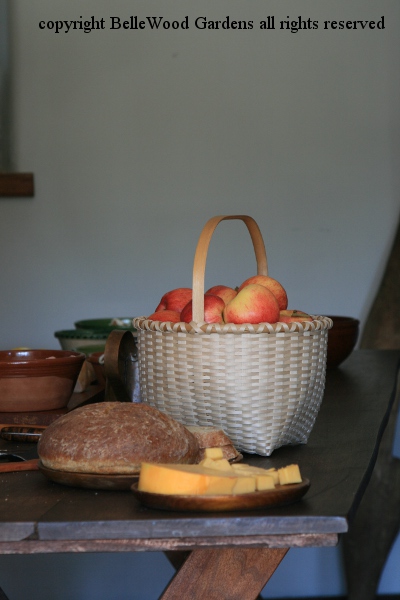 A beautiful basket of apples, needing to be peeled and cored, then sliced. Placed in a buttered dish, topped with pastry, and baked in a Dutch oven - a lidded cast iron pot, with legs. Coals under it, coals heaped on the lid, and it bakes and browns.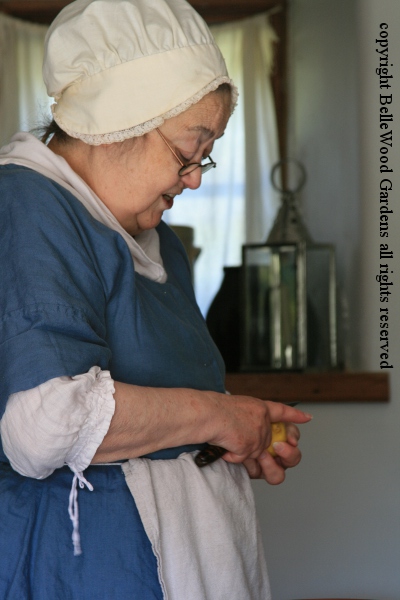 Open hearth cooking is interesting. Nice to observe.
At home, I'm happy to keep my modern stove.
UPDATE: There was another open hearth cooking demonstration in November.
---
Back to Top
---
Back to November 2014
---