.
Garden Diary - September 2013
---
If you have any comments, observations, or questions about what you read here, remember you can always Contact Me
All content included on this site such as text, graphics and images is protected by U.S and international copyright law.
The compilation of all content on this site is the exclusive property of the site copyright holder.
---
September
---
Wednesday, 4 September 2013
Sue's Dahlias
The Tohickon Garden Club holds its monthly meetings on the fourth Wednesday, in the morning. So what are we doing now, in the afternoon of the first Wednesday of September. It's like this - we're having a special get-together to admire Sue's competition quality dahlias. And then, being practically a given for any of our events, we'll have a potluck luncheon. Some women are bringing appetizers, others have salads, entrees, beverages, or desserts. And the weather is exceptionally fine - a clear blue sky filled with sunshine, low humidity, even a gentle zephyr of a breeze. And the dahlias are magnificent!
Sue's expertise is remarkable, from selecting cultivars to planting and cultivating, disbudding for the the largest size bloom, and on to the after care once frost has arrived - digging, cleaning, and winter storage.
Some background: Native mostly to Mexico, each dahlia grows from a cluster of tuberous roots. In the growing season they need a well-drained soil together with ample water. Cultivated by the Inca for food and also medicinal use, dahlias were first seen by the Spainish early in the 16th century. Their complex genetics mean that dahlias come in every color except blue (though lilac and lavender flowers are available.) There's one color mechanism for a petal's ground color, and another for an overlay, often of a strikingly different color. This allows for exotic color combinations, and even fantastic streaking. There's more information about dahlias here.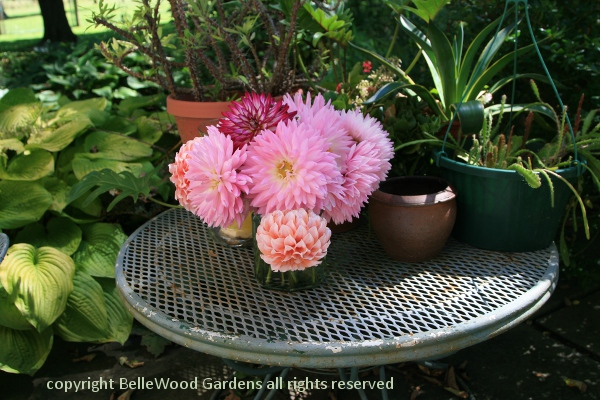 Sue placed a casual little bouquet of dahlias on a patio table to welcome us to her garden.
Dahlias are classified two ways. One is size of the blossom, with classes for pompons less than 2 inches in diameter up to giant (sometimes refered to as "dinnerplate") with blossoms almost 10 inches in diameter or even larger. The other classification is based on the appearance of the flower's petals. Let's take a look at some exquisite dahlias in Sue's garden.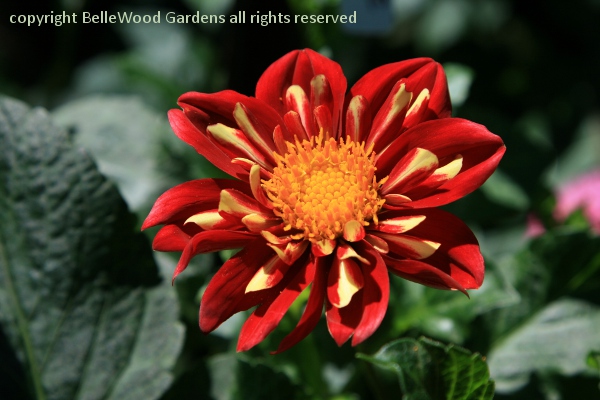 Here are two collarette dahlias. Above is 'Heartthob' and below is 'Bumble Rumble'. A collarette has a single outer ring of ray florettes surrounding an inner collar of petaloid florettes, surrounding the central disc of tubular florettes.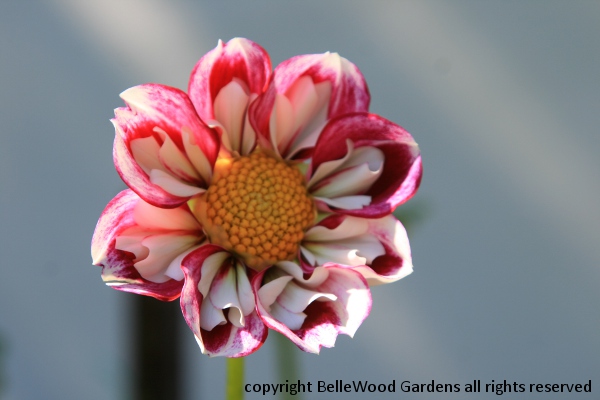 .
'Mingus Toni', above, is classified as an informal decorative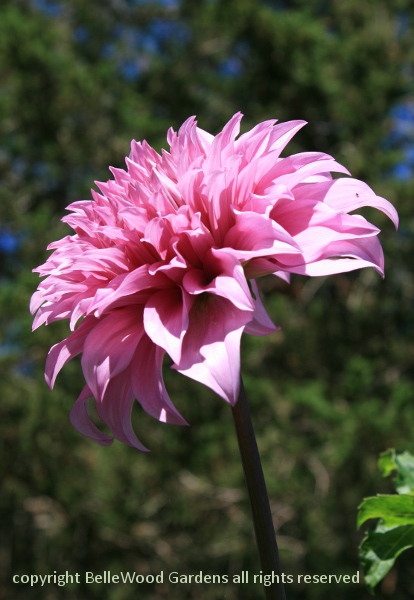 as is 'Vassio Meggos'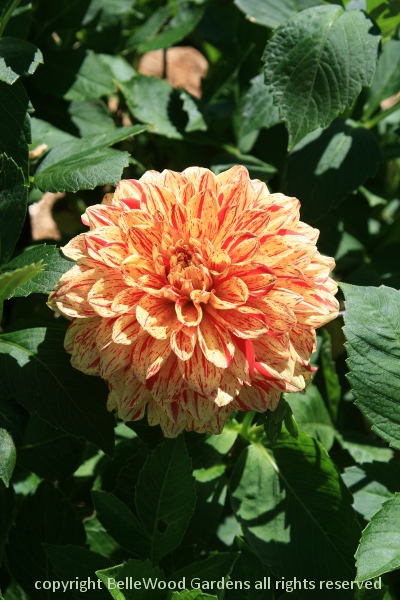 while 'Gloriosa' is considered a formal decorative.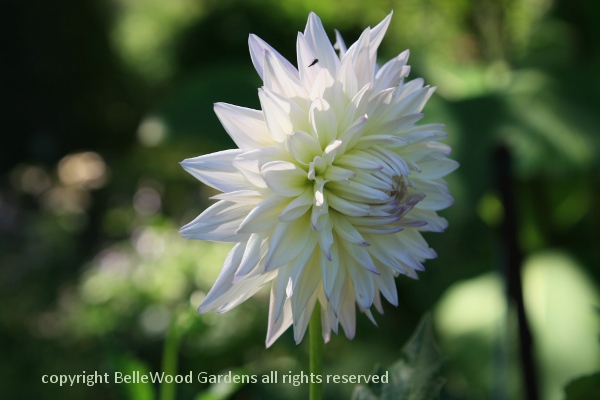 'Alpine Bill' is a decorative dahlia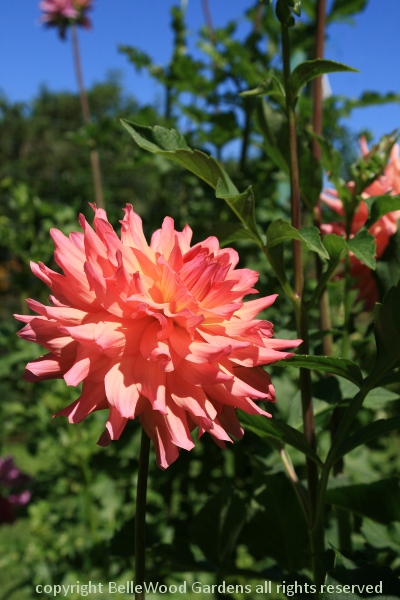 'Just Peachy' is semicactus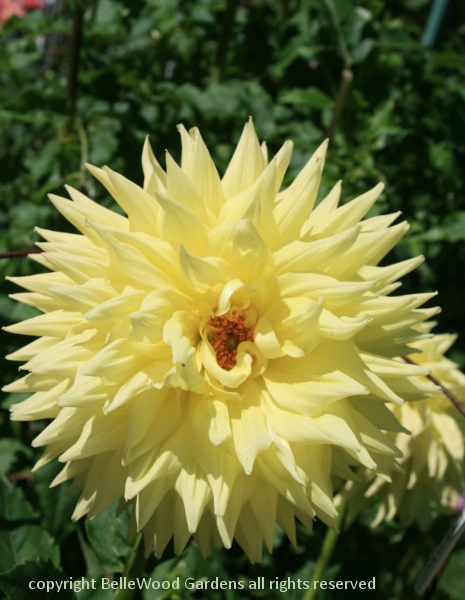 as is 'Trooper Dan'
while 'Camano Sitka' is an incurved cactus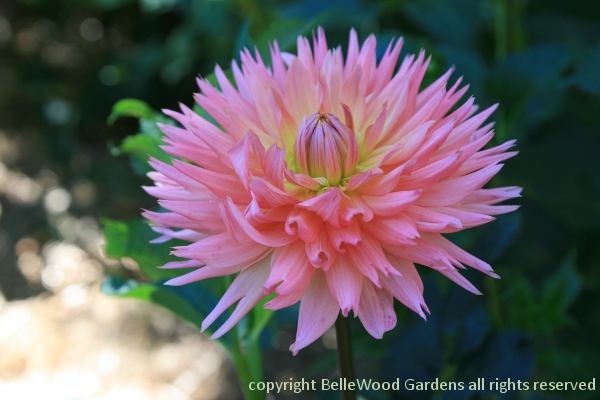 but 'Brookside Cherie' is simply classified as cactus.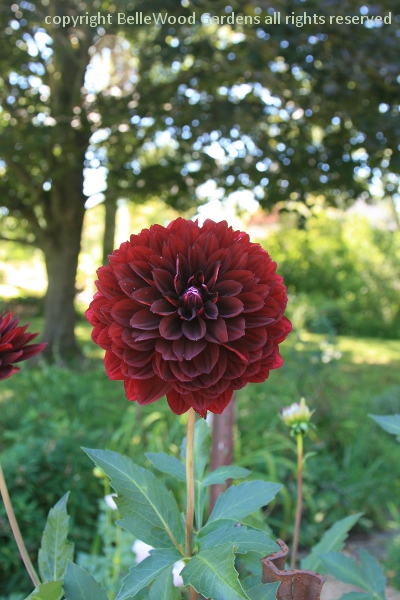 We're not done. 'Hollyhill Black Widow' is a waterlily, dahlia that is, not aquatic.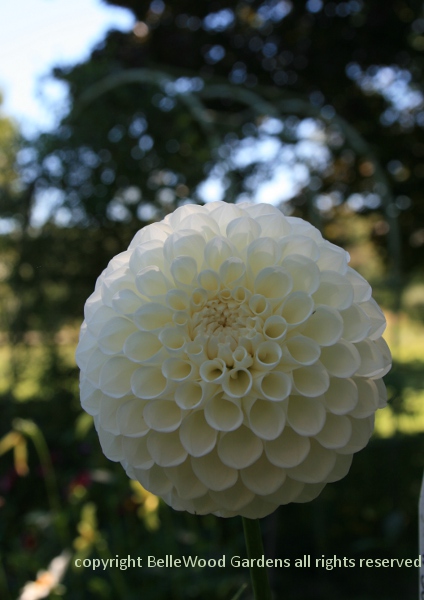 Which is somewhat different from 'Brookside Snowball'.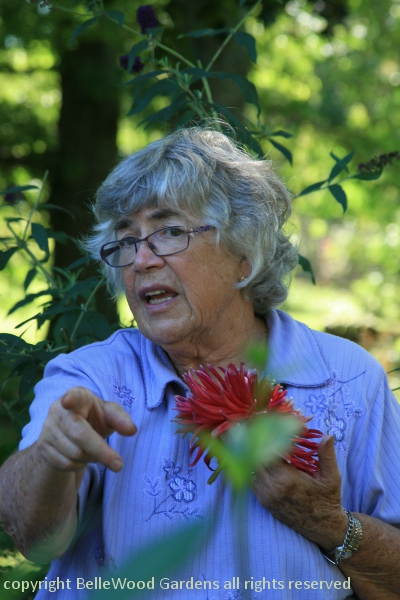 And Sue somehow manages to keep all these classes and divisions in her mind. The dahlias though, all have sturdy identifying labels tied to their suppoting stakes, labels that will be fastened to the dormant tubers sleeping the winter away. But now it's time for lunch. It's plentiful, delicious, and what's better than a meal in the company of friends on a beautiful day in a garden.
---
Back to Top
---
Back to September 2013
---