Garden Diary - May 2013
---
If you have any comments, observations, or questions about what you read here, remember you can always Contact Me
All content included on this site such as text, graphics and images is protected by U.S and international copyright law.
The compilation of all content on this site is the exclusive property of the site copyright holder.
---
Thursday, 16 May 2013
District XI Meeting and Garden Visit
It's been a trifecta week of garden visits. First was the press preview for the New York Botanical Garden's multifaceted Wild Medicine exhibition on Tuesday. Next was the baptisia trial preview at the Mt. Cuba Center in Hockessin, Delaware on Wednesday. So when Joan suggested we head off on Thursday for a garden visit in Zionsville, Pennsylvania I figured "Why not?"The garden of Bob and Christa Stamper is rarely opened. The impetus behind the event was a (mercifully brief) business meeting of the Federated Garden Clubs of Pennsylvania District XI. About 11 members from the Tohickon Garden Club rallied to the call, joining about 30 women from other garden clubs. Just like Wednesday it rained almost all the way there, then changed to broken clouds and some sunshine once we arrived at the venue. Having been advised to carpool as parking was limited we grouped up. Once arrived up the steep driveway, Carol Ann's SUV must have looked like a circus clown car as seven of us made an exit.
And there at edge of the asphalt driveway was an Asian-influenced gateway to the garden.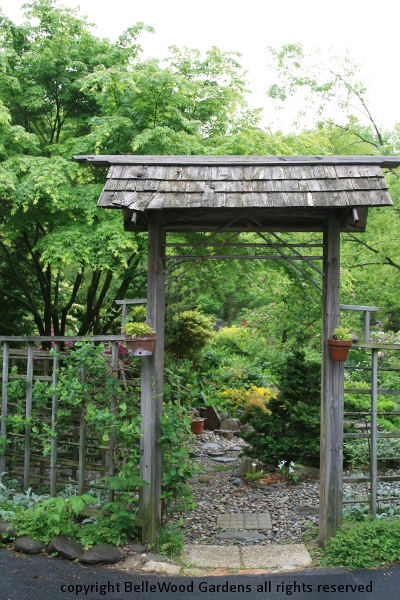 .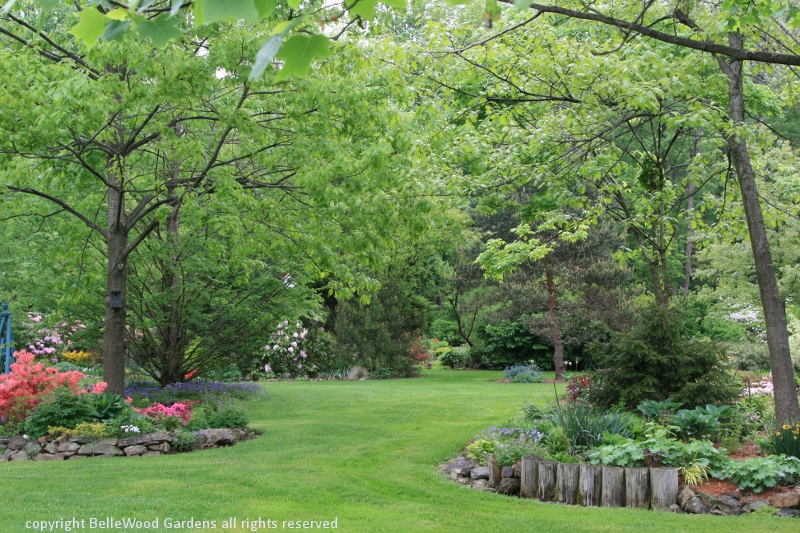 My oh my. The garden covers about 4 acres, rising gently towards the rear. It was originally a farmer's field.
Trees were planted first, even before the house was built. Shrubs and companion plants fill the island beds.
They've increased in size over the years, Bob said. Now it only takes him 2 hours to mow the grass, just half
the time it used to require. Plants are happy, many of them self-sowing in profusion.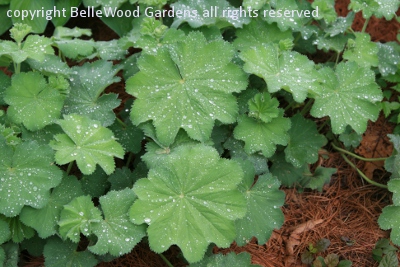 . . . .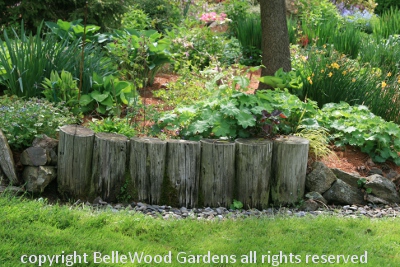 Lady's mantle, Alchemilla mollis, spattered with moonstone-like raindrops. Sections of
telephone poles, I think they are, retaining the soil and leveling a bed.
A magnificent tree peony, its lush, rain-wet red flowers nodding over
towards the Brunnera macrophylla and pachysandra.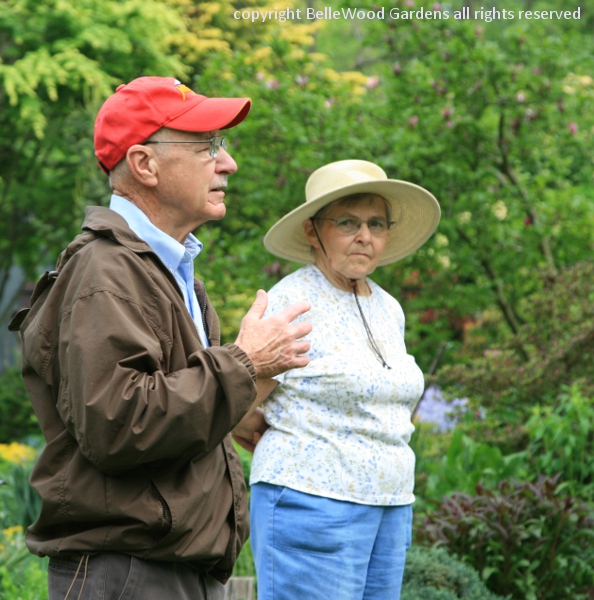 As Christa looks on, Bob gave us a brief history of the garden and its plants,
then a short discourse about his beloved rhododendrons, pride of the garden.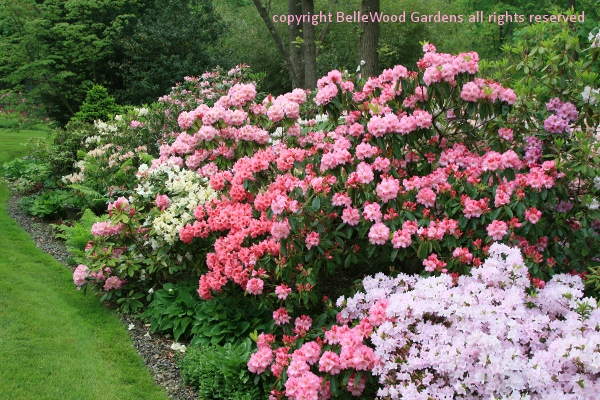 This tangle, for example. Magnificent to see whether from up on the deck or on the ground right next to them.
They were planted quite young, as a stopgap measure. The intention was to replant them later on. Didn't happen.
So they just grew into a dense wall of rhododendrons, towering over ferns and hostas. Taller than people, too.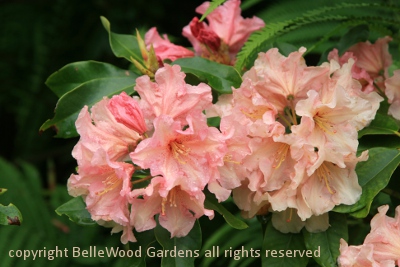 I was particularly taken with this one. Strawberries and cream. Peaches and cream. Delicious.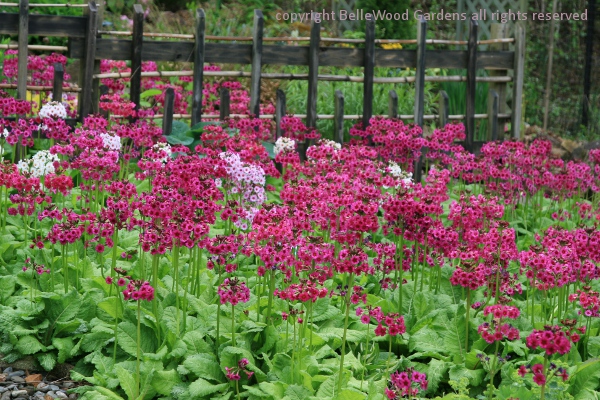 . . . .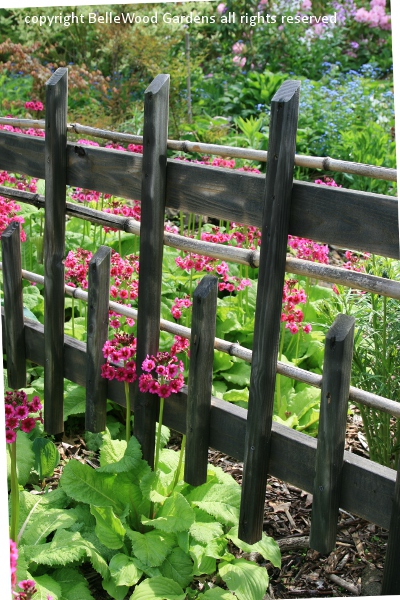 We divided into two groups, host- and hostess-led tours. I began at the front of Christa's group
but tailed off, busily taking pictures. Vivid fuchsia-pink candelabra primroses, Primula japonica, like
a vegetative river pouring through a weathered gray wood and bamboo fence, its openwork intimating
a division but one that does not block the view. Another of the Japanese-influenced aspects of the garden.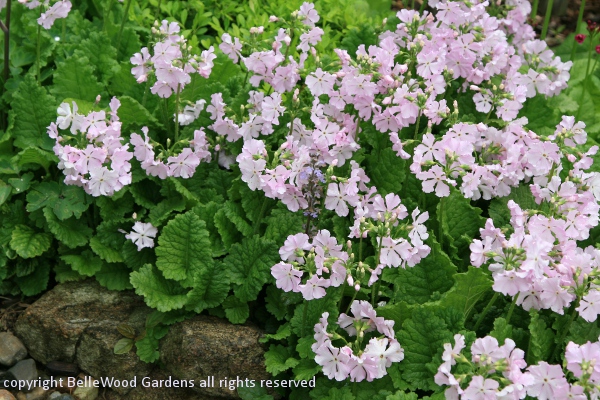 Nearby was a nice group of pale pink Primula sieboldii. It's wonderful, but should you grow it
keep in mind that it goes summer dormant, down to a resting bud. Its Japanese name, sakura-so,
means cherry blossom flower, and even a plant society there, just for this plant, and its different forms.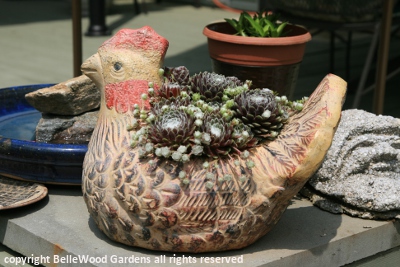 The garden is magnificent in both design and plants. As well, it has its
playful moments. Just consider this plump hen, planted with hen-and-chicks.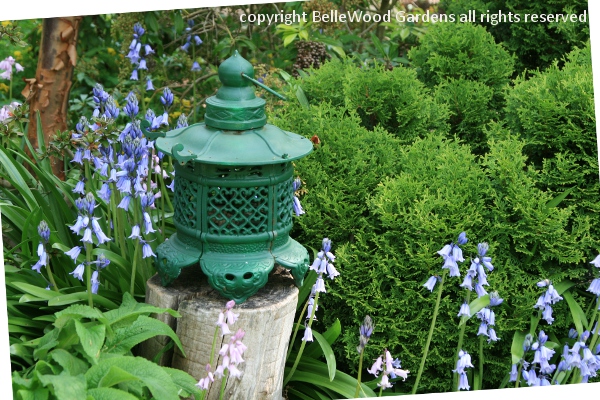 A jade green iron lantern surrounded by Spanish bluebells, Hyacinthoides hispanicus.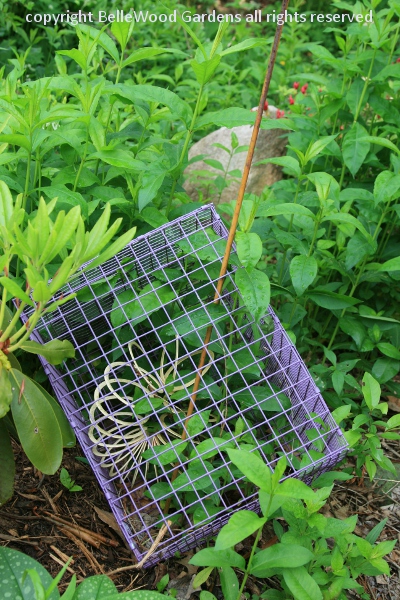 I asked about this Slinky in its purple cage. It's like this: Bob knew someone
who raised chinchillas. High class manure for Bob's garden. When his acquaintance
got out of the chinchilla farming business Bob asked for some of the cages. And
turned them into garden art. Just as he did with the suspended window below.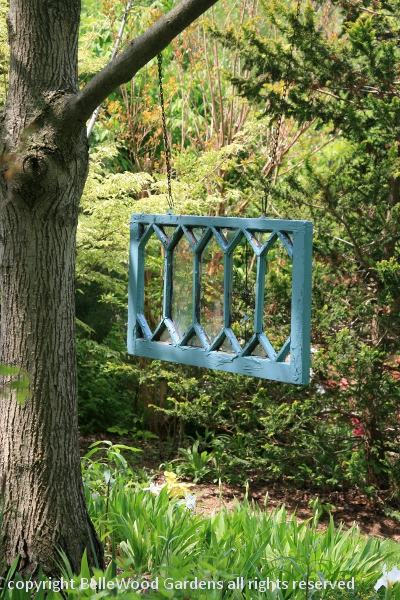 .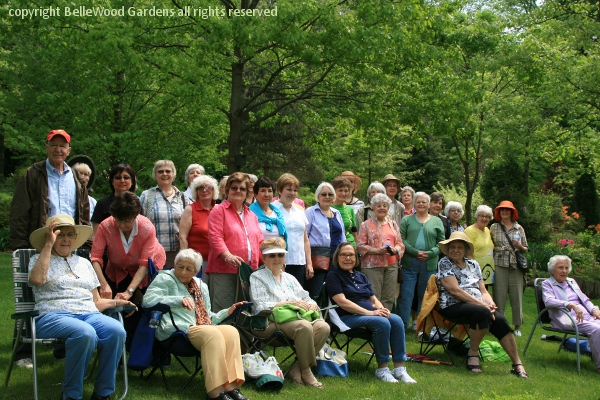 Bob and Christa to the left, and a garden full of happy visitors. Our group, Christa said,
is the largest they have ever hosted. Too many people are hard on the garden, wearing
down the turf and crowding on the plants. Lucky me, to finish the week's trifecta here.
---
Back to Top
---
Back to May 2013
---