.
Garden Diary - September 2013
---
If you have any comments, observations, or questions about what you read here, remember you can always Contact Me
All content included on this site such as text, graphics and images is protected by U.S and international copyright law.
The compilation of all content on this site is the exclusive property of the site copyright holder.
---
September
---
Sunday, 8 September 2013
Sheep at Their Show
If your ideas about New Jersey consist of metropolitan areas such as Trenton or Newark, Newark Liberty airport and oil refineries, think again. We're the Garden State for good reason. We have farms, and as well as produce from asparagus to peaches and tomatoes, many people keep sheep. And this is the weekend that the Garden State Sheep Breeders are having their 19th annual Sheep and Fiber festival. Two days filled with breed shows for Baby Doll Southdown, Northeast Regional Jacob, and Shetland sheep. As you could expect there are larger numbers of these three breeds but different sheep breeds are also repesented. Other competitive events. Weavers weaving, spinners spinning, and vendors selling everything from fleece to fiber. There's a sheep to shawl demonstration, a spin-a-thon, even a sit 'n knit area where you could relax and perhaps even accomplish a few rows on the latest UFO (that stands for unfinished object, something of which knitters usually have several.)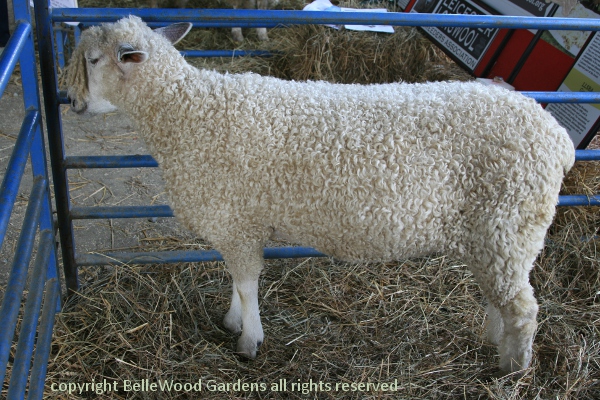 Large framed, dual-purpose sheep, the The Leicester Longwool have a heavy long-stapled fleece.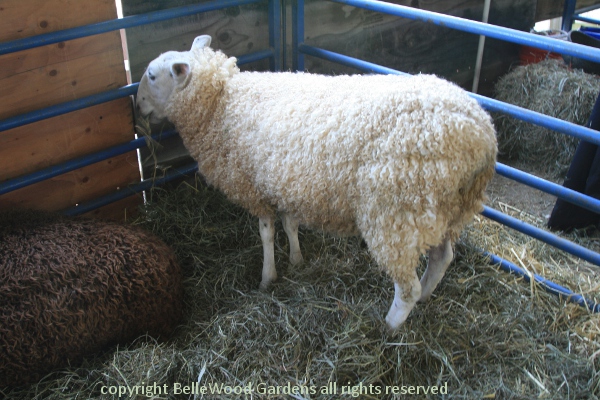 Though robust and large in size the long-wooled Border Leicester are also docile sheep.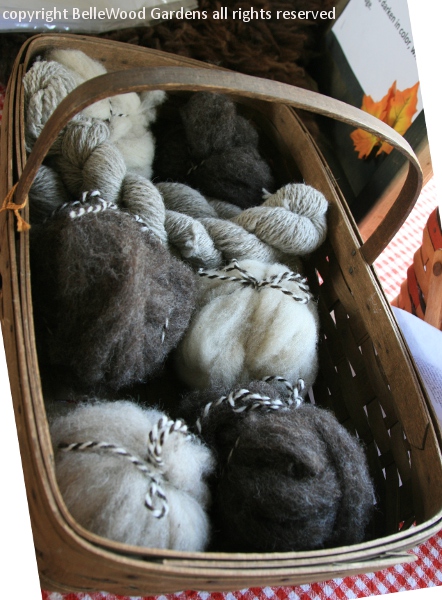 There are competitive breed displays. One or two of the particular breed are in a pen adjecent to an informative display that provides some information on the history of the breed, its characteristics, and uses. Handout material is available for the public. And examples of the fleece and / or fiber, perhaps even something created from the fiber are also part of the display. Here's a basket of CVM (California Variegated Mutant) yarn and roving.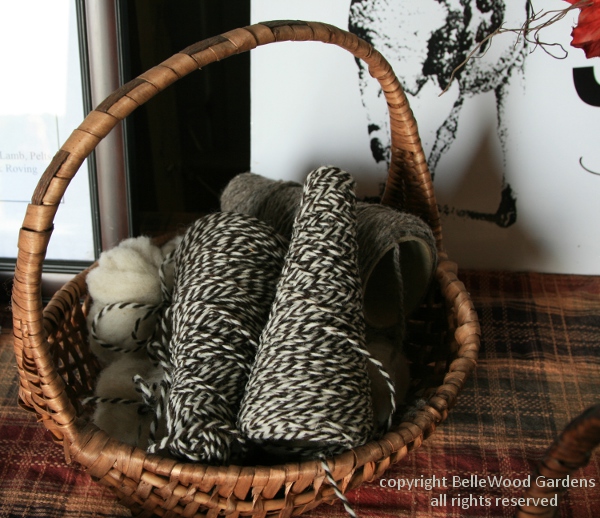 This basket has Jacob sheep wool that's been spun into carefully plied yarn and wound onto cones.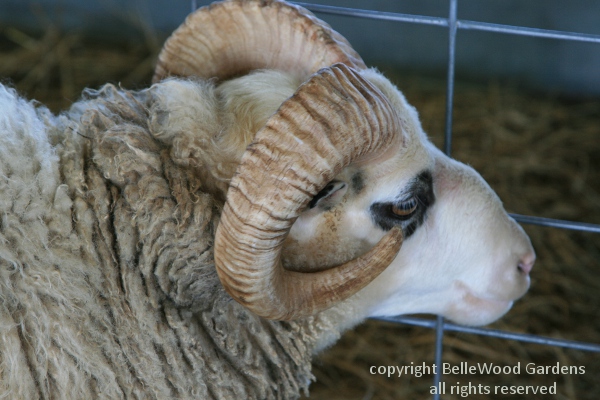 Shetlands are a popular breed with several different colors of fleece. Hardy, thrifty, and easy keepers, they have very fine wool and are used for meat, and for conservation grazing. A smaller sheep, they are easy to handle. The two rams seen here are handsome examples of the breed.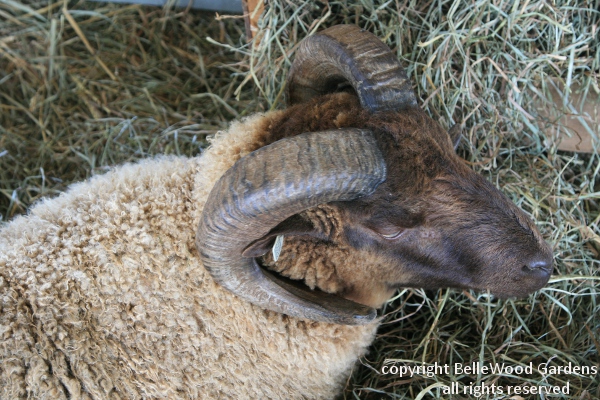 .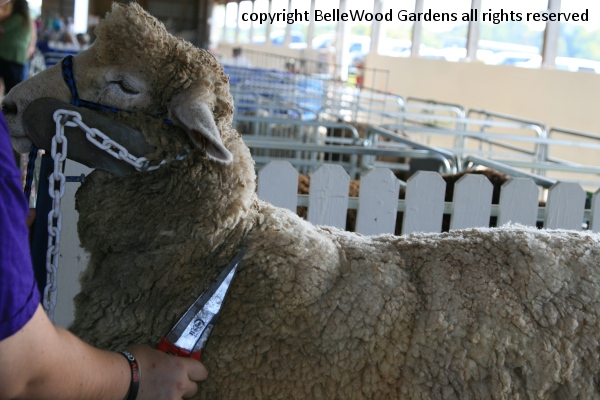 It's important to prep for the show ring, and nothing could be further from shearing. Standing more or less patiently on a grooming stand (the head collar helps) this sheep has its coat tidyied up. I saw legs being shampooed and rinsed, even a vaccuum-blower removing the last few tufts of wool for that immaculate look. There was one sheep, so meticulously trimmed and tidied that it looked like a marble statue,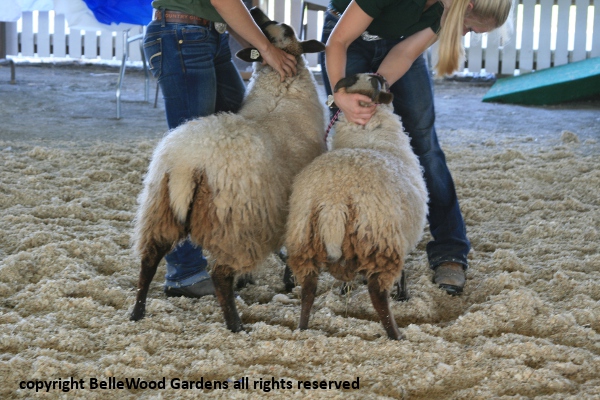 A class for dam and lamb, that's a ewe and her offspring.
Shetland sheep fleece class, only here the fleece is still on the sheep.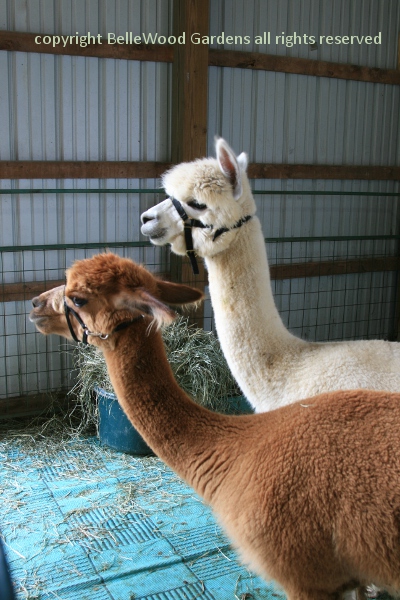 As well as the numerous sheep present in the two buildings, today there were also a couple of suri llamas and these two alpacas.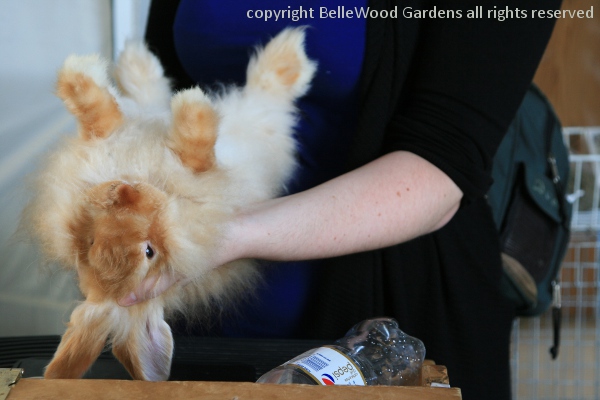 Even a few angora rabbits. This one, flat on his back having its head rubbed seems almost stupified, just calmly laying there and enjoying the massage.
And here are some more events at the festival, from shearing to sheep herding and the shepher's lead.
---
Back to Top
---
Back to September 2013
---