.
Garden Diary - July 2013
---
If you have any comments, observations, or questions about what you read here, remember you can always Contact Me
All content included on this site such as text, graphics and images is protected by U.S and international copyright law.
The compilation of all content on this site is the exclusive property of the site copyright holder.
---
July
---
Sunday, 14 July 2013
Caging the (Cultivated) Blueberry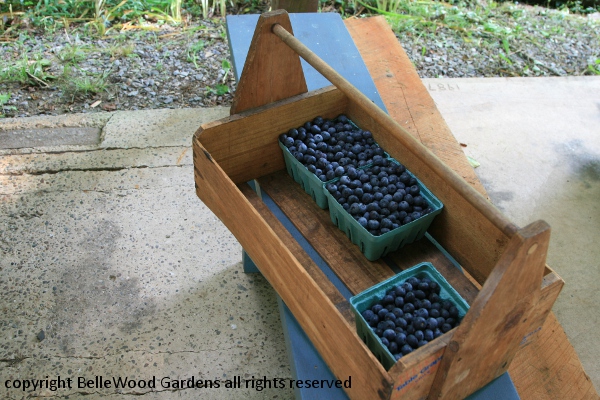 I got home somewhat late yesterday. Paul said, "Dick called. He wants to know if you want any blueberries. He'll be picking tomorrow morning." Silly question. Of course I want some, two quarts to be exact. Called back and it's all arranged.
I love fruit. Especially fruit in season. Even better, locally grown fruit that hasn't been picked hard as a rock and shipped across the equator to sit in a store. Dick has a wonderful orchard, as you, dear reader, might have learned about in this entry from last month, about cherries.
The bushes are indeed loaded with berries. Delicious! There's a problem though. People are not the only ones who love blueberries. Birds do too. And they'll come and strip the berries leaving none for us. So Dick nets them.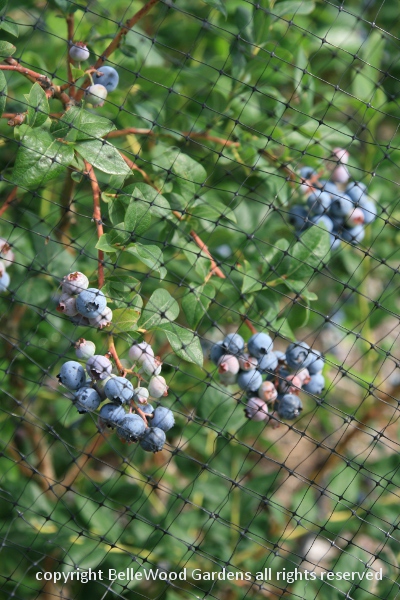 It's not as simple as netting the cherry trees which have sturdier branches that can easily support the netting. Blueberries have twiggy, more flexible branches. And the clusters of blueberries at the ends of the branches would poke through the draped netting so birds could still harvest much of the crop.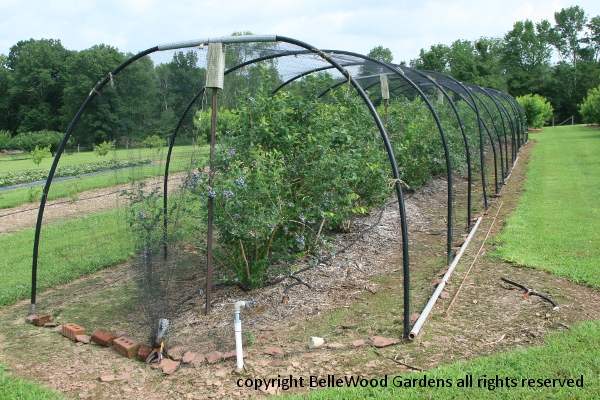 Instead Dick has a cage system for the whole row of blueberry bushes. Simple yet elegant, and effective. The design makes it easy to put the piping and netting up each year, and take it down again after the blueberry season is over. Carefully folding the netting up and storing it away means that it lasts for about 5 years. If it were left up year-round the ultraviolet in the sunlight would degrade it more quickly. The caged beds are 10 feet across and as long as necessary. Ten feet isn't really wide enough, now that the bushes are so mature. When he and Mike go in to pick they're hunched over at the outside of the row, even down on their knees. When the new blueberry bushes he planted just this spring come into bearing he's decided to make the cage system 12 feet wide.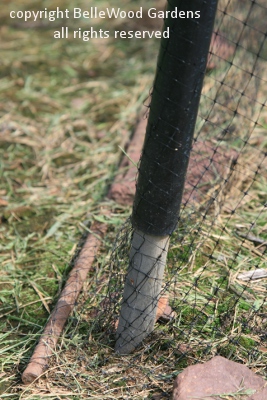 The flexible black pipe is well piping with an inside diameter of 1 inch, slip-fitted over galvanized steel pipe with an outside diameter of 1 inch. What you have to do, he said, it check how the pipes fit together - not so tight that it is difficult to fit them together, or so loose that the black pipe could wobble around. The galvanized pipe protrudes above ground for about 12 to 18 inches.He made the system using recycled material that he had aound the place, but said that the black pipe could be bought from a well driller. There are a few internal supports. They are each fitted with a block of wood that has a slight channel to better secure the black piping as it arches over. Where the netting drapes down to the ground it is weighted down with metal pipes, bricks, stone - whatever comes to hand. And the ends are gathered together and clipped, easy to undo and get inside to harvest.
I always plan on buying two quarts at a time - one for us to eat, and one for the freezer.
Beautiful blueberries.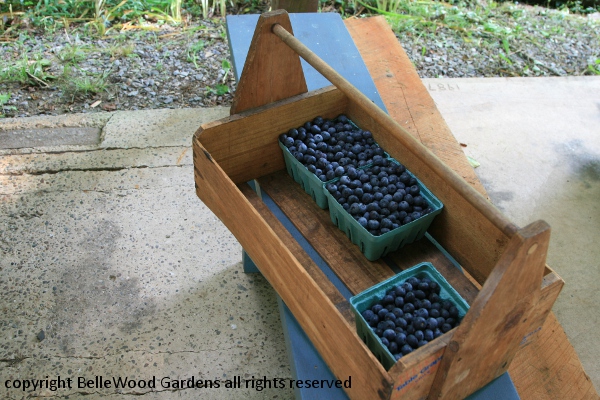 Fresh blueberries are wonderful any way you use them. Beautiful to look at with canteloupe or honeydew melon and some yogurt for lunch. Mix with peaches and bake a cobbler or crisp. Or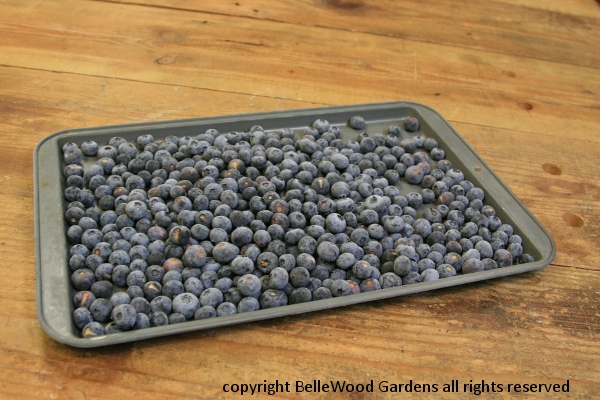 freeze them. So simple. Just rinse, pat dry, and spread out on a shallow rimed cookie sheet. When frozen, pack into a plastic freezer bag and save for later use. I like pint size, very useful. Frozen blueberries are great in summer too. Eat as a refreshing snack on hazy, hot, and humid days. Make a smoothie. Or, wait until winter to bake a batch of muffins. Enjoy, along with summer memories.
---
Back to Top
---
Back to July 2013
---