Garden Diary - May 2013
---
If you have any comments, observations, or questions about what you read here, remember you can always Contact Me
All content included on this site such as text, graphics and images is protected by U.S and international copyright law.
The compilation of all content on this site is the exclusive property of the site copyright holder.
---
May
---
Tuesday, 14 May 2013
Wild Medicine at the New York Botanical Garden
Plants were the first pharmacy. Willow bark. Foxglove leaves. Raspberry leaves. Why these? Willow bark tea, mentioned by Hippocrates and used since antiquity, is an effective way to treat headaches, pains, and fevers. It contains salicin, an ingredient in aspirin. The use of foxglove leaves for heart conditions was first described in the English-speaking medical literature by William Withering, in 1785. The genus name of foxglove is Digitalis, and the plant contains digoxin. Dried raspberry leaves were something my mother would brew into a tea to "break" a fever. Our medicine cabinets today are stocked with pills in bottles, bought over the counter or by prescription at a pharmacy. Just as digoxin was isolated, then refined and manufactured in a pharmaceutical plant after its original use as a preparation made from foxglove leaves, what other treatments for a diversity of ailments might exist in the natural world. Treatments that might be well known to the inhabitants of local communities in more isolated parts of the world. Wild medicine.
This is the focus of the current exhibition Wild Medicine: Healing Plants Around the World at the New York Botanical Garden. It is a fascinating four month long event that focuses on ethnobotany / ethnomedicine, a multifaceted exhibition incorporating many different aspects of an institution so often thought of as primarily a pretty place to go for a day outdoors amidst the flowers. There is the Institute of Economic Botany, which focuses on how people use plants in many aspects of their lives: for food, for medicine, and many other life-sustaining purposes. If that sounds too academic for your outing, think again. The tropical rain forest and desert galleries of Enid Haupt Conservatory will feature displays of more than 500 species or cultivars of medicinal plants, one of the largest exhibitions of medicinal plants ever mounted. Most of them grown in the Botanical Garden's glasshouses as part of the permanent displays, mature specimens rather than juvenile potted plants.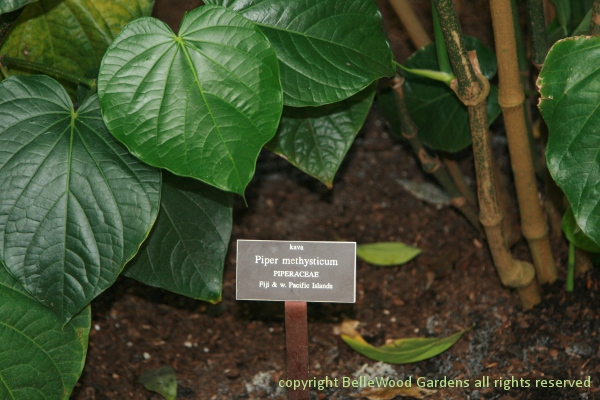 Kava, Piper methysticum, for example. Consumed throughout the Pacific Ocean cultures of Polynesia where kava is used primarily to relax while remaining alert and clear minded. Traditionally prepared by grinding or pounding the roots, after which a little water is added and the kava then consumed as quickly as possible. The medicinal effects are soon apparent as people become relaxed, less inhibited, and tension dissipates. Used at social gatherings, kava is offered to guests at weddings, to celebrate births, and commemorate the dead at funerals. Researchers believe the kava plant offers great potential for treatment of anxiety disorders.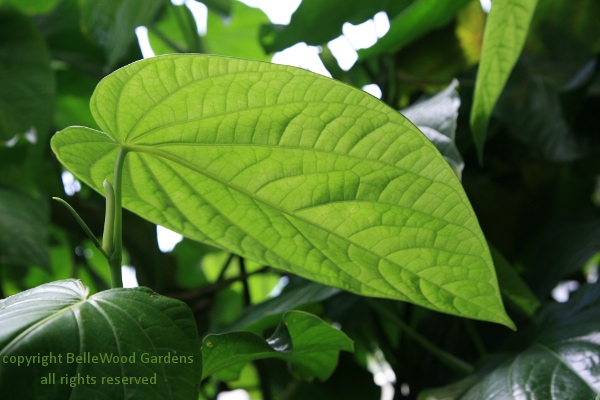 Where it grows the plant is held in high regard. Here is a wild medicine that could offer clinical benefits in the treatment of sleep disturbances, anxiety, and stress. How do we, people from far away, learn of its excellent properties? There's not a book that can be read. The knowledge is often an oral tradition, passed down from generation to generation. Garden scientists are among the researchers who travel to the far corners of the world and study with the local shamans who have expertise with these traditional medicines. Other plants, some recognized for centuries such as the quinine, found in chinchona bark and used to treat malaria are part of the exhibition. Others, like rosy periwinkle, Catharanthus roseus, long grown as a garden ornamental in the West but only for a few decades as a highly successful treatment for childhood leukemia.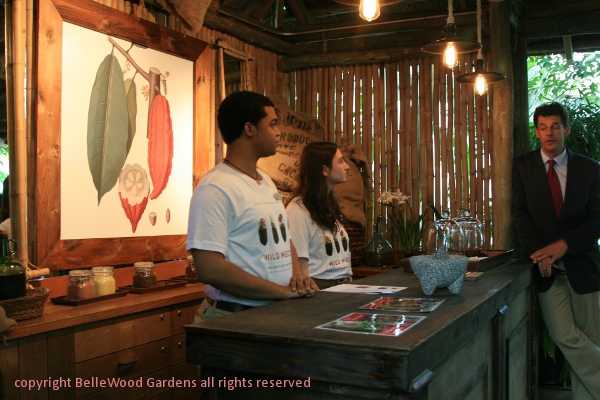 Or how about cacao, which most of us know as chocolate? There are three interactive stations as part
of the Healing Plants Around the World exhibition. Here in the lowland tropical rain forest gallery
a couple of interpretive guides will share the story of chocolate and offer a hands-on opportunity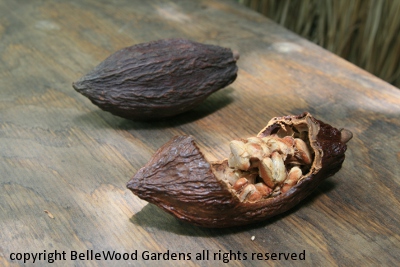 . . . . .
to see the cacao beans in their huge pod, and the cleaned beans but even grind some cacao beans in a
traditional stone mortar, using a stone pestle to do so. Health benefits of cacao are found in the most
lightly processed form, high in cacao content, dry and bitter tasting. Chocolate lower in cacao and
"adulterated" with sugar and dried milk may taste delicious but won't do much for hypertension.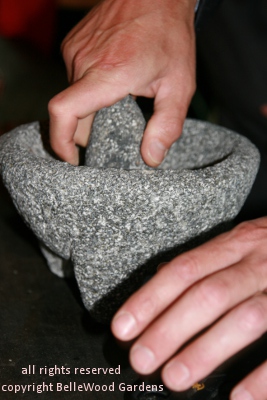 .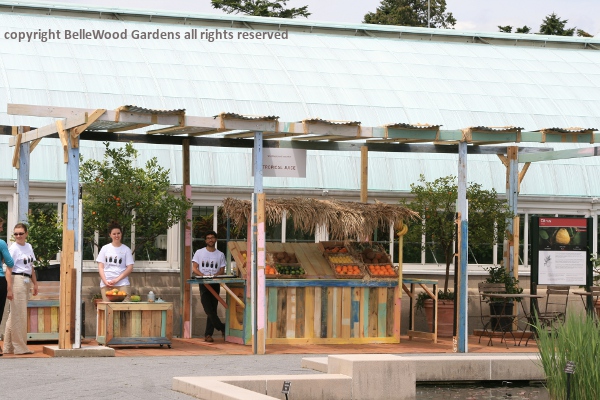 In the Conservatory Courtyard near the hardy water lily pool is another of the interactive stations
this one for tropical juices: citrus, papaya, and coconut. Today we take the ready availability
of citrus for granted, yet at one time a single orange would be a special treat in a Christmas stocking.
Here, visitors can learn about the healing properties of these popular beverages while sampling them.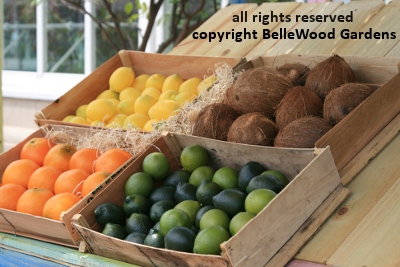 Scurvy, a vitamin deficiency disease was a serious issue for 18th century sailors spending
extended periods at sea. Fatigue, lethargy, bleeding spongy gums might be just the beginning,
advancing to lost teeth, even death. Citrus fruit, high in vitamin C, was the cure and even though
they drank lemon juice, somehow British sailors gained the nickname of "limeys." Alas, no gin
to go with it. (And by the way, it's chinchona bark, quinine, that's in tonic water). They drank rum.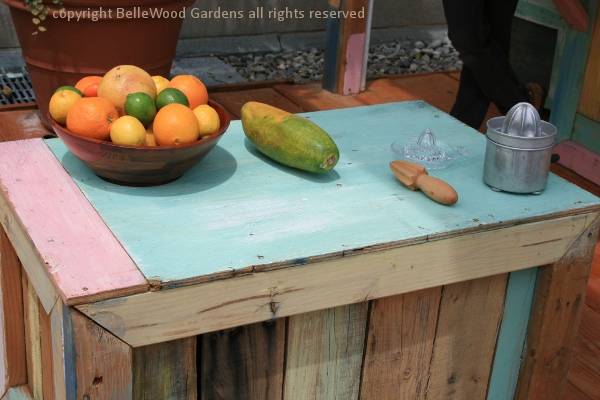 .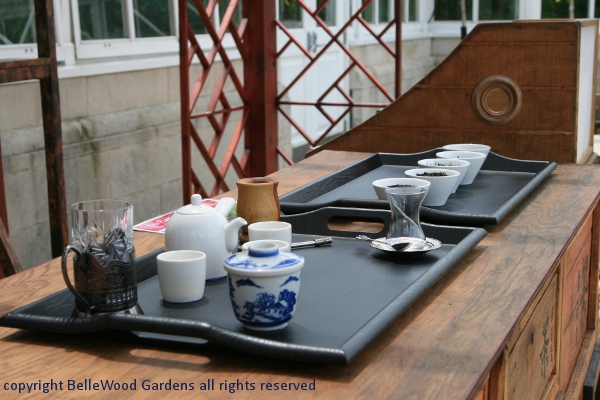 The third interactive station, near the tropical water lily pool, has its focus on that popular beverage, tea.
Visitors will again be offered tasting samples to be savored while they learn about the differences between
fermented black tea, non-fermented green, and semifermented white tea, and the medicinal properties of tea.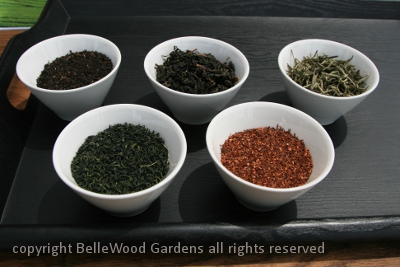 .
How do we learn about wild medicine? There's the oral tradition, whether from a shaman or your mother. Today you could hop on the Internet and see what might show up. And before that? Before that, there were books, even before printing, way back. Another magical part of the Wild Medicine exhibition is The Renaissance Herbal in the Rondina and LoFaro Gallery of the LuEsther T. Mertz Library. Go across the grounds to the seahorse fountain in front of the Beaux Arts building at the end of the tulip tree allee. Go up the impressive stone steps. Just inside is a small elevator on the left. Take it to the 6th floor, and the gallery in on your right. There, you will find a superb array of magnificent herbals, all but one from the Library's own collection. I'll have more to say in another entry about this event, but let me pique your interest with this example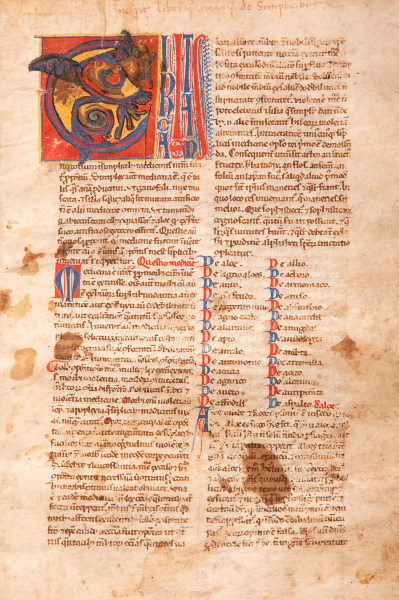 image courtesy of the LuEsther T. Mertz Library of the New York Botanical Garden
the Circa Instans a manuscript on medicinal herbs by Matthaeus Platearius, a twelfth century physician
from the medical school at Salerno. Hand lettered on vellum, illuminated capitals in blue and red. The title page.
This is the oldest copy known of this book. Come look, and appreciate the knowledge passed down
through the ages. And appropriately enough, the topic, the focus of this ancient manuscript is Wild Medicine.
After you have wandered through the other galleries of the Enid Haupt Conservatory do be sure to enjoy
The Italian Renaissance Garden display in the Seasonal Gallery. This is indeed a multifaceted event. Enjoy all of it.
The exhibitions are open from May 18 through September 8, 2013. The Garden is easily reached by Metro-North Railroad and subway, as well as by car. Open year-round Tuesday through Sunday, and Monday federal holidays, from 10:00 a.m. to 6:00 p.m. For ticket pricing check their web site, or telephone 718.817.8700
---
Back to Top
---
Back to May 2013
---