.
Garden Diary -November 2013
---
If you have any comments, observations, or questions about what you read here, remember you can always Contact Me
All content included on this site such as text, graphics and images is protected by U.S and international copyright law.
The compilation of all content on this site is the exclusive property of the site copyright holder.
---
November
---
Monday, 11 November 2013
Holiday Train Show at the New York Botanical Garden
Certain events hallmark their season: fireworks for the Glorious Fourth, pumpkins and trick or treating for halloween, turkeys for Thanksgiving - and the holiday train show at the New York Botanical Garden to kick start the winter holidays. For 22 years the wizards at Applied Imagination have been turning garden debris into magical buildings where fairies come to stay. Laced together with train tracks that cross airy bridges above your head, clickety-clack past historical buildings (some that still are in this world, others that once were but no longer exist) and bring delight to young and old. Come with me. We'll enter the Enid Haupt Conservatory into a world of wonder. But first, there's a special tent that covers the broad walkway leading up to the conservatory. Up the steps, and here's your first introduction to the holiday train show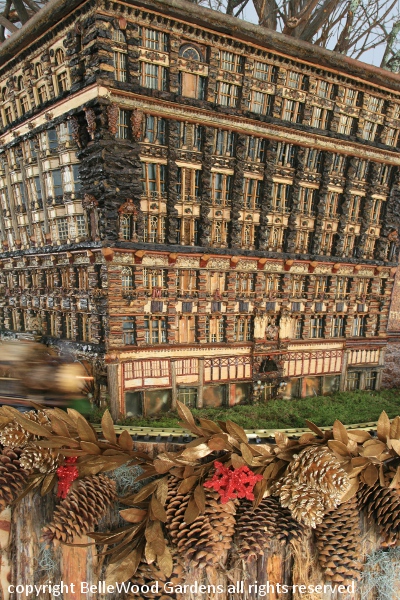 Macy's iconic flagship store, every detail faithfully created from pods and cones, twigs and berries, bits and pieces. The blur on the left is a G-scale train rushing round and round.
There's always something in the Palm Dome pool. One year it was an airport with a Gooneybird, a Concorde, and other airplanes - all made of bits and pieces you and I might compost. This year the airport has been moved into the Seasonal Exhibits gallery. And the pool has a magnificent landscape that has layers and layers of buildings and structures and the most adorable holiday train. The Statue of Liberty is here, and the Little Red Lighthouse (that's usually under the great gray bridge, and mansions from the Hudson River Valley.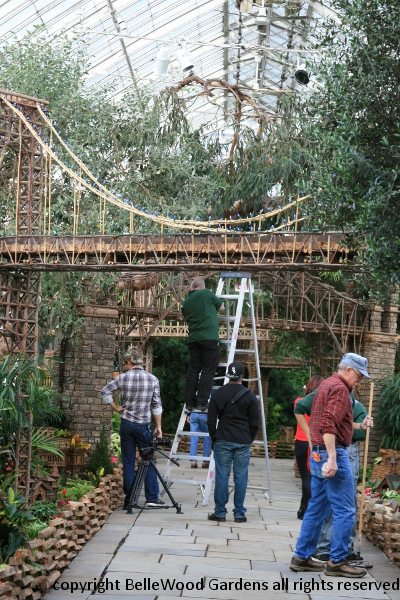 It's no easy job, turning the glasshouse into a wonderland. You might think that after 22 years they'd have all the buildings and bridges and whatnot that they need. Well, yes and no. They do have 150 or so buildings, that spend their off-display time packed away into two Pods that sit out of sight behind the maintenance building. Some set pieces, like the bridges high overhead, go in the same location year after year. Since an unchanging repetition would be dull, the wizards of Applied Imagination refresh the displays by rearranging the layout, and think up something new each year.
Brownstone buildings waiting to arrive at their exhibition location.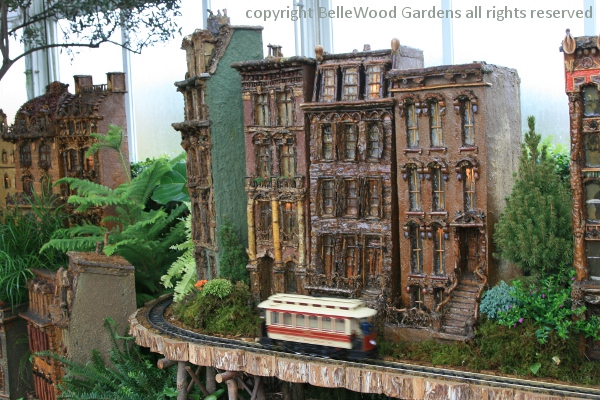 And it's not just the buildings. There are trains and trolleys, looping around, appearing from a tunnel, circling out of view as they vanish behind the lush plant growth (after all, this is a conservatory), or back-and-forth on a bridge. So how do they do it? With tremendous attention to detail.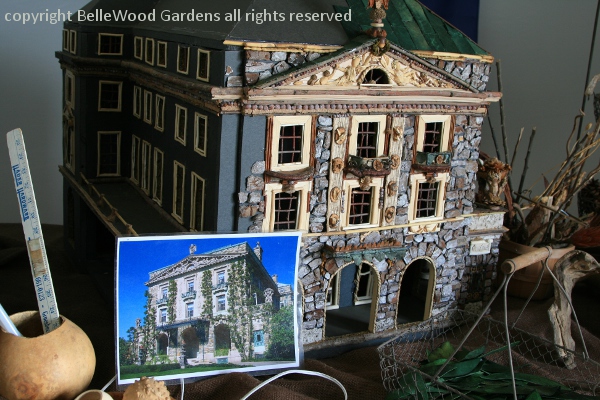 Another part of the exhibition is the Artists Studio in a tent just outside in the waterlily courtyard and where you can see the stages of a building's creation. Start with a detailed photograph. Create a base out of from foam board. Cover it with pine bark "stones," then embellished it with more than two dozen different bits of twigs and seeds and vines and tendrils to create an elegant mansion where fairies hold their midsummer magic dances. This year there are fanciful buildings that look like animals - a monkey, a cobra, a hedgehog (but Paul Busse of Applied Imagination says it's a porcupine) and more. And buildings that are wonders of the world - the leaning tower of Pisa, the Haagia Sophia. Imagination, applied.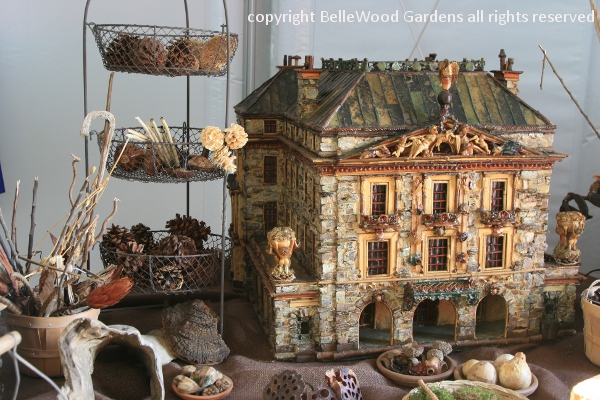 .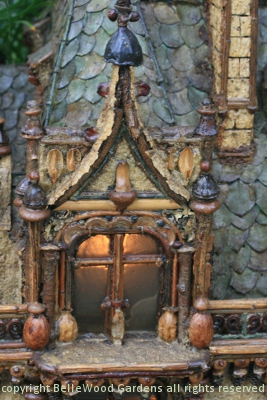 .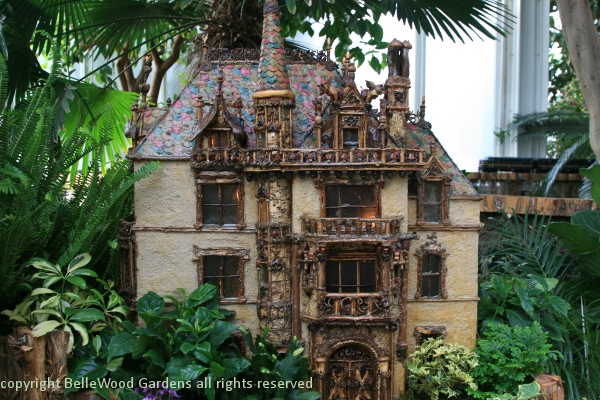 The closer you look, the more there is to see. Here is the William K. Vanderbilt mansion. In 1883 it was built at 660 Fifth Avenue. Demolished in 1926. Here, lean a little closer . . . . that's it. Just look at the detail of the window inset in the mansard roof. Or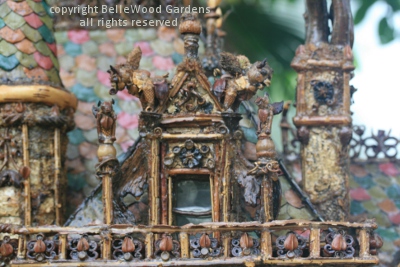 marvel at the gargoyles, right of center, above the balcony.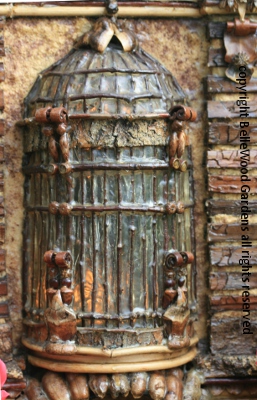 . . . .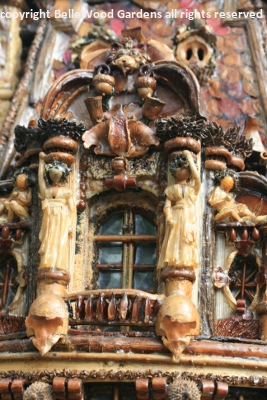 Just see the intricate details of the oriel window on the left
and the caryatides on either side of the balcony on the right.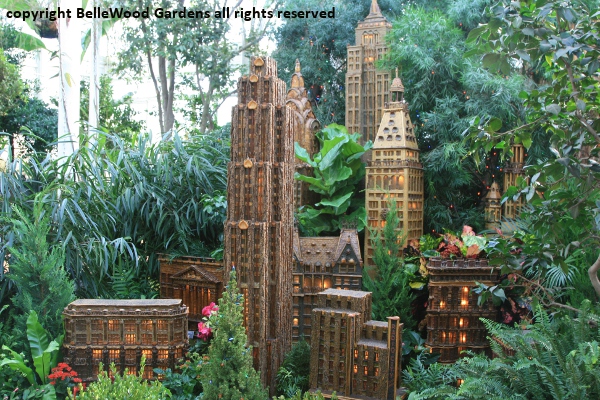 Prefer skyscrapers? They're here too. Rockefeller Center, the Chrysler Building, and more.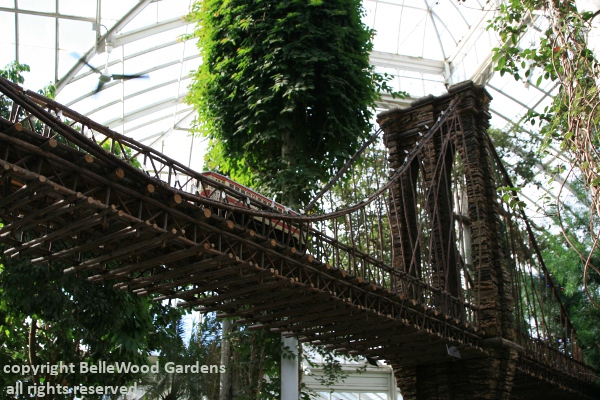 I love the bridges, built from branches and vines, trolleys scuttling back and forth overhead.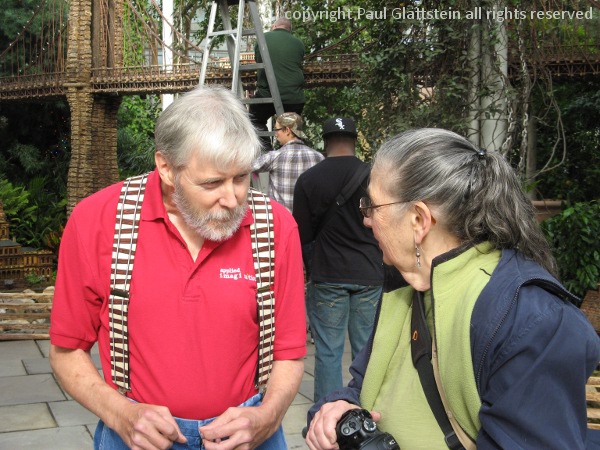 Paul Busse has endless patience. Not just with the imagination-made-real of the holiday train show, but also with my questions (also endless, I am often told.)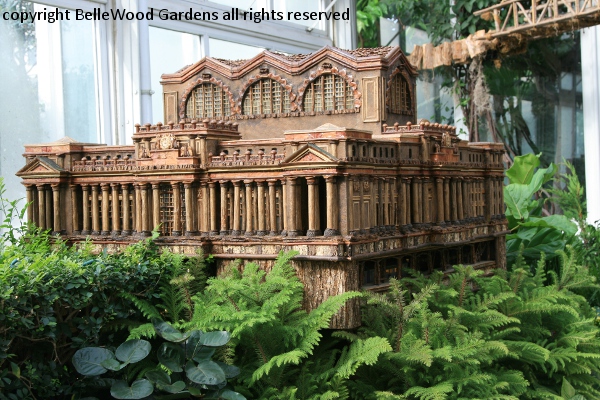 I think Grand Central Station is one of my favorites.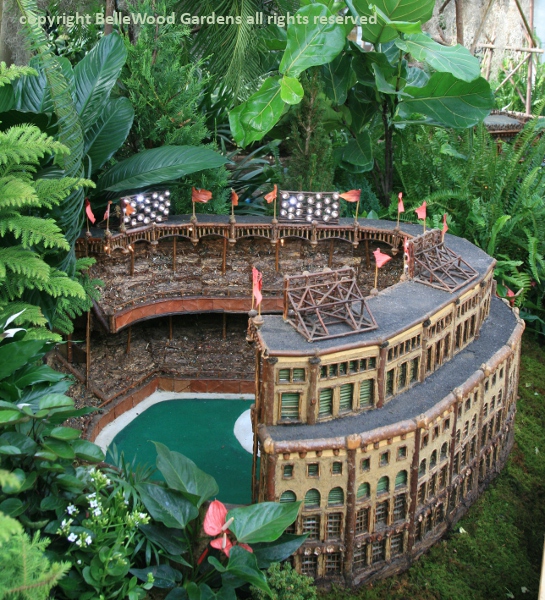 Perhaps you prefer Yankee Stadium. That's another vanished piece of city history. Built in 1923 and demolished in 2010, but back for the holiday train show, complete with the roar of the crowd.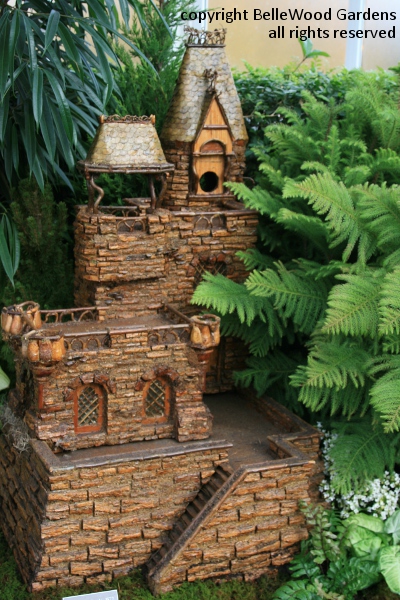 Here perfectly nestled in the greenery, it is Central Park that is really the home of Belvedere Castle, originally built way back in 1872.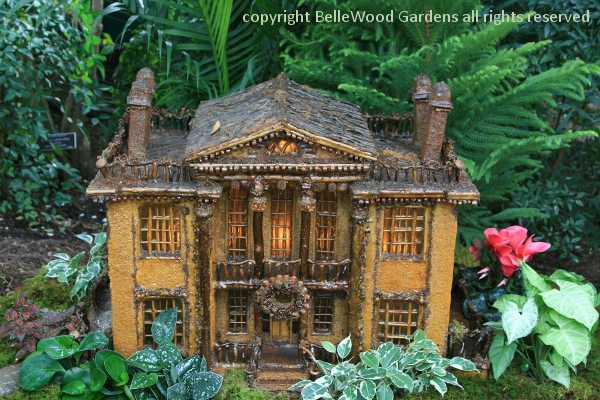 Or maybe travel up river (the Hudson River, that is) to Garrison, New York and visit Boscobel.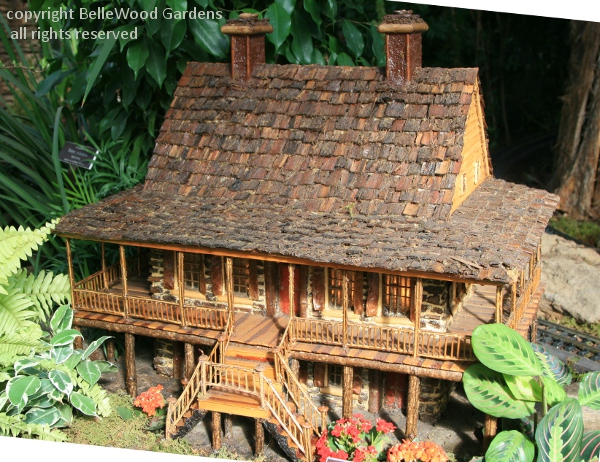 Or, still upriver, this time to Croton-On-Hudson to view Van Courtland Manor, dating back to 1748.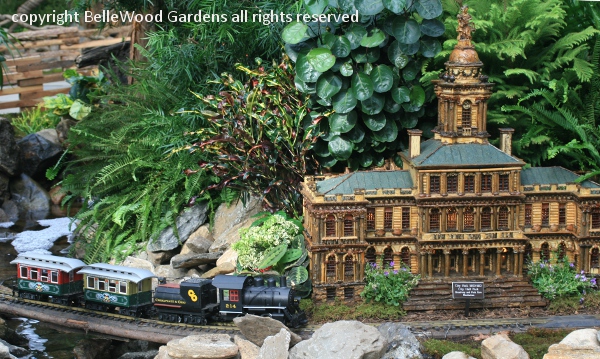 City Hall, and a train tootling past. It is, after all, the holiday train show.
The holiday train show opens to the public on Saturday, 16 November 2013 and does not close until 12 January 2014. Weekday hours are as follows: Tuesday through Friday, 10:00 a.m. to 6:00 p.m. Weekends: 10:00 a.m. to 7:00 p.m., including Friday, November 29 (day after Thanksgiving). Holiday weeks: Monday, 16 December Wednesday, January 1 10:00 a.m. 7:00 p.m. Early closings: December 11, 13 and 24 at 3 :00 p.m., and December 17 at 600 p.m. Closed: November 28 (Thanksgiving) and December 25 (Christmas) All-Garden Pass tickets start at $20 for adults and $10 for children 2-12. It is recommended that you order your tickets in advance, especially for the most popular days and times. Easily reached by car or Metro North.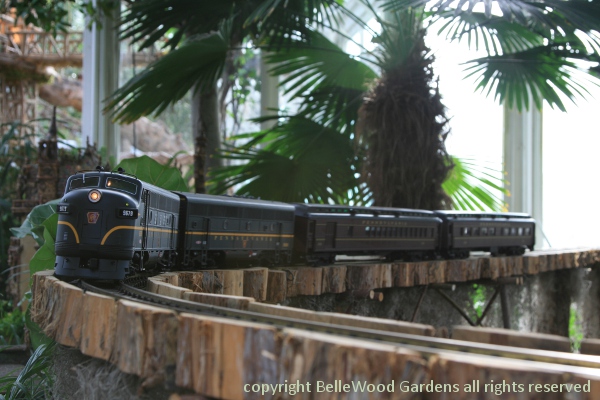 All aboard! Let the holidays and merriment begin.
---
Back to Top
---
Back to November 2013
---