Garden Diary - May 2013
---
If you have any comments, observations, or questions about what you read here, remember you can always Contact Me
All content included on this site such as text, graphics and images is protected by U.S and international copyright law.
The compilation of all content on this site is the exclusive property of the site copyright holder.
---
Wednesday, 15 May 2013
The Baptisia Trial Preview at Mt. Cuba Center
You know how the story goes. You visit a garden and see a beautiful plant. It could be a peony, maybe an iris, perhaps a heuchera. Or a baptisia. Some time later - a day, a week, next year - you visit another garden / garden center / nursery and see a different cultivar of the same fascinating plant. Now you need to remember the name of the first one, and hope your memory is accurate as to its appearance. And if you can recall the precise color of the flower petals I bet you can match wool at the yarn shop when the other skein is back home.
No, what's really needed to compare this one to that one is to see them growing side by side. It's not an ornamental design, a garden. It's plant trials. And they're fascinating. Today I was invited to Mt. Cuba Center for the preview of their baptisia trial. Now, any opportunity to visit is delightful. The focus is on native Piedmont plants and the gardens enticing, simple woodland trails winding among stately trees that arrive at a meadow or a pond before returning to the shady forest. Heretofore the grounds were open by prearrangement, to groups or on a few selected open days. New this year, the grounds are open Fridays and Saturdays through November 8th, for the extremely modest fee of $6. But I digress. Today's visit is for a preview of the baptisia trial.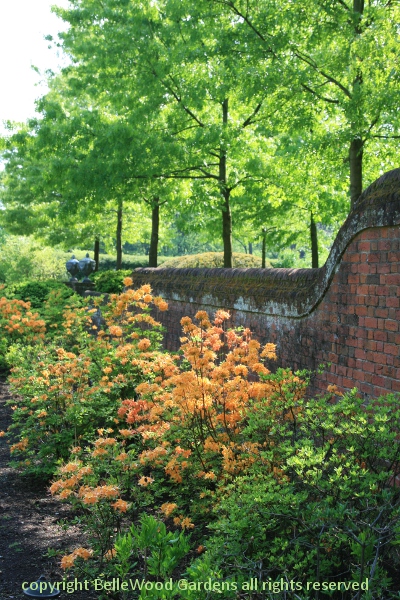 The long drive to Hockessin, Delaware went more quickly than my two friends and I expected.
And the rain stopped just about as we arrived. We signed in, walked past the native azaleas
in peak bloom, around the small formal quatrefoil pool, past the lilac hedges (a remnant of the days
when this was Mrs. Lamont Dupont Copeland's estate) and we arrived at the trial gardens.
Last year it was heuchera trials. And coreopsis. It's fascinating to see the heuchera with another year's growth.
. . . .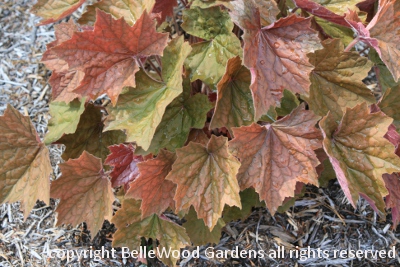 Above left, Heuchera 'Southern Comfort' and 'Brownies' on the right. Who still thinks you need flowers for a colorful garden!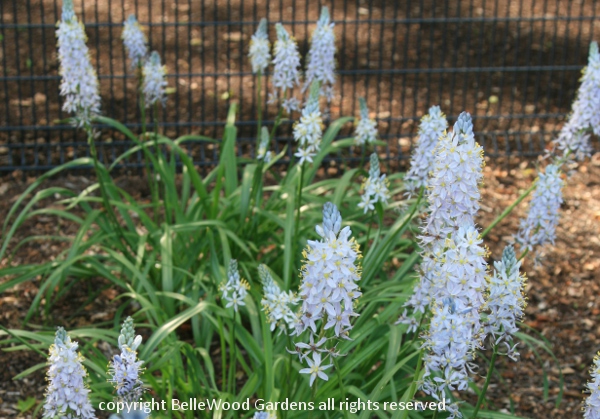 There are a few native bulbs in the back bed along the fence. I was particularly taken with
Camassia scilloides, the eastern species of quamash most of which are found in the West.
What we are here to see and comment upon though, are the baptisia.
And what an assembly of baptisia have been brought together comparison.
A baker's dozen from Tony Avent's Plant Delights Nursery in North Carolina.
From Walters Gardens, a few of Hans Hansen's Decadence™ Series. And
a dozen of the Prairieblues™ Series from Jim Ault of the Chicago Botanic Garden.
A couple from Rob Gardener of North Carolina Botanic Garden. Species, of course.
Alas, the weather has been on the cool side and most are not quite open. Baptisia are long lived (deer resistant too). Next year . . . . .
If you only know the rich blue of Baptisia australis what a surprise and a treat
are you in for. Just consider the soft lemon-y yellow of 'Mojito' from Jim Ault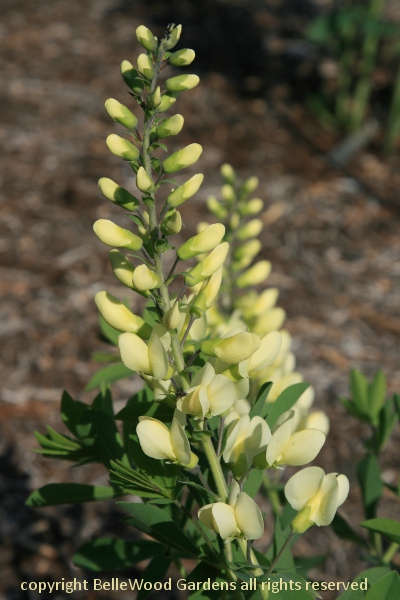 or his 'Spilled Buttermilk', too creamy rich for plain milk.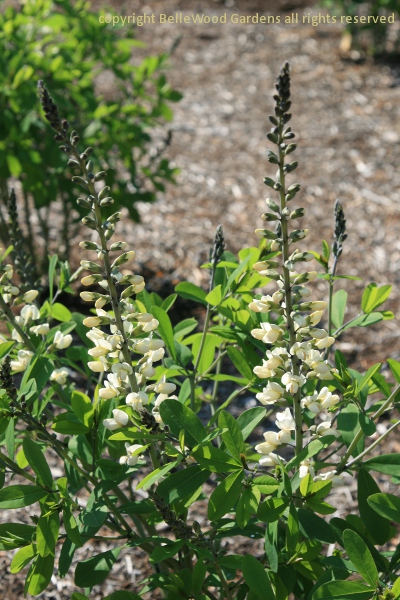 Icy 'Creamsickle' is one of Tony Avent's delicious cultivars.
Blues have not been overlooked. Just admire this soft blue haze
on a summer evening of Ault's Baptisia ×bicolor 'Starlite'
Speaking of summer evenings, the baptisia trial preview concludes at 7:00 p.m. Joan, Carol Ann, and I have a two hour ride ahead of us. Though with the Open Days, Friday and Saturday from April 19th through November 9th, 10am to 4pm, with extended Friday hours until 7pm from May 3rd through July 26th we'll make a return visit. If not the baptisia - then something else. Mt. Cuba is wonderful at all seasons.
---
Back to Top
---
Back to May 2013
---