Garden Diary - May 2013
---
If you have any comments, observations, or questions about what you read here, remember you can always Contact Me
All content included on this site such as text, graphics and images is protected by U.S and international copyright law.
The compilation of all content on this site is the exclusive property of the site copyright holder.
---
Wednesday, 22 May 2013
Tohickon Garden Club's Visit to Betty Minnucci's Garden
An overcast day but that does nothing to dampen our enthusiasm. Who we? We be the Tohickon Garden Club and today is our regular monthly meeting. This time, in the merry month of May we're off to visit the garden of Betty Minnucci, in the Doylestown area of Pennsylvania. An artist, Betty's garden definitely has a painterly aspect, with thoughtful arrangement of plants for flower, foliage, and charming plant companions.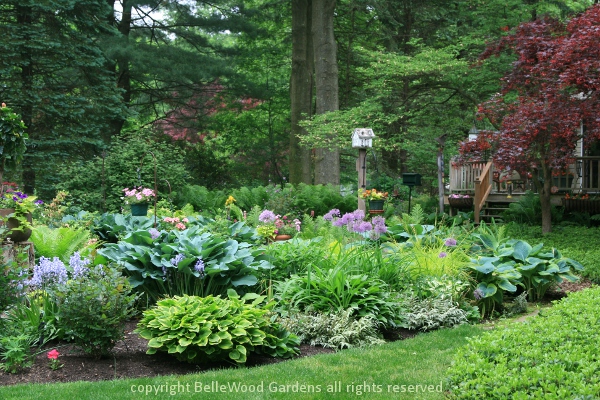 The street side of the property is attractively planted but it is the hidden garden behind the house
that displays a luxurious tapestry with masses of hosta, daylilies, bulbs and shrubs and more.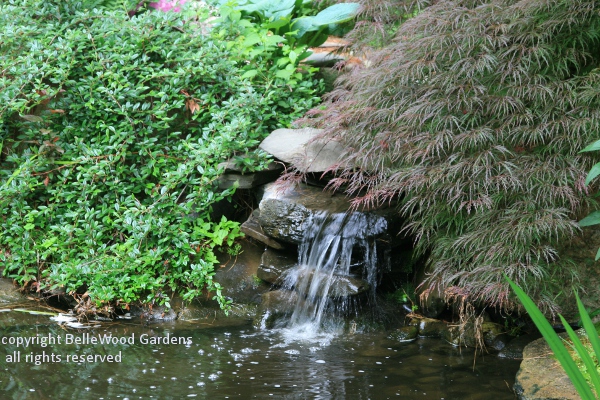 A small waterfall and pool at the rear plays a soothing cascade of water, occasionally punctuated
by the throaty croaking of small frogs who inhabit it. The red cutleaf Japanese maple mimics the cascade.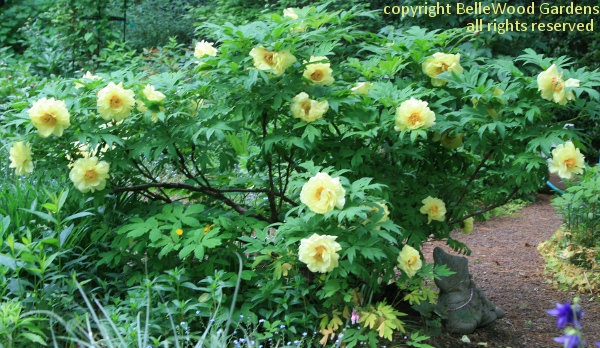 . . . . .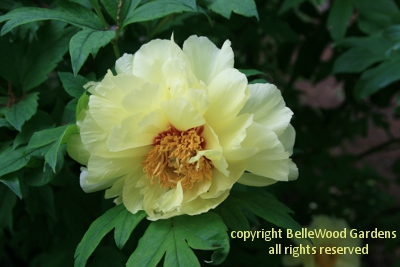 A magnificent soft yellow tree peony provides a sunny appearance to the gray and cloudy weather that overhangs the garden.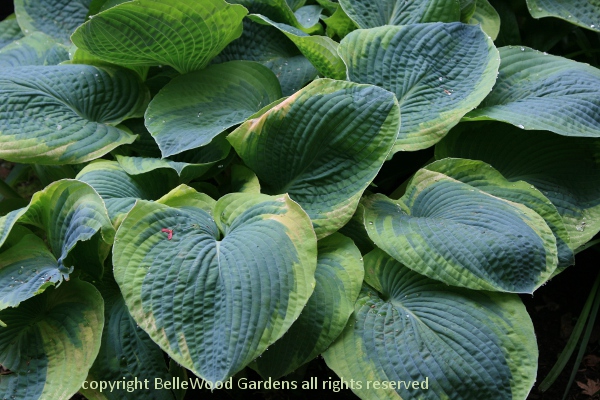 Above, 'Frances Williams', and below, a crisp white edged cultivar.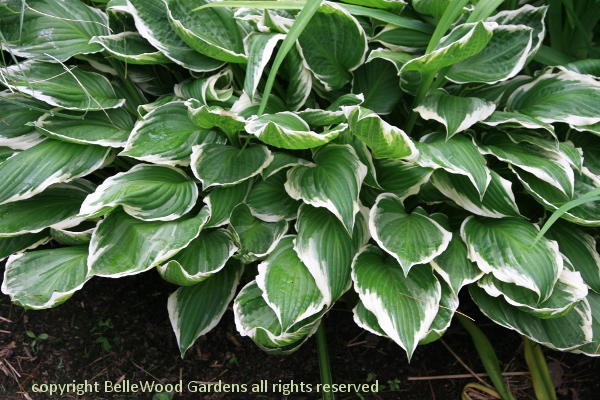 The diversity of hosta are used as accents, individually, not crowded side by side like some
vegetative can of sardines. This allows each one to be admired individually, with other
leaf shapes - linear daylily or liriope or lacy ferns - to provide contrast and accent.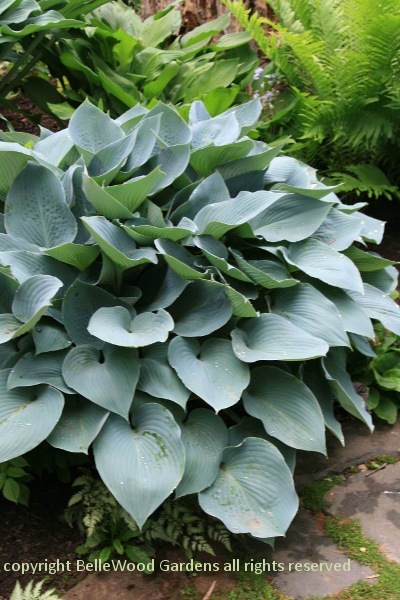 Another large hosta, this one with glaucous blue leaves. Peeking from beneath its skirts,
some silver gray Japanese painted fern, Athyrium niponicum 'Pictum'. This works on
two levels: first, the contrast of bold and lacy shapes, and then with color, silver against blue.
Options and variations. Above, a hosta with a subtle chartreuse center to its green foliage. Below,
a glaucous blue leaved hosta with a golden center, streaked and feathered where the colors meet.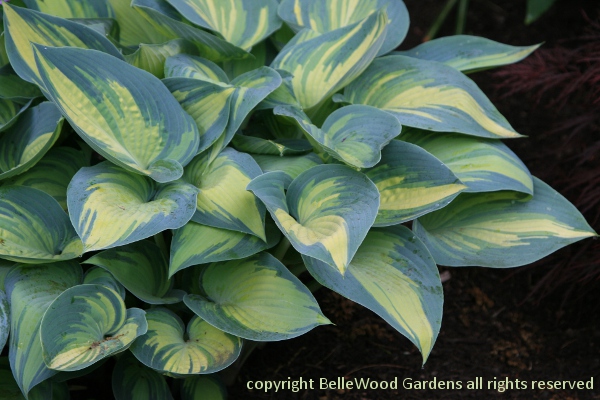 .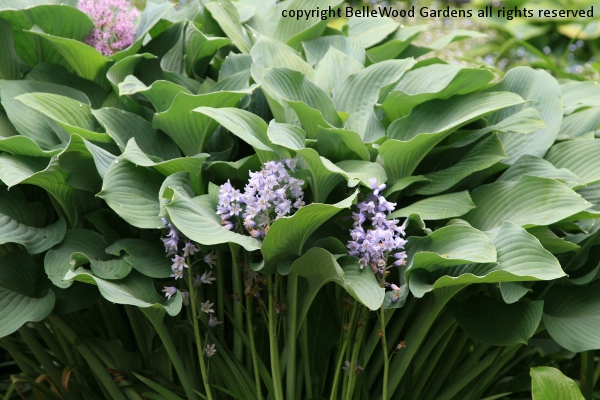 Hosta 'Krossa Regal' with its vaselike form and grayish blue leaves. Some wood hyacinths,
Hyacinthoides hispanicus (or have the taxonomists changed its name yet again . . . .) pop through.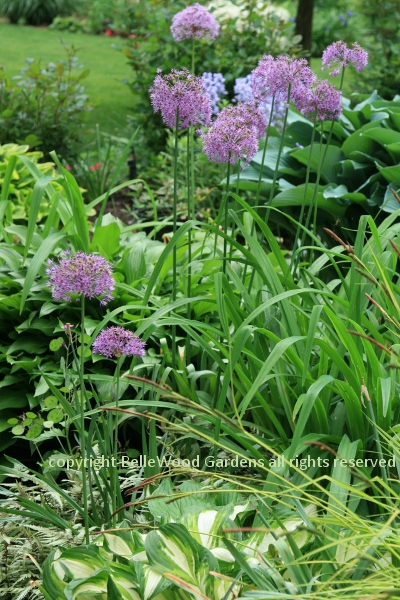 Tulip season may be over but bulbs still ornament the garden, like these Allium 'Purple Sensation'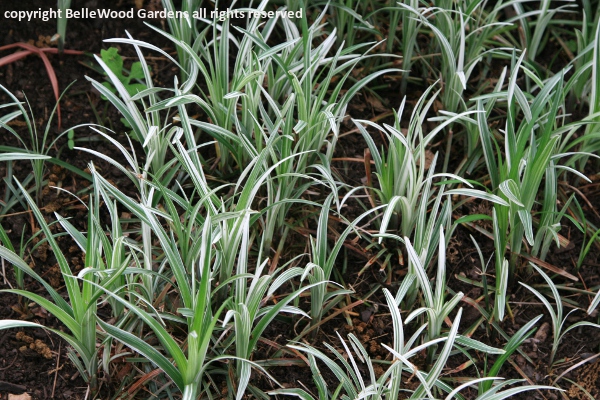 Crisp and clean, the white variegated liriope brightens this corner of a planting bed.
The artist's touch, here and there. Practical, as with an enormous kettle now a planter supported on
the remains of a toppled tree. Or whimsical, such as this birdcage rusted to the color of the maple leaves.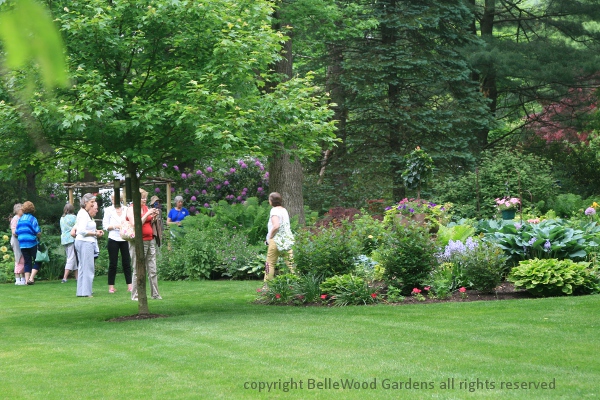 The ladies of the Tohickon Garden Club are having a delightful time, wandering through the garden.
And, from the smile on her face, so is Betty having a delightful time.
---
Back to Top
---
Back to May 2013
---