.
Garden Diary -September 2013
---
If you have any comments, observations, or questions about what you read here, remember you can always Contact Me
All content included on this site such as text, graphics and images is protected by U.S and international copyright law.
The compilation of all content on this site is the exclusive property of the site copyright holder.
---
September
---
Sunday, 29 September 2013
Fungus Fest
Once a year The New Jersey Mycological Association puts on a splendid event. Named the Fungus Fest, it has to do with all thing mycological. Sprawled over the Frelinghuysen Arboretum in Morristown, New Jersey, there's something going on indoors and outdoors, upstairs and down. Care to go for a mushroom walk? Already scheduled, several times today.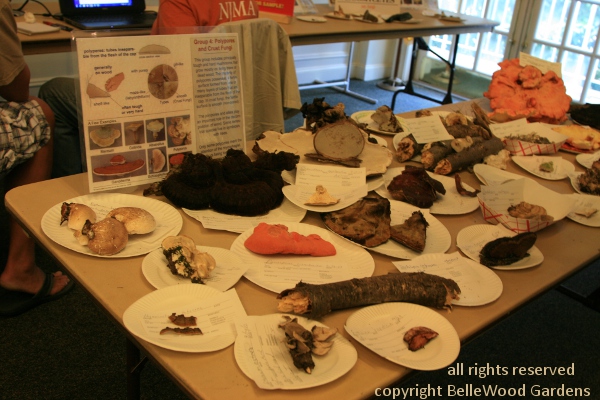 Bring in a mushroom you found and we'll try to identify it for you.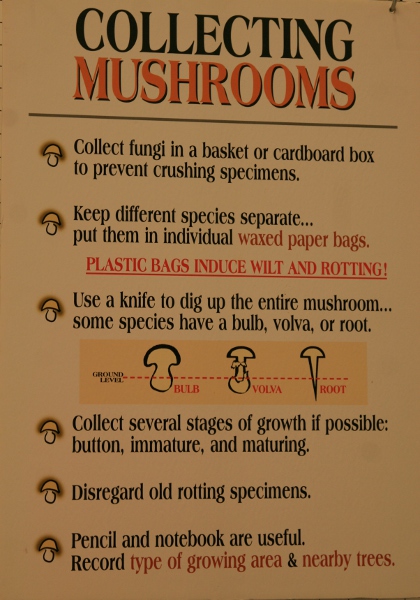 There's a station where you can learn about how to collect mushrooms.
Leery about foraging for mushrooms? That's O.K.,
people will talk about cultivating mushrooms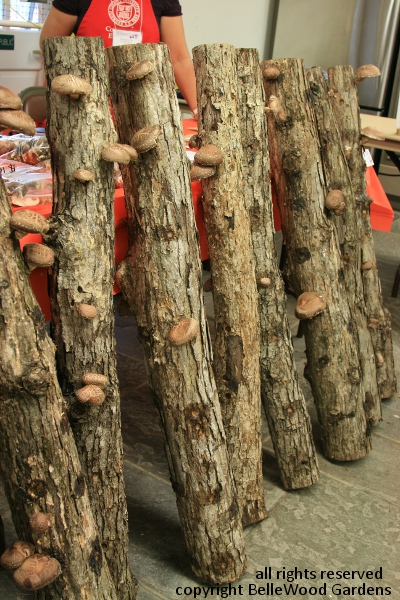 and there's even a vendor selling shiitake-innoculated logs!
Want to know about cooking with mushrooms- we've got that covered, as the aroma wafting up the stairwell from the cooking and tasting area clearly indicates.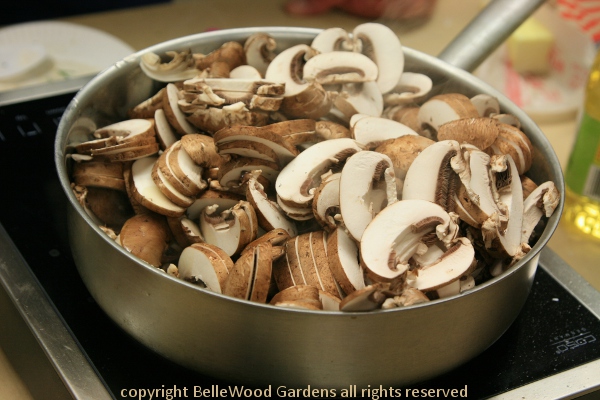 The sous chefs slice and dice a potful of cremini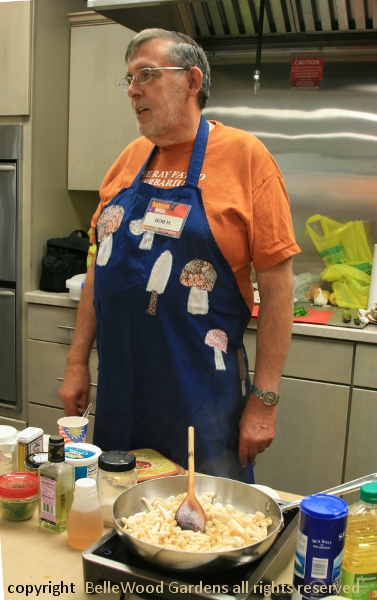 and then, in the hands of our culinary expert, Bob Hosh,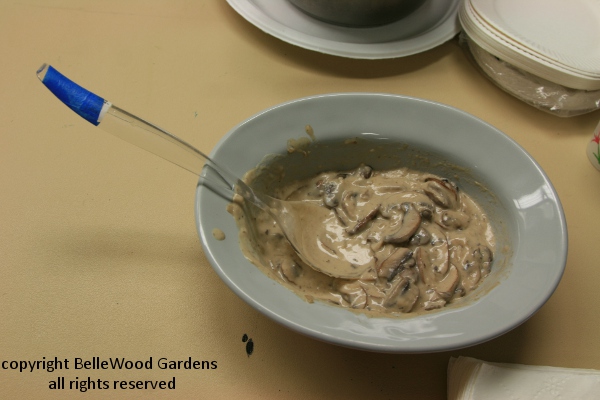 they become a succulent bowl of cremini in cream sauce.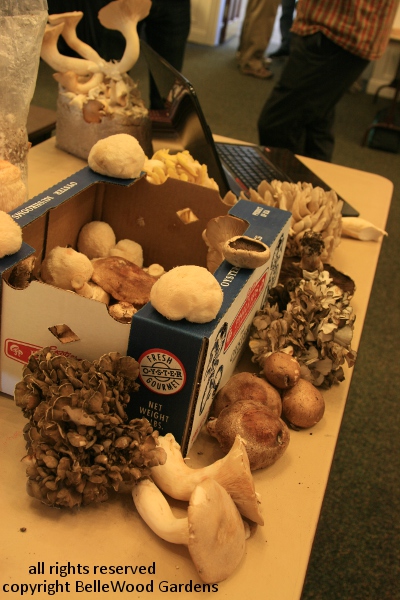 Phillips Mushroom Farm provided us with exotic mushrooms. Many went downstairs for cooking and tasting, some stayed upstairs to fascinate the visitors.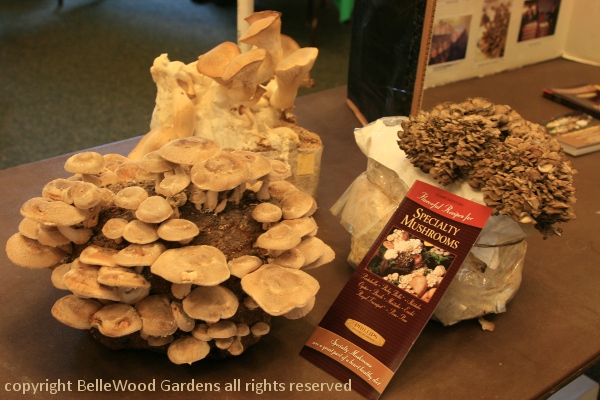 Perhaps you only know the white Agaricus, cremini, and portobello of the supermarkets. Even they are now selling shiitake. And local farmer's markets have an even wider selection of both foraged / seasonal and cultivated exotic mushrooms. They are definitely becoming more widely available.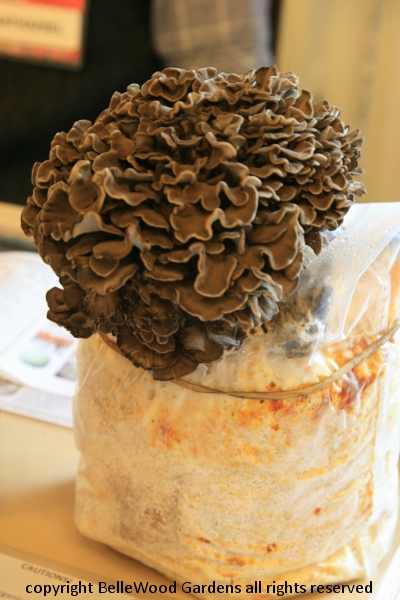 Like this lovely, luscious maitake.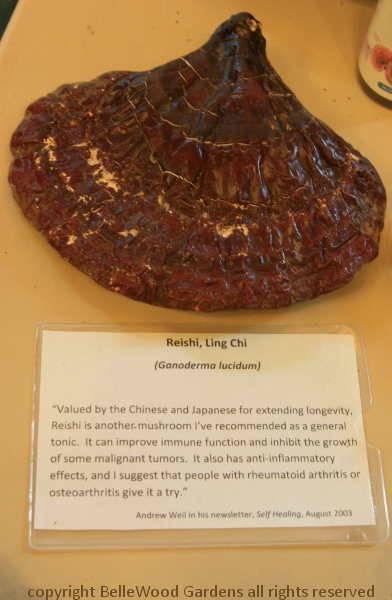 Mushrooms can be medicinal.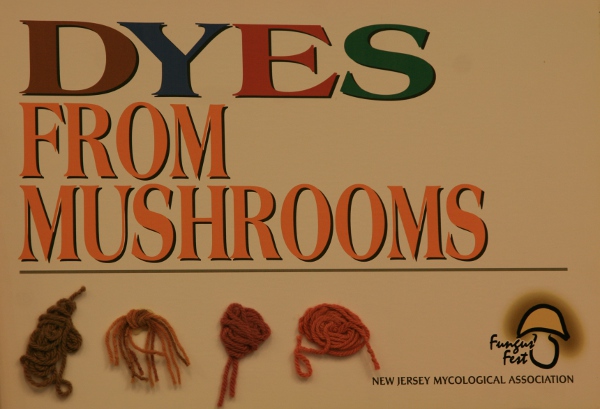 And as well as delicious, mushrooms can be crafty. Not on their own, I hasten to add,
as in useful for craft workers. Natural dyes come from leaves and flowers, insects and
. . . . mushrooms!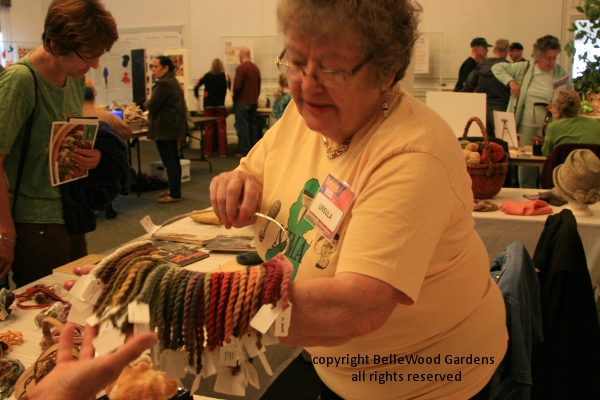 Ursula shows a visitor a wonderful array of yarns dyed with mushrooms. She is always glad when she can spread the art of dyeing with mushrooms to interested people.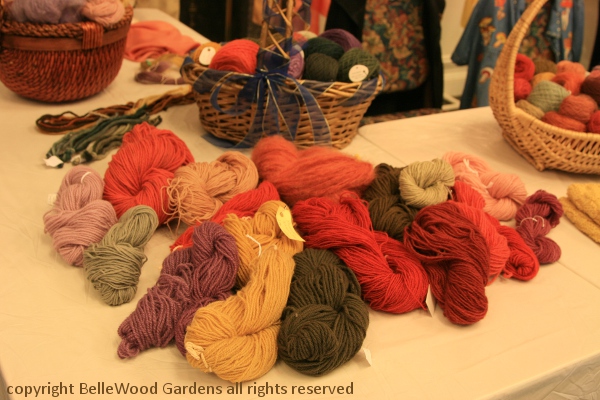 Just look at the hanks of yarn dyed yellow, buff, orange, scarlet, lavender, and purple,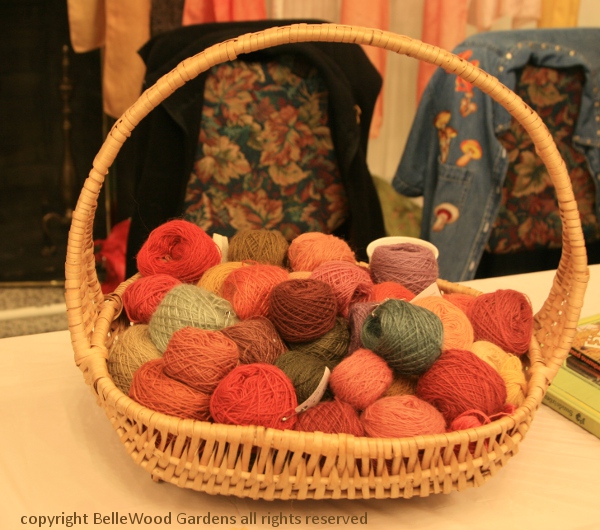 a basket full of colors ready for someone to knit or crochet , perhaps into a coat of many colors.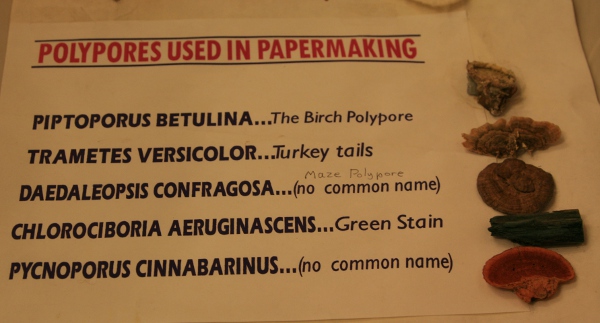 Or, make mushrooms into paper. Polypores are especially suitable for this.
Mush them up into a slurry, using a dedicated blender. Pour the stuff into a tub of water. Use a deckle - that's a wooden frame with some window screening on it - to collect a thin, even layer. Lift it out and dump the slurry onto a pile of towels. If you are in a rush (or demonstrating the process for visitors) put it between several sheets of newspaper and iron it (with a dedicated iron, of course, not the one you use for fine clothing.)
After this wonderful introduction to themagical world of mushrooms you may find yourself fretting over sunshine and hoping for rain. After all, rain makes mushrooms.
---
Back to Top
---
Back to September 2013
---