.
Garden Diary - September 2013
---
If you have any comments, observations, or questions about what you read here, remember you can always Contact Me
All content included on this site such as text, graphics and images is protected by U.S and international copyright law.
The compilation of all content on this site is the exclusive property of the site copyright holder.
---
September
---
22 September 2013
Equinox Dinner
It's the equinox. Today and tonight are equal in length. And from now until late December it is a downhill slide as days shorten and nights lengthen. That absurd daylight savings time nonsense will come to an end - I mean, really, like someone actually believes we can save time, put it in a bottle, box it up, let it out when needed? All I know is we'll be waking up in the dark and it will become dark ealier and earlier. So Paul and I decided to celebrate as the seasons change.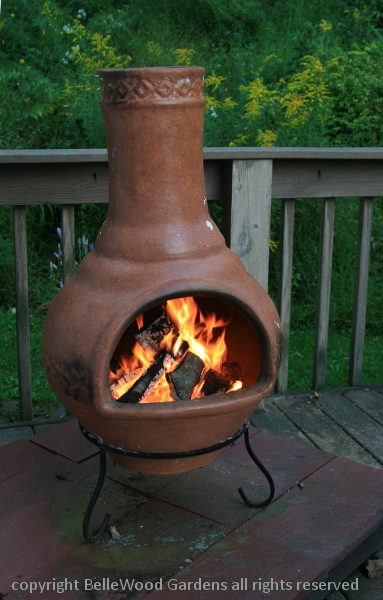 I made a fire in the chiminea. Cool enough that its warmth was pleasant. Made some little appetizers, mini filo pastry cups with a filling of leftover broiled salmon mixed with chopped cucumber and a smidgeon of mayonnaise. A bowl of big black Cerignola olives. And sliced up an olive roll from my visit to the Frenchtown farmers market this morning.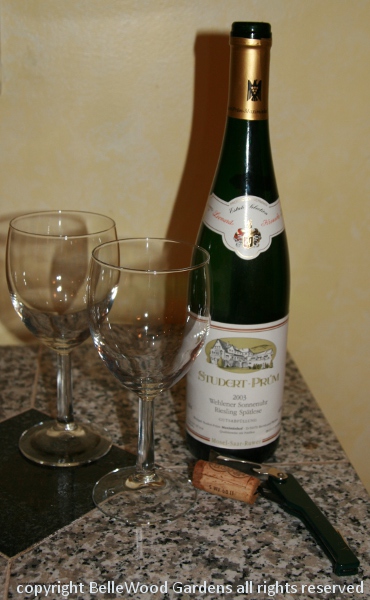 Of course we needed something to drink. This bottle of riesling was perhaps a little much for the appetizers, but would be lovely when we moved inside and continued with dinner.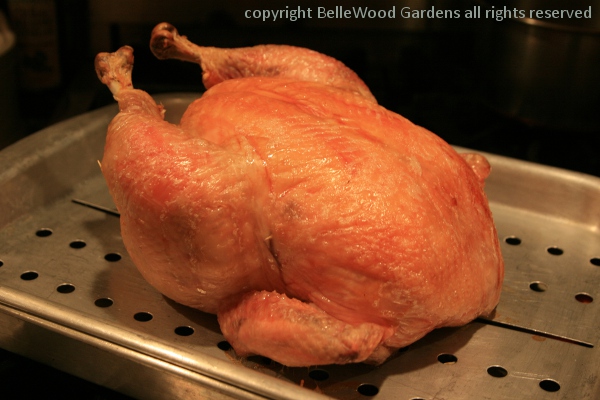 Remember my visit to the Lima Family Farm back in July? They have wonderful vegetables, grass-fed beef and pork, and pastured chickens. Not cheap, but wonderfully flavorsome. You can buy directly at their farm stand a few days / week. Or, as I just did, buy at the Sunday Frenchtown farmers market. I bought a 5 pound chicken that roasted up to a succulent golden brown. And tasted as good as it looks.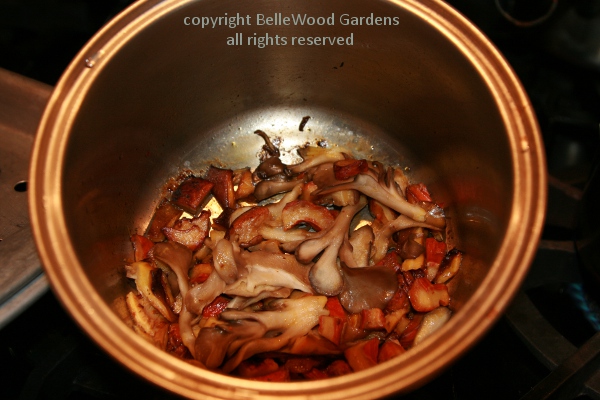 The weather has been delightful for people but too dry for good mushroom foraging. Mainly Mushrooms, also at the farmers market, was my source for this mushroom medly. Some maitake, some lobster, some shiitake. A little butter, a small splash of herb infused olive oil, with a pinch of salt, a little black pepper (freshly ground, of course) and a little thyme.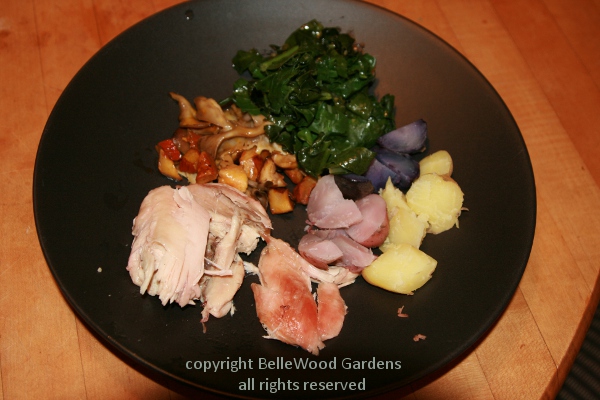 Plated up: chicken, mushrooms, a trio of fingerling potatoes with yellow, rose pink, and blue flesh, and some braised Nero di Tuscano kale. We didn't say much, to busy drinking the wine and eating our delicious equinox dinner.
---
Back to Top
---
Back to September 2013
---