.
Garden Diary -December 2013
---
If you have any comments, observations, or questions about what you read here, remember you can always Contact Me
All content included on this site such as text, graphics and images is protected by U.S and international copyright law.
The compilation of all content on this site is the exclusive property of the site copyright holder.
---
December
---
Sunday, 1 December 2013
Open Hearth Cooking at Bouman Stickney Museum
Every winter the Bouman-Stickney Museum has open hearth cooking events. Last year, in February, it was Cooking with Mother Goose. Last month it was puddings. And today's presentation, with a nod to the Bouman family, features winter dishes in the Dutch manner. That's because homesteader Thomas Bouman who purchased the property sometime before 1740, was Dutch. He built his beautiful stone house (which stayed in the Bouman family until about 1855) in 1741.
Come in the front door to the main room of the house.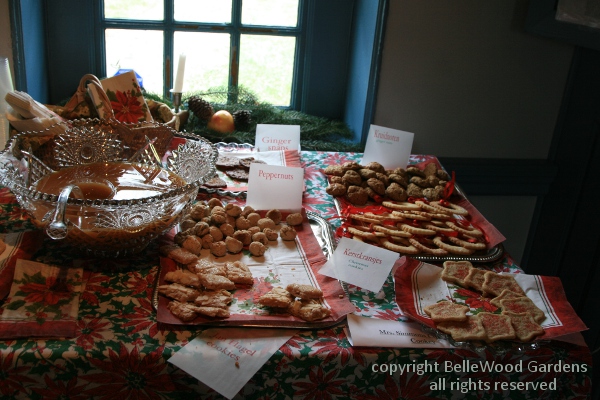 There's a table set with cider and cookies for us.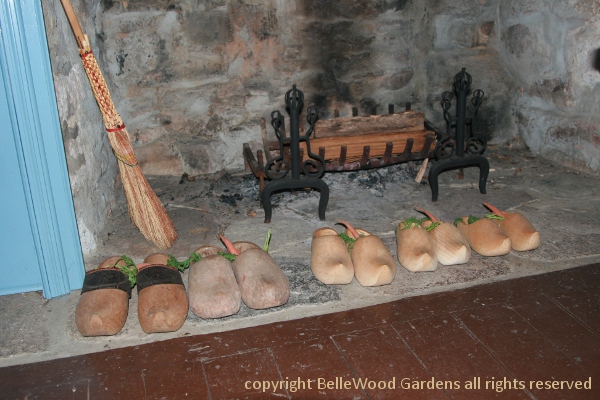 Kloompen, wooden shoes, are set by the heart with carrots and greens,
treats for Sinterklaas' white horse. He'll visit on December 5th.
The bedroom on the other side of the house has a curtained bed (warmer in winter, don't you know) and a beautiful cupboard. Three pieces of blue and white ware, Delft style, are on top of it, safe from accidents. Some greenery adds a festive holiday touch.
For decoration, the deep sill of the window facing the back of the property has greenery and pine cones, a candle in a brass holder, some rosy red apples and a pear. I'm tempted to stay here and join the ladies making pomander balls, with little oranges and cloves and ribbons. But I'm here for the open hearth cooking, so it's down the steep stairs to the kitchen and it's huge hearth.
Today's fire is burning hot and bright, with glowing red coals that are just right for cooking all sorts of food. There's a soup pot at the back, a bake oven (think Dutch oven) in front, and a tin reflector oven off to the side. The metal plate at the back of the hearth is a nice refinement. A fireback, it reflects heat back into the hearth. Even more important, a fireback protects the rear of the hearth or fireplace from damaging heat.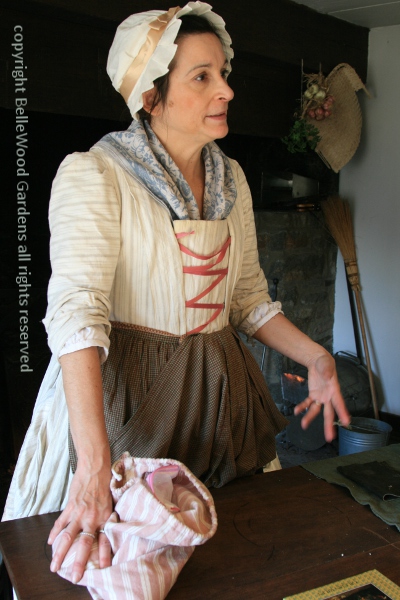 Connie Unangst explains what she's doing and how conditions of the time influence the cooking. In winter there would not be the great diversity of fresh produce that we enjoy today. Cabbages in a root cellar, or perhaps only cabbages pickled into sauerkraut. Onions. Peas would be dried peas. And that's why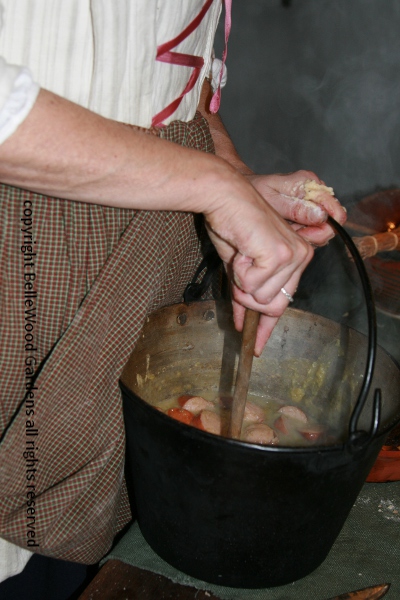 she's making split pea soup with smoked sausage and a piece of ham.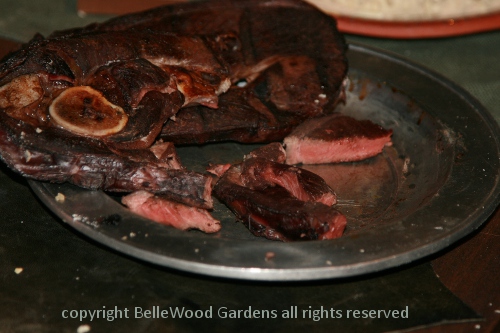 Before I'd arrived, Connie had grilled a couple of venison steaks on a gridiron, a rack with four legs that just sets among the coals. She'd marinated the steaks in red wine overnight, then quickly cooked them to a rich brown exterior and tender pink inside.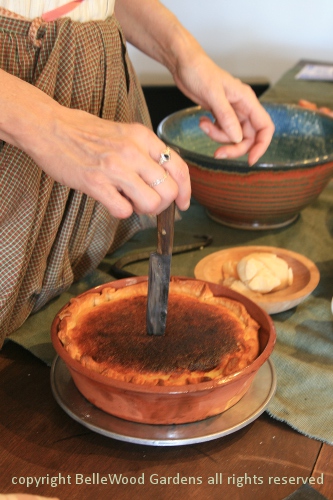 The cheese pie responded to the hot apple wood coals by cooking rather more quickly than expected, browning a little too much. A knife used to test for doneness came out clean. What's a cheese pie anyhow? Back in the day, if you had some cream on the verge of turning (souring, that is) you could combine it with eggs and stuff, making a pie out of it.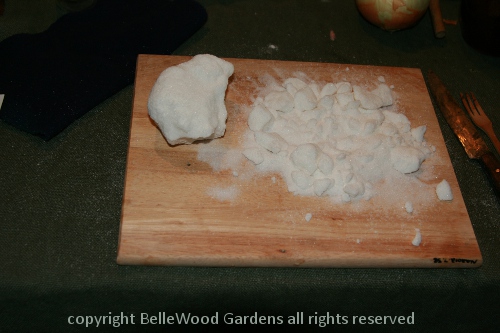 Cooking was the same as now in that the chemistry remains constant, but the ingredients could be more challenging. Take sugar, for example. White sugar was somewhat refined but it still was sold in a lump, that would have required breaking apart, then crushing before it could be combined with the ingredients for a pie. Or shortbread.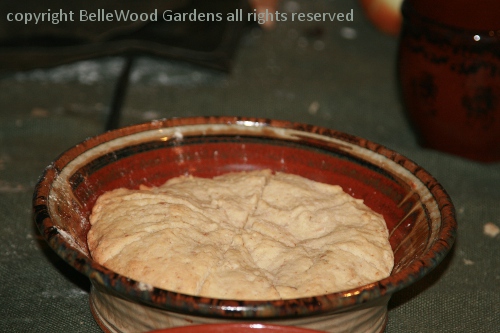 Things were cooking so well that Connie had time to prepare an extra dish. (It helped that someone had come early and built a fire so she began with hot coals and a fire that was drawing well.) She had flour and sugar and butter . . . . shortbread seemed like a good choice. Three cups of flour rubbed with 8 Tablespoons of butter until crumbly, and a cup of sugar. It was still rather dry, so the 4 egg whites left over from the cheese pie were lightly whisked, then added. Some rose water for flavoring, Connie said with a twinkle. She marked the shortbread into eighths with a knife, set the dish in the bake oven with hot coals underneath and more heaped on the lid. As you can see, it baked very nicely. The flavor was somewhat bland though. We discussed what a housewife back in the day might have served it with. Remember, it's winter and options are limited. Stewed apples, perhaps, or some jam. Maybe a drizzle of honey.
The table is decorated with a marzipan hedgehog, her quills made of slivered almonds tediously placed one by one. Often, Connie told us, the marzipan was not intended to be eaten. A sign of a wealthy family, one that had the resources to purchase the almond paste and kitchen help to make it, the creature would just dry out, get harder over time, all the while looking quite adorable as a festive decoration.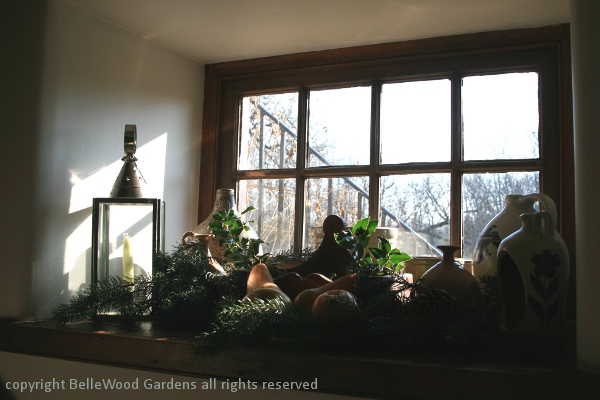 The stairwell window has greenery and fruit, a candle lantern, and a couple of pottery jugs and a vase. A pleasant afternoon down in the 18th century kitchen, and an appreciation of the conveniences available today. But it is still all about good food, well prepared, and a house that is a home.
---
Back to Top
---
Back to December 2013
---