Garden Diary - June 2012
---
Wednesday, 27 June 2012
Ikebana Demonstration at the Tohickon Garden Club
---
First, a disclaimer. I don't arrange flowers. It is more a matter of stuffing them into a container and hoping things don't fall over. Furthermore, Mr Poe and Domino are convinced that everything in the world is a cat toy, flower arrangements included. This can get very wet and messy. So today's meeting of the Tohickon Garden Club - a demonstration of ikebana flower arranging by Mary Jane Risch, an associate master of the Ichyo Ikebana School - would be an abstraction, so to speak, rather than a practical topic I'd put to personal use.
Mary Jane brought a diversity of containers, the majority of them clear glass. She had some florist greens and flowers but also leaves and flowers from her own garden. I appreciated her comments: For example, that there is no judging in ikebana. All arrangements are appreciated, as a connection with the natural world. That's also why damaged or insect-chewed leaves are acceptable.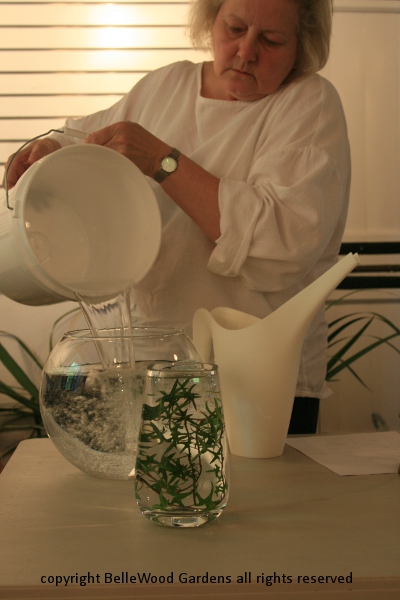 As she was talking Mary Jane began pouring water into one of the containers.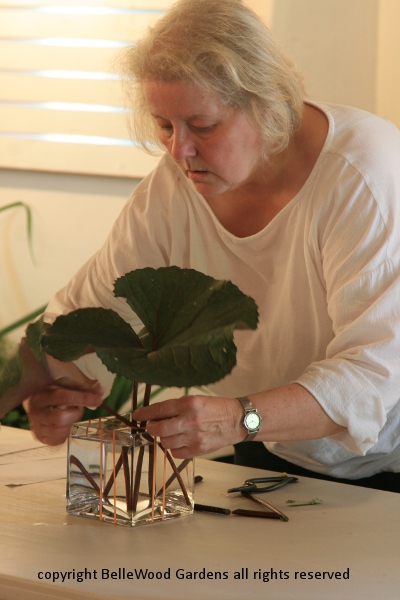 Clear glass allows us to see what's happening "beneath the surface" of an arrangement.
Here, Mary Jane used several rubber bands (from supermarket bunches of asparagus)
turned inside out so the writing doesn't show. They help stabilize the ligularia leaves.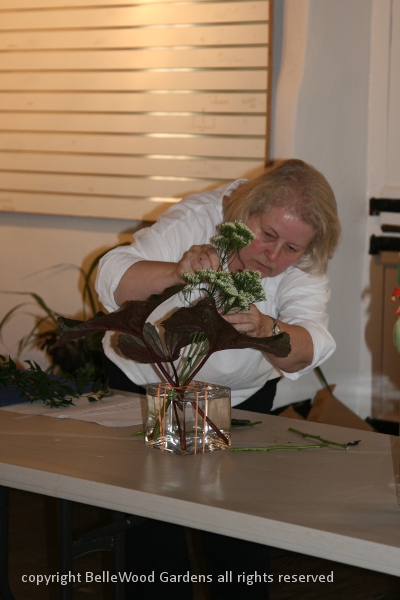 Some purchased flowers complete the arrangement that uses
ligularia leaves, slightly bug chewed, from Mary Jane's garden.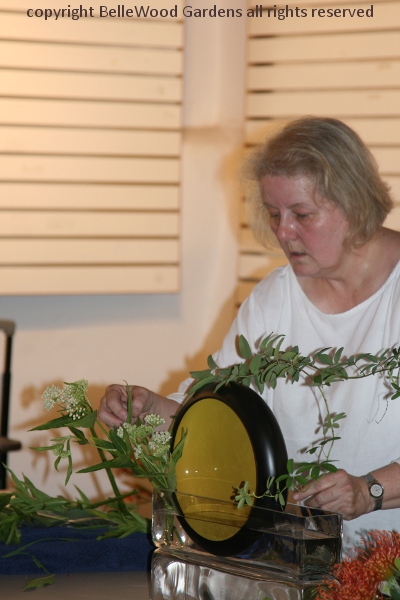 An interesting arrangement with akebia vine, also from her garden. Two linear glass containers,
one as a base supporting the other. Inside it, a bowl set on edge and looking like a full moon.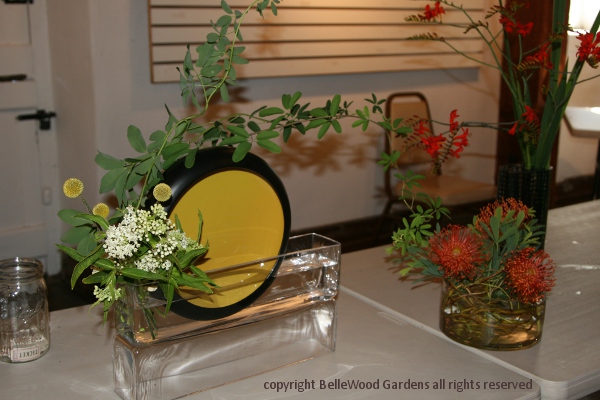 Akebia vine arching over the bowl, and a few stems of flowers to complete the arrangement.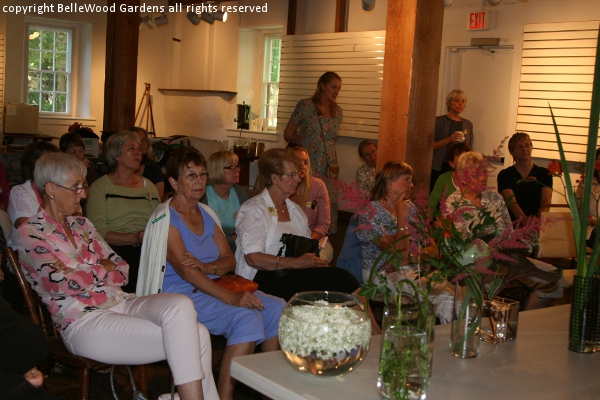 Garden club members paying rapt attention.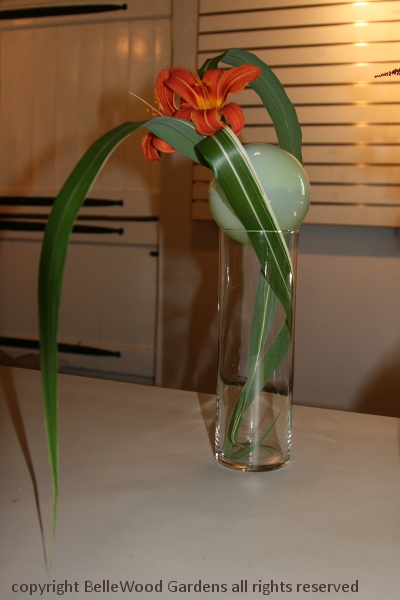 Another interesting two tier arrangement, this time with a green glass globe,
its opening offset to the clear glass cylinder. Variegated maiden grass, twirled
and caught in the space below, and a couple of daylilies. Reme,ber each flower
lasts but a single day so this is an arrangement that will change as they wither.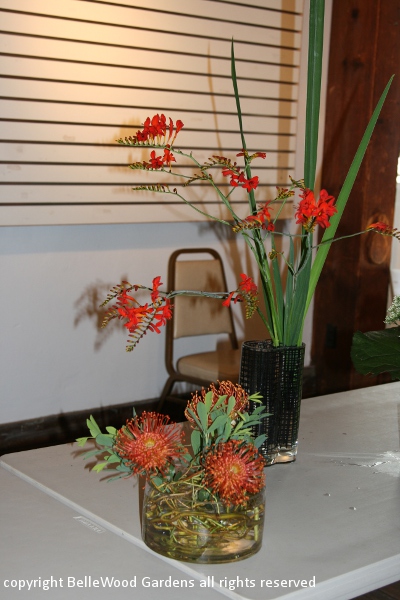 Two arrangements. In the foreground, pincushion protea. To the rear, Crocosmia 'Lucifer',
again garden grown. Though similar in appearance the leaves are from iris, not crocosmia.
The iris are more flexible. Internal support in the glass container is provided by deer fencing.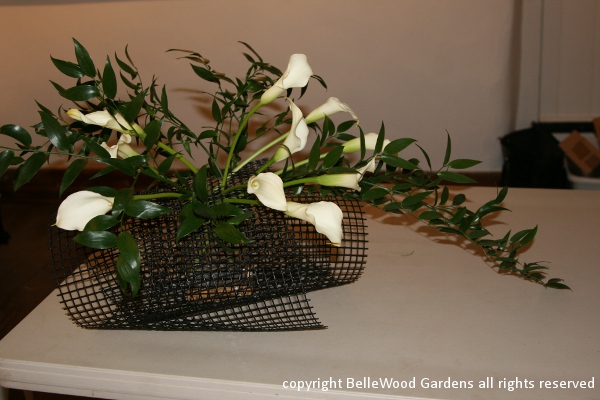 A fascinating table arrangement, with a rectangular clear glass container wrapped in deer fencing
which supports both Italian ruscus greenery that accents white calla lillies. Very modern. And,
this was one of the two arrangements Mary Jane donated for us to raffle a door prizes. Nice!
I don't know as these arrangements would survive the cats' depredations. Certainly interesting.
I'll need to think about this some more.
---
Back to Top
---
Back to June 2012
---