Garden Diary - September 2012
Wednesday, 26 September 2012
Tinicum Herb Barn
---
Garden club meeting today. We're off to the Betsy Jacobs Tinicum Herb Barn in Erwinna, where she teaches workshops on the cultivation and use of herbs in cooking and decoration. I was there for her open house last summer, and once before that, also with the Tohickon Garden Club. It is really a great place because there's the garden of growing herbs to see and stroke and smell. Today we'll have a guided tour of her herb garden and listen to Betsy's knowlegeable discourse on rosemary, lavender, sage, thyme and savory, a diversity of basils and an abundance of chile peppers. As well, she'll demonstrate how to make herbal vinegars and savory butters using Provenšal herbs, rose geranium, and other flavorings.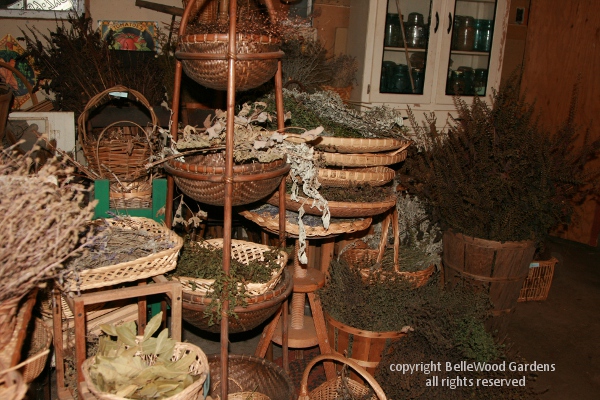 We start off in the barn, entering past a plethora of baskets and bunches of dried herbs.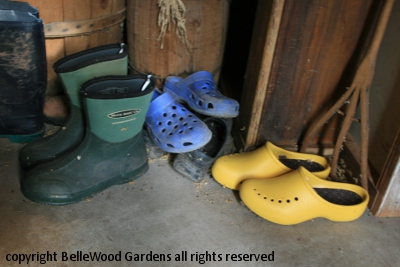 Garden clogs and wellies (Wellington boots, don't you know) line up by the staircase to the loft.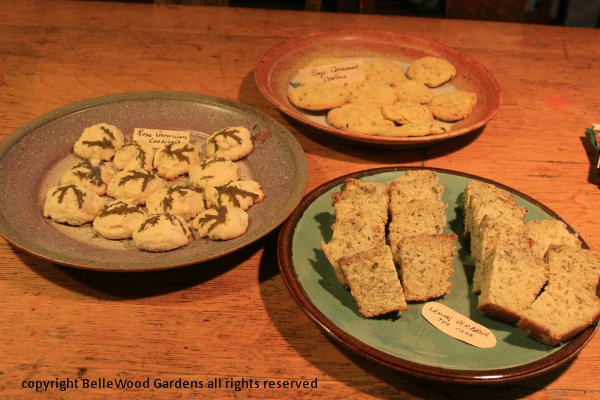 Betsy welcomes us with cake and cookies: rose geranium cookies, sage cornmeal cookies, and
lemon verbena tea cake. I brought lavender shortbread. Herb teas were chilled and waiting for us too.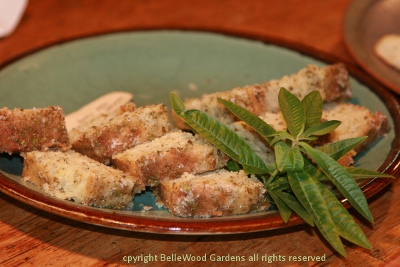 .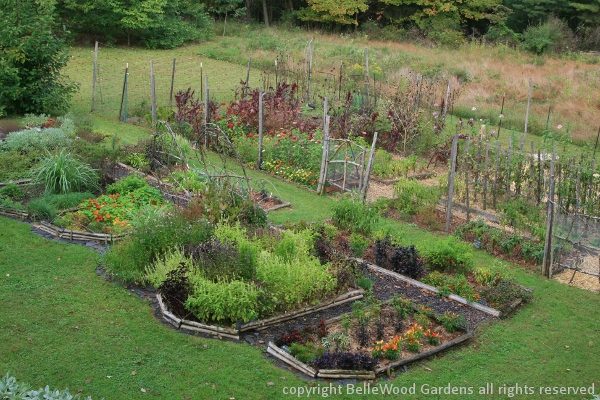 The balcony outside the loft offers a splendid view of the garden: herbs in raised beds outside
the fence. Deer, you see, don't like strongly scented plants and leave herbs alone and uneaten.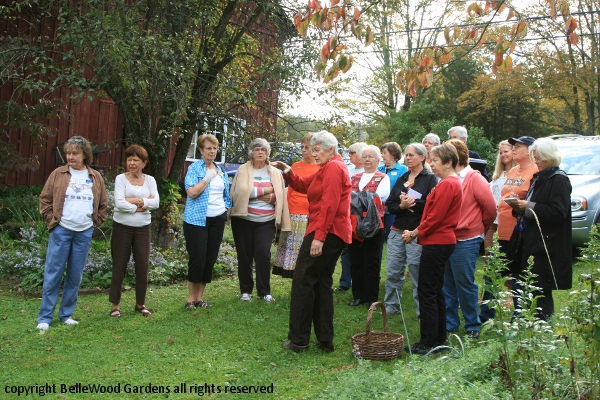 After refreshments we troop downstairs and Betsy (that's her in the red shirt) makes a few
introductory remarks and off we go to the garden.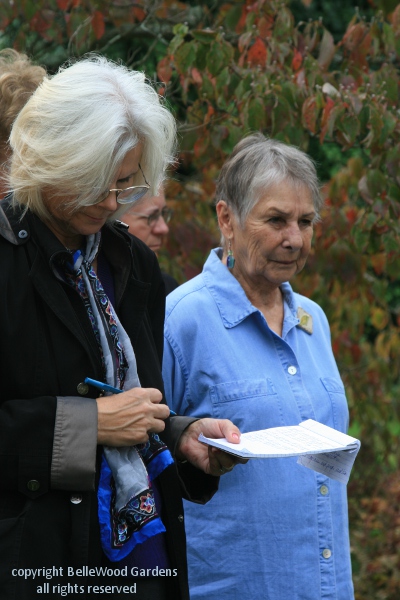 Betsy is very good with explanations and information, since she is so knowledgeable.
So much so that rather than rely on memory, more than one club member was taking notes.
And this woman found a comfortable perch on a just-right-height stone wall amid lavender.
.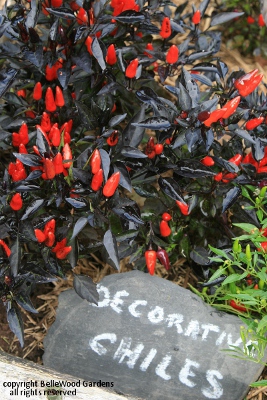 . . . .
This time of year, late September, the chile pepper plants are massively in fruit. Not just good for culinary
purposes, they're also beautiful. Leaves may be green or black, and fruits change color as they ripen.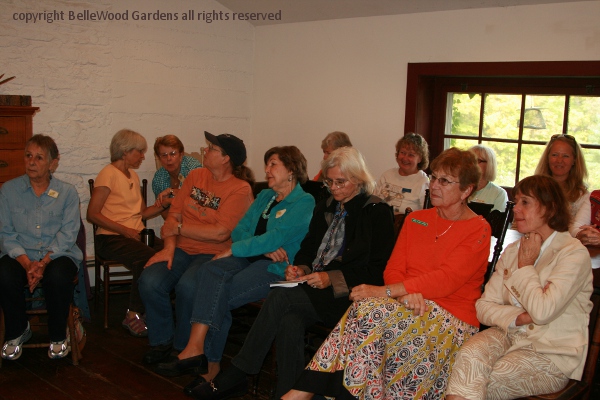 The third portion of our event takes us into Betsy's kitchen for a tasting and demonstration
of making herbal vinegars and herb butters. Bored? Not hardly, everyone is interested.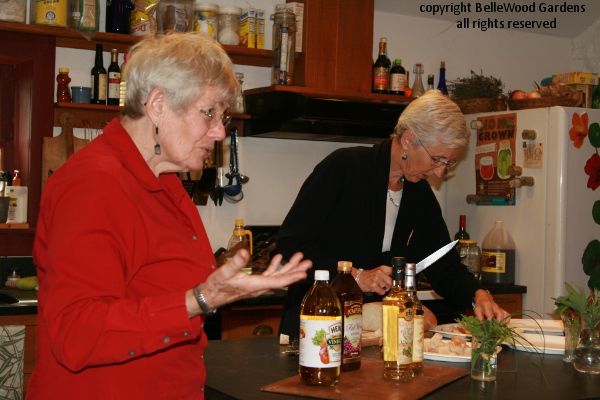 Betsy and sous-chef Sally (the Tohickon Garden Club co-chairman) busily chop, mix, pour and create.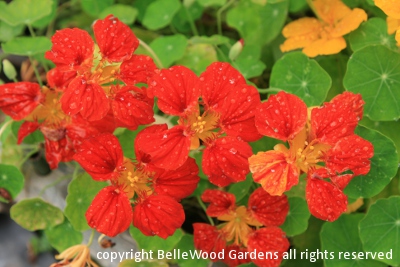 Nasturtium flower vinegar. The flowers in the garden were sprinkled
with rain, but Betsy had picked some earlier. For infused vinegars you
want leaves and flowers clean and dry. Rinse, dry, infuse. quite easy.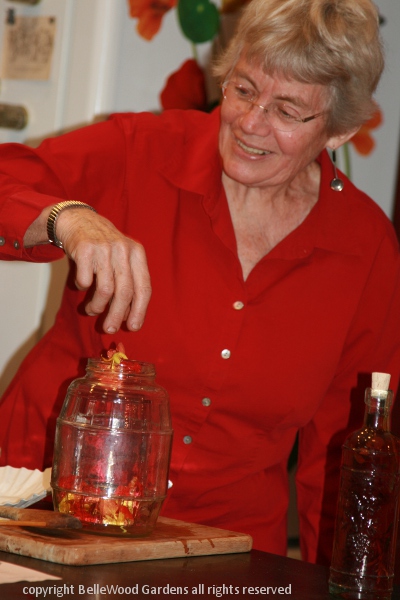 .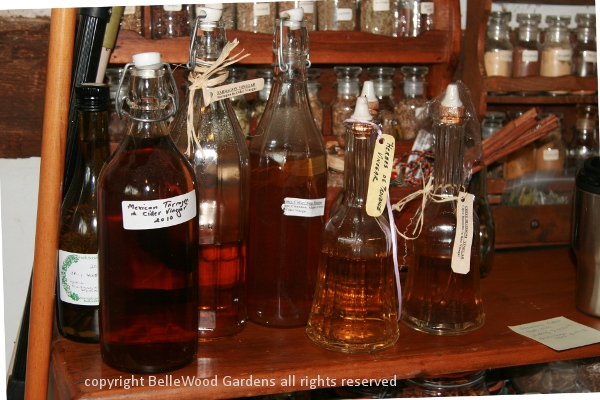 And as you can see, Betsy keeps a diversity of her specialty vinegars on hand, to use
for salad dressings, sauces, in cooking a variety of dishes. What a wonderful outing.
---
Back to Top
---
Back to September
---