Garden Diary - June 2012
---
Saturday, 30 June 2012
Dinner at Tara
---
Over the river and up the hill we go, to Tara. It's not that easy to find, just another house at the top of the hill in a residential neighborhood at 1410 Bridgeton Hill Road in Upper Black Eddy, Pennsylvania. There is a sign at the end of the driveway.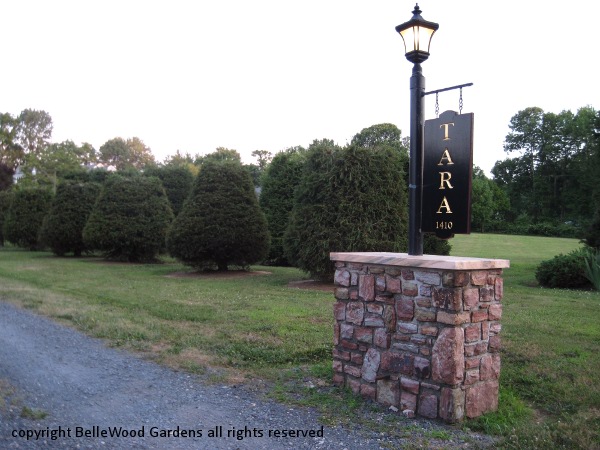 They don't advertise, don't have a web site. It's a word-of-mouth passed along by a friend kind of place, in a class of its own. Reservations only, Wednesday through Sunday. And plan in advance because they only have limited space. Once you have a reservation though, they don't try to turn the tables and if you want it is yours for the evening. We've been here before for special occasions, and have always had a splendid meal and delightful time.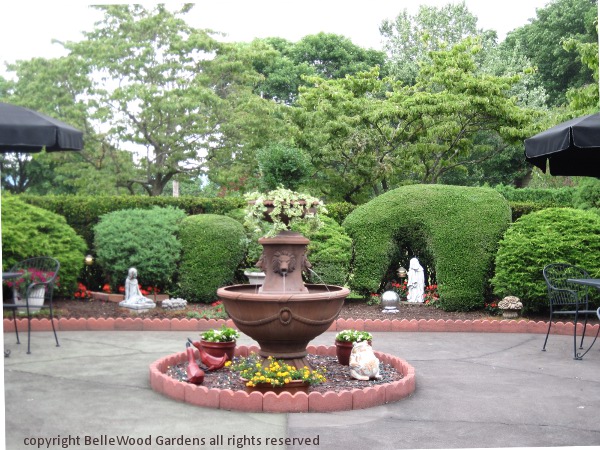 Park to the side of the house and walk around to the front. There's a spacious terrace
surrounded by hedges and greenery that creates a private oasis. A charming fountain,
a few flowers, and some kitschy statuary. In season there are also a few tables and chairs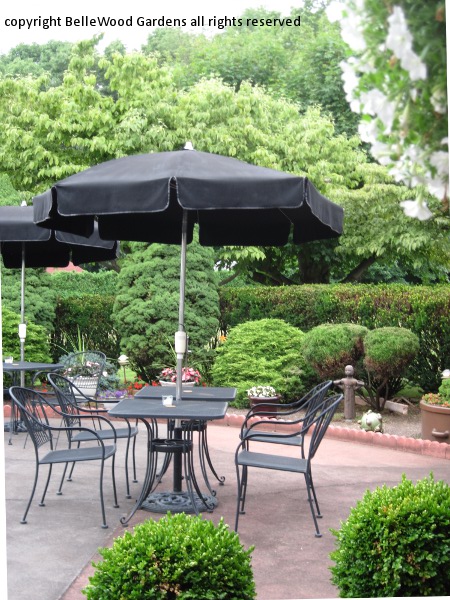 but today's quite warm and humid weather does not lend itself to outdoor dining,
or even just a drink. Another time, perhaps in early autumn when leaves begin to turn.
Modest in size, with tables spaced comfortably apart, the restaurant is elegant, but more like a well appointed home than a business. Antique furniture, a few paintings, quiet music. The back wall is mirrored, but cleverly, so the space appears doubled. Jim slides the small table out so I can seat myself at the banquette, then asks Paul if he'd rather sit next to me, or across from me. "Across," says Paul, "so I can look at her." Very good.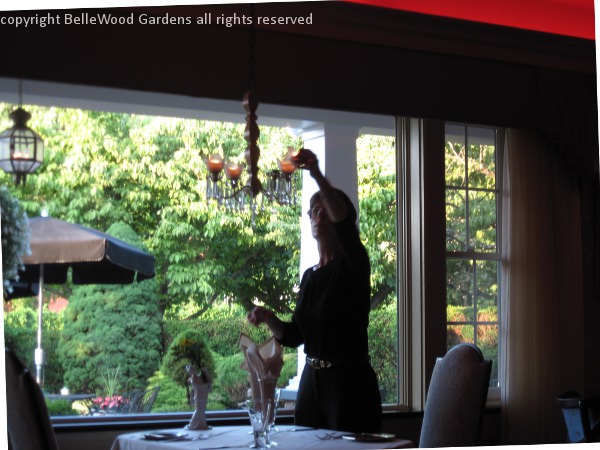 Each table has a chandelier, non-electric, with votive lights, real candles.
Anne comes over and asks if we would care for a drink. They have, she says, some summer cocktails.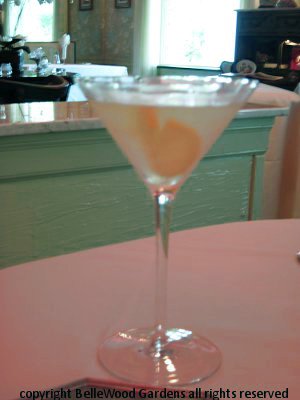 I choose a Milano, lemon vodka with limoncello. Perfect. Crisp, fresh, lemon, but tart, not sour. Paul has his favorite, a Cuba Libre. A toast, some conversation, some laughter. Now to peruse the menu. This takes some serious thought, if I'm to manage a primi, my main course, and still have room for dessert. Paul is on his own. It is an interesting menu with a northern Italian slant, and everything is prepared to order. We have the place to ourselves (it is rather early in the evening) so we can take our time and discuss our choices with Anne. Service here is very personal, discreet yet attentive.
I decide to start with a fettuccine. Jim assures me that though it is half the size of an entree serving
it could be shared. Yes, were it not for the fact that Paul really wants the ravioli nudi, a favorite of his.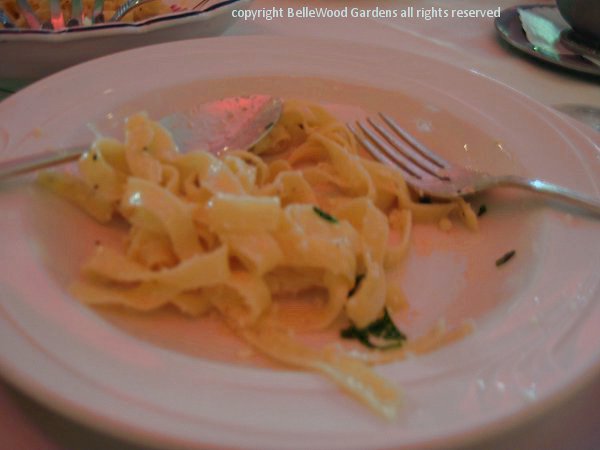 It looked so appetizing that I started to eat and only after several mouthfuls remembered to take a picture. If you think "Italian" equates with tomato sauce, go eat somewhere else. This was lightly dressed, delicately seasoned. I asked for a spoon to use as a backstop for my fork as I twirled the fettuccine. Butter, a dusting of cheese, and again with lemon, just a hint. Paul had a taste, enjoyed it, but was happy with his delicate ravioli nudi, naked, only the filling and no pasta wrapper, fork tender and no knife needed.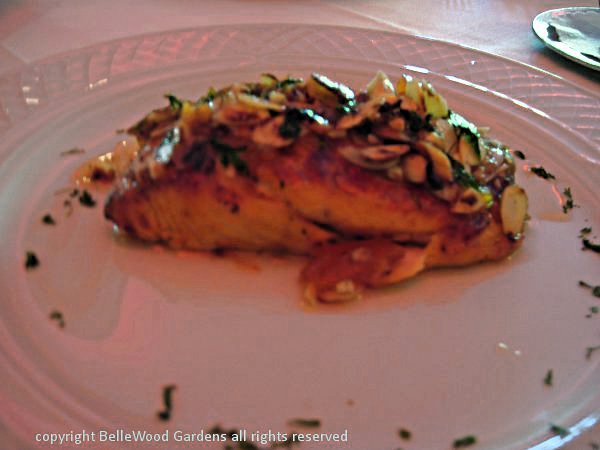 I ordered salmon while Paul chose the lump crab meat in brown butter. His came sizzling hot, huge lumps of crab meat cooked to perfection. My salmon, topped with slivered almonds and herbs, was also well done. Not in the sense of overcooked, mind you, but cooked just right. It was tender and just that little bit opaque in the center, finishing with residual heat as it sat on my plate. An assortment of vegetables, just a sampling of each, were presented to each of us on smaller side plates.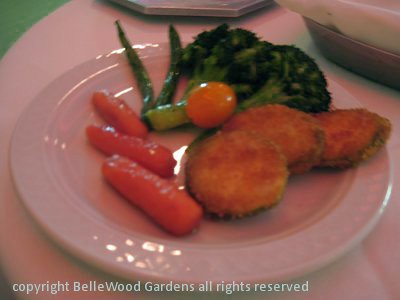 Three braised baby carrots, sweet and succulent. Crisp sliced of breaded zucchini. Steamed broccoli.
A couple of green beans, and a grilled cherry tomato. It doesn't look like much but it was just enough.
I told Anne I would like a glass of white wine with my entree, to please ask Jim what he would suggest. She came back with a glass of chardonay for each of us. A little dry, definitely not over-oaked, and a fine complement to both the salmon and the crab meat.
Time for dessert.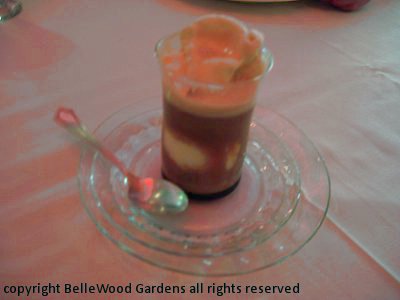 I had a soft vanilla gelato immersed in coffee. So fine! Jim, ever courteous,
told me he didn't think I needed a coffee to drink. If I wanted one, he'd
gladly bring it but he thought my dessert would do. And he was right.
We're both very fond of Tara, from the elegantly appointed, romantic, residential setting to the proficient service, and first, foremost, and especially, for the superb food. It's not inexpensive, in fact it is rather pricey, but it is well worth it. Should you care to go yourself, their telephone number is 610-982-5457.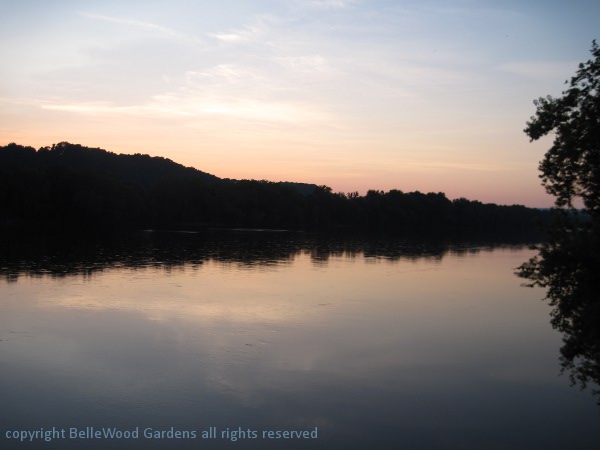 Back across the river, comfortably full both with food and with memories. Wonderful summer evening.
---
Back to Top
---
Back to June 2012
---