Garden Diary - September 2012
Sunday, 30 September 2012
Planting Fields Arboretum on Long Island
---
My lecture for the Long Island Horticultural Society was well received by an audience of 80 or more people. As the meeting was brought to a conclusion I was asked if I'd like a tour of Planting Fields Arboretum. It would be rather brief, I was warned, as by now it was 4:00 p.m. and the gates closed in an hour. Any time in a garden is better than none, don't you agree? So off I went in the passenger seat of a small golf cart, rolling along to see as much as we could. A brief stop at the dahlia garden with its several hundred varieties of show-quality dahlias, a ramble through the Synoptic Garden, a hurried dash around the Italian Water Garden - enough to whet my appetite for more. A return visit in Spring when the cherries would be in bloom, another when the Camellia Greenhouse, filled with the trees planted in the ground, would be magnificently in flower. If only I did not live 100 miles away, and Long Island did not have the congested traffic from which it suffers. Ah well. I saw what I did today, and quite enjoyed it.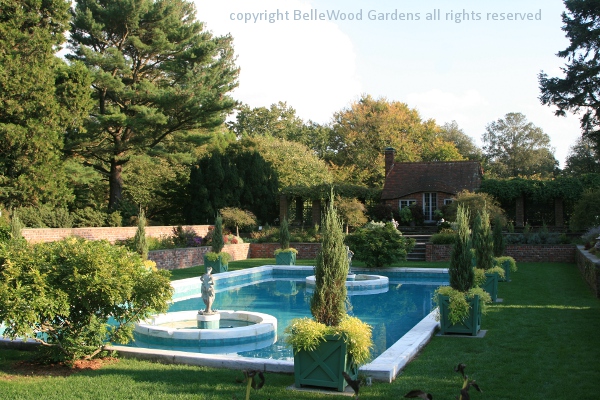 The late day sun casts a lovely warmth to the Italian Blue Pool Water Garden. It was designed between 1914 and 1918,
by A. Robeson Sargent, the son of Charles Sargent, founder of the Arnold Arboretum. Historically it was planted with
spring-blooming perennials such as delphiniums, irises, peonies, and poppies and is being restored to its original form.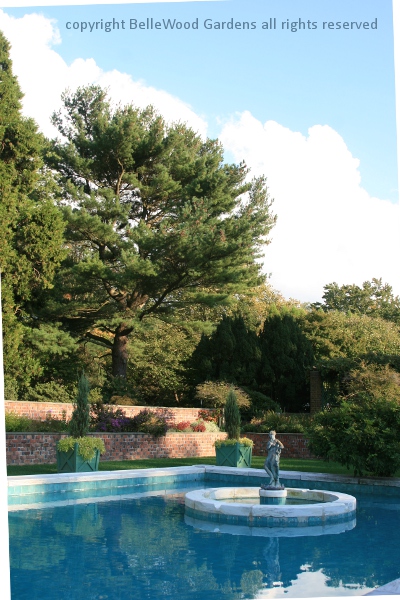 The still air made the quiet water into a reflective mirror for the shrubs and trees.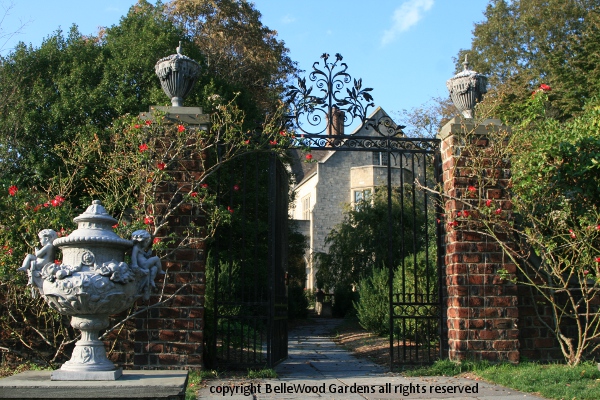 . . . .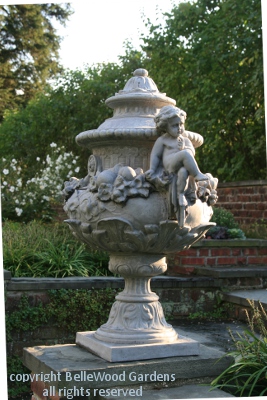 Wrought-iron gates pierce the brick wall surrounding the water garden, framing a view of the mansion as charming putti on the massive urn are kissed by sunlight.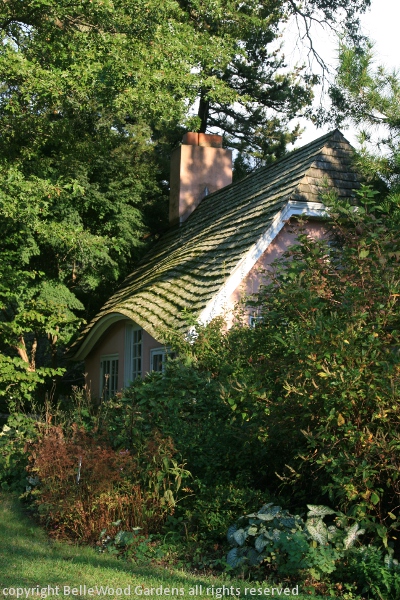 Nearby, the tea house with its exquisite curved roof, like an eyebrow over the windows, nestles into the shrubbery.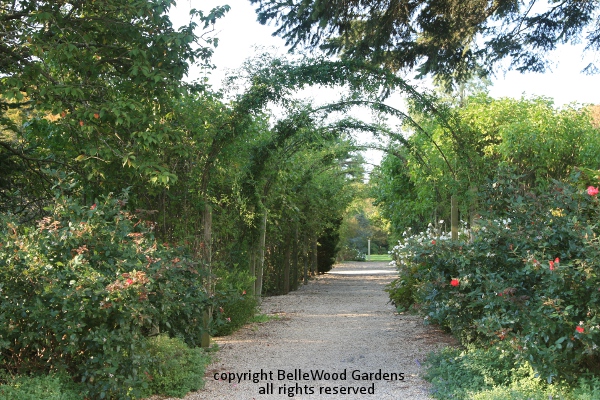 Arbors of vines and climbing roses arch over the path, the beds alongside filled with autumn flowers,
perennial sunflowers and goldenrod, rich purple asters in a luxuriance of native plants in the garden.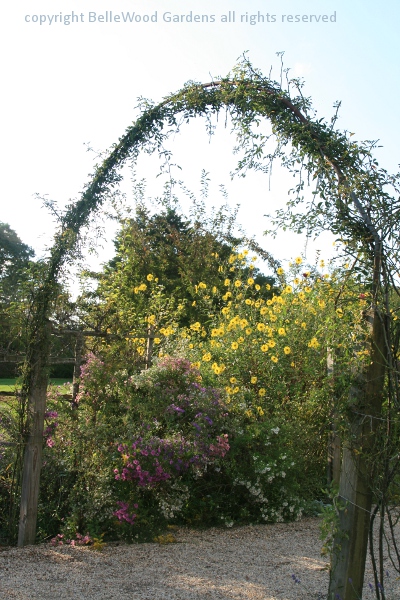 .
Brick beautifully laid in walls and walkways, tropical caladiums for summer's display - but soon to end with the frost.
A number of people were in the Dahlia Garden, admiring the spectacular flowers. There didn't seem to be any rhyme or reason to their planting that I could see, colors and types were side by side. What colors, what flowers! And all very well grown, with sturdy supports and spent flowers tidied away.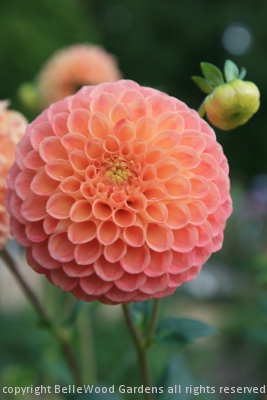 . . . .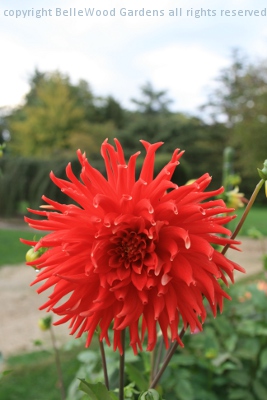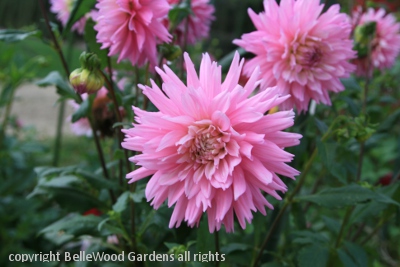 . . . .
.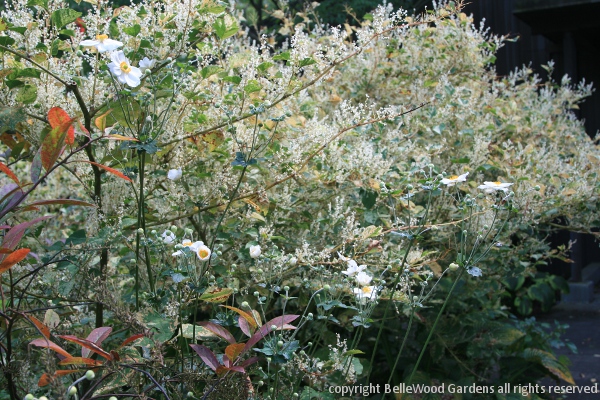 . . . .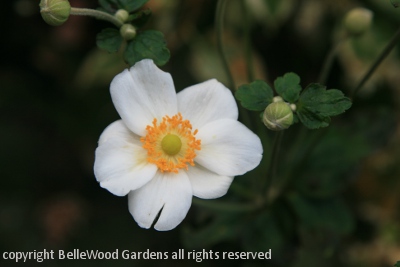 Anemone 'Honorine Jobert', pristine white flowers dancing on long supple stems.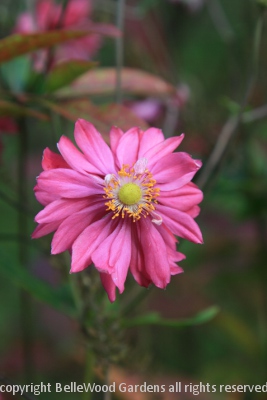 And fuchsia pink 'Whirlwind' numerous petals crowded around the golden stamens, as lush as a ballerina's tutu.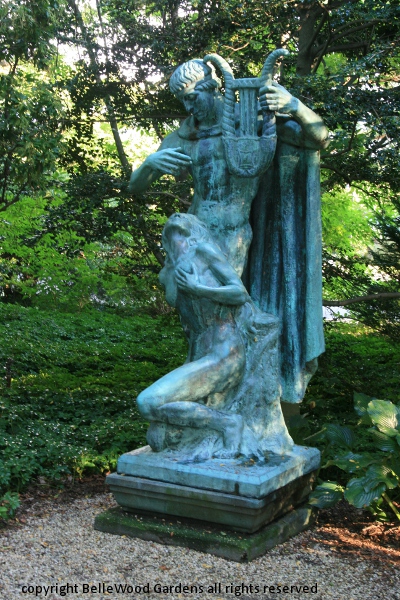 Almost lost in the shade under the trees, against the shrubbery. I have not learned
who are these lovers. A lyre . . . . could it be Orpheus and Eurydice? Perhaps.
---
Back to Top
---
Back to September
---