Garden Diary - April 2012
Holland in Tulip Time: Second Interlude - Food, Delicious Food
---
Granted, I didn't go shopping in supermarkets or neighborhood shops. From our breakfasts in hotels to snacks in museum cafes to dinners here and there, food in the Netherlands is delicious.
Let's start with breakfast. When a hotel in the United States notes that it provides a continental breakfast it doesn't include much. Some sort of juice / juice drink, dry cereal, bread, maybe one of those "make your own waffle" gizmos, coffee or tea.
When a hotel in the Netherlands provides a continental breakfast its a whole 'nother story. At the Inntel Hotel Amsterdam Centre it went like this:
If you wanted juice, fresh juice, you could make it yourself. There's a bowl
of oranges provided, a cutting board and a sharp knife. Place the cut half
on the machine, close the cover, flip a switch, and voila, fresh orange juice.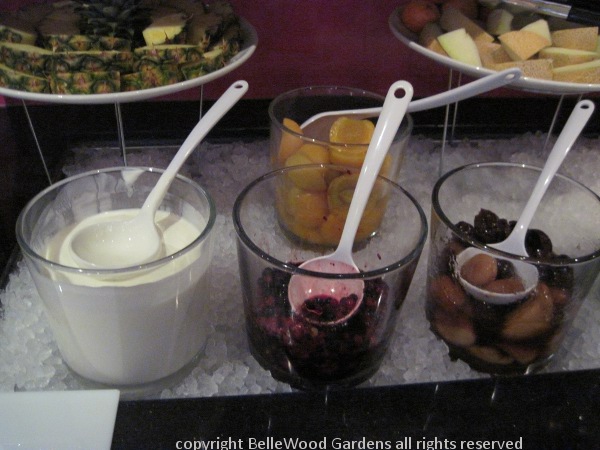 Dutch yogurt is this scrumptious (probably high fat but who cares) pourable
yogurt. You could top it with dark berries - blackberries, currants, maybe there were
blueberries - or poached dried fruit - apricots and prunes. Bananas. Pineapple. Muesli,
biologische, which is the same as what we call organic, I believe. Melon too. Yummy.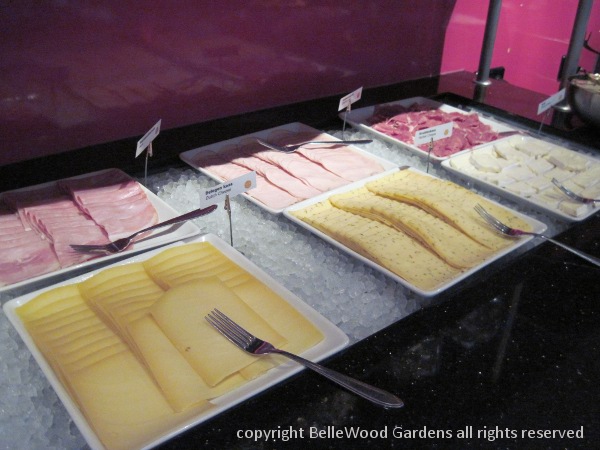 Cold cuts and three kinds of cheese. Fabulous bread, slice it yourself, or rolls.
Breakfast at the Inntel also included eggs, somewhere between medium and hard boiled and a little egg cup from which to eat one. Scrambled eggs. Sausage or bacon. Beans (that's a British import, I think) And the coffee machines! You could chose to have a capuchino, a latte, an expresso, plain coffee, coffee with milk - ah, bliss.
On 20 April I had dinner with my friends Phil and Carole, here from Ottawa, Canada and no, I didn't know they had signed up for this tour, and vice versa. Two friends of theirs, and my roommate Carol, from Minnesota. We went to an Indonesian restaurant, the Indrapura, about a 20 minute walk from the hotel recommended by the concierge. Pity we didn't go for rijstaffel but there you have it. And what we had was superb.
Sturdy metal stands with some type of burner keeps food warm as we serve
ourselves from the various dishes. Shrimp in the foreground, Carole ordered
that. Phil had lamb. We had sate babi and ayam asem manis, nasi goreng sate
and little side dishes and rice. I had beer, some drank wine. We ate and talked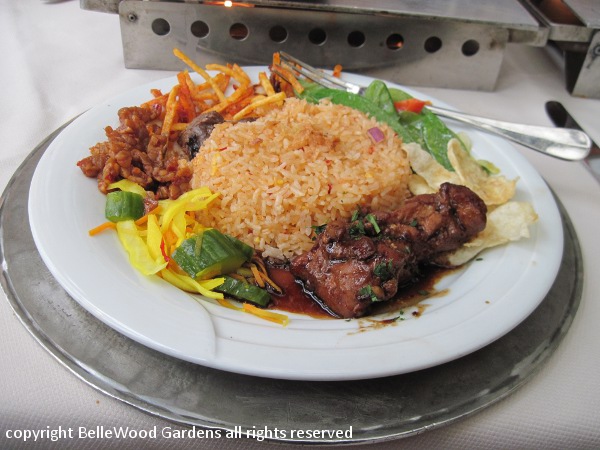 and had a great time. Here's my nasi goreng before I tucked in and ate it all up.
21 April after a long day at Keukenhof and the Bloemencorso, lots of walking, Carol and her friends Pam and Mary and I walked to a Dragon Corner, a Chinese / Indonesian restaurant close to the hotel. Their menu offered rijstafel for two people, so Pam and I joined forces.
Lots of little dishes, all well seasoned and not too spicy. We thought it strange that
there was an extra charge of 1 euro per person for white rice. Indonesian ricetable
without rice definitely seems odd. But the food was tasty and the company pleasant.
Inntel Hotel Amsterdam Centre had great breakfasts in a pleasant room with glass roof. But that was the only meal available. Once breakfast was over it closed. And the bar in the lobby didn't open until late afternoon, proving peanuts or oriental snack crackers to go with drinks and that was it. Immediately next door however was Humphrey's Restaurant. This is a chain, with restaurants across the country, two in Amsterdam, and this one right next door. It's where our tour group had its welcome dinner and also the farewell dinner, and where my roommate Carol and I had dinner on April 22 after our day touring around Amsterdam.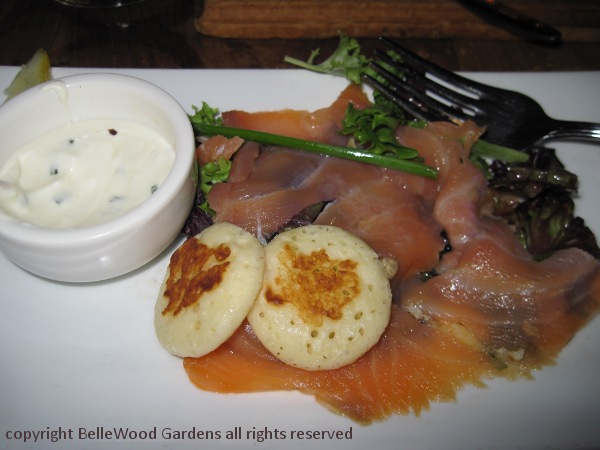 My appetizer was smoked salmon with buckwheat blini. Salmon was flavorful, moist,
- just what it should be. Those little pancakes though . . . . Blini are not, in my experience,
puffy little pancakes. And they neither looked dark enough to be nor tasted of buckwheat.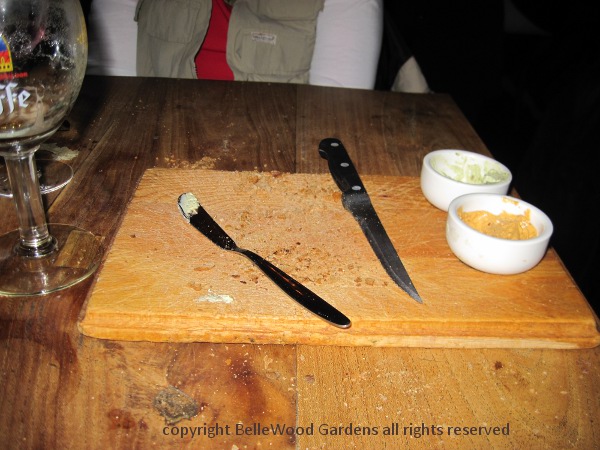 The bread was so good Carol and I ate it all up before I even thought about a picture.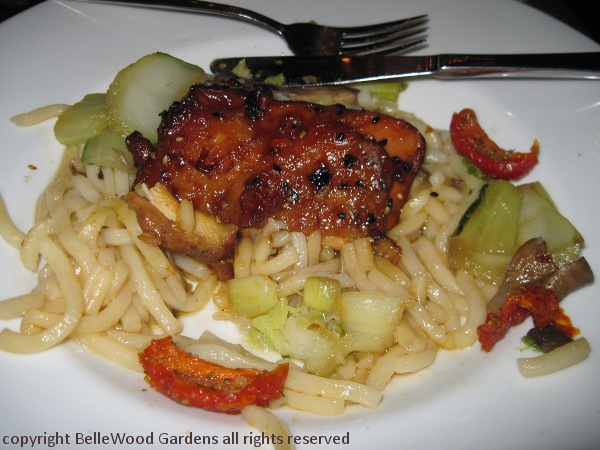 For an entree I chose wakadori chicken served with thick noodles and vegetables.
Leffe Dubbel beer went quite nicely with the chicken.
It seems that in the Netherlands patat fritte accompany many meals.
In fact, you can even have them on their own. The Dutch enjoy them
with mayonnaise. One woman in our group was taken aback that there
was a half euro charge for the mayo. I asked if she had ever paid for
whipped cream with apple tart. She said yes, but that was different.
Speaking of apple tarts and whipped cream - at the Zaanse Museum in Zaandam I had the very best apple tart I have ever eaten in my life. With whipped cream. It was deep, filled with tender apple layered in a thick jelly-like syrup. The paradigm of apple tarts.
In Venlo, the Van der Valk hotel did have a restaurant. It was where we had another tour group dinner on April 24. (There were three altogether, other nights we were on our own) The hotel was rather isolated and it would have been rather a hike to walk somewhere else for a meal. After our long day at the Floriade on April 25 Carol, Pam, and Mary invited me to join them for dinner at the hotel . We all ordered a la carte, unaware that for 19 euros apiece we could have gotten a chit at the registration desk for a 3 course prix fixe dinner. Ah well, live and learn.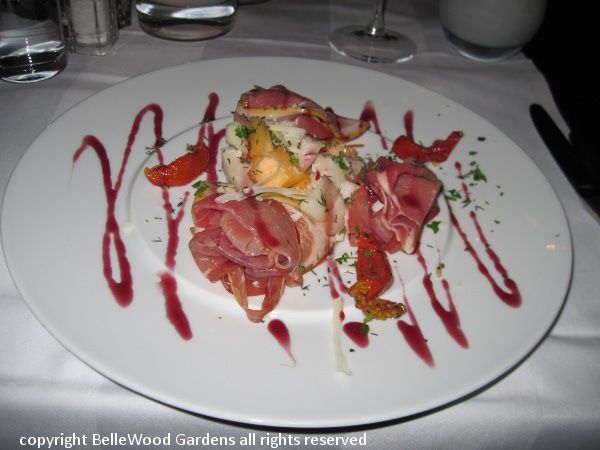 My starter was Ardennes ham with melon and a port wine reduction. Ham superb,
melon hard and under-ripe. Service was execrable - my 3 companions went to the
salad bar, came back, ate their salads, and I had not been served. The whole meal
went that slowly. The restaurant was not that full, certainly not by the time we finished.
My entree didn't photograph well. It was cannelloni filled with chestnut mushroom duxelles
in a cream sauce. Flavorful, but generic "mushroom", nothing unique.
Comments: The only overweight people I saw in the Netherlands were tourists. It must be all the bicycle riding and / or walking because the food is ample and delicious.
---
Back to Top
---