Garden Diary - April 2012
---
If you have any comments, observations, or questions about what you read here, remember you can always Contact Me
All content included on this site such as text, graphics and images is protected by U.S and international copyright law.
The compilation of all content on this site is the exclusive property of the site copyright holder.
---
April
---
Interlude: Miscellaneous and Scenic Images
Here is a compendium of images, a miscellany of street scenes and countryside images photographed here and there on the days I was in the Netherlands.
Windmills. It is obligatory, I think, to ooh and aah about windmills in the Netherlands.
What I missed was taking any images of the huge white electricity-generating versions,
the contemporary versions one sees everywhere. If you live in a windy country, make use of it.
Photographed at the Zaanse Schans, an open-air museum in Zaandam, the Netherlands. 20 April 2012
This pollarded willow was also photographed in Zaandam. Pollarding is quite common
in the Netherlands, however the technique is not suitable for all trees. Willows, especially,
and sycamores, are often grown in this manner. It provides withes for basketry and fencing,
and also for livestock feed. The technique also controls the height of the tree, and - by reducing
the tree's height - gives freer passage to the wind that turns the new and old windmills' vanes.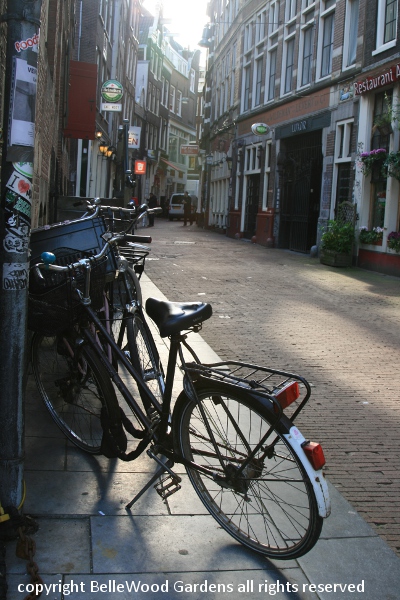 A charming small street just outside our hotel, Inntel Hotel Amsterdam Centre.
Photographed in Amsterdam, the Netherlands. 27 April 2012
This man having a pint of beer caught my attention, more for the three small dogs
waiting patiently for him to finish his drink and continue their walk.
Photographed in Amsterdam, the Netherlands. 26 April 2012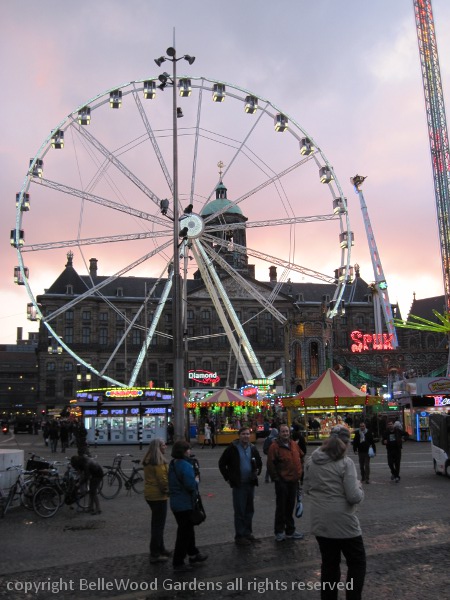 The weekend of 21 & 22 April were special. This huge ferris wheel
and a couple of other rides, as well as amusement park type booths were
set up in Dam Square in just an afternoon. We could hear screaming people
on the third ride, the rotate on an axis, flip and spin the cages at the end of
the arms, even at night, even in our hotel rooms several blocks away.
Photographed at Dam Square, Amsterdam, the Netherlands.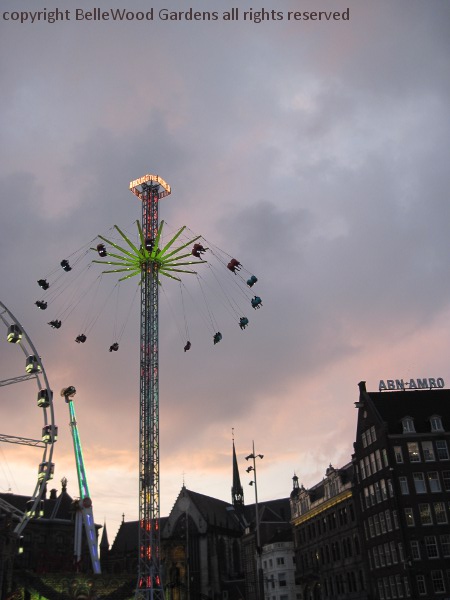 .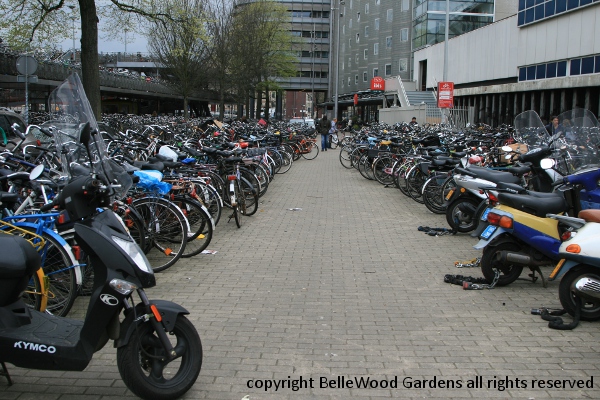 Bicycles are a major mode of transportation in the Netherlands.This parking lot at the
train station is filled with commuters' bicycles. Pedal from home to the station and go off to
work on the excellent public transportation. This are heavy steel "sit up and beg" bicycles,
with few or only one gear. Heavily chained and padlocked, as bike theft is common.
Photographed near the central train station, Amsterdam, the Netherlands. 19 April 2012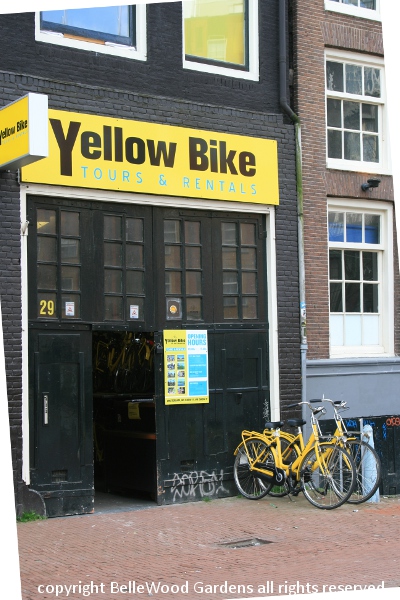 Just a few doors down from our hotel is Yellow Bike Tours and
Rentals. I noticed a handful of people on yellow bikes outside
the Van Gogh Museum. There are bike lanes everywhere and
the swoop on wheel in dense packs, often with a toddler balanced
fore and aft. Helmets for children, not worn by adults that I saw.
Photographed in Amsterdam, the Netherlands. 27 April 2012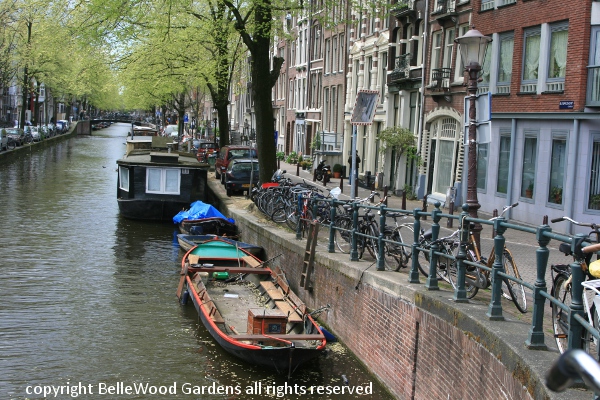 Water everywhere, not just rivers but endless canals ringing the city. Cars park
inches from the edge, bicycles chained to any railing, and houseboats against the wall.
Photographed in Amsterdam, the Netherlands. 26 April 2012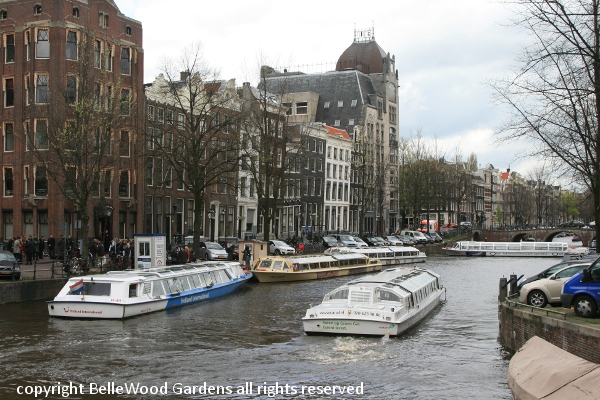 The canals are also swarming with canal boats filled with tourists eager for a water level
view of the city. No traffic lights on the water and there seems to be some congestion here.
Photographed in Amsterdam, the Netherlands. 26 April 2012
The Zaanse Schans had a cheese shop, a place selling diamonds, and a wooden shoe museum.
Photographed in Zaandam, the Netherlands. 20 April 2012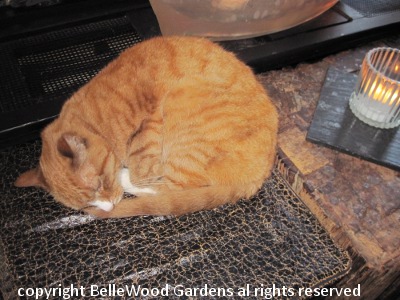 Our hotel had a wonderful continental breakfast (more about that at the next interlude)
but only a bar in the tiny lounge. Our two group dinners were immediately next door
at Humphrey's Restaurant, where I occasionally found this handsome orange cat
having a snooze. He was amenable to some polite homage, even purred for me.
Photographed in Amsterdam, the Netherlands.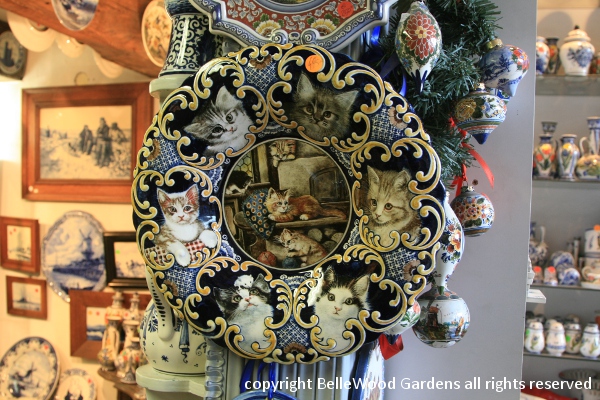 On our last afternoon, free upon the return from Venlo, a friend and I headed off
for the Amsterdam Tulip Museum. Also found an antique store selling Delft of
various quality. I was quite taken with this clowder of kittens decorating a plate.
Photographed in Amsterdam, the Netherlands. 26 April 2012
I bought this hat just for the trip, carefully rolled it up and packed it. Had no opportunity
to wear it before now, didn't want any "Then why did you buy it?" comments. Here's proof.
In just moments we'd board the bus to head off for the Floriade. Of course the wind wanted
to pluck it off my head and - it being the Netherlands - it rained. Hat not compatible with
an umbrella. But as you can see I am wearing it. And don't I look happy, too. I was. Really happy.
Photographed in Venlo, the Netherlands. 25 April 2012
Tour Comment: The tour was scheduled with a free day on 23 April and a free afternoon on 26 April, upon our return from Venlo. Since my flight arrived at 7:00 a.m. local time on 19 April I also had free time on that day. It was very good to have this "down time", though we all seemed to keep ourselves quite busy.
---
Back to Top
---