Garden Diary - November 2012
Tuesday, 13 November 2012
Holiday Train Show at the New York Botanical Garden
---
October ended in a superstorm. People lost their homes to flooding and wind damage. Trees toppled over, taking electrical wires with them. It was a dark time. How wonderful, then, that as we climb back to normalcy that one lovely reoccurrence opens on Saturday, 17 November. I refer to the New York Botanical Garden and their holiday train show. This magical event began back in 1992. I think I've been to every one. Paul Busse and his son Brian create an imaginative fairyland where trains zip by overhead, at ground level, and inbetween. Each year there are a few buildings that always make an appearance: Rockefeller Center, St. Patrick's Cathedral, Yankee Stadium (the old one), Penn Station. And every year there's something new.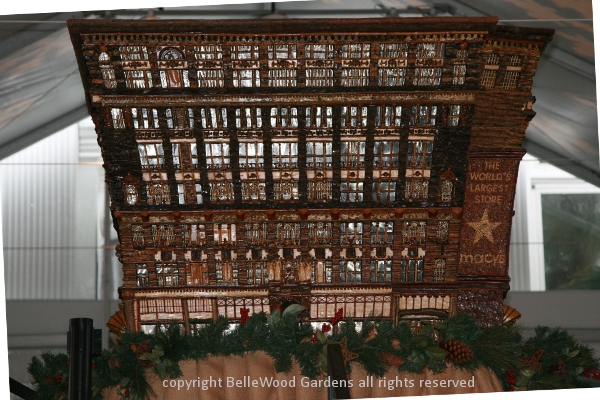 New this year is a marvellous enormous replica of Macy's iconic department store. Even the location
is a first, right outside the conservatory itself, under the canopy and up the stairs. It will become a vase,
with all sorts of greenery towering up from where its roof would be - if it were a real building that is.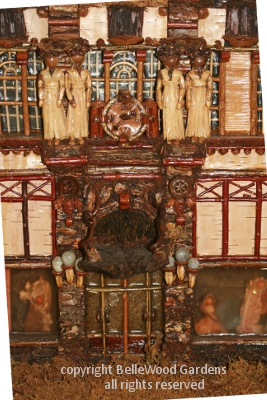 . . . .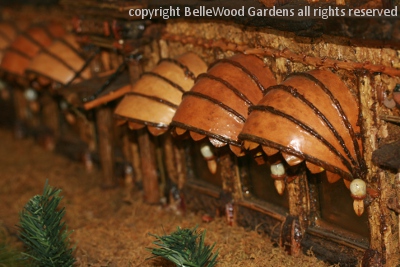 Peer in the street level display windows to see what's fashionable, sheltered by canopies crafted from gourds and eucalyptus leaves. Other botanical building materials include
willow branches, oak and white pine bark, forsythia twigs, grapevine tendrils, acorn caps, cinnamon curls. The Macy's sign itself is crafted from red pepper and rice grains.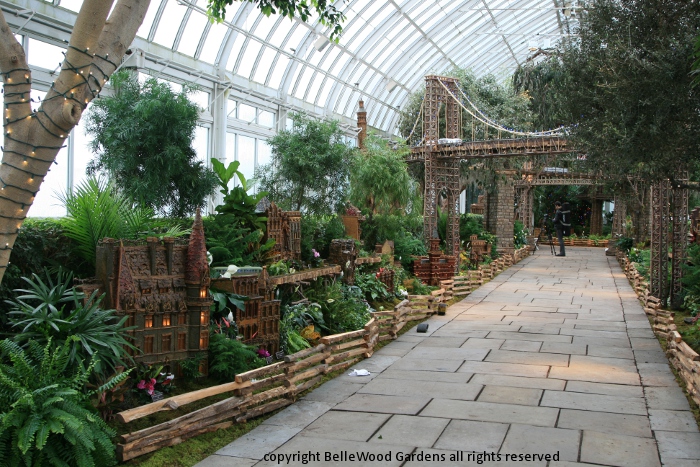 Anticipation builds. There are about 120 buildings and of course never quite the same arrangement from year to year.
Through the doors and into the seasonal display gallery. A quick look to the left. And another look to the right.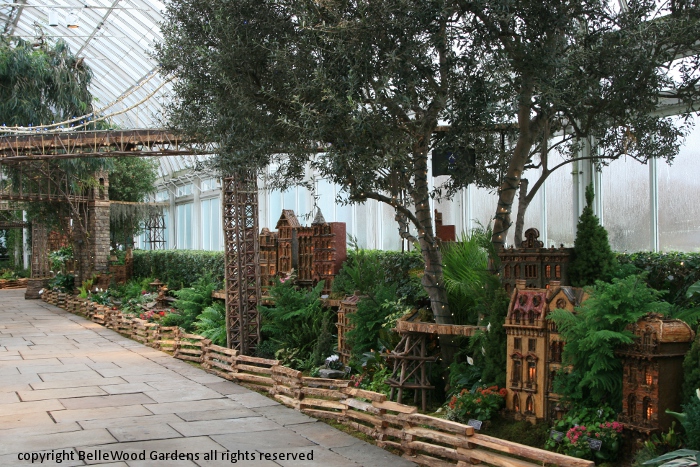 The bridges are always here, and they, of course, are always in the same location so eager children (of all ages, youngsters and older).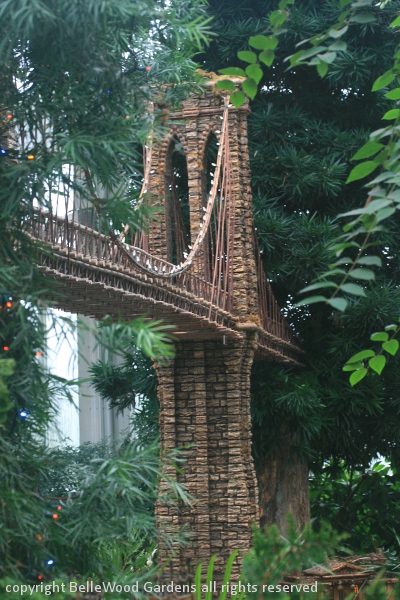 . . . .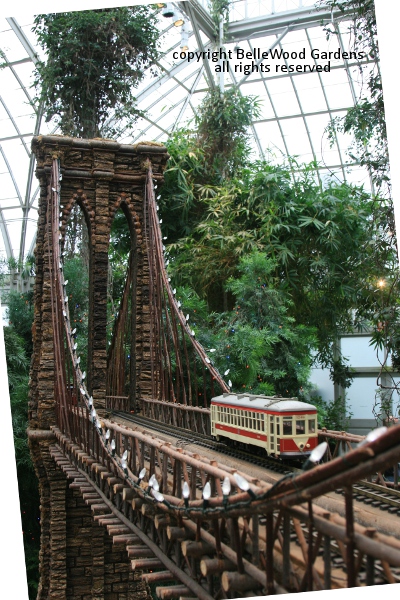 can stroll beneath these captivating structures as the trolleys chuff back and forth. I don't levitate, but there was this handy ladder . . . .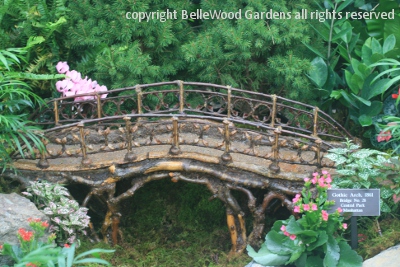 . . . .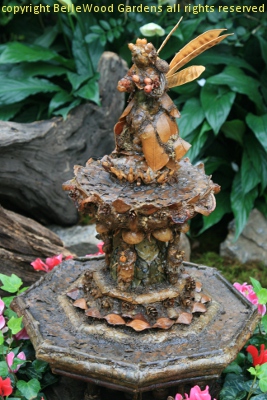 The grand set pieces are remarkable but I am fascinated with the detail and attention that has gone into even
the smallest piece such as this gothic arch bridge # 28, built in 1861, and which still may be found in Manhattan's
Central Park, also home to the Bethesda Fountain's charming Angel of the Waters statue, built in 1873.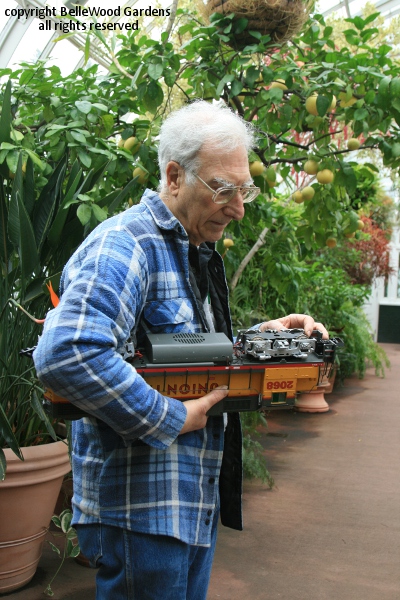 Every detail is reviewed and polished, getting ready for Saturday's opening.
Tracks wiped with a cleaning cloth, engine undercarriage carefully examined.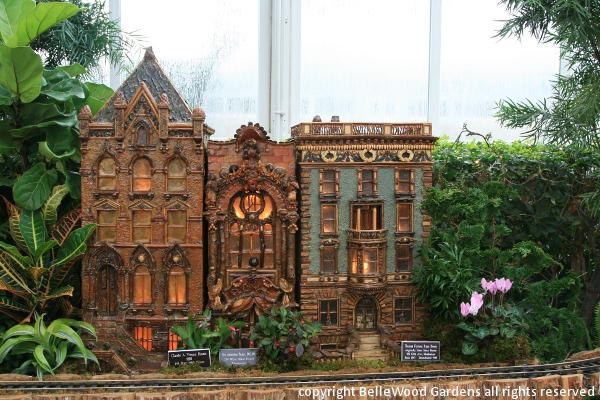 . . . .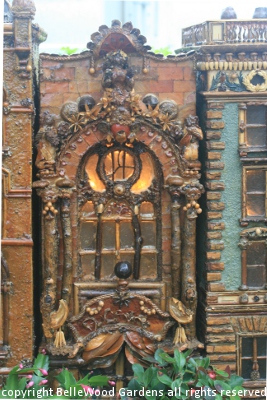 Brownstones, replicated in twigs and seeds, pods and cones. From left to right may be seen the Claude A. Vissani House, built in 1889 and
located at 143 West 95 Street. New Amsterdam Theater, at 214 West 42nd Street in Manhattan was built in 1902-03. Look at the closeup and
admire the loving detail that's gone into creating this botanical replica. But it is the Thomas Fortune Ryan House, here on the right, that you
should study. Originally the Isaac Stern House, built in 1893 and located at 858 Fifth Avenue it was demolished in 1939. Gone, but for this replica.
What do you think of the Jewish Museum, originally the Felix Warburg House. Nestled in greenery,
with pots of pretty pink cyclamen to accent it. Built in 1909, at 1109 Fifth Avenue in Manhattan, I adore
the level of detail, from mansard roof, elegant dormers, to diversity of windows, and massive front door.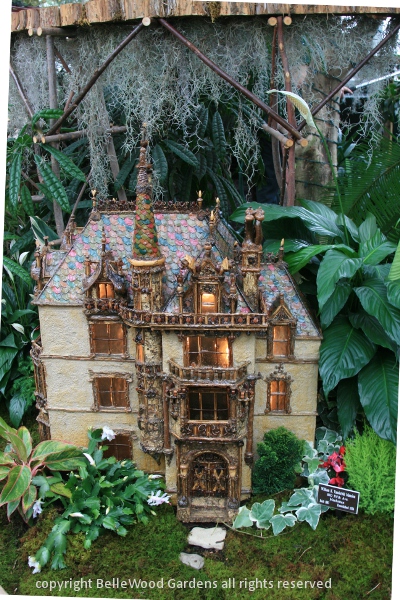 Once upon a time the William K. Vanderbilt Mansion would also
have been found at 660 Fifth Avenue. Built in 1883, demolished in 1926.
Last year there was an innovation, with The Artist's Studio created in a tent just outside one wing of the seasonal display conservatory. It offered a look at the level of planning, detail, collection and creation of Kykuit, from foam board structure, covered with pine bark, then embellished with more than two dozen different bits of twigs and seeds and vines and tendrils to create the elegant mansion where fairies hold their midsummer magic dances. It was fascinating, and you'll find it there again this year. But wait, because this year there's even more. The Busse team, father and son, have brought some buildings from their own collection. There are grand structures like Hagia Sophia from Istanbul, Turkey and funky pop culture icons like Lucy the elephant building from Margate, New Jersey's boardwalk.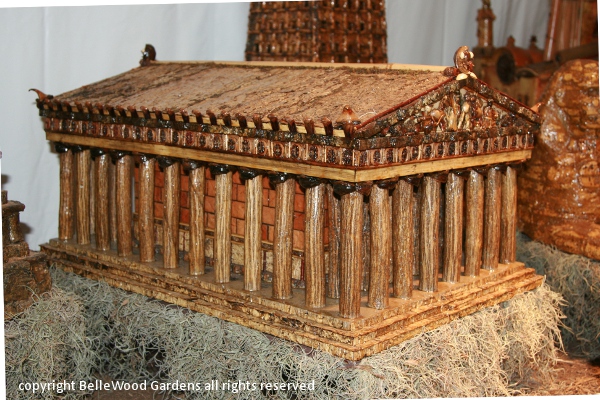 How about the Parthenon? Beautifully proportioned and "restored" in all its glory.
. . . .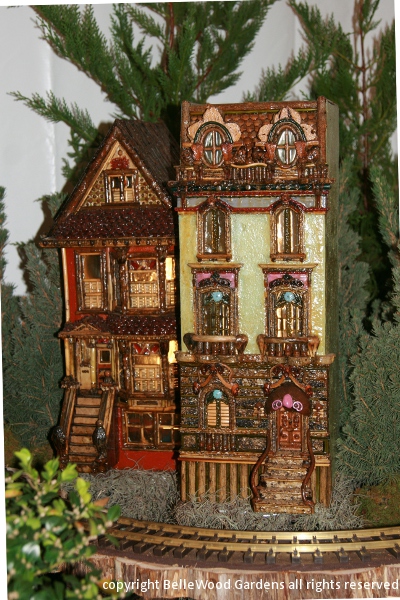 Or, let's take a quick trip cross country and admire San Francisco's Painted Ladies, the colorful frame building counterparts of New York City's brownstones.
This being the holiday train show, of course there are railroad tracks and garden railway cars tootling by. But these are not your ordinary trains.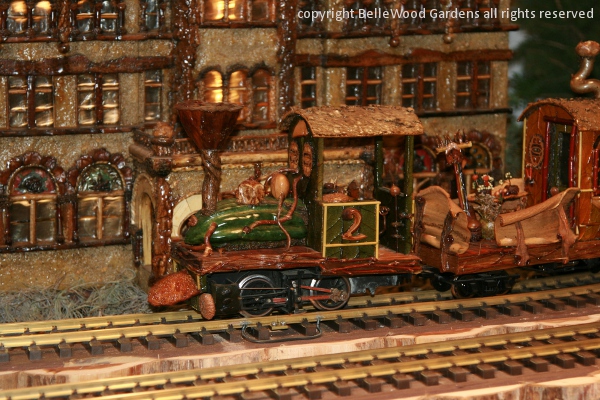 Look, look, look! The fairies have upgraded from bumblebees and butterflies to fantastical
botanical magical trolleys, powered by moonbeams. I adore the buildings but these are
over the top. If only the trams out on the grounds could be as lavishly embellished as these.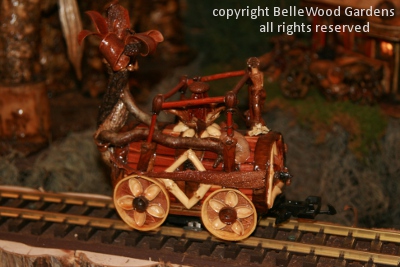 .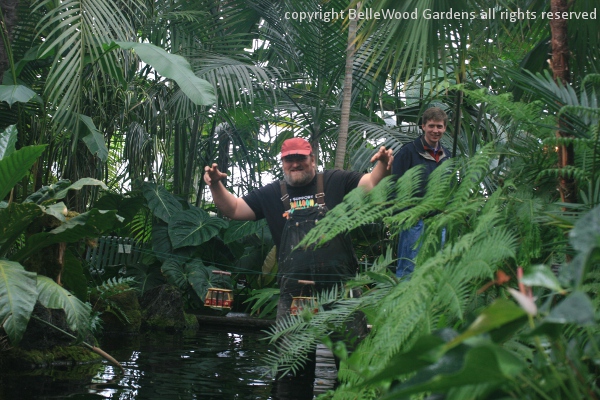 Brian Busse watches with amusement as one of Applied Imagination's crew hams it up in the Palm Court pool
while setting up the cables for the aerial trams crossing the black reflective waters.
You really should come and step across the threshold into wonderland this holiday season. Who would have thought that the bits and pieces most of us would sweep up and toss into a compost heap could instead suffer a sea change into something rare and strange. Only Paul and Brian Busse, and the folks at Applied Imagination. This, the 21st holiday train show is sure to appeal to you as it does to me, and to children of all ages.
The holiday train show opens on Saturday, 17 November 2012 and will close on Sunday, 13 January 2013. Hours are Tuesday to Friday 10:00 a.m. to 6:00 p.m., Saturday and Sunday until 7:00 p.m. Closed all day 22 November - Thanksgiving Day, and 25 December, Christmas Day. Closing at 3:00 p.m. on Friday, 14 December and Monday, 24 December. Extended hours 10:00 a.m. to 7:00 p.m. from Monday, 17 December through Tuesday, 1 January 2013.
Pricing: weekdays 20 November - 14 December, and 2 January - 11 January - adults $20, seniors and students $18, children 2 - 12, $10, children under 2 years old are admitted free. Weekends and holiday weeks (17 December - 1 January ) - adults $25, seniors and students $22, children 2 - 12, $15, and children under 2 years of age admitted free.
Advance timed tickets are strongly recommended, especially for the most popular times on holidays and weekends. They may be purchased on-line here
---
Back to Top
---
Back to November
---