Garden Diary - September 2012
Thursday, 20 September 2012
Manolo Valdés Sculptures at the New York Botanical Garden
---
Last August I saw this article in the New York Times, about an upcoming exhibition of sculptures by Manolo Valdés at the New York Botanical Garden. As visitors to BelleWood Gardens are well aware, I enjoy multiple opportunities throughout the year to visit NYBG's displays and events both indoors and outside. (Full disclosure: I teach here too.) There are the set pieces: holiday train show in winter, orchid show in March. Those are in the Enid Haupt Conservatory. And I find something extraordinary and special about displays outdoors in the garden, which is just what this will be. More fun with company, so my husband and I drove in. His sister, who lives in Manhattan, took a 15 minute ride on the very convenient train that has a stop just across from the garden's Mosholu gate. Once we all arrived and met up, the first of the seven massive sculptures was beckoning us from the lawn in front of the Beaux Arts building..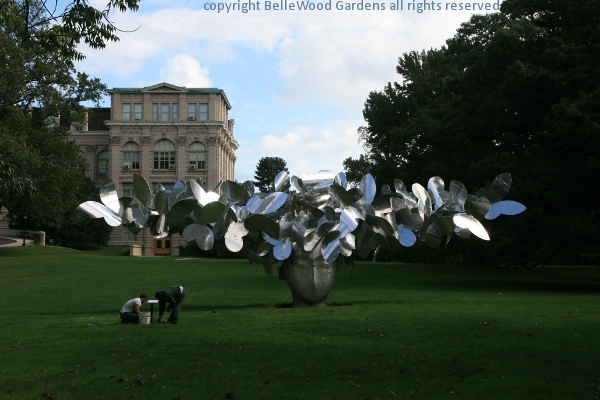 Walking in Central Park one day the sculptor was fascinated by the sight of a man, sunbathing, with a swirl of monarch butterflies
about his head. The result, from observation to vision, maquette to sculpture, this massive head adorned with a crown of butterflies.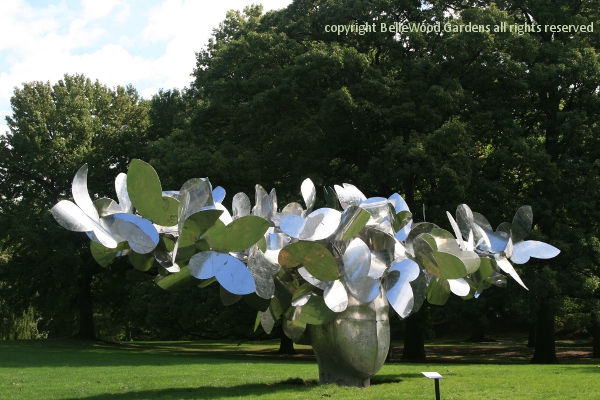 And Butterflies is also its name. Created in 2012, of aluminum, one of an edition of four, Butterflies is 608 1/4 by 204 3/4 by 149 5/8 inches.
And I know all this because I daringly walked across the grass to approach the signage that's too small to read from the path. Sweep of lawn,
backdrop of trees, shifting light and eye bright shimmer as the sun dances with passing clouds to reflect off the polished metal. Only outdoors.
From there we walked over to the conservatory. There are three more sculptures on the sweep of that spreads out before the great glasshouse. All the sculptures have faces. They are siblings, with clearly a family relationship. Individual, not identical. Materials vary from aluminum to corten steel which weathers to a protective skin of rust, and bronze.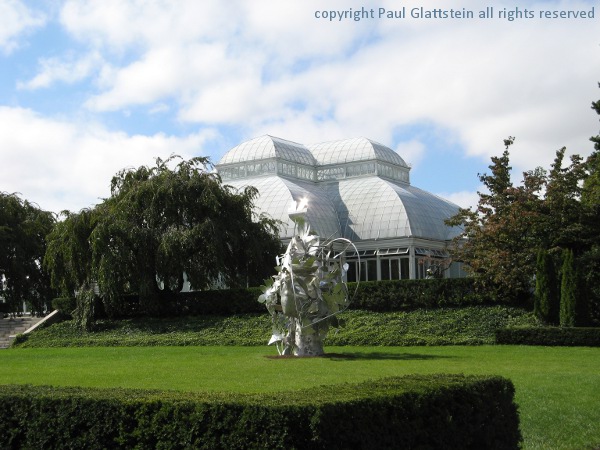 With a swirling wind of leaves blowing around her head, Arcadia is closest to the Four-Season Border.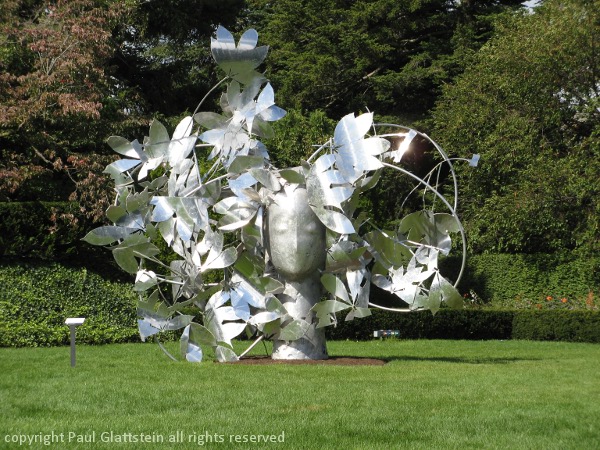 .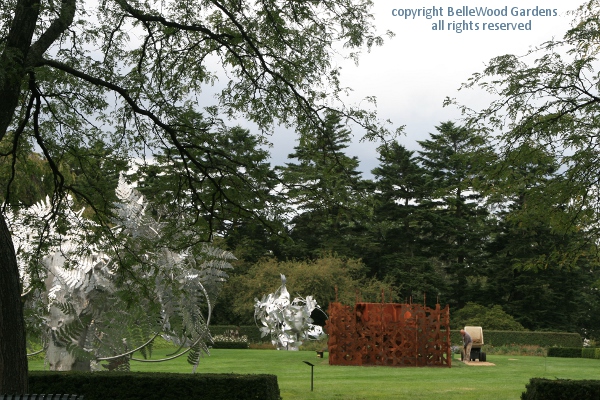 The three sculptures fill the space, silvery aluminum Arcadia and Galatea, and corten Alhambra.
The sculptures change with sun and clouds. They'll change even more with the seasons. But right now,
at this moment, I very much enjoy the pairing filigree of lacy tree leaves with the dripping ferns of Galatea.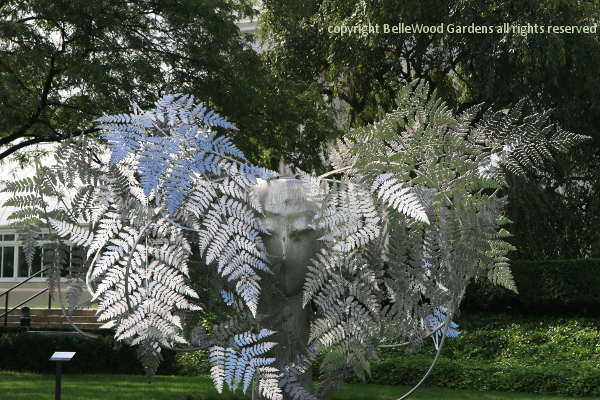 .
The three of us were standing around, commenting on the sculptures. A young woman stepped over to us, asking if we'd mind talking to her as she was a newspaper reporter doing a story about the exhibition and the sculptures. Of course not. So here is her article which appeared in the Daily News on September 25 (scroll down past the ads to read the whole piece.)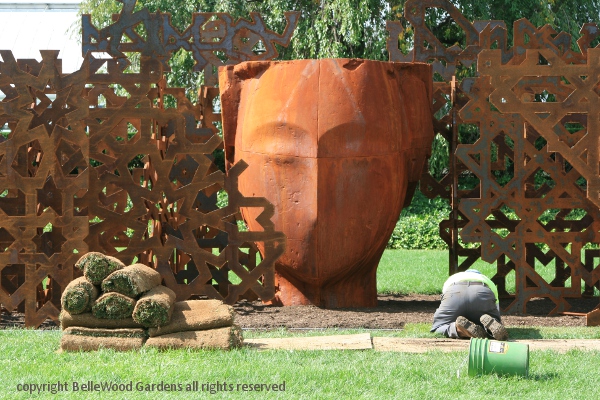 Last minute prep work, replanting sod to green up the installations before Saturday's official opening. Different from the other sculptures swirling headdresses, Alhambra is tribute to Spain's historic Alhambra in Granada with its Moorish gardens and 10th century architecture. Fifty foot bronze and corten steel, an open metal work variation of geometric tiling patterns creates a maze filled with light and shadows.
.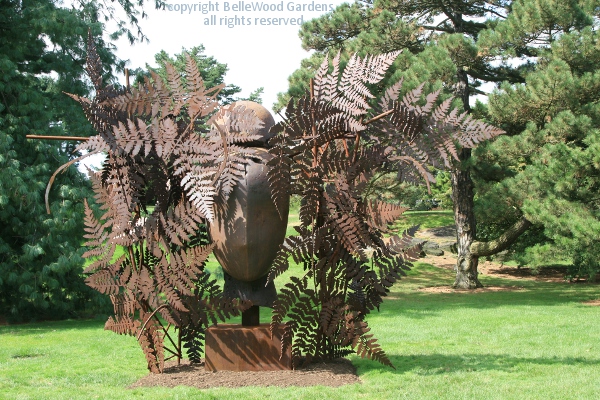 Fascinating how a change in material alters my perception of this sculpture. Guiomar is corten steel
and bronze. It takes light into itself unlike the shimmer and reflections of Galatea. It will be interesting
to see the alterations wrought by snow on the two sculptures with their delicate headdresses of ferns.
Ivy is set in the circular reflecting pool of the promenade that continues beyond the Shop in the Garden.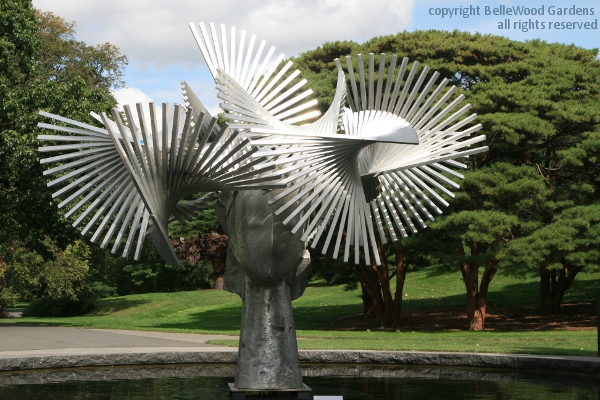 It puzzles me, naming this sculpture Ivy. I can see, perhaps, a palm frond. Or a bird's wing feathers.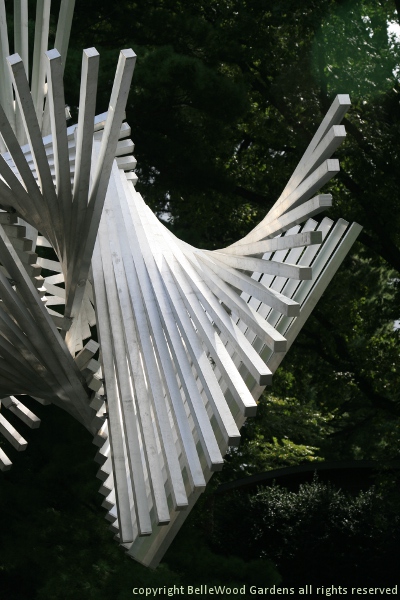 Geometric swirling pattern, straight lines that morph into a curve.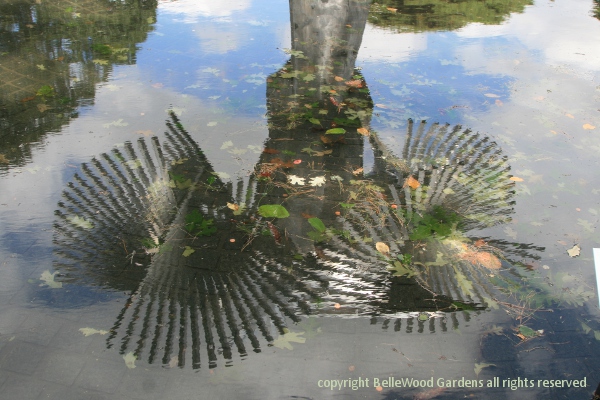 And a reflection in the pool, embellished with the first fallen leaves of autumn.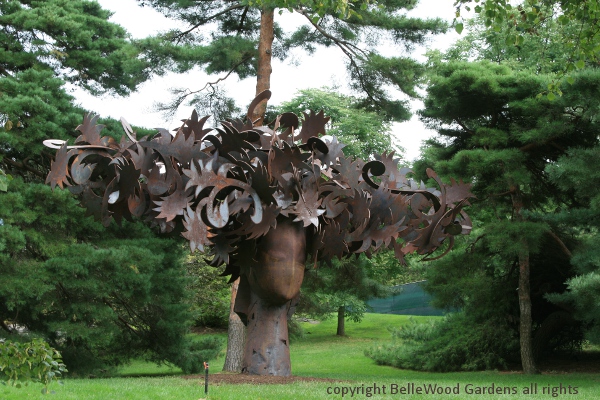 And seventh. Fiore. A galaxy of oak and maple leaves in a tempest around her head, leaves that
will never change, never fall. Rich in color against the ever green of pines. Located near
a major tram stop, start point / end point of Manolo Valdés sculptures at the garden.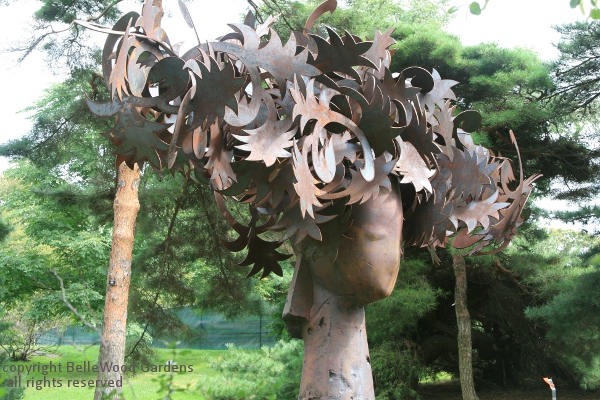 .
Open from Saturday, 22 September 2012 through Sunday, 26 May 2013. Come once, come again, come often and enjoy
the seasonal changes of the landscape and the vibrancy it lends to the sculptures, so unlike a static gallery / museum display.
---
Back to Top
---
Back to September
---