Garden Diary - September 2012
Saturday, 8 September 2012
Garden State Sheep Breeders Association Sheep and Fiber Festival, Part I
---
Back to the fairgrounds today, scarcely a week since I was there for the 4-H Fair. This weekend it is the 18th annual Garden State Sheep Breeders Association sheep and fiber festival. Sheep, lots of sheep. A couple of regional breed shows. Educational exhibits. Vendors selling fleece and yarn and roving, spinning wheels and spindles, buttons made from anything you can think of, and more, two barns full. Fun for one and all. You don't even have to own a sheep. Graciously, they gave me a press pass and off I went.
Two barns filled with sheep and other fiber-producing livestock. I love looking at the sheep, llamas, alpacas, and more. What makes this event especially nice is that the first barn has pens two by two, one with a particular breed of sheep (labeled, for those of us who cannot tell them apart at a glance) and an exhibit with some information, perhaps wool samples too.
Just about everyone know that wool comes from sheep. And that meat from young sheep is sold ,eponymously, as lamb. (There's also hogget. That's a year-old sheep, and / or its meat, and also refers to the first shearing of an animal over 7 months old, the finest fleece it will ever produce. And mutton. I keep getting told that mutton is only fit for dog food. Why then, were gentlemen in the Sherlock Holmes novels dinng on mutton chops at their clubs? But I digress.). There are different breeds of sheep. Some are better for meat, others for wool.
Romney, a breed native to the Romney marsh in southestern England's coastal plain are today found around the world. Here in the United States both white fleeced and natural (colored fleece) can be registered. Romneys have an interesting background. Sheep were brought to the Kent area by its earliest inhabitants, and - over time - adapted to the wet conditions. However it was only in the mid-nineteenth century that the modern Romney breed can be said to have been developed. Open faced long wool sheep, their high yielding fleece has a fine fiber with good crimp (that's waviness) and long staple (that refers to the length of an unstretch lock of sheared fleece.) Romneys are considered a dual purpose breed, valued for meat production too.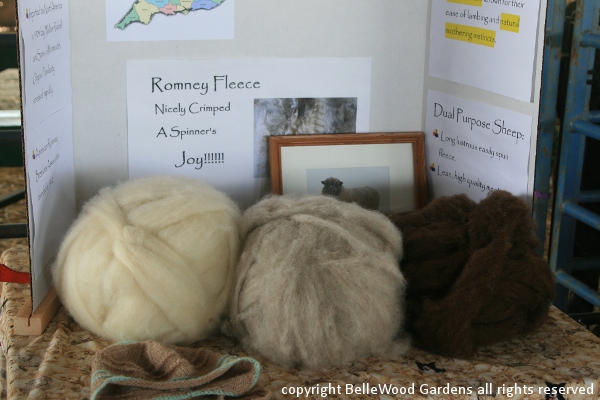 Very nice educational exhibit of Romney roving (carded, unspun wood), both whte and natural.
Today there is a Northest regional Romney show with numerous classes: for aged rams (wish they'd say "senior", it's just rams 2 to 4 years old) yearling rams, ram lambs, aged ewes (they can be 2 to 8 years old) yearling ewes, ewe lambs, and other classes. When the show is about to begin the sheep are haltered, lead from their pens and tied along the inside back bars of the show ring, across from the podium and just opposite the bleachers.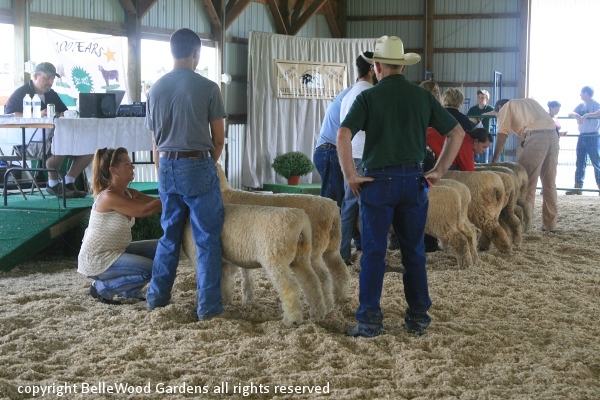 In the show ring. The judge looks to see how well each sheep compares to the breed standard for confirmation and fleece quality.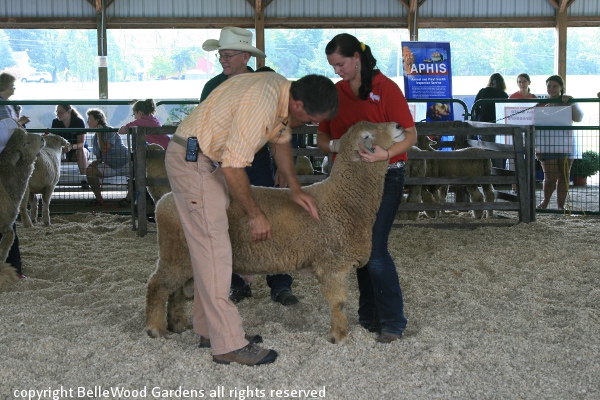 Aged ram class. The judge does more than step back and look, though he does that too, and watches them move around the ring.
He is hands on, everywhere, even their testicles. He explained this is an important attribute for a ram so he's checking for abnormalities.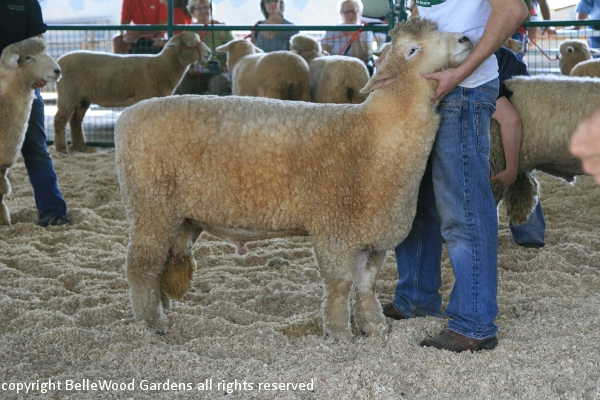 .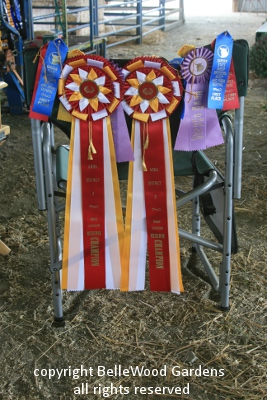 Ribbons are important. It shows how well your sheep compare to other sheep, and how well
they match the breed standard. It's certainly not for the money as even first place is quite modest.
The other breed show today is the 2nd Northeast regional Jacob show. In Genesis, in the bible, Jacob was a shepherd who asked Laban, his father-in-law, if in return for his labors he could keep all the spotted sheep. There was some shilly-shallying on Laban's part but in the end Jacob, his wives and children and flock of spotted sheep returned home to Canaan.
Jacob sheep are an ancient breed of horned sheep. If there are two curving horns on the top of the head
- impressive in the case of this ram - that's all they have. If the two horns are straight, like Watusi cattle,
the Jacob sheep will have two more smaller, lower, curving horns, sometimes even four more horns.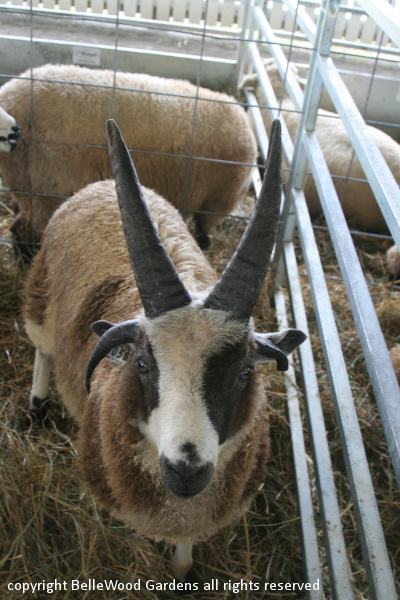 .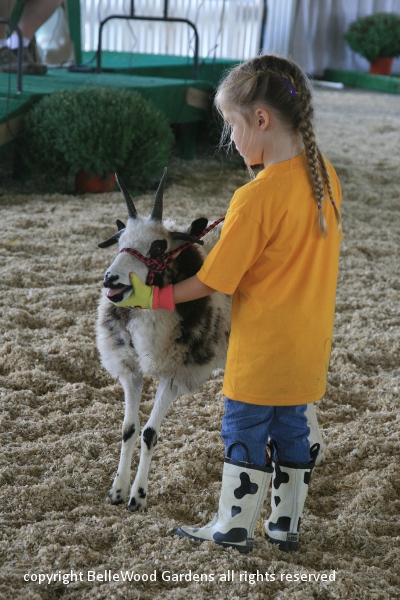 A class for young handlers and their young animals. Very appealing, as this little girl shows her lamb.
Class for aged Jacob rams. Two entries, one with two horns and the other with four.
Naturally enough, the regional breed shows attracted numerous participants. There were other sheep breeds in moderate numbers and some rare breeds with just one or two.
A pen of Shetland sheep. It can be confusing, trying to decide if a skein of "Shetland" wool refers to wool from that breed of sheep or was just sourced from sheep living on the Shetland Islands, northernmost in the Brittish Isles. Just like Labrador dogs that might come from show bench or field strains, there are two kinds of Shetland sheep. The heritage kind are sturdy sheep well able to survive the harsh conditions of their island home. Their fleece may be white, various shades of gray, beige, a range of brown from morrit, a reddish brown, to very dark brown, and black. Wool varies, depending on the individual animal and its ancestry, from exceptionally fine to coarse enough for rope. Then there are Shetland sheep that have been bred for improved meat or wool production, with white wool. A neighbor of mine is getting a couple of Shetland ewes, hopefully in lamb. I'll be interested to see what their fleece is like.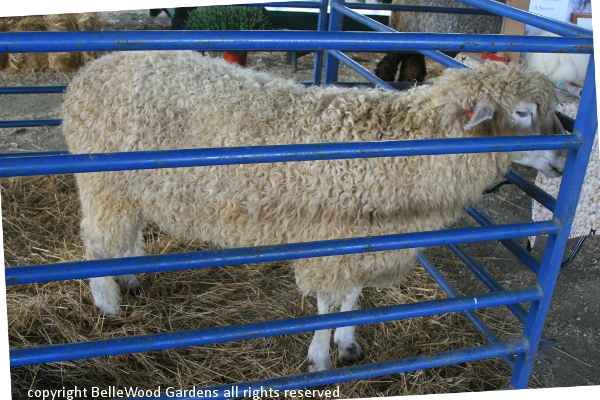 One charming characteristic of Cotswold sheep are the curly locks of wool hanging over the forehead. Their wool
mats and felts easily, great if you're felting a knit bag, a problem for the spinner. Excellent for rugs, bags, and other
such items that will take a lot of wear, the long staple means it can also be spun quite fine, and used as warp thread.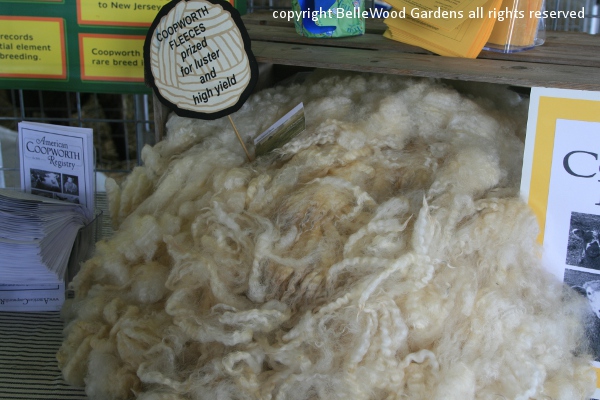 Coopworth is a relatively modern breed, developed in the 1950s by Ian Coop, a college researcher from New Zealand. Though somewhat
variable, the fleece always has a nice nice crimp and long staple. Overall, it is suggested that it is best used for sweater and outerwear.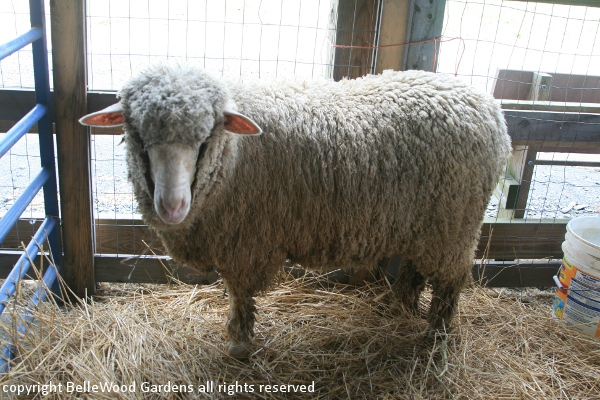 Cormo is another down-under, Australian breed, developed when Corriedale rams were used as tups
on Merino ewes. Scientifically developed and bred, the fleece is remarkably uniform for each individual sheep.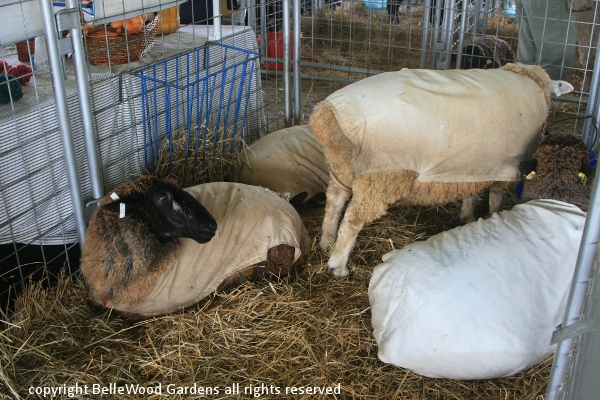 One way to keep fleece as clean as possible while on the sheep is to sheet, or jacket, them. This is
a laborious business, since from shearing to shearing, as the fleece grows the jacket must be resized.
Suitable for the handspinner trade, keeps dark wool from bleaching, difficult to manage on a large scale.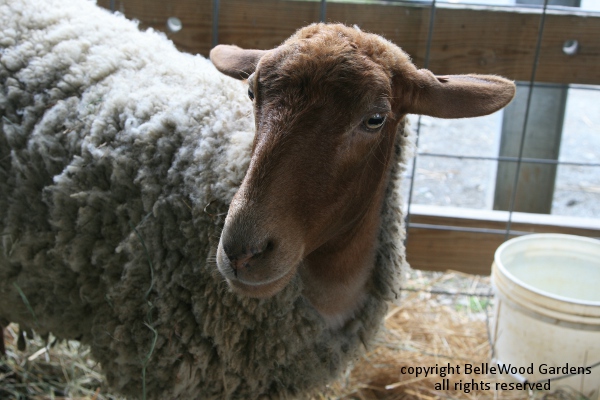 Serendipity is finding something you weren't looking for, and that's the story of the California Red sheep. In the 1970s a University of California, Davis sheep Extension specialist was working with his own flock hoping to develop a good meat sheep that didn't need shearing. (Hair sheep don't need shearing, they shed all on their own.) What he instead developed was a breed of sheep with a nice beige to oatmealcolored fleece. You wouldn't want to wear it next to your skin, but apparently it works up quite nicely into warm sweaters, hats, mittens, afghans, or blankets.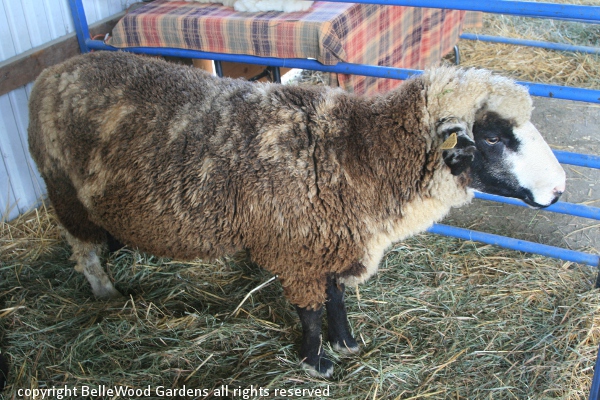 California Variegated Mutant sheep. What's this all about? Early in the 20th century a California man started crossing New Zealand Romney rams on Rambouillet ewes, creating Romeldales. The Pendleton Woolen Mills was purchasing the entire clip. All they wanted was white wool, so any other-than-white lamb was promptly culled. In the 1960s two badger-faced lambs (light colored animals with dark markings) were born. A neighboring shepherd began breeding then and there you have the story of the California Variegated Mutants, or CVM for short. While large-scale operations like Pendleton Woolen Mills would run the other way, handspinners appreciate the crimp, long staple, fineness, and yes, the colors of CVM fleece.
I'm having just a wonderful time looking at all these different breeds of sheep, many of which I never knew of. And here they are, living, breathing, beautiful sheep.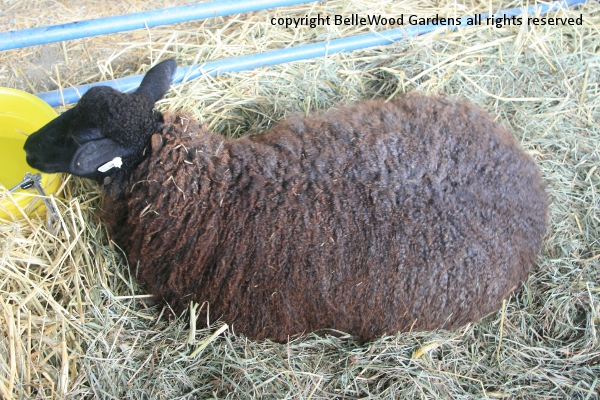 Like this beautiful dark wooled very fleecy Gotland sheep. Developed in Sweden, many are
shades of gray from light to charcoal, sometimes white or brown. Long staple, good crimp.
I expect that a fleece & fiber fair or from the farm is the best way to find breed specific yarn.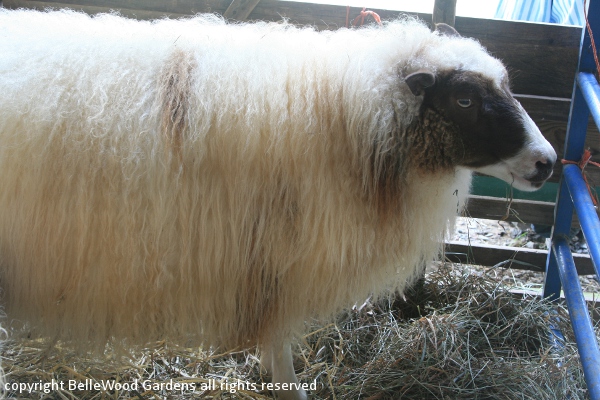 Icelandic sheep. I'm sure there's a sheep under this cloud of wool but you'd be reaching down, down, down before
you felt the skin. This ewe was sheared in April, and will be sheared again the end of September. Lots of wool!
It's the double-coated fleece: a strong outer coat, called tog and a deliciously fine, soft undercoat, called thel.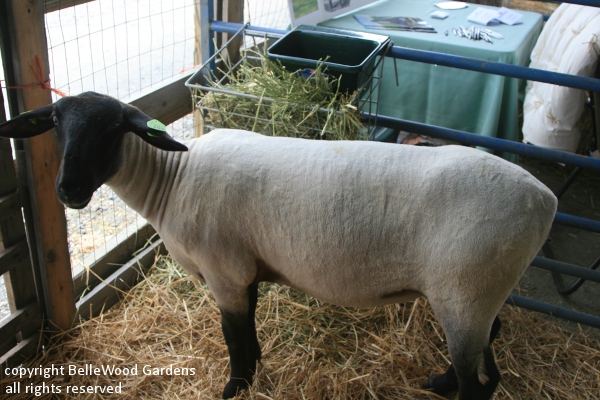 Quite a different look to this Suffolk. This sort of show clip is referred to as slick-shorn. It really
shows off the conformation and body of the animal and is done just three or four days pre-show.
So much to see and think about. My head is buzzing and my camera clicking away. I'm taking notes but there's so much to take in.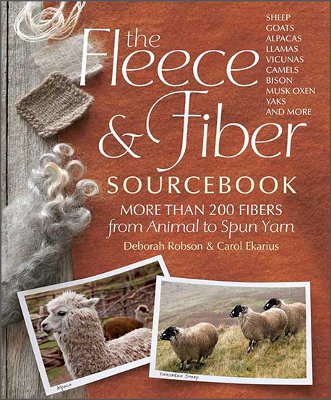 This excellent book has information about everything you might want to know
on a wide diversity of sheep, fiber goats, and a host of other animals from alpaca
to yaks. The breed history, description, and the dedicated authors even obtained
samples of fleece which they carded, spun, and knit swatches. It's where I found
the fascinating information about the different breeds of sheep I've mentioned here.
If you want to see other fiber animals that were at the festival, learn about sheep shearing, and something about border collies herding, go here
---
Back to Top
---
Back to September
---