Garden Diary - May 2012
Saturday, 19 May 2012
In the Wet: A Waterscaping Class at Mt. Cuba
---
What a special day. At Mt. Cuba giving a lecture on sustainable water gardening with a focus on native plants, followed by a tour of their ponds and plants. Afterward back to the house for refreshments: assorted cookies and some fruit, coffee or tea in the conservatory, where copies of my books were available for purchase and autographing.
The weather was a superb summer-like day, audience interested and receptive, and Mt. Cuba . . . . Mt. Cuba was, as always, magnificent. We could not have created a better match had we, in advance, coordinated their plants with those I was discussing. So what did I talk about? Aquatic plants like water lilies, and the difference between hardy and tropical. Obligate and facultative wetland plants. Emergent plants at the water's edge. Plants for swamps, marshes, and wet meadows. The web of life and the creatures that depend on these habitats.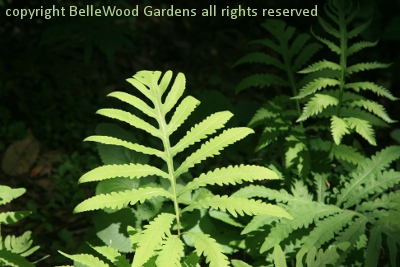 I talked about familiar plants that like moist soil, such as sensitive fern,
Onoclea sensibilis. It is a facultative wetland plant that can live in dryer sites
but prefers damp to moist soil where it can then grow in sunny locations.
A charming gazebo overlooks the upper pond, its bank embellished with blue flag iris, Iris versicolor.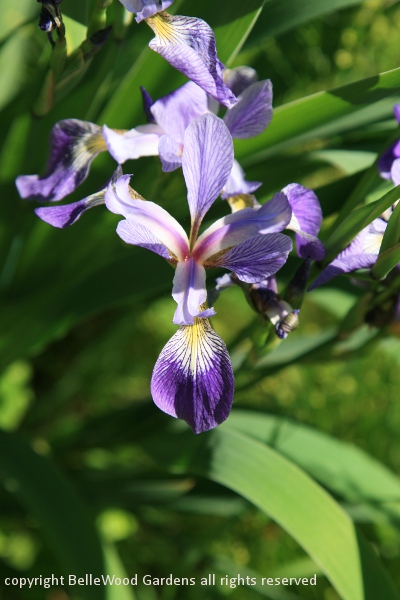 Such a lovely flower. Don't you just enjoy the yellow bee-guide
markings on the lower petals. The equivalent of McDonald's
golden arches, announcing this way to pollen and nectar.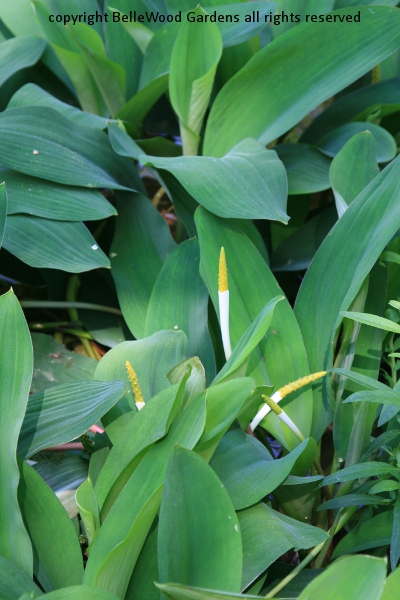 Gold club or neverwet, Orontium aquaticum is an interesting plant for the water's edge.
Push the leaves under water and they'll pop up dry, hence the common name of neverwet.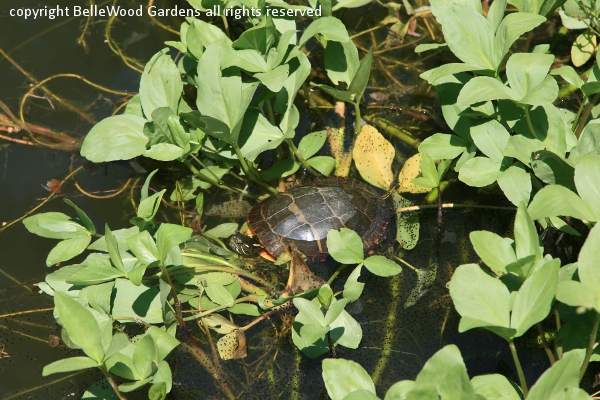 One of the animals you'll find in the wet. A large painted turtle keeps an eye on us as we watch him.
Insectiverous plants grow in bogs, a very specialized wetland habitat with quite low pH and nutrient-
poor soil. That explains their adaptation to capturing midges, gnats, and flies in their hollow leaves,
then dissolving / digesting them. Their flowers are quite lovely. These are Sarracenia purpurea.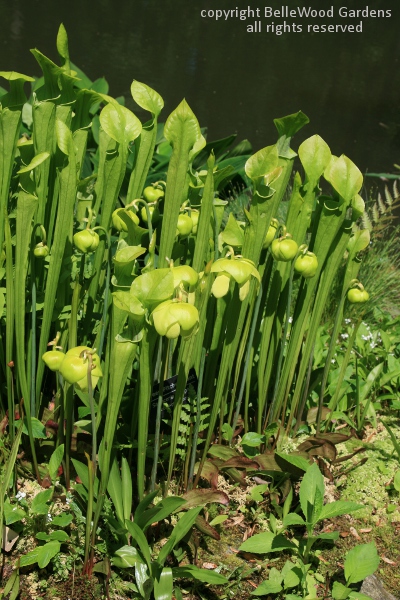 And here, the elegant pale green leaf pitchers and attractive
chartreuse flowers of Sarracenia flava, a Southeastern species.
Most exotic, however, was the enchanting flower of Hymenocallis occidentalis,
native to the southeastern United States and sometimes known as H. caroliniana.
Where better to see it than at Mt. Cuba, whose mission is the study of the Piedmont flora. A wonderful day that touches so many bases - sharing information about and enthusiasm for plants of the waterscaping continuum with like-minded people, at a place where these plants make their home so lecture and garden plait together in a sustainable whole.
---
Back to Top
---
Back to May
---