Garden Diary - February 2012
---
If you have any comments, observations, or questions about what you read here, remember you can always Contact Me
All content included on this site such as text, graphics and images is protected by U.S and international copyright law.
The compilation of all content on this site is the exclusive property of the site copyright holder.
---
February
---
Thursday, 9 February 2012
Making Maple Syrup
---
It's early this year. The maple syrup making season, that is. It's not a seasonal / calendar event so much as a seasonal / weather related happening. The milder temperatures have convinced sugar maple trees (and no doubt others) that sap can now begin to rise. So when I saw a notice in our local paper that Lord Stirling Park in Basking Ridge, New Jersey would be featuring maple syrup making demonstrations I decided to go. Last Saturday afternoon Paul and I made plans, left plenty of time to get there in advance of the 2:00 p.m. presentation so we could make the (very muddy) half mile walk to their sugar shack. I was a little taken aback when the man at the visitors center mentioned that they have very few sugar maples. But O.K., what do I know, maybe their trees just gush with sap. Off we hike, on trail, on boardwalk, on boards laid down, in the mud. Kind of fun, gets me into the spirit.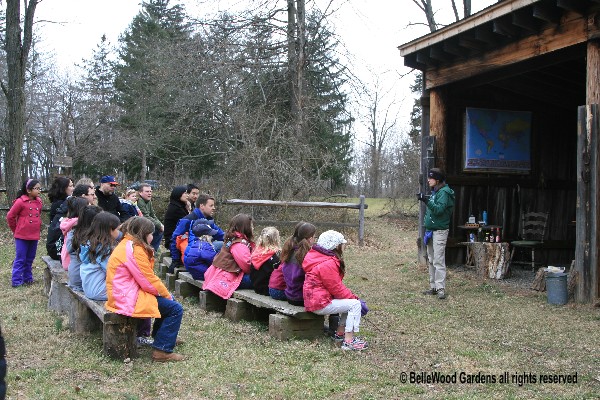 There's an attentive audience of brownies and their chaperones, a couple of sets of parents and children.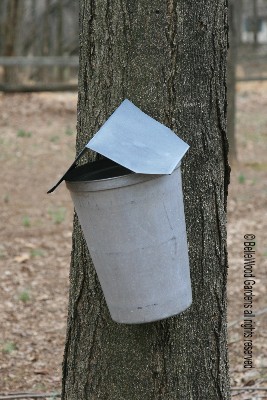 I noticed two sap collecting buckets. The other one is mounted on a dead tree trunk. No sap is dripping into it.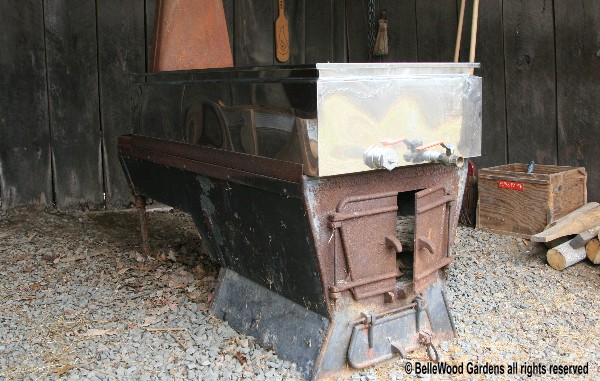 Perhaps that explains why there is no sap in their very nice evaporator pan, nor any fire in its firebox.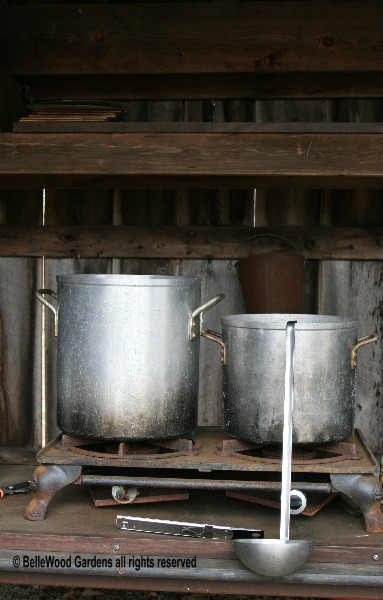 The pots for finishing the partially reduced sap-into-syrup are similarly clean.
When the presenter began talking in a high pitched and excited voice about going through a time warp, one we couldn't see,
and had all the brownies up off their seats and running after her around the back of the sugar shack we decided to leave.
"Demonstration" was what had captured my attention. I wanted to see sap boiling, not hear a lecture.
Look at this neat visual scale of the different grades of maple syrup.
Maple syrup is, basically, classified by its translucence. Extra Light and Grade A have a milder flavor. Grade A is further subdivided into medium and dark amber. Grade B is very dark, with a rich, intense maple flavor, and is excellent when used for cooking and baking. Vermont, a major maple syrup producing state, has very strict rules of classification. They have a grade C, intended for or commercial rather than table use. I'm not going to be drinking the stuff straight and for my purposes I really prefer Grade B, whether it is with pancakes, in cookies, or making bacon.
A few days pass . . . . It's Thursday, 9 February
My friend and neighbor John Clarke has begun
to make maple syrup. His equipment may not
be as fancy but it is definitely being used.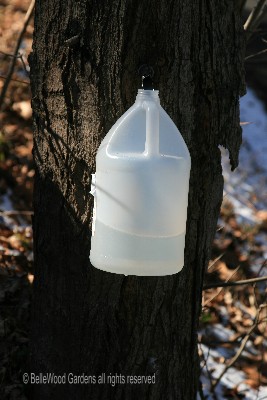 A couple of isolated sugar maple trees downhill
from his sugar shack have gallon plastic jugs that
collect the sap. Uphill trees drip into plastic tubing
that deliver the sap into food grade plastic barrels.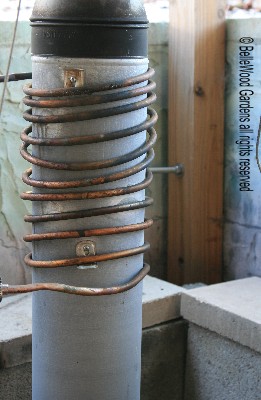 Each year John makes adaptations and improvements
to his equipment. Like this copper preheater coil that is
wrapped around the stovepipe to begin warming cold sap.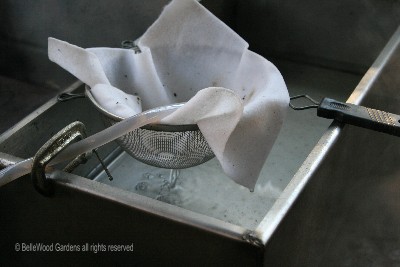 The filter removes any coarse debris before the sap feeds into
the preheater / holding tank from which it goes to the evaporator.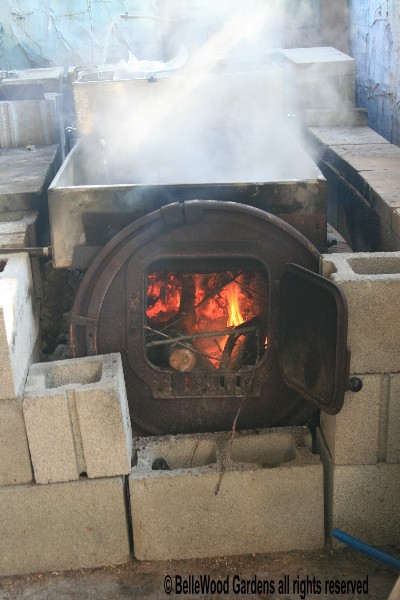 The barrel stove devours wood - good thing John has an ample supply!
This unit reduces the sap part-way but doesn't offer the control needed
to finish it off. That's done in a large 6 gallon pot over a propane burner.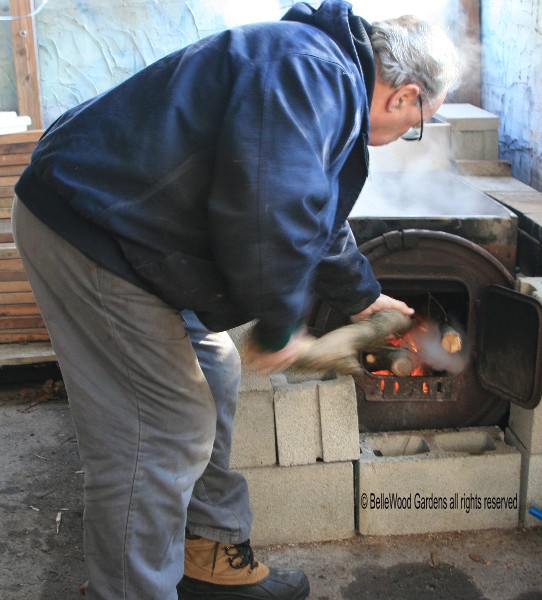 Here John is throwing more wood in, feeding the firebox. This year he's got a huge amount,
some of it more large branches than logs, from wood that came down in last year's storms.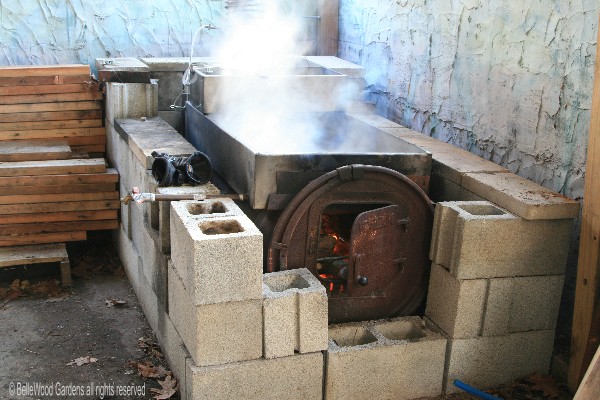 Sweet steam rising from the evaporator. It takes 40 to 50 gallons of sap for just one gallon of maple syrup.
That's why people have sugar shacks rather than making maple syrup on the kitchen stove. It's hot work
welcome in the chilly end-of-winter outdoor weather where copious steam can rise away.
This is just the first stage of maple syrup making. Check back in a few days and I'll have an update for you.
UPDATE: Thursday, 23 February 2012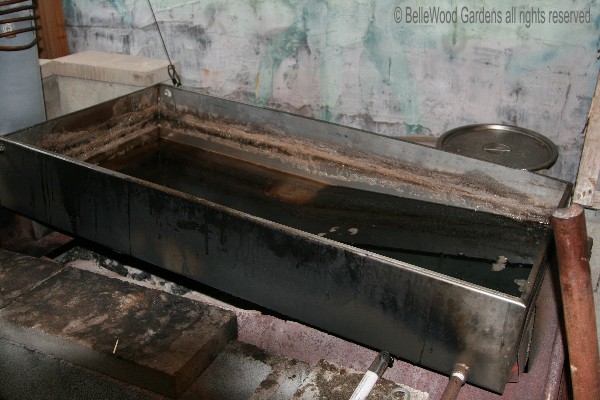 After the sap has been reduced in the evaporator it must be transfered to a pot to be finished into syrup.
John has a cable attached to one end of the evaporator, and a pulley above. Easier to tilt and get it all out.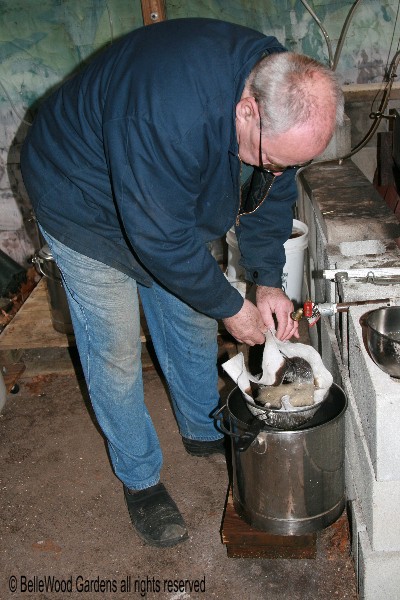 Filtering, yet again. Otherwise there would be a fine gritty "sand,"
unpleasant in the finished syrup. So again, filter the concentrated sap.
Boiling away in a large multi-gallon stainless steel pot. It becomes syrup
at 7.5 degrees Fahrenheit above the boiling point of water. A watched pot
does boil, but hopefully has no chance to boil over. Not merely a mess
but also a waste. Experts can gauge this point from the size of the bubbles
but a thermometer is easier and more reliable. Sweet maple syrup, at last.
UPDATE: Friday, 16 March 2012
The maple syrup making season came and went in the blink of an eye this year, as absurdly warm weather put an end to tapping the trees.
However John had already scheduled two presentations on the topic for the Somerset and Hunterdon County master gardeners, to be held
at his sugar shack. I invited two friends to come for lunch on Monday, and another on today. Drove over myself to see what he had to say.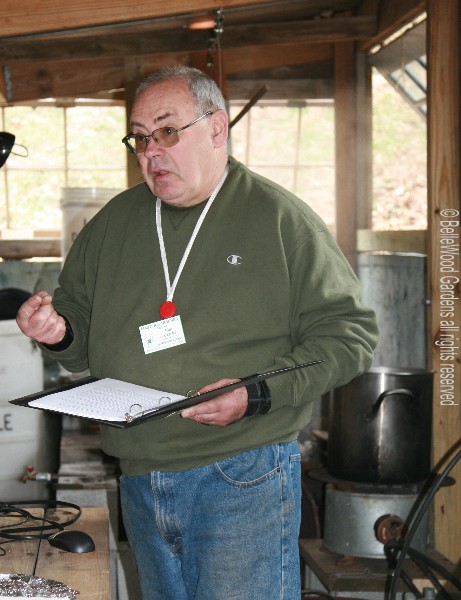 John gave a thorough explanation, talked about his learning curve in making maple syrup from
identifying the trees, tapping, collecting, boiling down, and bottling. The audience of about
a dozen people were fascinated - as can be seen by their attentive gaze. A popular event.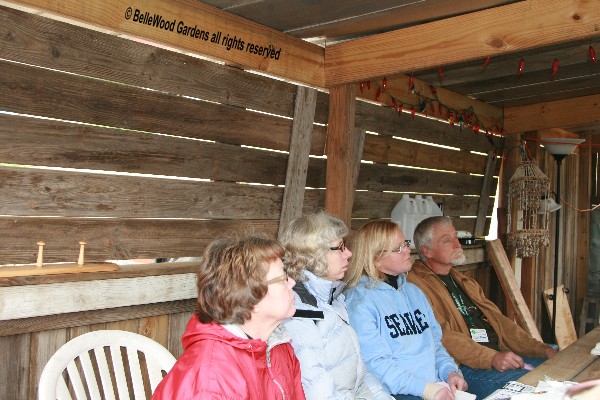 ---
Back to Top
---