Garden Diary - April 2012
---
If you have any comments, observations, or questions about what you read here, remember you can always Contact Me
All content included on this site such as text, graphics and images is protected by U.S and international copyright law.
The compilation of all content on this site is the exclusive property of the site copyright holder.
---
April
---
Monday, 23 April 2012
Holland in Tulip Time: Leidse Hortus
Though no where near as ancient as this venerable botanical garden, founded in 1590, I do have pleasant memories of the Leiden Botanical Garden from many years. When making plans for my free day a visit to Carla Teune, retired hortulana of the garden and a good friend were definately part of the schedule. The outer limit of my time was arrival back in Amsterdam for the walk from the train station to the hotel while it was still light. Since at this time of year sunset is after 9:00 p.m. I didn't think there would be a problem, nor was there. In the afternoon, rather later than I had anticipated, Hein, dear man that he is, drove me from Voorhout right to the botanic garden and brought me right to Carla.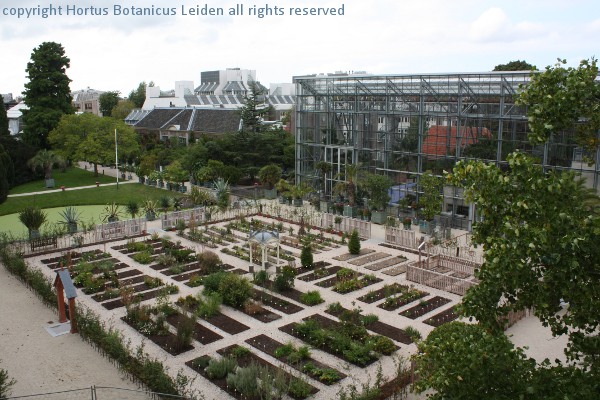 image courtesy of the Hortus Botanicus Leiden
There have been some changes since last I was here: the recreation of the Clusius garden has been brought back to its original location in the garden from its place outside the curator's house, across a canal from the garden. There's a new Winter Garden, a splendid tall glass house for growing the many tubbed plants that move out on the grounds in summer. Up near the ceiling is a walkway where insectivorous plants, sarracenia and such, receive enough light to keep growing in the short, dull, winter days in the Netherlands. There are plans to completely renovate the other glasshouses from the ground up. In other words, for a botanic garden that is 420 years old, the Leiden Botanic Garden is vibrant, lively, and flourishing.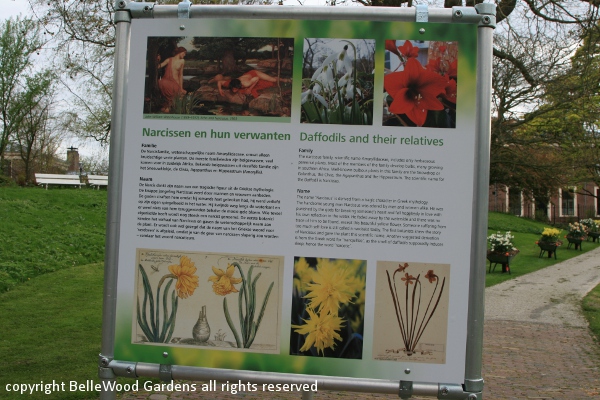 This Spring they are featuring an exhibition about bulbs, daffodils and other Amaryllidaceae.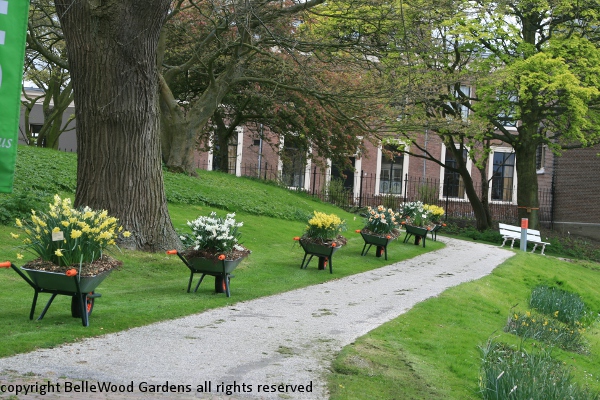 Charmingly arrayed in a series of wheelbarrows, neatly lined up adjacent to the path,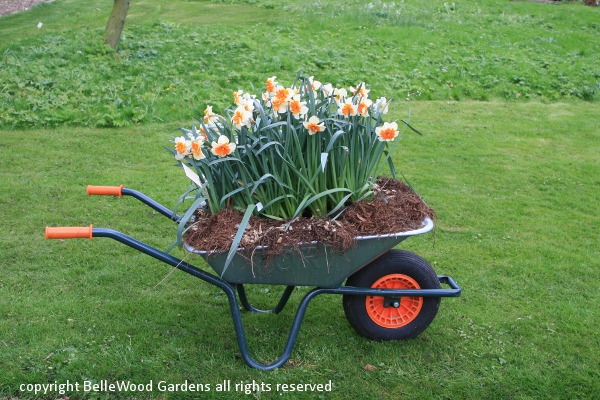 it's a fresh take on plants in containers. One, moreover, that can be put to good use after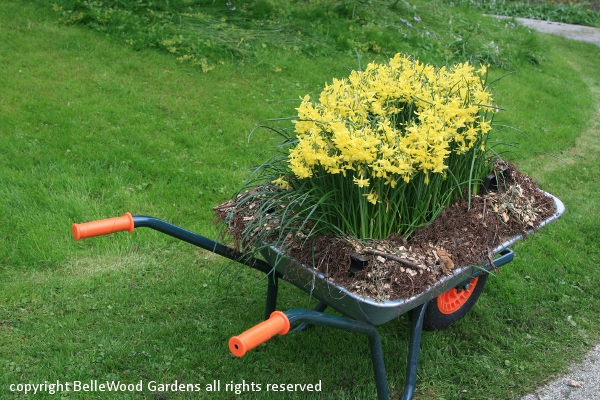 the exhibit is over, bulbs planted out, and wheelbarrows washed clean and ready for use.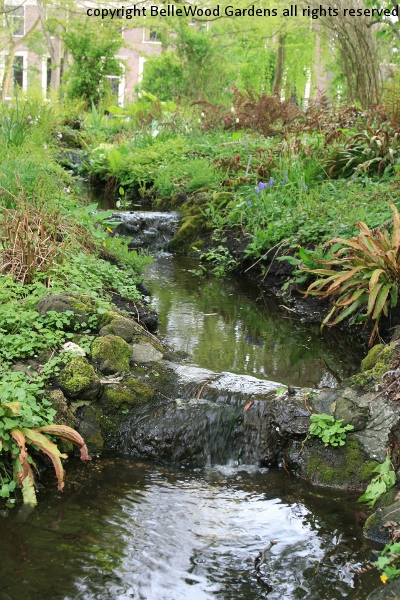 For a small area, the Leidse Hortus offers so many different spaces
to enjoy. The countryside feel of the fern garden with its trickling rill.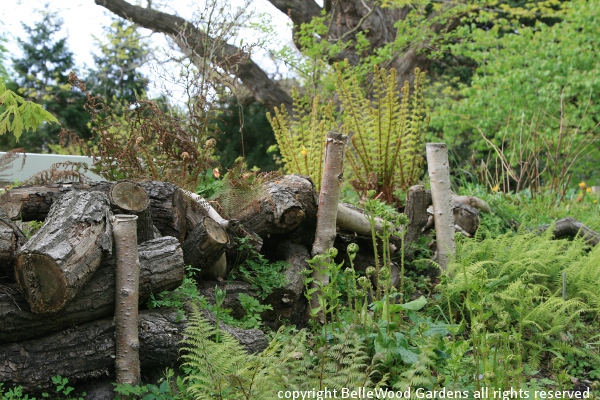 . . . .
The steep bank is restrained with a rustic wall of tree branches amidst the fronds.
Space for companion plants too. And what is Spring without primroses?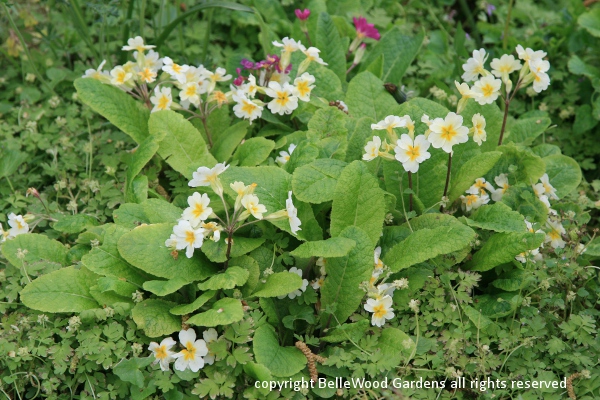 Bunch flowered Primula polyanthus and the cowslip, Primula veris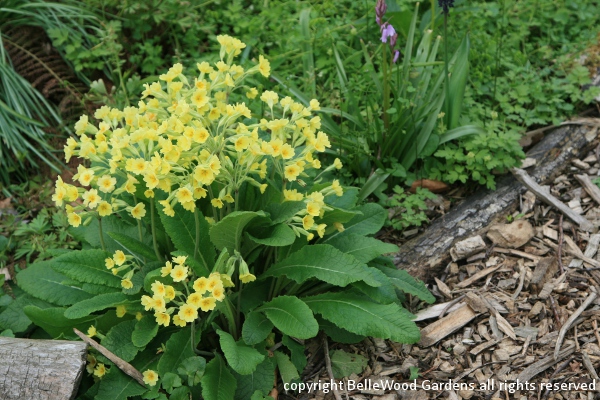 .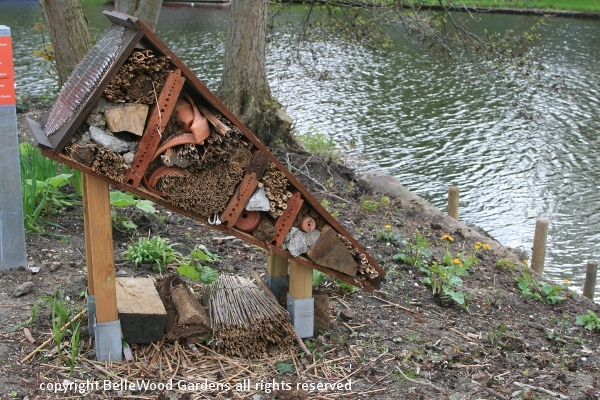 I was fascinated by these insect hotels that fits so well with our contemporary interest in sustainability and ecological impacts.
Bits of bark, hollow plant stems, bricks and sticks and dry leaves provide hospitality for bees and spiders, ladybugs and beetles.
Suitable nesting habitats, protection from the elements, and especially helpful in winter hibernation. Tubes packed full with bamboo.
Broken flower pots and stones near the bottom provide cool damp places. Wood. Corrugated paper in a tube, slanted downward to
attract lacewings (and did you know that they eat aphids? Voraciously.) Solitary bees and wasps, morning cloak butterflies, oh my.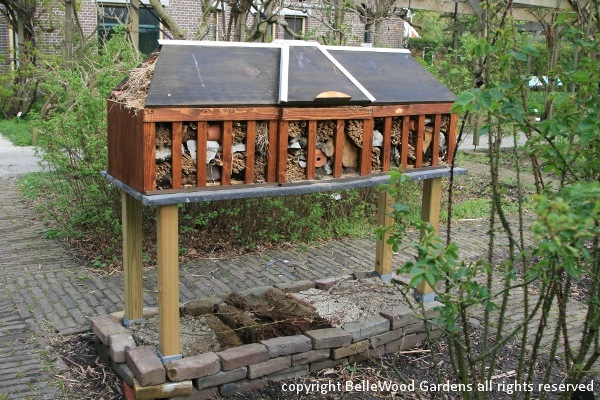 A lovely time, strolling around the grounds, talking of this and that. Off to an Indonesian restaurant in the direction of the train station for a delicious dinner and more conversation. On to the train station where I caught a direct train right back to Amsterdam.
Comment: A wonderful day filled with time spent in the company of old friends and new made, time in the company of people as entranced with plants and bulbs and flowers as am I.
---
Back to Top
---