Garden Diary - April 2012
---
If you have any comments, observations, or questions about what you read here, remember you can always Contact Me
All content included on this site such as text, graphics and images is protected by U.S and international copyright law.
The compilation of all content on this site is the exclusive property of the site copyright holder.
---
April
---
Saturday, 21 April 2012
Holland in Tulip Time: Keukenhof, Part III - the historical garden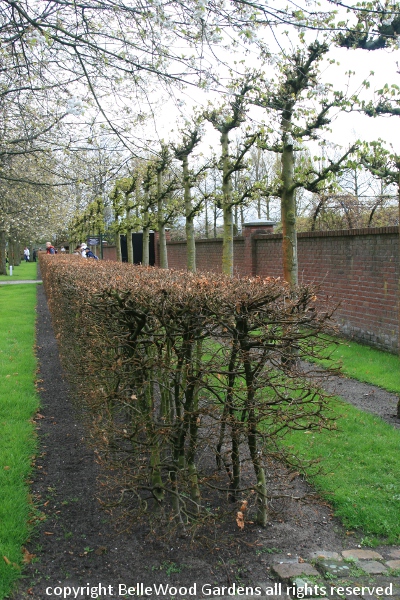 Approaching the historical garden I come upon a brick wall fronted by a beech hedge and cordon trained trees, creating additional layers of geometrical framework to the enclosure. It is intended to recall the spirit of place of an old, walled castle garden or country estate, where beds of flowers for bouquets complimented the kitchen garden, the keukenhof.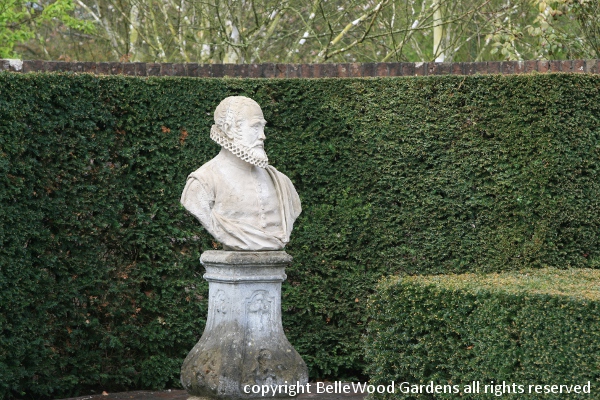 A bust of Carolus Clusius.
Carolus Clusius was an eminent doctor and botanist of the 16th century. At that time medicine was a combined discipline since herbs were an important part of medical practice. In charge of the medical gardens, the hortus sanitatus of Emperor Maximillian II in Vienna, in 1590 Clusius came to Leyden and created the Hortus botanicus.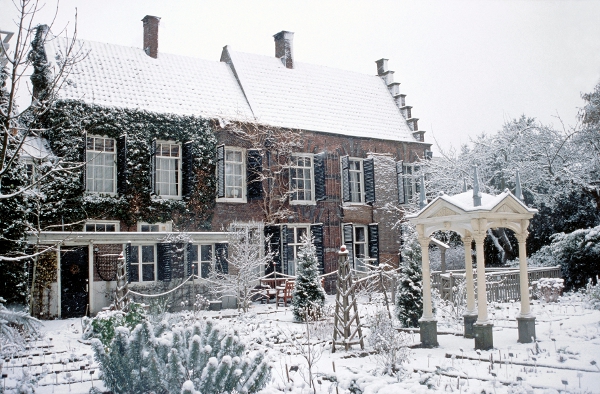 image courtesy Carla Teune
Clusius brought many plants and bulbs with him, including tulips that he had raised from seed sent to him by his friend Olgier Ghislain de Busbecq, Maximillian's ambassador to the court of Suleimain the Magnificent of Turkey. Clusius was possibly the first to plant tulips in the Netherlands,s pecies such as Tulipa schrenkii, and early cultivars, including 'Duc van Tol Red and Yellow' in 1595.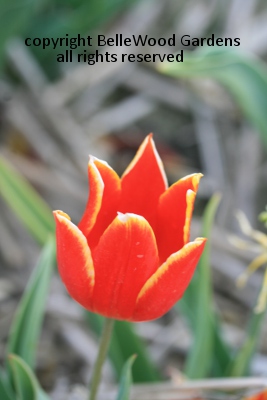 Tulipa schrenkii, at the Hortus Bulborum.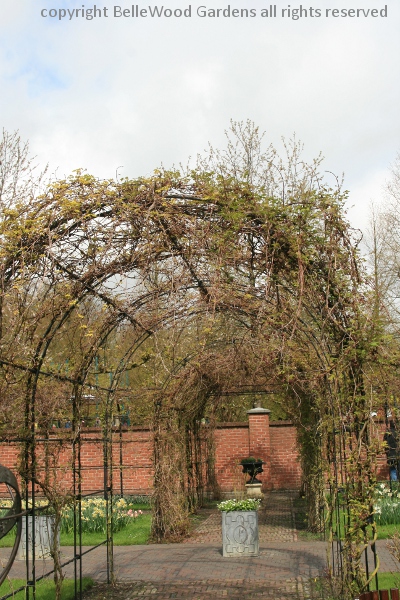 A modest berceau (from the French, for a child's cradle or crib)
of bent iron has vines trained over it. More typical would be slender whips of yew
or beech, trained to grow over the form and create a cool shady cloister. Beds on
either side were planted with numerous heirloom daffodils.
The formal section of the historical garden consists of boxwood hedges outlining
geometrical beds. The old tulips on display were provided by the Hortus Bulborum.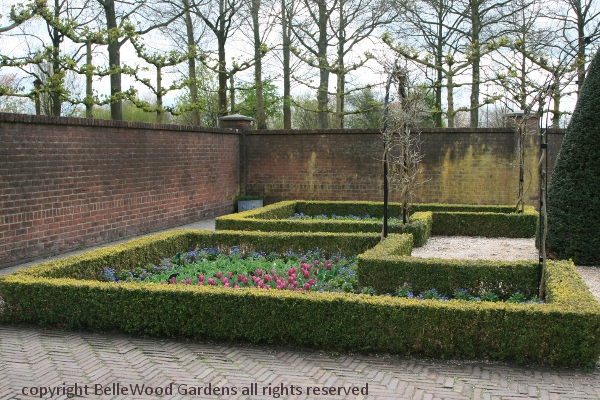 Parterres, formal gardens made on a level surface ,consist of planting beds, edged with tightly clipped low hedges, and gravel paths arranged to form a pleasing, usually symmetrical pattern. In the open style they need not have any flowers, while the closed style would be filed with flowers.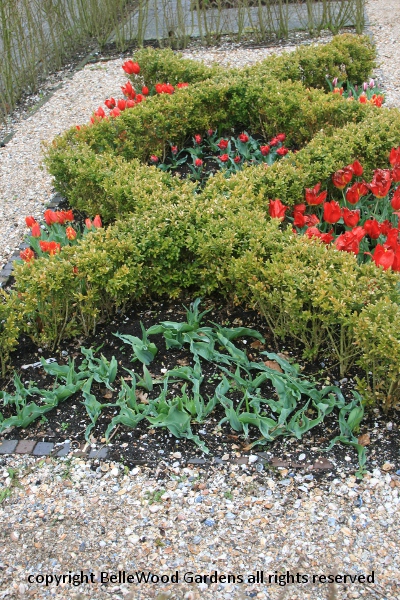 Fashionable in the 16th century, knot gardens are characterized by their geometrical forms and interweaving patterns made with closely clipped boxwood hedges. Colored gravel filled the spaces, or plants with strong foliage, bright flowers. The viewing of a garden from above was an important consideration, and with elevation of the viewer, a knot garden's intricate design becomes clear.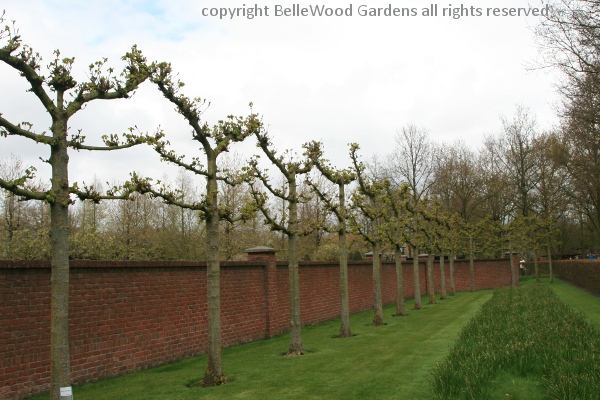 As a technique espalier seems to have begun with the Romans, becoming refined into an art in the Middle Ages. Popularly used in Europe to produce fruit inside the walls of a typical castle courtyard without interfering with the open space and to decorate solid walls by planting flattened trees near them, vineyards have used the technique in the training of grapes for hundreds or perhaps even thousands of years. The term, espalier, is French, but it actually comes from the Italian, spalliera, meaning "something to rest the shoulder (spalla) against."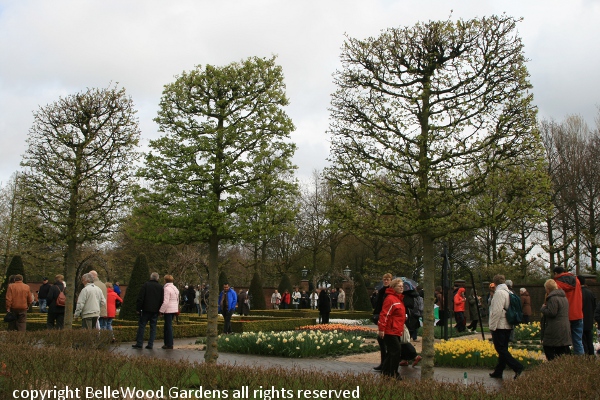 Tour Comment: I would have happily spent even longer at Keukenhof but we were strongly urged that if a good viewpoint for the Bloemencorso was wanted, be sure to line up an hour ahead. I heeded the advice.
---
Back to Top
---