Garden Diary - October 2012
Sunday, 14 October 2012
A Visit to Innisfree, Part I
---
Once upon a time, rather long ago, I used to teach at the Cary Arboretum in Millbrook, New York. We lived in Connecticut then, and the drive was not especially onerous. Nearby is the garden of Innisfree. Paul and I would occasionally drive there to walk the grounds. Especially in October we'd take a thermos of tea, some cookies and apples. Stroll, sit in the Adirondack chairs, pause and relax in the peaceful setting. Then we moved to New Jersey and the ride is too long to do this any more. Sadness.
But then I had a revelation. Wappinger Falls, New York where I was staying with Anne Spiegel (see here) is less than 20 miles from Innisfree. In the wrong direction for my homeward journey but so what. Happy, happy. Off to Innisfree I will go.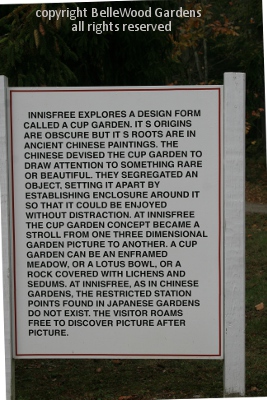 Innisfree is a garden, a landscape, a contemplative garden. There's a path
around the lake. Steps leading up to a terrace. A natural looking landscape,
with additions. Water, rills, and trickles spilling over ledges. Massive stones.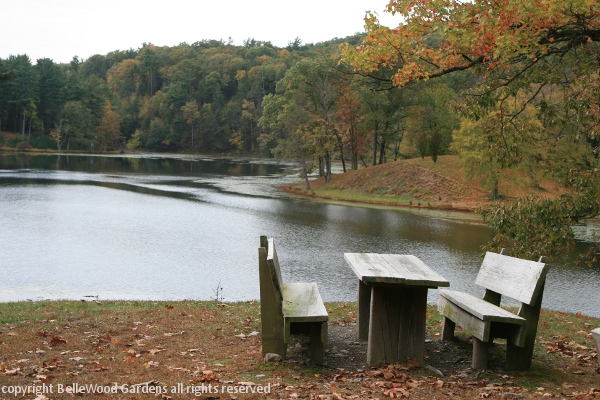 From the parking area there is a gently sloping path up a knoll with a vista over Tyrrel Lake.
Simple wooden picnic tables and benches, weathered to silver-gray, offer the first of many
places that invite you to pause, to slow down and relax. Innisfree is a very calming place.
The path circles the lake. Whichever way I go will return me to my starting point. Shall I first turn left, or right?
Right, I decide. That will bring me through the more landscaped portion of Innisfree on
the outward journey, the more natural portion for my return.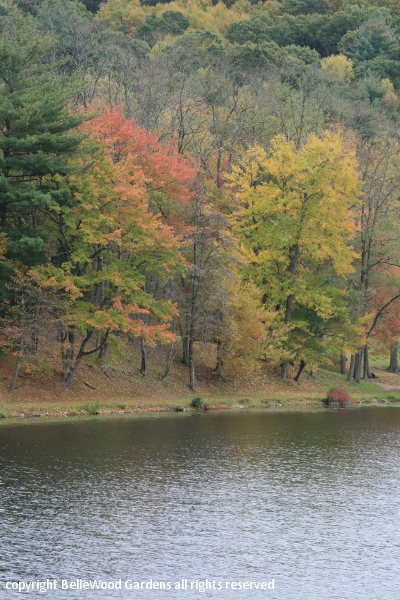 This year the autumn colors are soft, shades of yellow, muted orange.
Not so much the vivid reds brought by warm days and cool nights.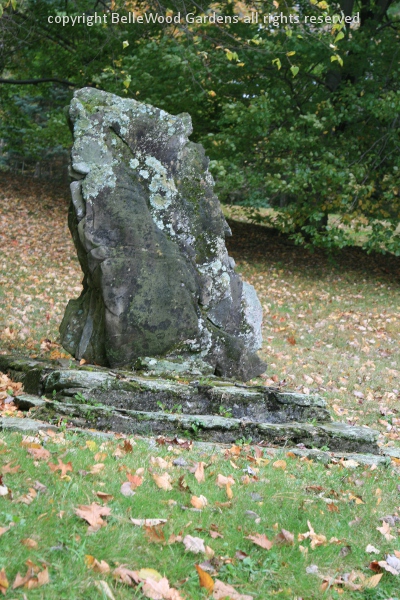 . . . .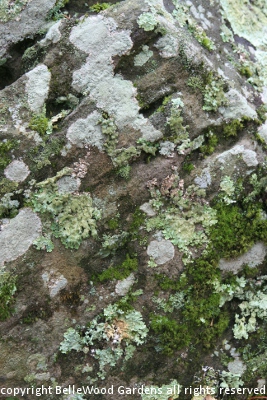 The air is clean in Millbrook, easy to tell by the abundance of lichens dappling the rocks. A special rock, placed on display.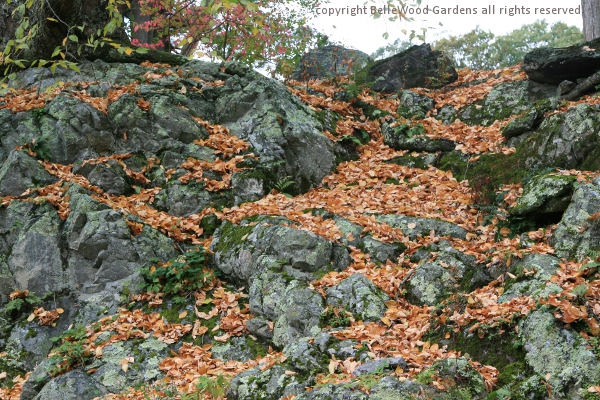 Autumn's other name is fall, and fall the leaves do, cascading down this outcrop like a river.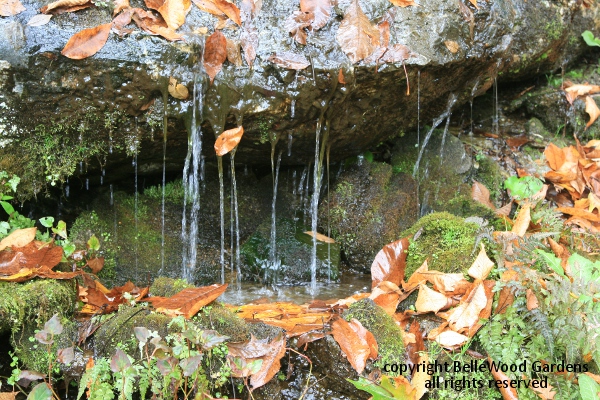 Water trickles down a slope, pauses, then trickles over the moss-covered lip of stone quietly
echoing in the small chamber like the sound box of a master's violin. Hush, and you can hear it.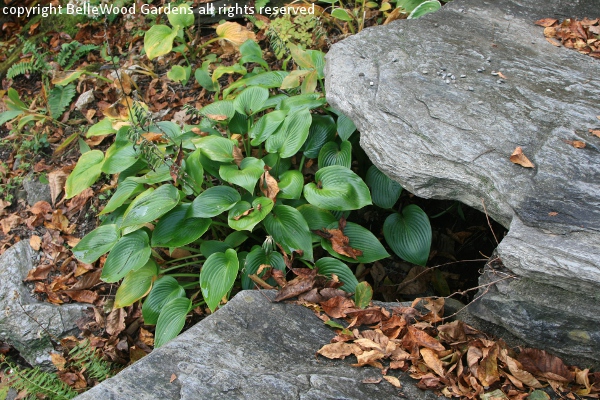 Plants are very happy with the rocks as partners. A modest sized hosta with rich emerald green
leaves (not huge, or variegated, just plain green) nestles between two irregular stone steps.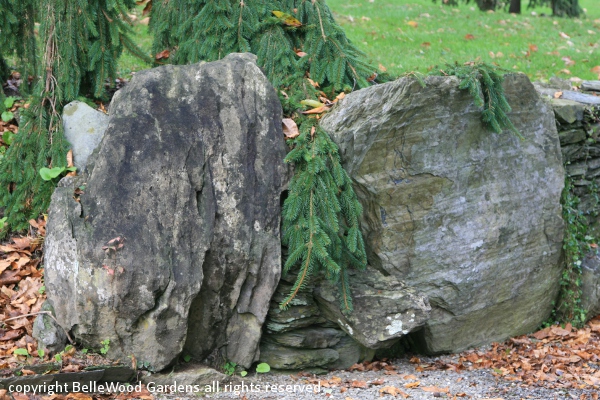 Clearly here for some length of time a weeping spruce drapes its branches, like a friendly arm, over a rock.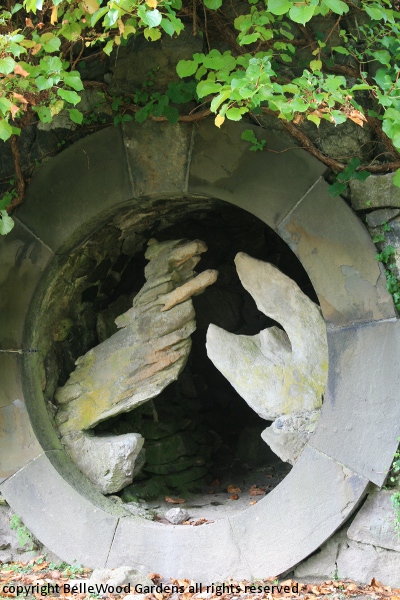 There is a terrace above the lake, that dates back to the 1930s. Towards the rear
burrowing back into the hillside is the Circular Grotto. I look at the two stones
that veil its opening and find myself thinking, dragon and phoenix. Perhaps.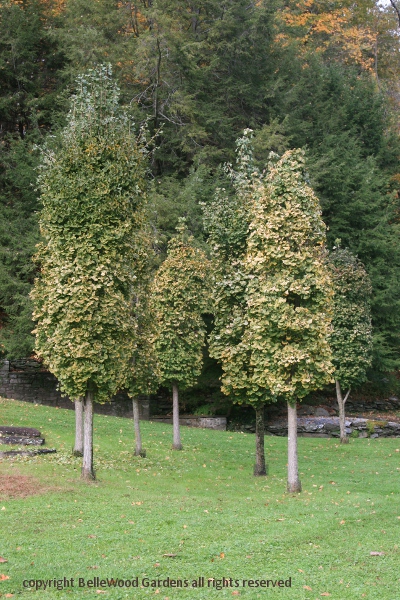 Here and there around the lake are small groves of special trees,
such as these six columnar Ginkgo biloba 'Princeton Sentry'.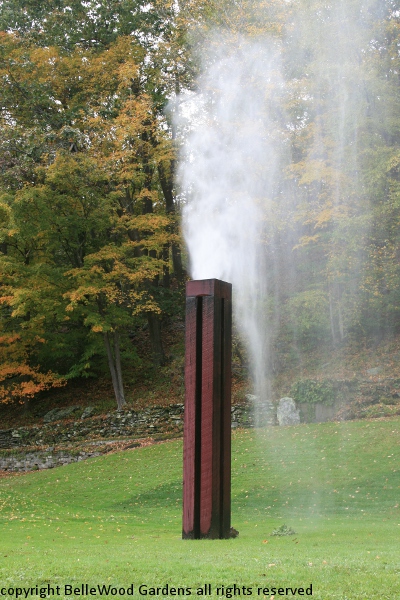 To the left of the gingko as I come up to them is a geometric column, if that's the right term.
Rust red, with a shadowed channel down each side, and a veil of water mist scattered by
the slightest whisper of air, torn into streamers by anything stronger. There, yet transient.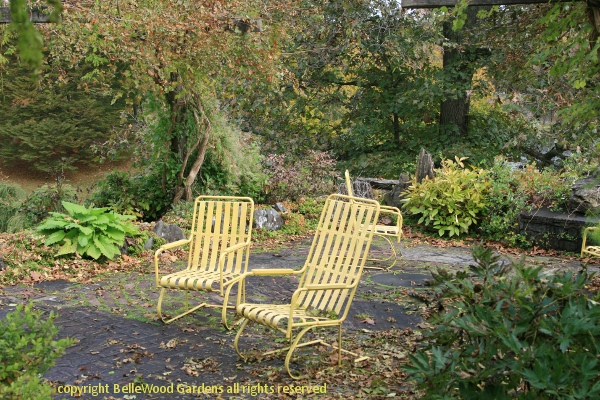 Up on the terrace some yellow chairs offer a place to sit, one that's easily rearranged.
A simple post-and-beam support for Ampelopsis brevipedunculata, porcelain berry vine
with clusters of berries in green, turquoise, and purple all at the same time. Too bad it's invasive.
Birds eat them, then distribute the seeds as they fly, perch, and poop. A pity, as it is a pretty vine.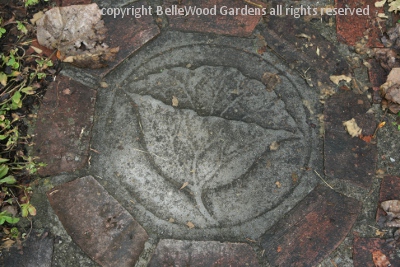 There are stepping stones up here, like this marvellous octagonal one of carved stone.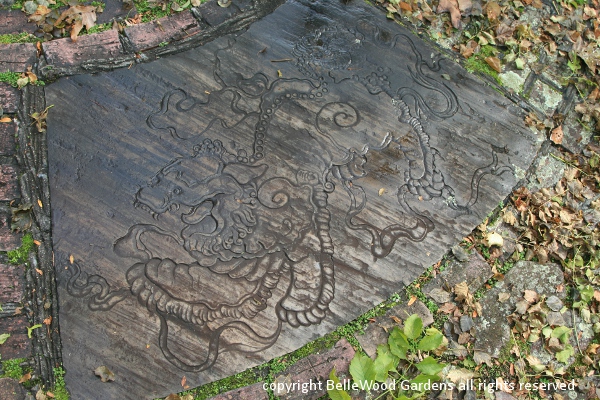 And a magnificent dragon. But who would be so crass as to step on him!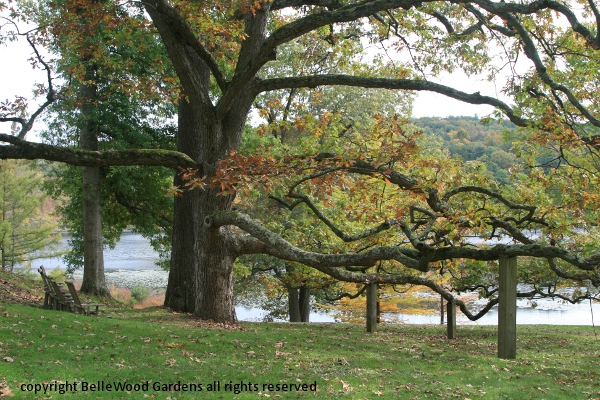 A venerable oak, weary with the weight of years and branches as massive as other trees.
Assistance has been provided to the lowest ones, with props to support their sagging weight.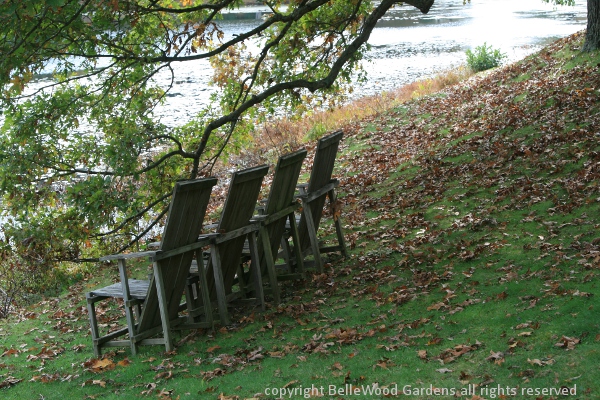 And beneath their shelter, a row of four Adirondack chairs. Come. Sit. Enjoy the view. Relax.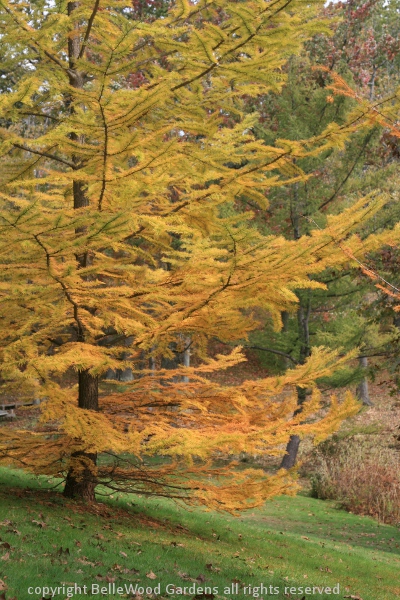 It seems an oxymoron, a deciduous evergreen tree. But that's what a larch will do,
turn color to a warm foxy hue, and then drop its needles to winter with bare branches.
I've come halfway round now. Ahead is the bridge across Tyrrel Lake.
---
Back to Top
---
Back to October
---