Garden Diary - April 2012
---
If you have any comments, observations, or questions about what you read here, remember you can always Contact Me
All content included on this site such as text, graphics and images is protected by U.S and international copyright law.
The compilation of all content on this site is the exclusive property of the site copyright holder.
---
April
---
20 April 2012
Holland in Tulip Time: Hortus Bulborum
Even though I've been to all the horticulturally oriented places on this tour, some of them multiple times, it has been a while. I'm so glad to be returning now. And especially here. Our scheduled afternoon outing is at the Hortus Bulborum in Limmen, somewhat over 17 miles northwest of Amsterdam. Opened in 1928, the hortus is a living repository for heirloom bulbs rarely offered for sale. Daffodils and tulips especially, also hyacinths and a smattering of others, from crocus to crown imperial, Fritillaria imperialis. A living museum of plants and gene bank, the Hortus Bulborum holds 3,800 different, mostly antique Spring flowering bulbs.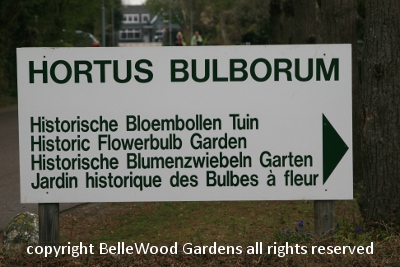 As we pile out of the buses several docents are waiting to take us on tours. Me, I charge off on my own trying to photograph everything. Not really, but I'm doing my best. Have to love digital cameras - one of my biggest complaints about 35mm film was having to stop and change rolls every 36 exposures. Digital just keeps on going and going and going. Until the memory card runs out of storage space, which I accomplished on a 4GB card three days into this trip.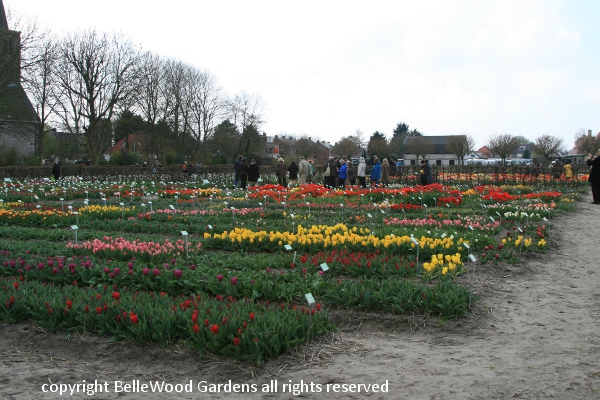 One group, listening to their guide explaining about the tulip collection. Some cultivars
and species are present in larger numbers, others just as a small handful. Keep in mind
that the bulbs are living things. They must have their annual cycle of growth and dormancy.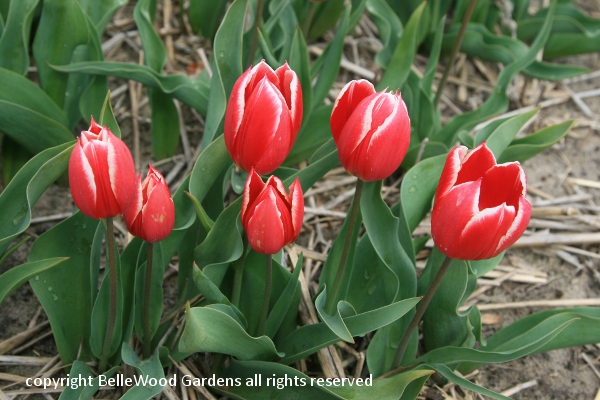 Duc van Tol tulips are some of the earliest cultivars, scarcely changed
from their wild relatives. Simply named, this is Duc van Tol red and white.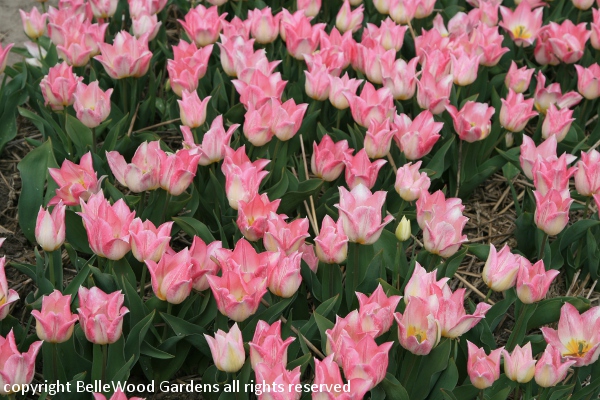 Here is Tulipa Duc van Tol rose. The KAVB, Royal General Bulbgrowers'
Association, holds the registry for tulips. I have the 1996 edition of the classified
list and international register of tulip names. Duc van Tol rose was introduced in
the year 1700, and a note indicates it is found in historical collections only.
Tulipa Lac van Rijn.
According to the tulip list the raiser is unknown and it was introduced not quite 400 years ago, in the year 1620. Today found in historical collections only. In its heyday, in 1637 during the tulip mania, it had a listing in the Cos Tulip Book, image 53. One bulb, weighing 500 Aasen (about 24 grams) sold for the princely sum of 175 Dutch florints, approximately the wages of a hand laborer for eight months.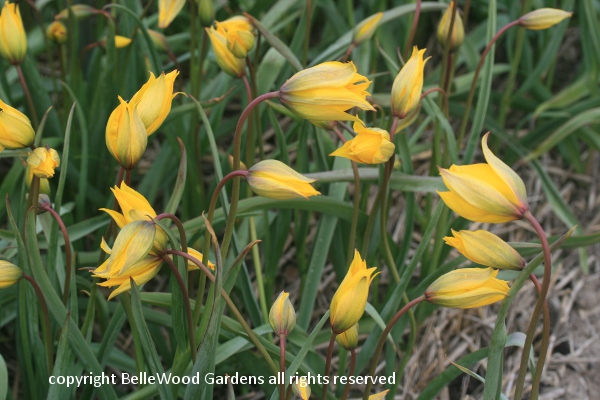 As well as cultivars the Hortus Bulborum supports a diversity of species tulips.
Sweetly scented Tulipa sylvestris was described in1753. Origin unknown, it is
widely naturalized from Europe and South Africa to Central Asia and Siberia.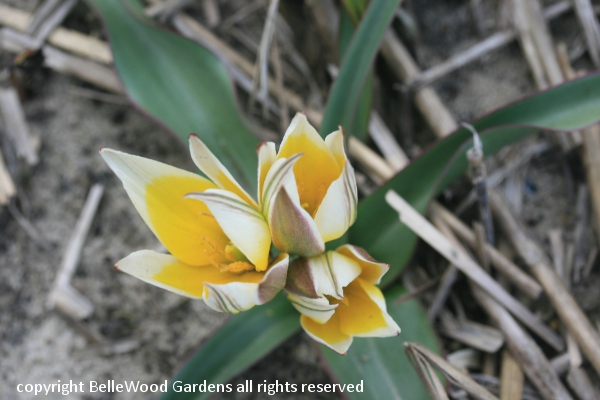 Native to the Tien Shan mountains of Central AsiaTulipa tarda was described
by Otto Stapf in 1933. (He died that year, age 75.)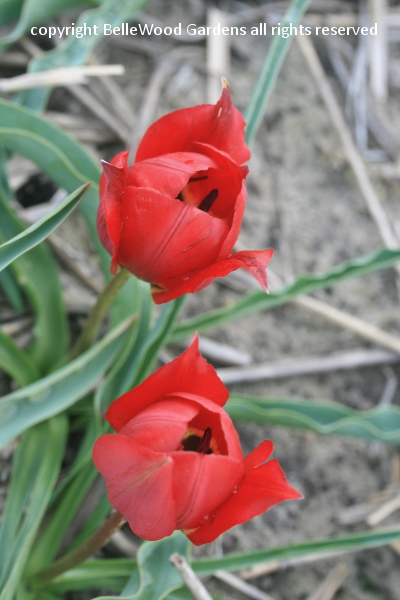 Described the year following his death, in 1934,
and named to commemorate him, Tulipa stapfii
is native to northern Iraq and north-western Iran.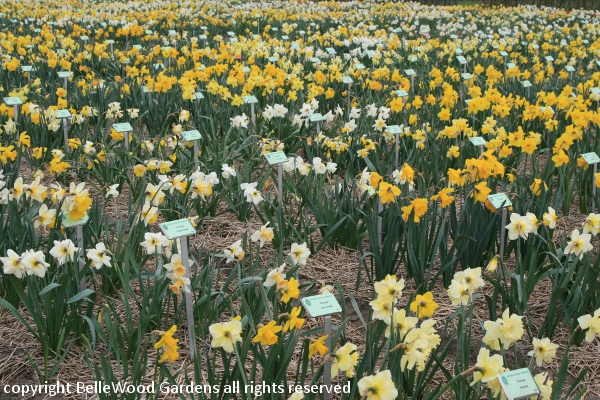 Moving on into the narcissus, aka daffodils. What a sea of sunshine!
Even better is the section of the hortus devoted to hyacinths. Such a delicious
fragrance floating through the air, and a rainbow of colors to delight the eye.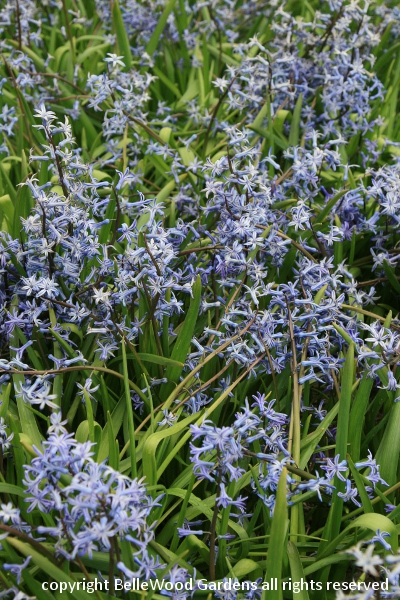 There's the blue form of the wild species, Hyacinthus orientalis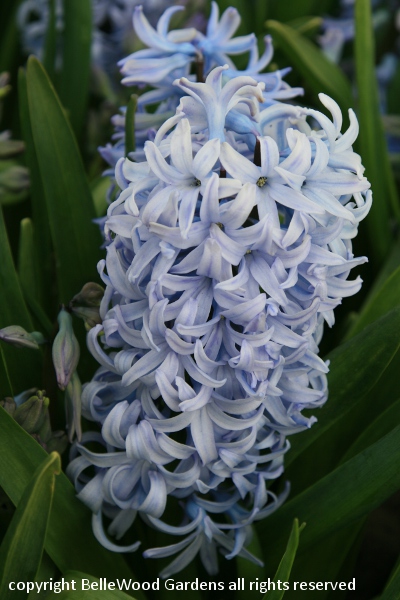 and cultivars such as Queen of the Blues, from 1870.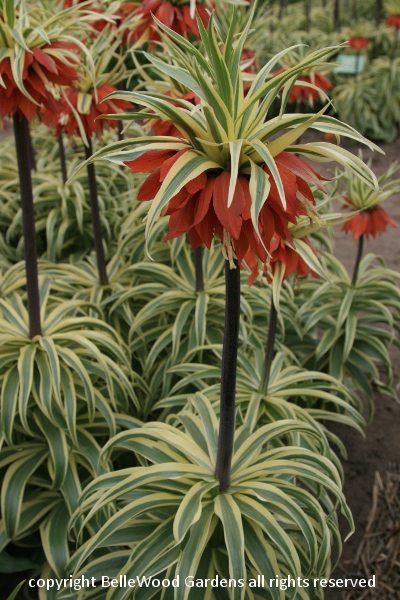 Less sweetly fragrant (more pungent, even skunky) is
the stately crown imperial, Fritillaria imperialis, in the
striking 'Argenteovariegata' form with magnificent leaves
enhancing its red-orange flowers. In cultivation since 1771.
My camera now says, "Enough!" and insists it needs fresh batteries. Of course the camera bag, a LowePro 202AW I bought just before the trip, is in the bus. weighing like unforgiven sins it holds just about every piece of camera gear I own, and all I'd brought into the garden was my camera with its battery grip and a 24-105 lens. Plus the 60 mm macro lens for closeups of the flowers. Extra batteries plus the charger and an adapter so American style plugs can draw current from Dutch style outlets to rejuvenate exhausted batteries, are in the camera bag. Huff, puff, back to the bus - which means exiting, then circumnavigating the garden. In doing so I walk past a beautiful Protestent church.
The Reformed Church in Limmen, one of the oldest villages in the province of Noord-Holland, was built in the 13th century. Partially destroyed during the Eighty Years War, the church was rebuilt 25 years later. There are two casualties of World War II buried here: Herbert Reginald Tribbeck, a flying officer in the Royal Air Force Volunteer Reserves and Warren Robert Zeller, of the Royal Canadian Air Force. Both men died on 9 September 1944.
Unfortunately it is within a few minutes of the time we've been given to reload the buses and drive back to Amsterdam. No time to walk around three sides of the hortus and become lost in the flowers. Instead I photograph the beautiful Gypsy Vanner horses crunching up sweet green grass in the field across the road. I mentioned the feathering on their legs, was told by the bus driver that in the Netherlands this long hair is called their socks.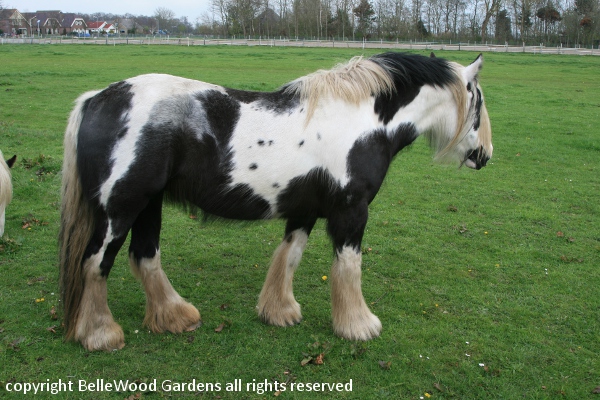 Tour Comment: I have to remember that I tend to hang out with hard-core plant and garden fanatics. From my point of view we should have had 3 hours here, instead of 1 hour 15 minutes. Yet in later conversation one tour member said that for her, any time here was a waste. She'd have been happy if we skipped it entirely. Chacun à son goût.
---
Back to Top
---