Garden Diary - February 2012
---
If you have any comments, observations, or questions about what you read here, remember you can always Contact Me
All content included on this site such as text, graphics and images is protected by U.S and international copyright law.
The compilation of all content on this site is the exclusive property of the site copyright holder.
---
February
---
Friday, 17 February 2012
Garden Maintenance: Caring for Hellebores
---
It's not that this has been a difficult winter. Temperatures have been relatively moderate to surprisingly mild.
There were some cold spells, though, with temperatures down in the low teens, Fahrenheit. And very little snow.
Hellebores, with their evergreen leaves, have become battered and tired looking. Now they're beginning bloom
it is time to clean them up. (Besides, I'm eager to get out into the garden and just picking up sticks is very dull.)
Here's one of the Helleborus orientalis Early Purple Group, with dark flowers - if you could find them!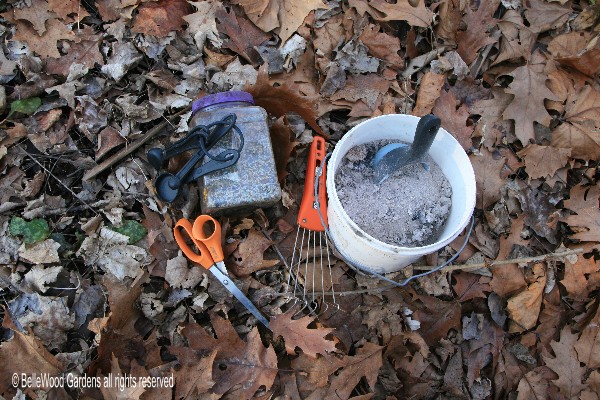 Tools and supplies supplies include: a pair of scissors and a light cultivating tool. Notice that both have
orange handles. It makes them easier to find when I put them down. There's a small pail with wood ashes,
a container of 5-10-5 granular fertilizer, and some measuring spoons. Out of sight are two large buckets
for debris, one for the leaf litter to go to the compost heap and one for old hellebore leaves, to be discarded.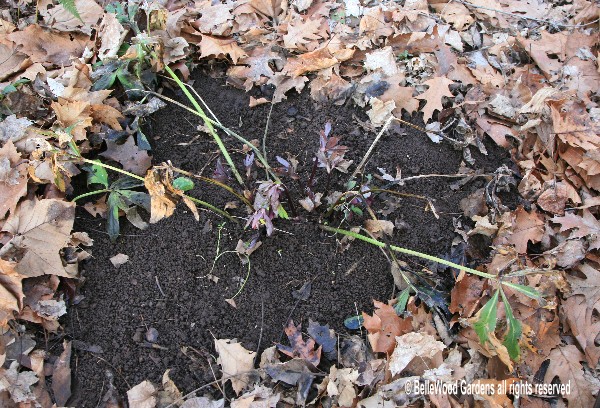 The first step is to gently and carefully remove all the old leaf litter that mulched the plant over winter.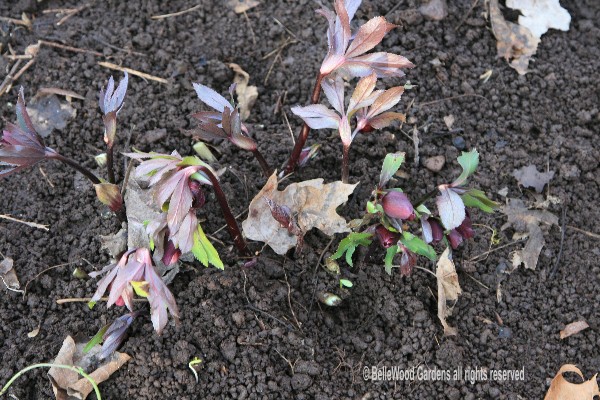 Carefully cut away the hellebore's old leaves as close to the ground as possible. Doesn't that look better!
Note that the brownish appearance of some of the young new leaves is just a reflection, not winter burn.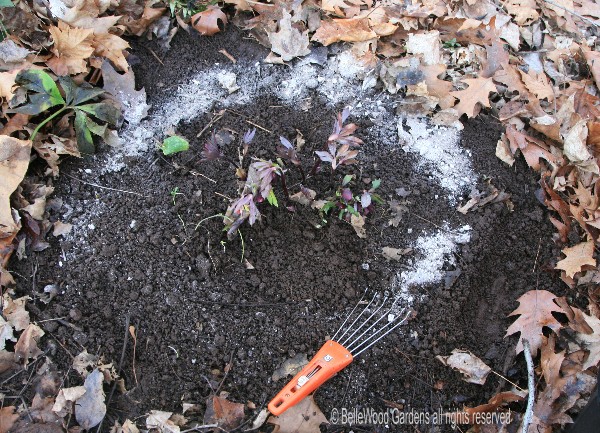 The soil here at BelleWood Gardens tests strongly acid, pH 5.1. While hellebores do prefer a somewhat
low pH I find that they respond well to an occasional and infrequent dose of wood ashes. This is an even
number year so I'll treat the hellebores on the house side of the drainage creek (or as many as I can.)
A light dusting at a good distance from the plant's crown, then lightly cultivated into the soil avoiding the roots.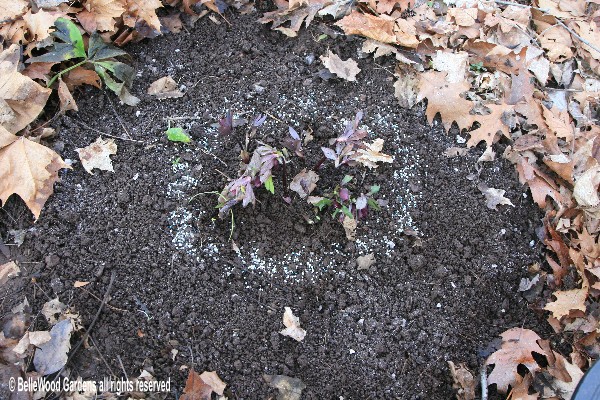 For a plant this size, two Tablespoons of fertilizer applied closer to the plant than the wood ashes
while again avoiding the crown. I don't like to mix fertilizer and lime. Cultivate lightly to mix with soil.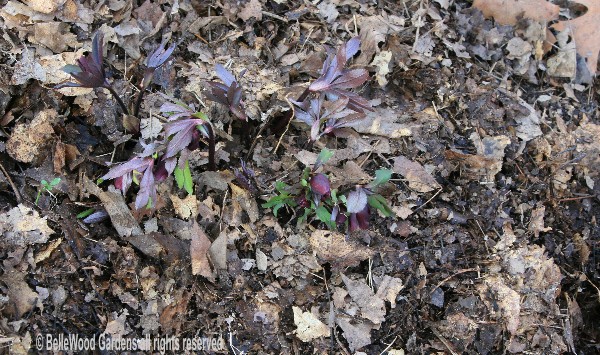 Final step, mulch with oak leaves that had been shredded last fall, then bagged and set aside. Much better!
Back to Top
---