Garden Diary - April 2012
Tuesday, 24 April 2012
Holland in Tulip Time: The Gardens of Appeltern - water features
---
We're coaxed back to the buses with the promise of another fascinating garden-related place to visit. Off to De Tuinen van Appeltern, the Gardens of Appeltern. What's this? Situated in a rural area between the Maas and Waal rivers, the gardens are model display gardens, 200 of them spread over 54 acres. Dutch manufacturers, growers, garden designers, horticulturists, and umbrella organizations involved with the Dutch nursery trade in trees, perennials, bulbs, and more.
A bit of a hike from the parking area past the plant shop then along the road and arrive at the entrance. Clearly there's going to be a lot of ground to cover, 54 acres actually. There's a small map in the booklet each of us is provided. For example the area marked 4 has balcony gardens while 5 is for vegetable gardens 9 is trend gardens from 2011. Too much space to cover in the 2 or so hours we have. I decided to go for the sound of water. That, I decided, would direct me to gardens with fountains and water features.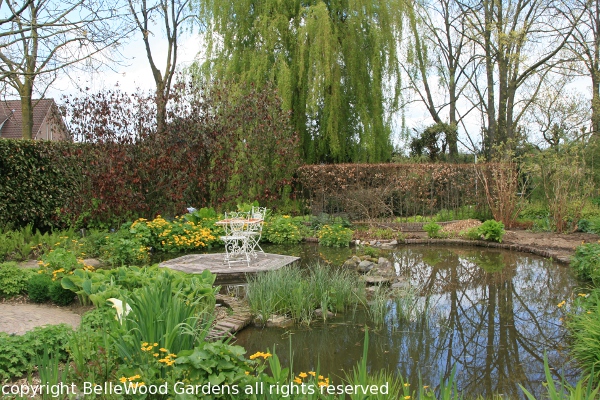 One of the first gardens, quite near the entrance, features a charming garden pond with
a hexagonal deck perched over the water. Water-loving plants embellish the design.
In my peregrinations I came across a canal. Several gardens incorporated it into their
designs, such as this pleasant patio / outdoor dining area adjacent to a boat dock.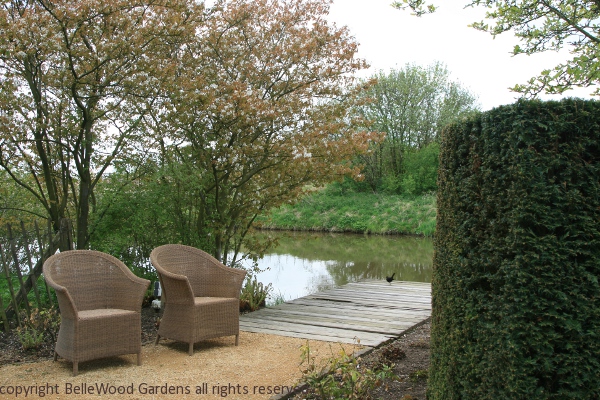 A smaller space has an inviting seating area screened by a closely clipped yew hedge
and shaded by Amelanchier, wonderful 4-season small trees with attractive flowers, edible
berries (if the birds don't get them first), good fall color, and pleasing shape in winter.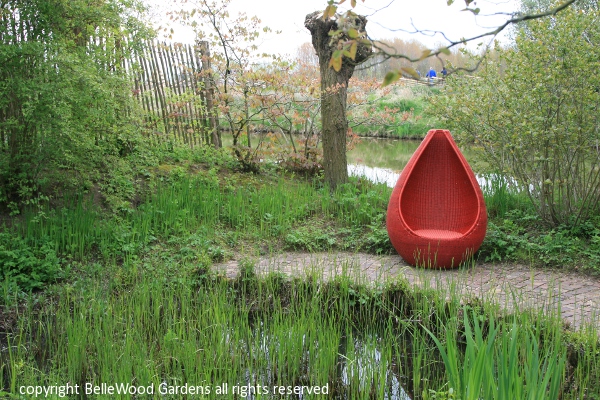 A red teardrop woven basket chair becomes an architectural feature, making a vivid contrast
to the soft springtime greens of marsh plants - water iris and some rushes - that thrive
in the country casual / naturalistic planting design also located adjacent to the canal.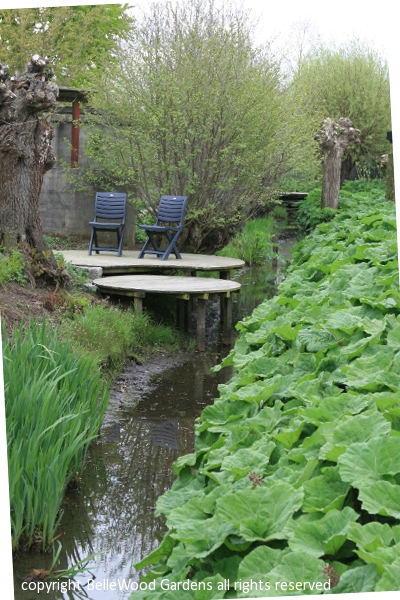 Elsewhere I found a very natural looking little streamlet, its far bank
swathed in Petasites japonicus. The two knobby looking trees have been
pollarded, and have not yet begun to branch out like the willow between them.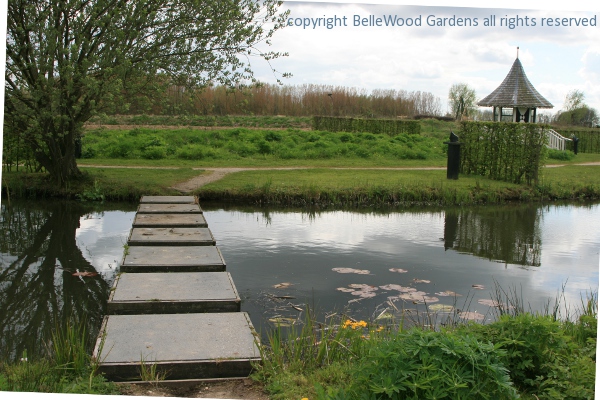 A series of platforms act like water-level stepping stones to provide a crossing
at the canal's shallower end. Hand rails are obviously not required. For good and
obvious reasons in the Netherlands everyone is taught to swim at an early age.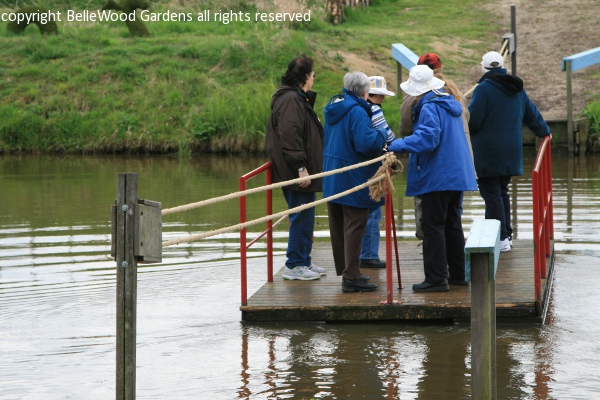 But this was the most fun way to cross the water. A platform ferry. Heavy rope
loops through a pipe atop a pair of stanchions on the platform. There's a pulley
inside a box on a post on each shore. Pull on the rope and the platform easily
glides over the water. So much fun I went back and forth a couple of times.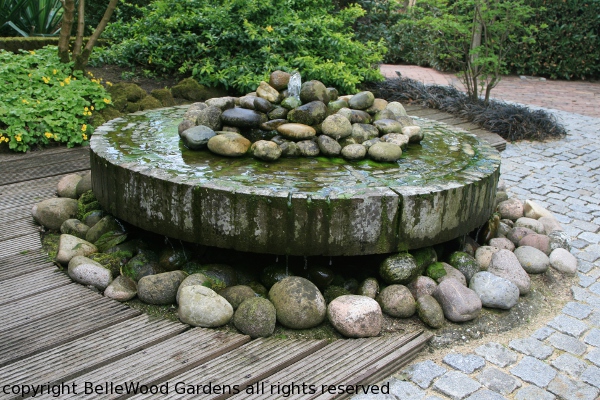 There were, of course, the fountains that lead me to them with their splashing water music.
A fairly traditional millstone-like recirculating fountain ringed and topped with cobbles.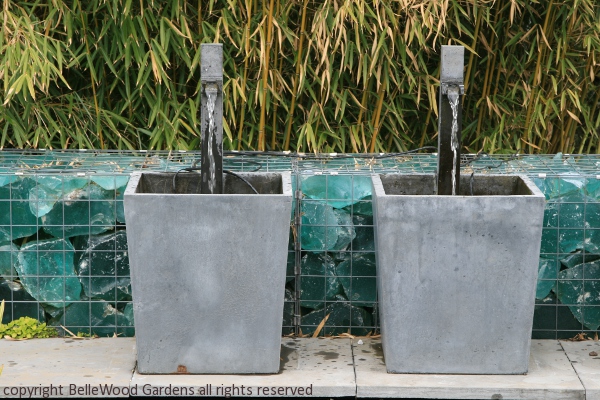 A much more modern design with faucets running into
unadorned, severely plain tubs, with a backdrop of
gabion-like metal cages filled with large glass cullet.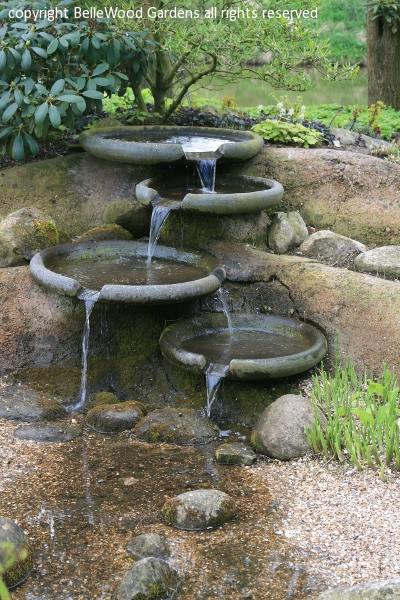 Water music as a modest trickle spills left, right, left, right
cascading down a short rise. The space under each saucer
acts as a sound box, amplifying its sound. Birds will love it.
Tour Comments: The Gardens of Appeltern weren't even on the original description of the tour. It became a welcome, planned additional as details were finalized.
---
Back to Top
---