Garden Diary - December 2012
Saturday, 8 December 2012
We Wish You A Merry Fruitcake
---
Fruitcake is the butt of so many derogatory jokes: there's only one fruitcake in the world. It nevers spoils and just gets passed on from one person to another. Or, what can you do with a fruitcake? Use it for a doorstop. And on, and on. My fruitcakes (which by now I have been baking from the same recipe for decades) are eagerly anticipated by grateful recipients who look forward to this festive aspect of their holiday traditions. There's no secret, really. I make a white fruitcake, more of a pound cake batter. It is the matrix that holds the candied fruit and brandied dried fruit together. And only the best quality of candied fruits. None of those little supermarket tubs of artificially bright candied fruits.
But here is where things have been getting more and more difficult. When first I began baking fruitcake we lived in Connecticut, and I could get the candied fruit at the elegant grocery store in Westport, They'd get it in along about November, in bulk, so I could get just what I needed in the way of candied pineapple rings, candied cherries, candied orange and lemon peel in halves, and the same for candied citron melon, in halves. After several years the store either stopped carrying candied fruit or actually closed, I don't remember which. I then ordered the candied fruit from Bell Bates, in New York City. For years all was well. The candied lemon and orange peel and the citron melon was now only available diced but I could live with that. Then last year when I called to place my order I was told that all they handled was tutti-fruitti - that's everything all diced and all mixed together. What a horror! After a frantic search on-line I found a source here in New Jersey, placed my order, baked my fruitcake . . . . . but the quality - while better than the supermarket little tubs - wasn't what I wanted.
My intention was to search and order early in November but I got distracted by the superstorm which knocked out electricity and the Internet for a couple of weeks. When visions of fruitcakes again danced in my head I looked around and decided to go with King Arthur Flour Company in Vermont. Phoned in, placed my order. The peel and citron were only available as a diced mixture. Not overjoyed but I'd go with it. Candied cherries, yes. Puzzled about the pineapple as it didn't say candied but the nice lady I was talking to said it had sugar and she was sure it was what I wanted so I ordered it. And some soft candied ginger as I had an idea about lebkuchen - but that's another story.
My order arrived, and there's no candied peel / citron. I called up in a panic only to be told that between the time I ordered ("Yes, the three units are in stock.") and the time my order was filled they sold out and it's back ordered until December 14th. Arghh! To say I was not happy is an understatement. We had a discussion and the upshot was that they'd credit me for the items I had received. Very nice, but I still needed lemon and orange peel, and citron. The pineapple, by the way, is small diced, dry bits suitable for scones but not fruitcake. Back on line desperately looking for candied fruit. I found Market Hall in Oakland, California. Called up, explained my urgent need for candied lemon peel, orange peel, citron. They had all in stock. They even managed to get the order shipped the same day. Happy, happy. Time to start macerating raisins and currants and, new this year to my recipe, craisins in brandy. Let the baking begin!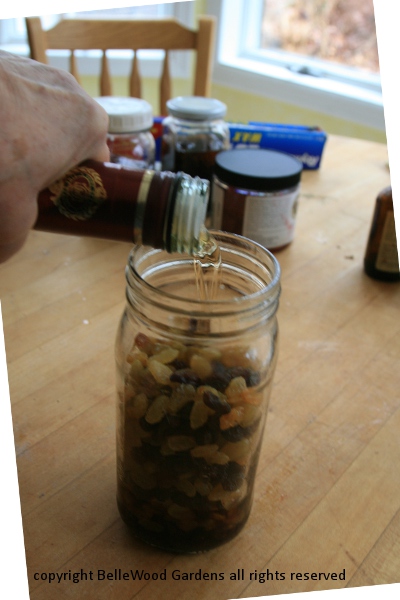 Step two (ordering candied fruit is step one) is macerating dried fruit in brandy or rum.
I use brandy. Measure out the fruit, place it in a jar, cover with brandy, and cap.
I keep raisins separate from currants from craisins. Let soak for at least 24 hours.
The fruit will plump up and become nicely alcoholic. Strain, saving the brandy for the next batch.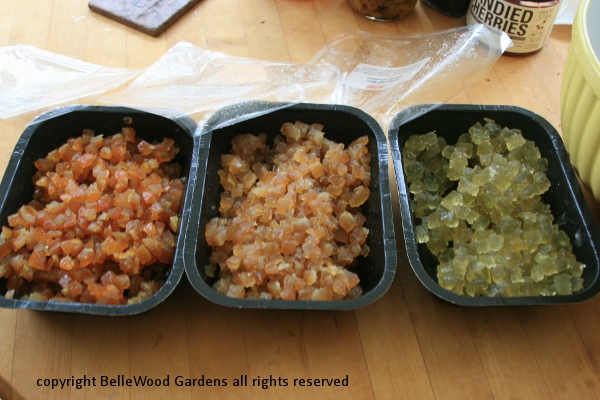 From left to right: one pound each of candied orange peel, lemon peel, and citron from Market Hall.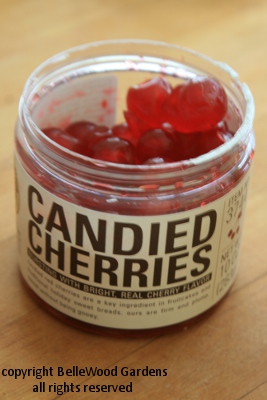 Candied cherries, 10 ounces, from King Arthur Flour Company.
I really should have ordered two. Oh well, they'll add color.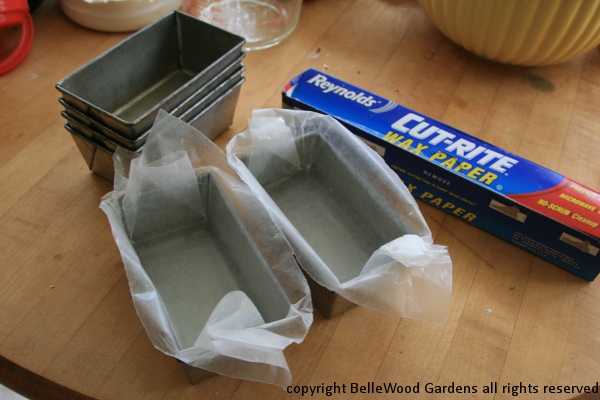 This batch of fruitcake will go in little loaf pans. I've had these tinned pans for decades. They've lasted
so well because immediately after the cakes come out I wash the pans and put them back into the turned off
but still warm oven to dry. No taking chances with a damp spot and rust. The tins are lined with wax paper.
In a seriously large mixing bowl combine the brandied fruit and dried fruit with one cup of flour
and thoroughly toss to mix well. This separates the fruit and helps distribute it through the batter.
Fruitcake Recipe
3/4 cup unsalted butter at room temperature, 2 cups sugar
Beat thoroughly to combine well.
Add six large eggs, one at a time, beating thoroughly after each one.
Add one teaspoon vanilla, beat well.
3 1/2 cups flour
Add 1/4 cup brandy to 3/4 cups milk
Alternately add flour and liquid in several stages
beginning and ending with flour
Now, about the fruit.
I use approximately 7 cups total, half candied fruit and half brandy-soaked dried fruit.
Candied fruits: lemon peel, orange peel, citron, cherries, and pineapple. Diced.
Brandied fruit: dark raisins, yellow raisins, dried currants. New this year, craisins.
Although the original recipe called for nuts I don't include them.
If you don't like, say, citron- just leave it out and increase another candied fruit.
Love dried apricots? Reduce the amount of raisins and add some apricots, diced.
Bake in preheated 275° Fahrenheit oven until pale golden
and a cake tester comes out clean. Little loaves take 2 hours.
Pour the batter over the fruits and stir well to evenly distribute the fruit.
.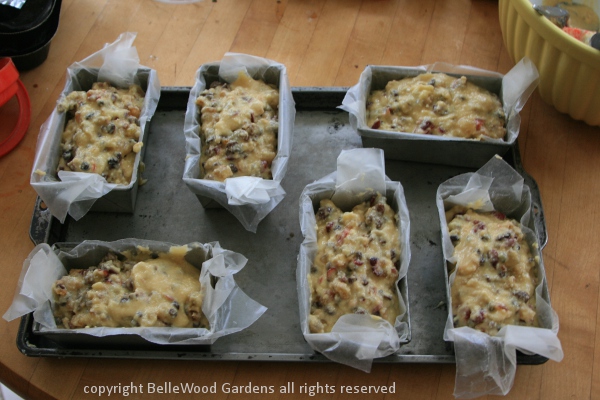 Spoon the batter into the pans, filling well. It will not rise very much.
Done with the baking, but not done with the fruitcake. Dribble a tablespoon of brandy over
the warm cakes as soon as they are out of the pan. Repeat twice more as the cakes cool.
Store in individual plastic bags at cool room temperature, no refrigeration necessary.
"Brandy" once or twice a week. Cakes may be served in two weeks. A month is better.
And if they're not consumed before then they'll keep for a couple of months but do add more brandy.
Happy holidays
---
Back to Top
---
Back to December
---