Garden Diary - December 2012
Tuesday, 2 December 2012
Gingerbread Wonderland at the Frelinghuysen Arboretum
---
Gingerbread. In Europe, the UK, and the United States it's a traditional part of the holiday season. This sturdy cookie is flavored with cinnamon and cloves, nutmeg and ginger, and keeps for a long time without going stale or moldy. Rather than sugar, molasses or honey provide the sweetness in the more traditional recipes. If you want to explore gingerbread recipes through the ages, here's a link to the Old Foodie's blog section on that very topic.
Because it it such a sturdy cookie, gingerbread is frequently used for cutouts, the eponymous gingerbread boy for example. And for gingerbread houses, where the walls and roof are made of gingerbread, then embellished with all sorts of sweet treats from candy canes and gumdrops to more contemporary candies such as M & Ms, licorice twizzlers, gummy bears, and more.
Twenty-one years ago the Frelinghuysen Arboretum in Morristown, New Jersey opened its doors to the first Gingerbread Wonderland. Now a holiday tradition, this year's event takes place from 30 November to 9 December 2012. There are different categories for families, adults, children, scout groups, and special needs. The huge auditorium is filled with more than 200 gingerbread creations. People register in the fall, to be sure of reserving one of the coveted spots. Traditional gingerbread houses are always popular, but past entries that I remember included everything from a ferris wheel to the walls of Jericho, march of the penguins, and more.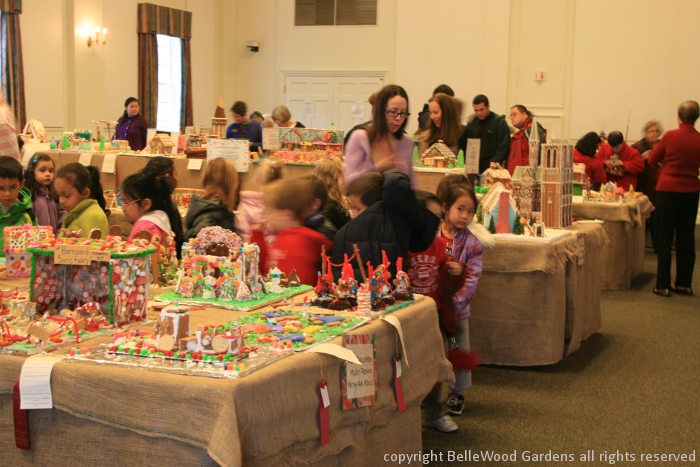 Let's join the throngs of eager youngsters and see what this year's Gingerbread Wonderland has on display.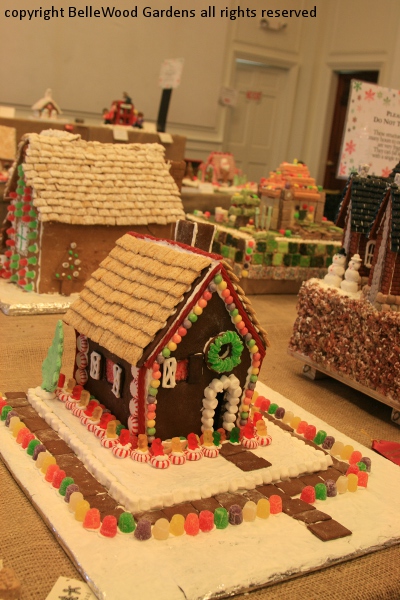 Traditional cottages, of course. Royal icing in the "cement" that holds the structures together, glues on
the embellishments of peppermint candies and gumdrops. Colored fondant becomes wreaths and trees.
Everything must be edible, you see, so pretzel columns and miniature shredded wheat roof shingles are O.K.
. . . . .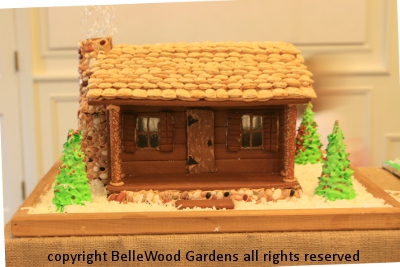 .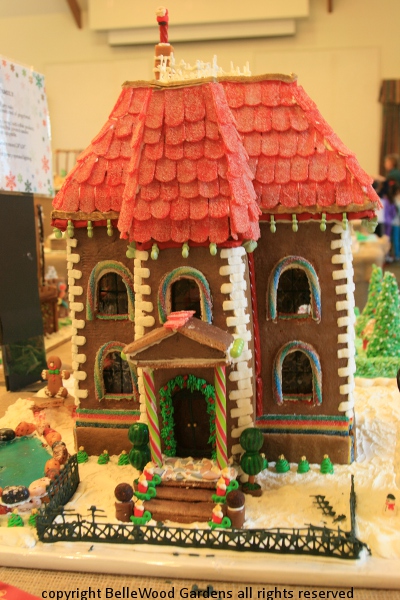 Some cottages evolve into gingerbread houses, like this handsome brownstone with its mansard roof.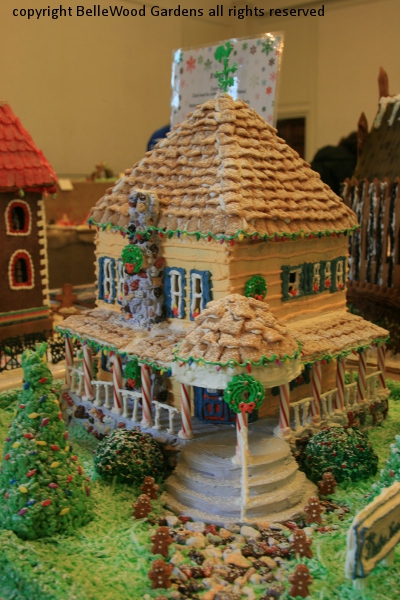 Or perhaps you like this handsome Victorian with its wraparound porches and gently curved corner steps.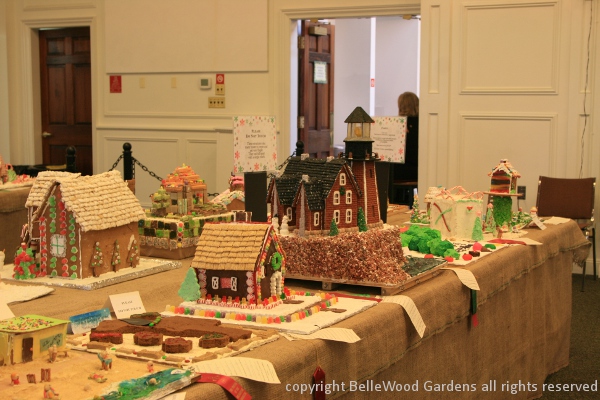 So many gingerbread buildings! Only way to be sure you've seen them all is up one aisle and down the next.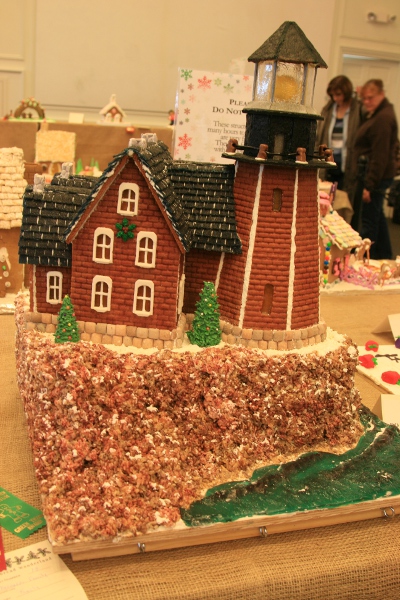 Like this fantastic lighthouse on its rocky shore. (Rice crispies, actually.)
A People's Choice winner from 2011, this masterful depiction of the Jersey shore. Fabulous
attention to detail, even the darker color of the wave-wet sand. The way it was, then . . . . .
This year, after superstorm Sandy, there were a couple of depictions of the damaged communities along the shore.
I was taken by this one, created by children 3 to 8 years old. One of whom decided it should be named Hurricane Candy.
Crafted by an architectural student, this magnificent cathedral has an investment of more than 80 hours in its meticulous construction.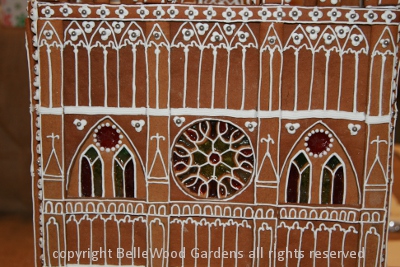 . . . .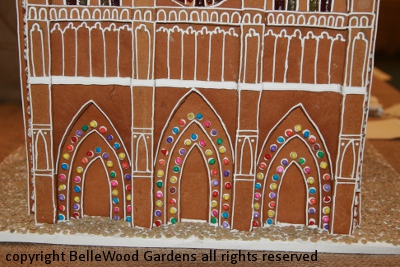 .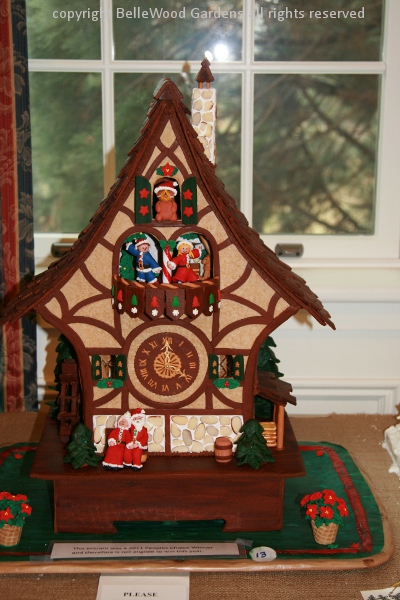 This fabulous cuckoo clock was a winner in 2011. It's on display again this year, but not available to garner votes for the People's Choice Award.
Meticulously designed and created, it's obvious that a great deal of thought went into its creation. The dark brown "timber" and roof shakes were
crafted from traditional gingerbread that was compressed and tinted with brown food coloring part way through baking. The honey-colored gingerbread
for the walls substituted white sugar for brown sugar, and clear corn syrup in place of molasses. Royal icing was the "cement" that holds the structure
together. Fondant, variously tinted and colored, was used for the various people, creatures, flowers, and decorative embellishments. Sliced almonds
became stones on the chimney and foundation, pretzel sticks also played a role, and pasta became assorted supports and flower stems. The closer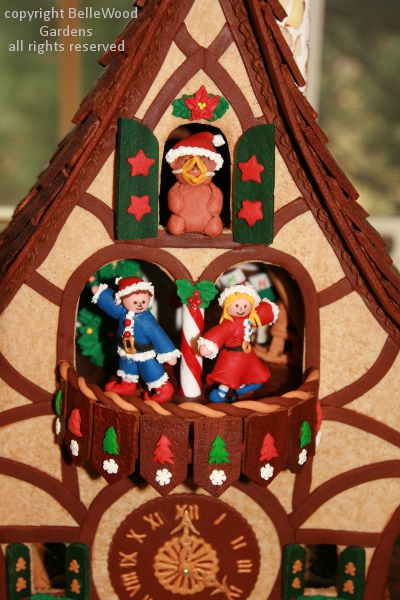 you look, the more detail there is to see, from the traditional bear playing the role
of the Cuckoo Bear, complete with fake beak and a Santa hat. And Christmas tree and stockings
barely visible in the background behind the boy and girl on the balcony. Wunderbar!
The 2012 Gingerbread Wonderland Show runs from Friday, November 30 thru Sunday, December 9. Open daily from 10:00 a.m. until 5:00 p.m., until 8:00 p.m. on Fridays. The Frelinghuysen Arboretum is located at 353 East Hanover Avenue, Morris Township. A suggested donation of $2 per person, seniors and students $1 per person. For more information telephone 973-326-7601.
---
Back to Top
---
Back to December
---