Garden Diary - April 2012
Holland in Tulip Time: Floriade - Plants and Flowers
---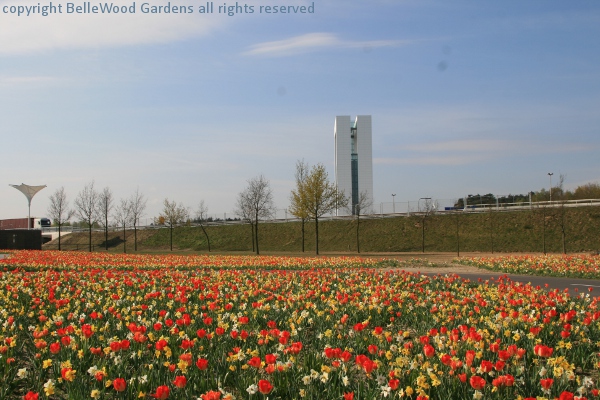 We arrived at the Floriade to a most floriferous welcome, nay, even before we arrived
as the parking lot displayed a field of flowers. Tulips and daffodils in pontilistic display.
What, I wonder, will visitors see when they arrive in June? In October? Dahlias, perhaps.
How did they do it? The first flower bulbs were planted on 19 October 2010. That's right, 18 months ago. An amazing 67,000 naturalising flower bulbs went into the earth in the Kapelbos in the Environment themed zone. At the same time they were joined by some 6,700 perennials. More flower bulbs were planted throughout the entire park in autumn 20122. One of the designers of the flower bulb concept for the Floriade park was Jacqueline van der Kloet. She has developed planting schemes at Keukenhof, for previous Floriade events, and also major projects abroad.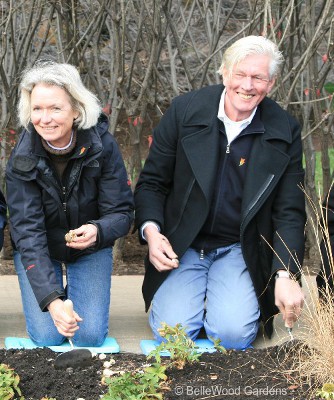 One such project was in 2008, at the New York Botanical Garden's
4-Season Border. Jacqueline designed the bulb portion of the garden
while Piet Oudolf selected, arranged, and designed the perennials.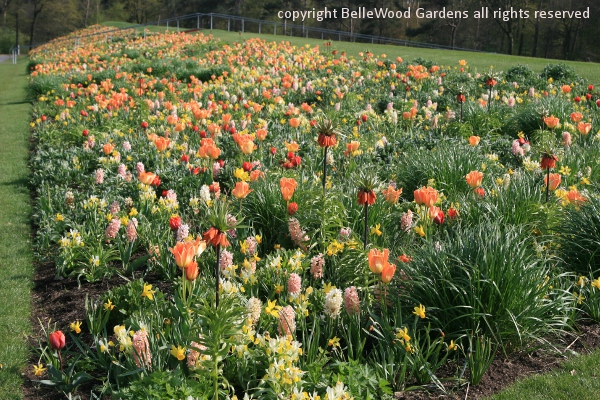 This mixed planting in the Education & Innovation region shows a better, more sustainable
concept than carpet planting of bulbs. Look closely. There are the big three of bulbs - tulips,
daffodils, and hyacinths. Some crown imperials, Fritillaria imperialis, and Iris bucharica.
In among the bulbs are well established clumps of ornamental grasses and other perennials.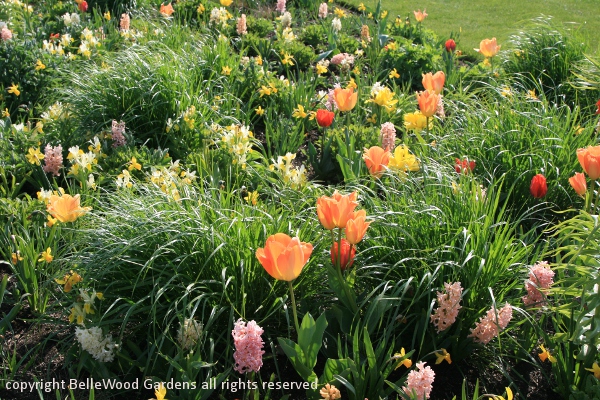 .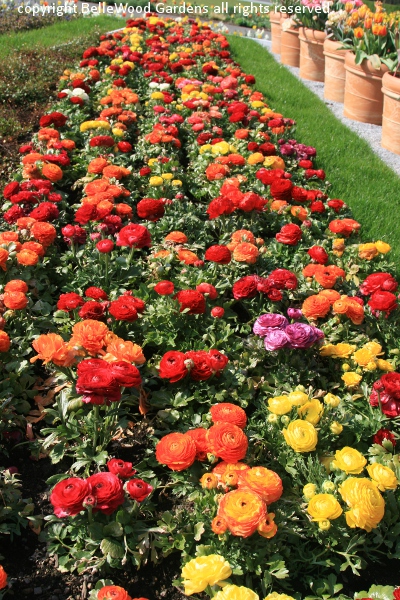 Oh yes, there are the mass planting, bulbs such as these ranunculus
color streaked over ground. I've never been able to grow these well.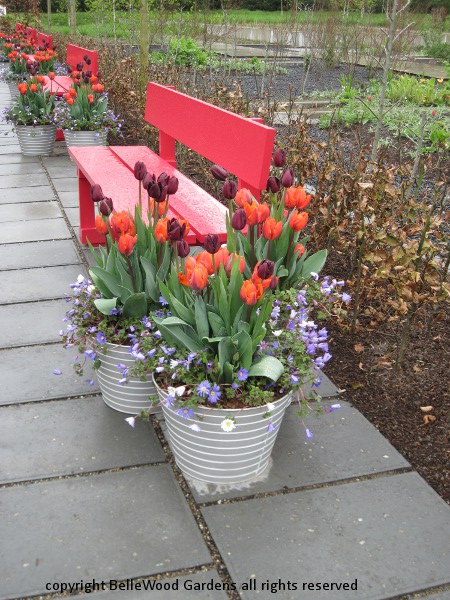 An easier concept to bring home. This red bench with harmonizing
tulips. ''Prinses Irene' in orange flamed with purple, and a second
taller, wine dark tulip. It's Floriade, so there are multiple benches and
multiple pots. One bench, a couple of pots will do me nicely next Spring.
A charming little grape hyacinth. Snowcap
came to mind but I think this is actually
Muscari aucheri 'Mount Hood'.
Tulip bulbs can be eaten, as the Dutch did during the Hongerwinter, the Hunger winter famine of 1944/45
during the Second World War. Merely because something is edible doesn't mean it is nutritious or tasty.
How much better it is, today, to plant the bulbs for their beautiful flowers, and eat the delicious vegetables.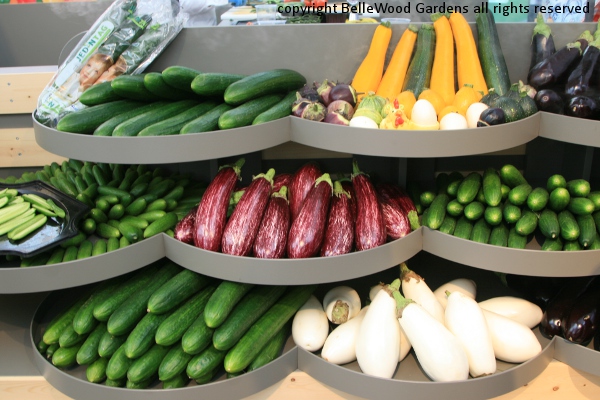 Eggplants, squash, and cucumbers in Huis van de Smaak
and beautiful, thick walled Holland peppers in colorful array.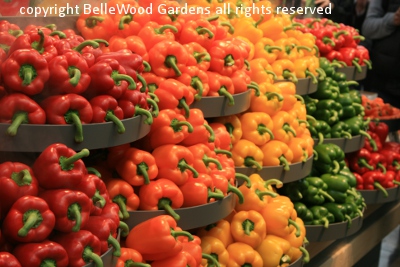 .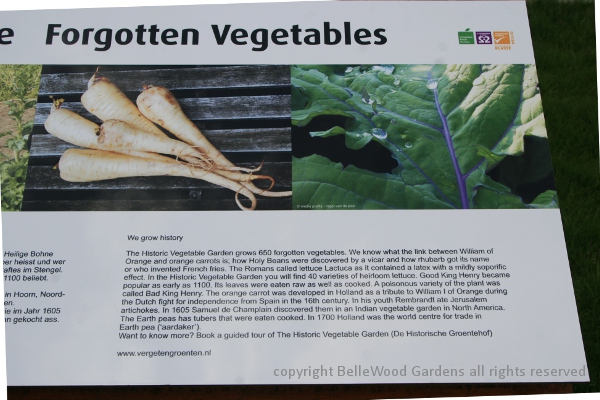 Remember that high school ditty: "Make new friends but keep the old.
One is silver but the other is gold." So too with vegetables. Heirloom
cultivars are gaining popularity in the United States, and, I was pleased
to see, also in the Netherlands. Forgotten Vegetables, Vergetengroenten
forgotten no longer. Floriade opens many doors to visitors from near and far.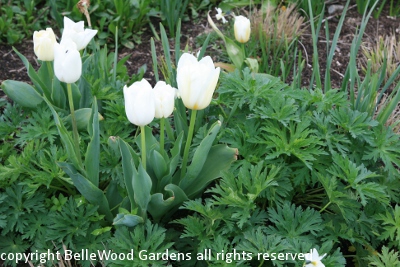 ---
Back to Top
---