Garden Diary - April 2012
Holland in Tulip Time: Floriade - Some Garden Impressions
---
In no particular order and no selection for size or importance here's a look at a few of the exhibits that interested me.
Foot Kiss for Butterflies. A butterfly garden created by Stichting Naturama as an interactive work of art in which both the visitor and the butterfly take part. Shaped like a gingko tree, the garden is planted with native flowers highly attractive to butterflies. Apparently Carol and I could have walked barefoot across the leaf's green veins, made of special grass interwoven with low-growing flowers that are also gentle underfoot. Perhaps if it had not been drizzling I would have been more interested. I was intrigued to learn that the element bringing it all together is the Golden Section, marked by a millstone.
I had a pleasant, albeit brief talk with this man, intent on sowing poppy seeds to grow and
flower, enticing butterflies to the garden. I must say that I've not seen them visiting poppies
in gardens back home. Bees, yes, but not butterflies. The flowers will be pretty though.
The wooden pavilion with people using spotting scopes is "Through Animal Eyes," organized by Vivara Conservation Products. The company specializes in advising and developing products such as food, feed silos, feeders and birdhouses. Sponsorship also by The Butterfly Foundation, IVN (Institut for nature, education, & sustainability), RAVON (reptile, amphibian, and fish conservation Netherlands), Squirrel Care Foundation, Foundation Hedgehog Protection, BirdLife Netherlands. Nicely done with a small pond, a garden shelter, and this building with its twiggy surround to remind us of a bird's nest.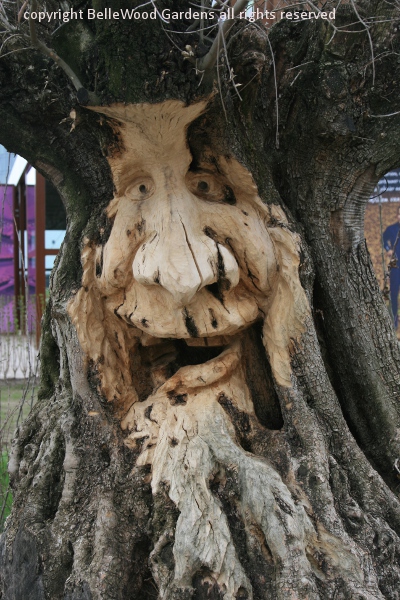 I was particularly taken with this tree face carved from an old willow.
Can just imagine the wonderful appearance after the willow sprouts.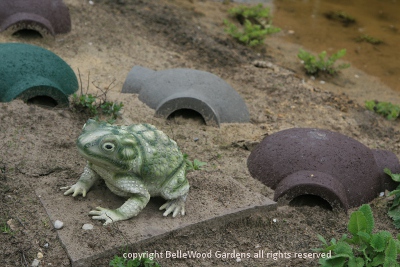 Toad houses sunk partly in the ground for cool, damp conditions,
and a green plastic toad in case you weren't sure what they were for.
A neatly woven basket structure right next to the water. I asked,
and its a nest box for ducks. Small ducks, it would have to be.
Yet another insect hotel. They seem to be cropping up all over. If you
recall I saw two at the Leiden Botanical Garden last Monday, and another
one somewhere else. This is the neatest I've seen. Bet bugs prefer messier.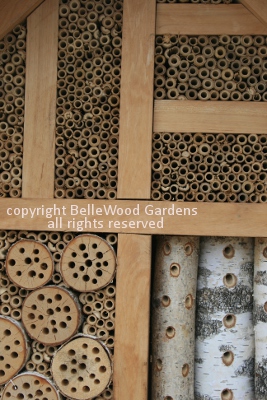 .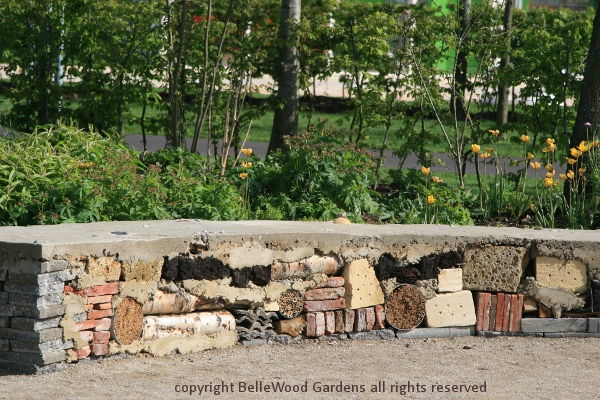 There was another insect hotel here, in the Wilde Weelde Wereld exhibit, created
and installed by a trade association of nature-friendly landscape and horticultural
businesses. The exhibit's goal is to show visitors new paths to bring them from just
'wishing for a garden' to learning how to work with nature and responsibly use
soil, water, plants, and materials to create a sustainable 'garden to wish for.'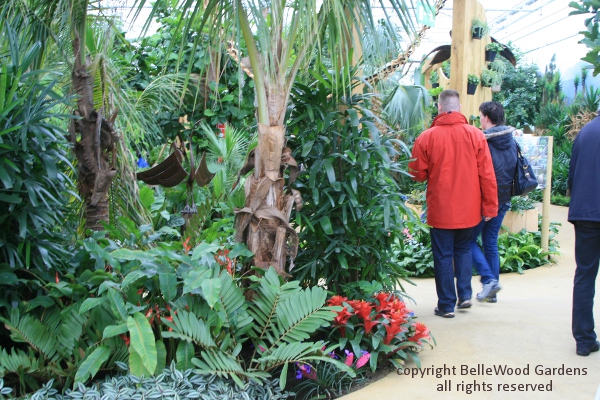 At over 18,000 square feet the Tropical Treasures exhibit is huge. Located in the education and innovation section of Floriade, you can simply stroll through a tropical jungle, complete with a river running through it. Plants from Mexico, Kenya, and Thailand contribute to the lush tropical effect. Children are encouraged to find the king of the jungle by solving secret codes and answering riddles, and carrying out assignments from the three jungle tribes who live here.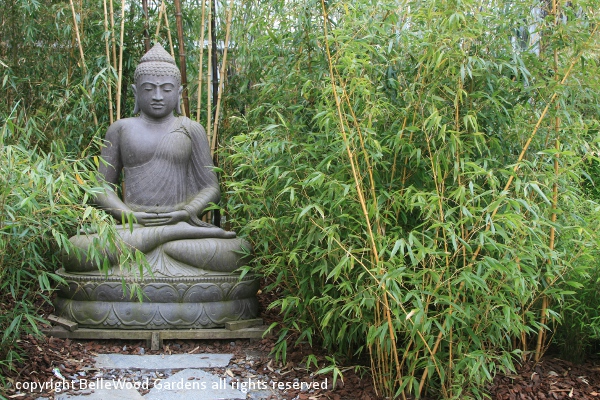 Outside the entrance to Tropical Treasures are planting of several different kinds of bamboo.
Here, their slender culms and rustling leaves make a delicate backdrop for a buddha.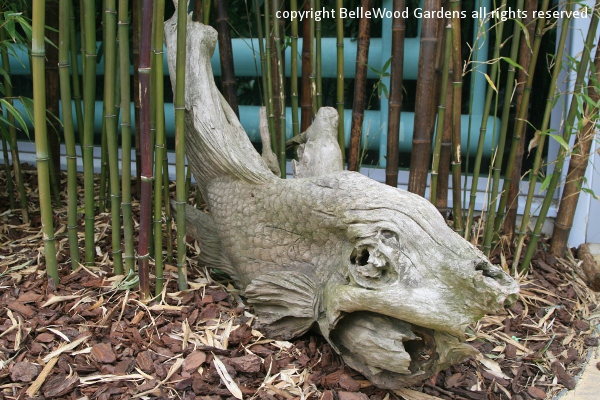 There's also a wonderful silver fish carved from a gnarled and broken weathered log.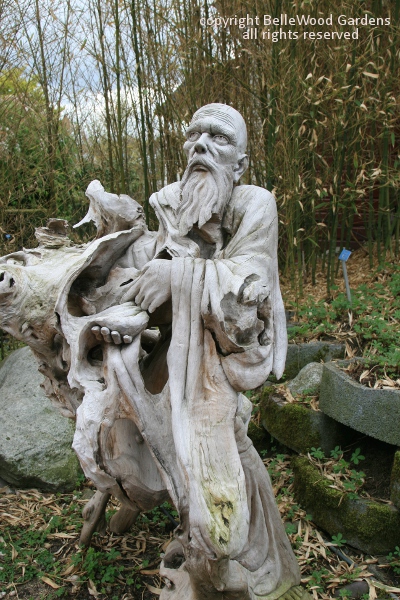 I don't know the sculptor's name but surely it is the same one
who carved this Chinese sage I saw at the Gardens of Appeltern.
Comments: There are several things going on here. Less emphasis on horticulture than I anticipated - a few countries whose exhibits I looked at had no plants and also sold souvenirs. Speaking of souvenirs - much of it was kitsch, and not much in the way of plants. It's difficult to find your way around. They could have set color coded bands in the pavement to indicate the different areas. While there are sign posts pointing the way to different exhibitions it would have been helpful if there was some indication of how far away at a moderate walking pace. With the diversity of exhibits and the incredible range of the displays from modest to moderate to expansive there definitely something for everyone. I very much liked the fact that this Floriade is set in an area that had some natural forest. Green belts of trees between one section and another, with flowering plants along the wide paths, gave a sense of calmness, decompressing between one experience and the next. Also, keep in mind that this is April. By late May / June the banks of tulips and other bulbs will have morphed into perennial displays. I'd create another exhibit entry, and one for food.
---
Back to Top
---