Garden Diary - July 2012
Sunday, 22 July 2012
Sunday at the Farmers Market
---
I'm fortunate that Hunterdon County exemplifies New Jersey's claim to its name of The Garden State. There are roadside stands, often operating on the honor system with a milk can where you can shove money through a slot. Farmers markets, on different days depending on which one you choose. Since today is Sunday, I'm off to the Dvoor Farm Farmers Market next to the Route 12 traffic circle in Flemington. By this time of summer there's lots of local, seasonal, delicious food to look for, and bring home.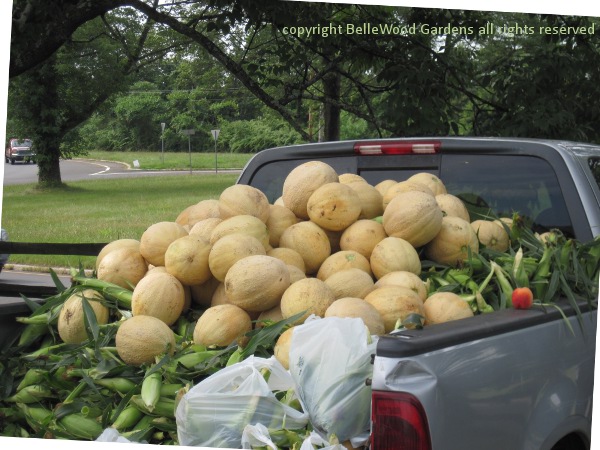 Like cantaloupes, a pickup truck load. I bought two for $5, one ripe, one not quite for later in the week.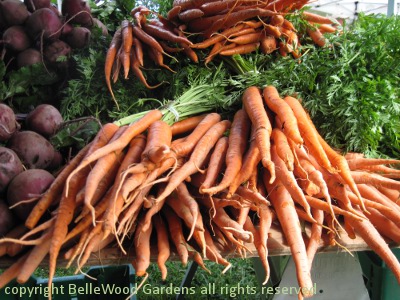 . . . .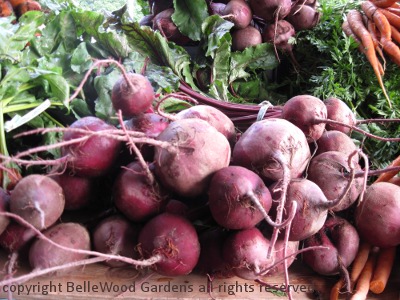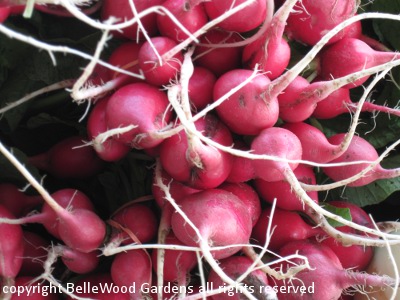 . . .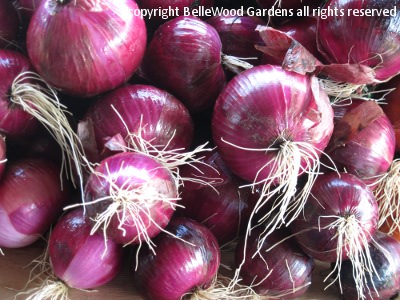 The vegetables are beautiful, and beautifully presented. Bunches of carrots on top left, beets top right.
Radishes on the lower left, looking crisp and crunchy. Glistening red onions by the bunch, lower right.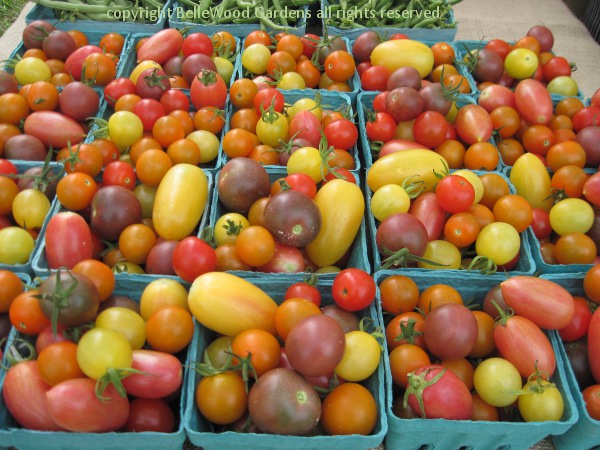 Something you won't see at the supermarket - a multicolored rainbow of little tomatoes.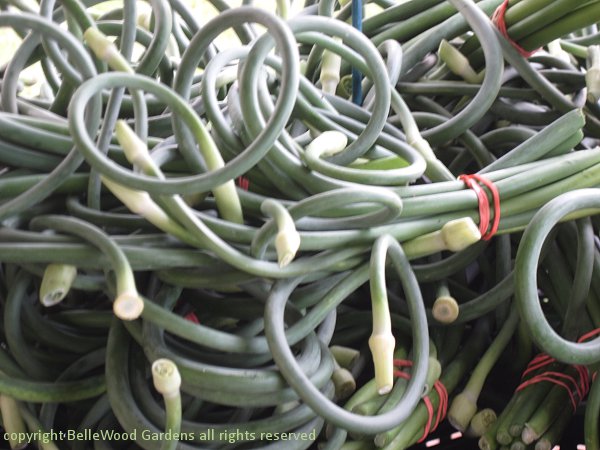 Sinuous wiggles of garlic scapes. I'm thinking of pickling them . . . . .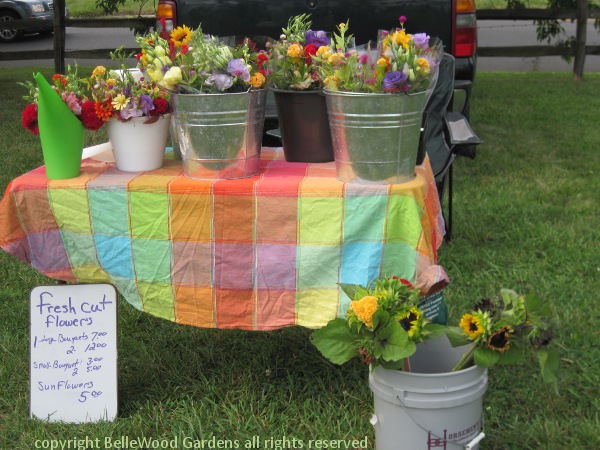 If thou hast two loaves of bread sell one, and buy hyacinths. For bread nourishes the body,
but flowers nourish the soul. Or words to that effect. I'm not selling bread, but one vendor is
selling flowers, beautiful bouquets with sunflowers, fuchsia gomphrena, yellow cockscomb, and
wonderful lavender lisianthus. Buckets and pails, even a watering can pressed into service.
.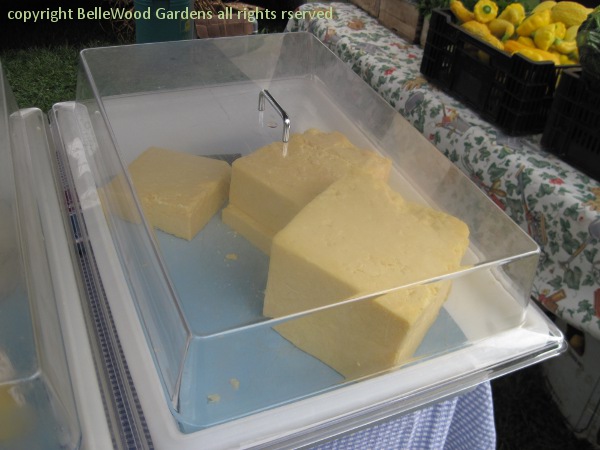 Bobolink Dairy sells wonderful raw milk cheeses, aged a minimum of 60 days. Always cheddar, (above)
and others that make seasonal appearances, such as amram (named for a friend of theirs) and drumm.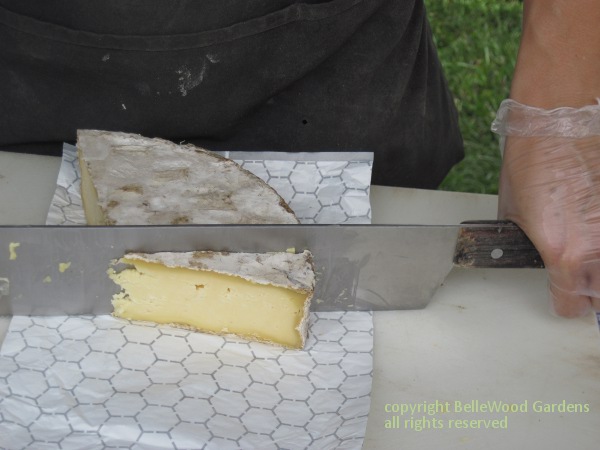 .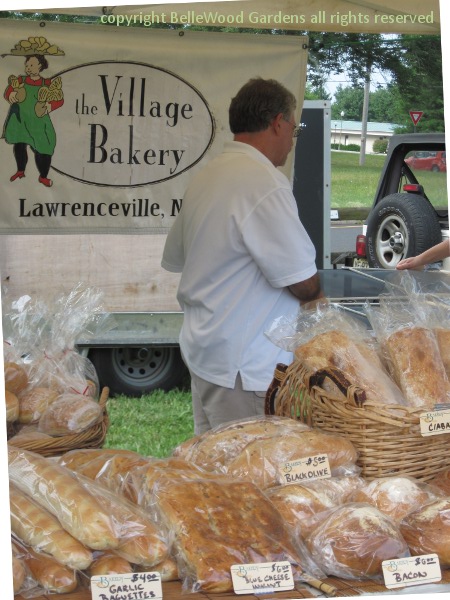 Bobolink Dairy sells bread also, but they're not the only vendor for the staff of life. The Village Bakery
offers a diversity of breads: white, rye, pumpernickel. Some are embellished with olive, maybe garlic.
Walnuts and raisins, very good. Ciabatta, both breads and rolls. I bought a bag of 6 assorted rolls for just $3.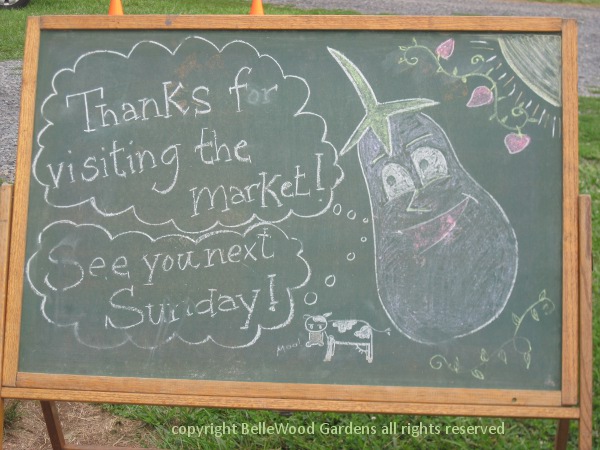 As I walk back to my car I need to stop and put the bags down to photograph the sign inviting
me back next Sunday. For sure. The cantaloupes and corn, herbs and cheese and all the other
good things will have been consumed, with pleasure. Summertime, and farmers markets are good!
---
Back to Top
---
Back to July
---