Garden Diary - November 2012
Sunday, 18 November 2012
November Visit to the Farmers Market
---
I'm a regular here, as you can see from this previous entry. But then it was July. And now
it's the middle of November, and today is the last outdoor market at the Dvoor Farm Farmers Market.
After this, beginning with 18 December it will be a once a month event in a shed near the entrance.
And that's a long time away. I better stock up with some of the excellent vegetables to be found here.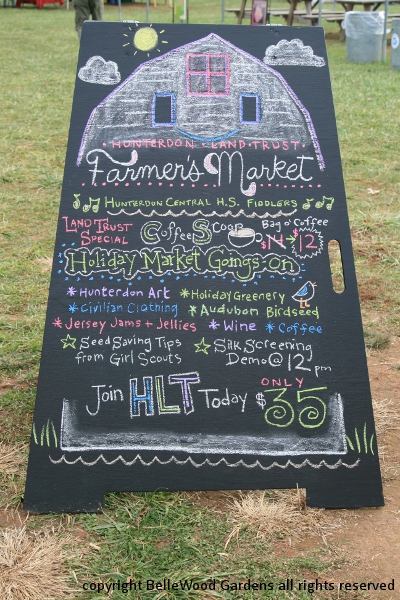 Come on, join me. In we go, pausing for a minute to peruse their sign.
I stopped at the girl scouts seed saving demonstration booth. Two of
the girls had been at the potting bulbs for forcing class I gave for the
Hunterdon County 4-H last month. Today, I showed them an easy way
to fold a self-sealing seed packet from a letter-weight piece of paper.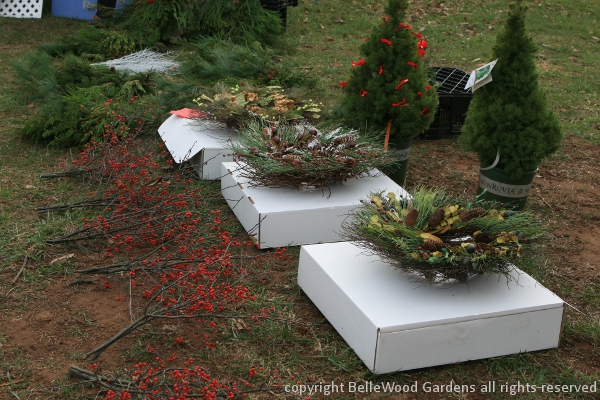 Let's take a look at the holiday greenery. Pots of dwarf Alberta spruce. Did you know that they are
perfectly hardy, even in their pots? One year I managed to find two little ones for the tool shed window
boxes and they came through just fine. Branches of vivid sealing wax red winterberry holly branches.
And some attractive wreaths, nicely decorated. Complete with boxes in which to carry them home.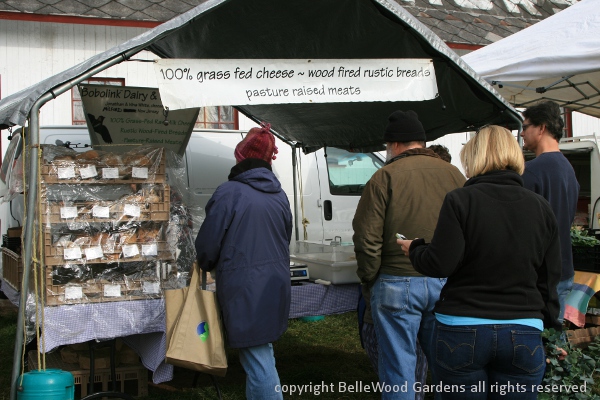 As always, the Bobolink Dairy stand is well patronized. Delicious cheeses from happy cows outside
and marvellous rustic breads from their wood fired bake oven.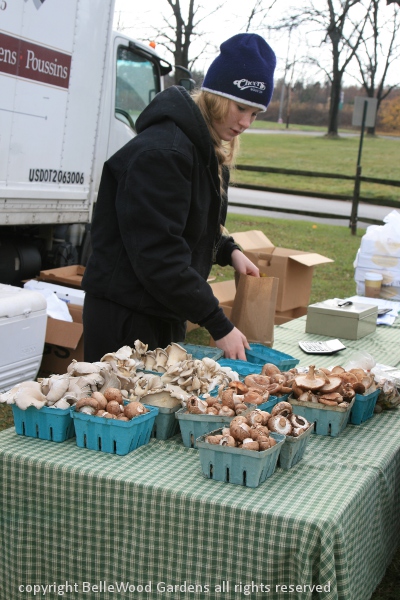 Along with poultry from poussin to pheasant and chicken, here's
an assortment of fungi including shitake and oyster mushrooms .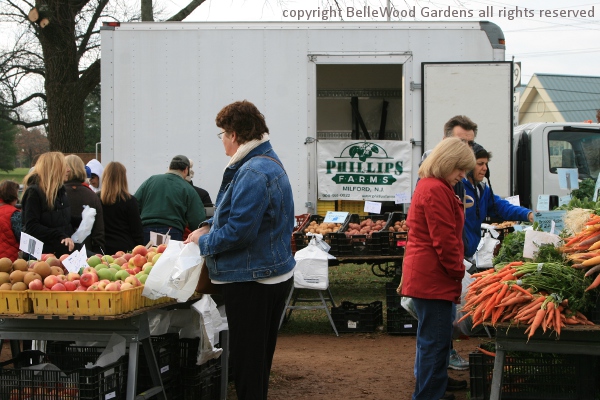 The Phillips Farm truck is just beyond the girl scouts booth. Today they didn't bother to put up
their marquee. And everyone is wearing hoodies or warm jackets on this chilly morning.
Exquisite romanesco broccoli with its fractal geometrically perfect little spires.
Brussels sprouts, even better after the frosts we've had. You can purchase them by the little carton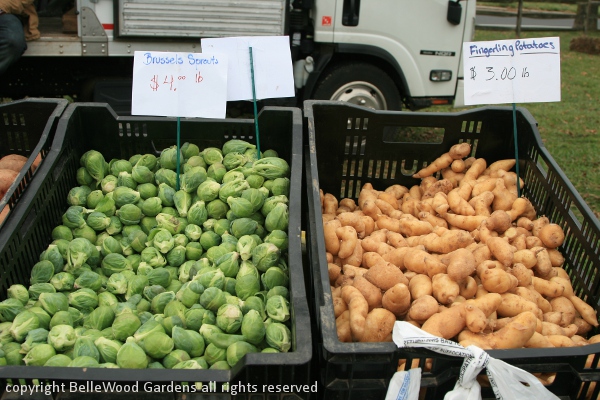 or by the pound, just like the fingerling potatoes which are also by pound or package.
I buy a bunch of multicolored carrots, standard orange, and also yellow, and purple skinned. Orange inside though.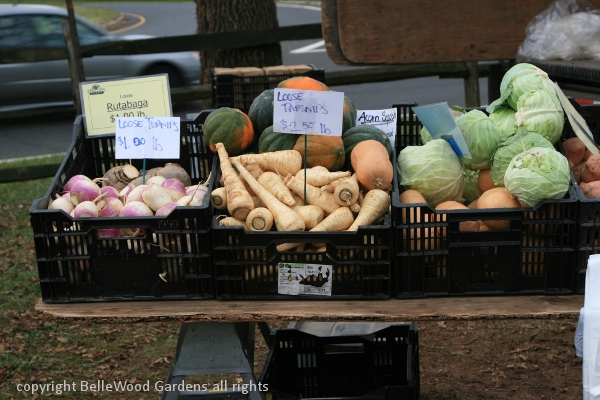 Winter's vegetables, with sturdy flavors for soups or braises or stews. Turnips, parsnips, cabbages.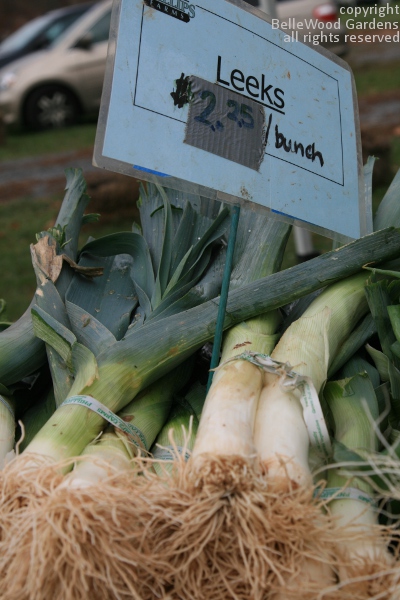 A bunch of leeks join the carrots in my bag. Slow growing, they occupy
the ground for as long as 4 crops of lettuce. Explains their price.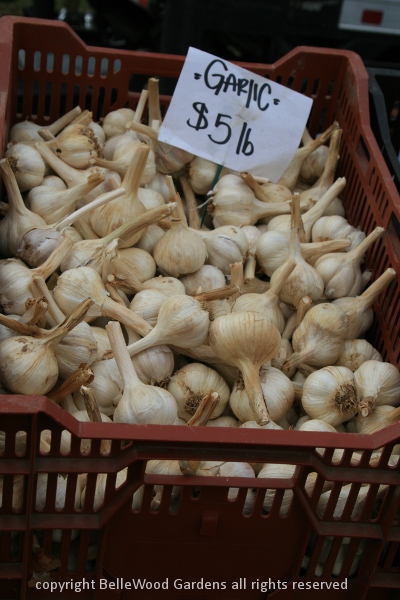 . . . .
Kitchen lilies, members of the onion family. Flavorful garlic. I get several heads. And beautiful shallots in their papery brown skins.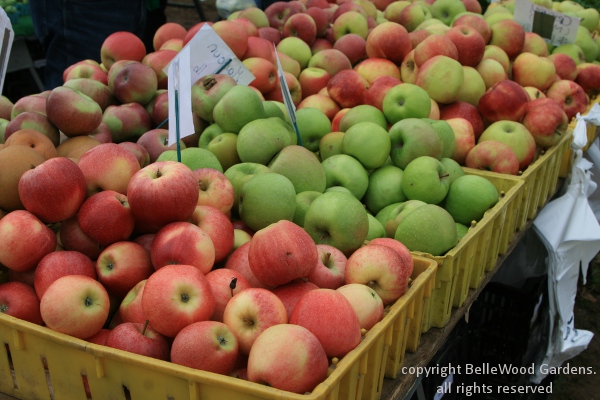 An assortment of apples. Pies, cobblers, baked, eating out of hand . . . . such a useful - and delicious - fruit.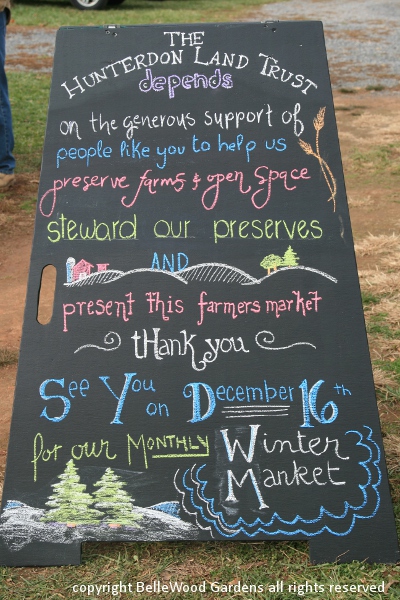 Laden, I trudge back to my car, planning menus in my mind. And must remember to mark my calendar for December 16th.
---
Back to Top
---
Back to November
---