Garden Diary - April 2012
---
If you have any comments, observations, or questions about what you read here, remember you can always Contact Me
All content included on this site such as text, graphics and images is protected by U.S and international copyright law.
The compilation of all content on this site is the exclusive property of the site copyright holder.
---
April
---
Monday, 23 April 2012
Holland in Tulip Time: A Daffodil's Christening
When we were making plans for the day Leo asked me if I would like to go to a christening. Of a daffodil, he hastened to add. Now this is something I had never heard of or participated in. Visions of a lace-lined basket craddling a daffodil danced through my mind, then firmly put away. Let's go, and I'd find out what was entailed as the event unfolded. A very pleasant lunch at Hein and Corrine's home (she is Leo's daughter) of smoked mackrel, delicious bread, 2 year old cheese ("The 5 year old is even better," Hein said, "but it crumbles, you cannot slice it.", some salad, and fresh strawberries from a local grower. Well, after that we drove off to the christening. Even the weather cooperated, overcast and spatters of rain changed to puffy white clouds, blue sky, and sunshine.
A number of cars are peeling off the highway, one after another, to park next to a field of narcissus. Leo follows.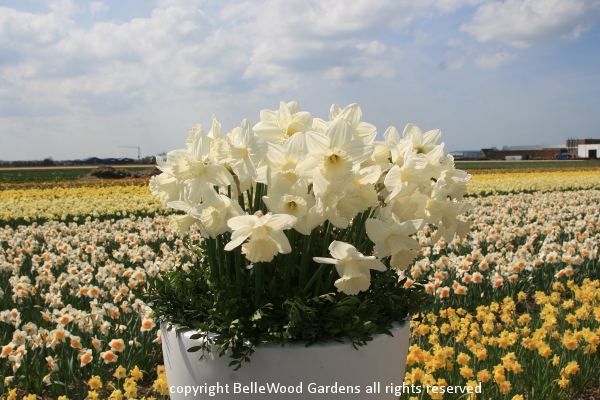 Arrayed on a stand (a couple of black plastic bulb crates diguised with a wrapping of
yellow paper) is a bowl filled with white trumpet daffodils. Winderful substance, petals
full and slightly overlapping one another, dainty ruffled edge to the cup. Meet 'Ecolady'.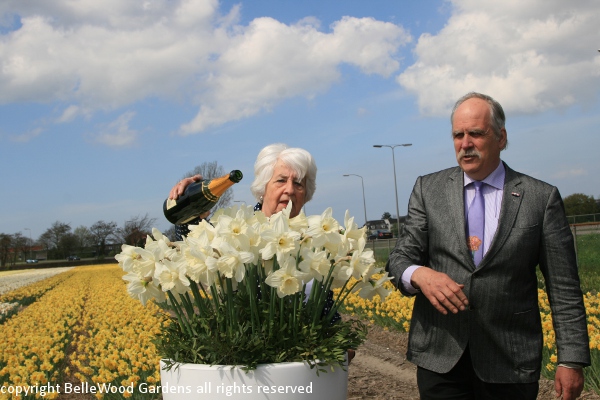 Some comments in Dutch, polite applause from our group, and champagne for the baptism.
Some more bottles were opened and we all received a celebratory glass as well.
As much fun as the baptism has been there's a serious side to the event. To be official the name 'Ecolady' must be registered. Now, while the registries for tulips, hyacinths, and miscellaneous bulbs are held by the KAVB, the Royal General Bulbgrowers' Association, the narcissus registry is in England. Today's certificates of authenticity, five in all, must be sign by the grower, Mr. Leenen; by Dr. Bodegom, a taxonomist with the KAVB; and by a third witness, for the NVVH, the Vrowennetwerk, an upper echelon women's broadcasting organization.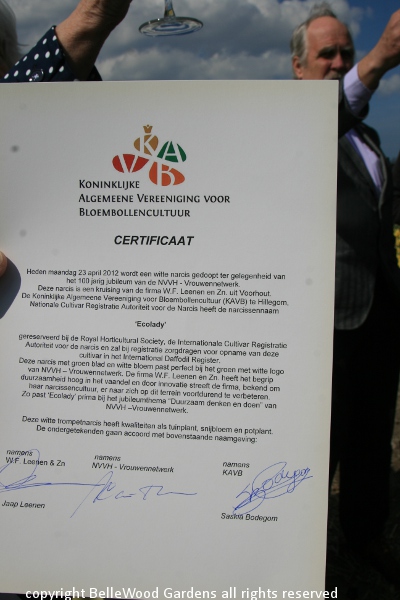 .
'Ecolady'. Isn't she a beauty. Fifteen years from seed to christening.
No wonder Mr. Leenen has been smiling and smiling. He has every right to be proud.
Comment: Free day, on my own. I appreciated the opportunity to visit my Dutch friends, walk in the bulb fields, and attend a daffodil's christening.
---
Back to Top
---