Garden Diary - April 2012
---
If you have any comments, observations, or questions about what you read here, remember you can always Contact Me
All content included on this site such as text, graphics and images is protected by U.S and international copyright law.
The compilation of all content on this site is the exclusive property of the site copyright holder.
---
April
---
Saturday, 21 April 2012
Holland in Tulip Time: Bloemencorso Bollenstreek
Forewarned - if you want a good place from which to view the flower parade get there early, an hour ahead of time. Harkening to the advice I reluctantly head out of Keukenhof and out to the road. Barriers are already in place along the curb, and people are beginning to gather. Meeting up with some people in the tour group, a couple of us walk to the corner and turn onto a side street in the direction from which the parade will come. If too many people rush out of Keukenhof it will be uncomfortable / awkward to watch the parade regardless of when I stake out a spot.
So what's this all about anyhow?The last Saturday in April is the Bloemencorso, the flower parade. Huge floats, vehicles from cars and truck to tractors, buses, and bicycles are decorated with hyacinths, daffodils, tulips, and more. This, the 65th annual parade, steps off at 9.30 a.m. in Noordwijk. Twenty huge floats, their figures made all of bulb blossoms. More than 30 magnificently decorated cars. Three marching bands. All parading slowly from Noordwijk aan Zee through Sassenheim, Lisse, Hillegom, Heemstede to Haarlem, passing Keukenhof at approximately 3:30 p.m. Traveling slowly, they'll complete the 24 mile journey along the main roads to Haarlem arriving at about 9 p.m., where the floats will be on display on Sunday until 5 p.m. The theme of this year's parade is Communication.
I've kept the images in the order of the vehicles appearance, but have no included
every last one. No brass bands. And I cut all images with people's outthrust iPhones.
People now two or more deep along the barricades. Police on bicycles pass, then
double back. A couple of Dutch organ grinders pass with their player-piano like
machines. They go. More back and forth of police on bicycles, and on scooters.
From out of sight, loud under the wisps of cloud and blue sky, lively sound.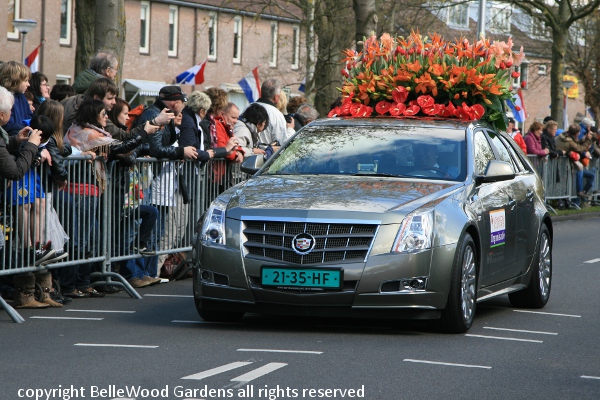 After the first brass band, the first flower decorated car. A Cadillac, with a load
of orange flowers. Such a popular color, that of the royal family, the House of Orange.
A truck, with marvellously color coordinated flowers embellishing its grill.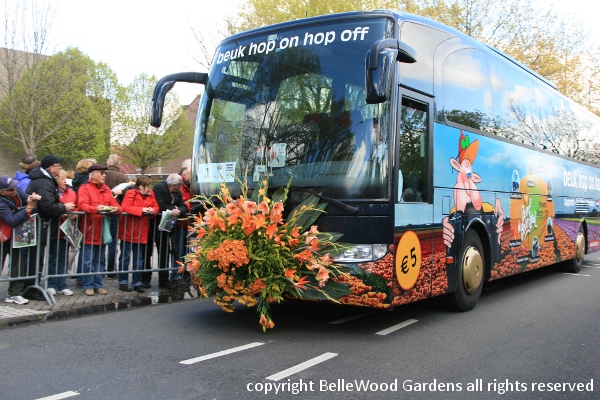 Hop on - Hop off tour buses run 4 days a week around the Noordwijk region,
Voorhout, Lisse and Keukenhof. The circle tour also takes in local bulb fields,
costs 5 euros per person, and operates 10:00 a.m. - 7:15 p.m .Thursday-Sunday.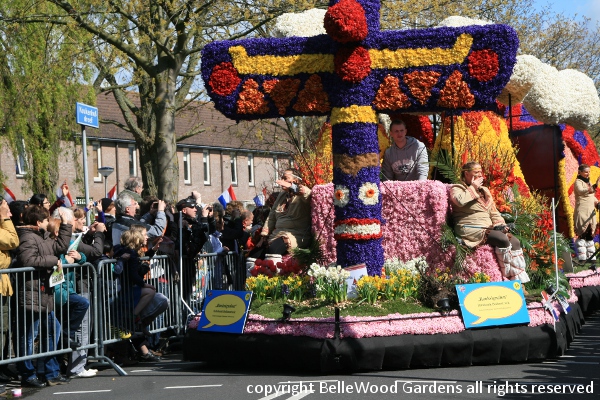 First of the floats. Huge figures created from hyacinth flowers, totem poles and all.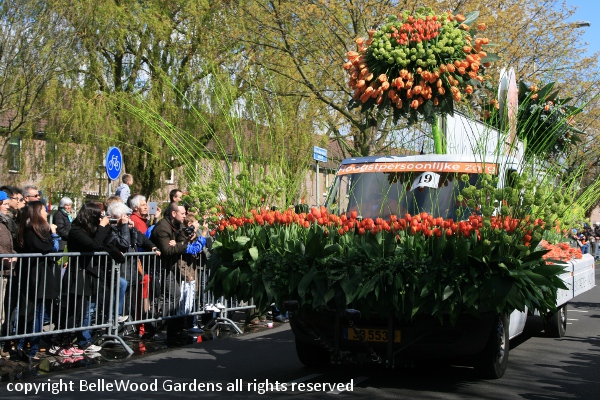 Tulips galore, in deep orange and a paler shade, on the hood and also the roof.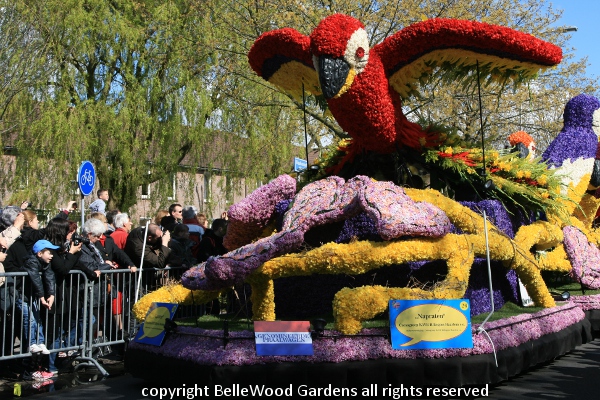 Another float, this with oversize hyacinth parrots. Splendid fare for enthusiastic gardeners.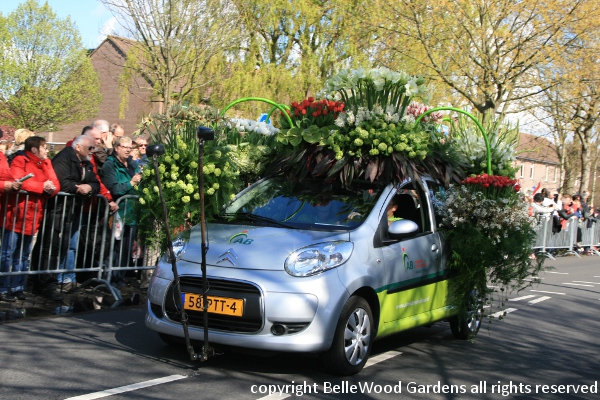 A dainty small car with flowers fore and aft. Love the small rear view mirrors,
sticking up in front like some insectile antennae. White hippeastrum on the roof.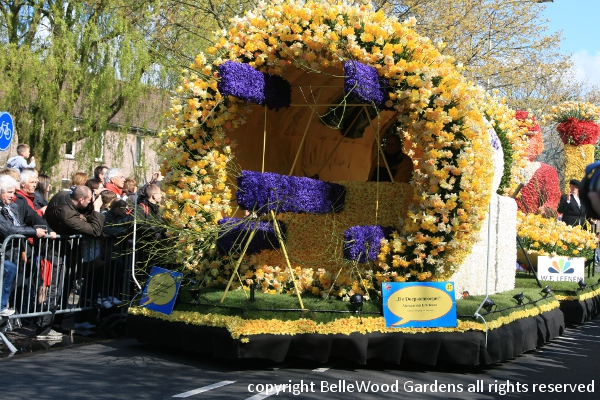 Another float. Great publicity for the grower, daffodils for the daffodil grower.
Satellites, I think, with space crew. On the back side a rocket and floral "flames"
orange-red sprays of gladiola, shooting out the rear of a spaceman's jet pack.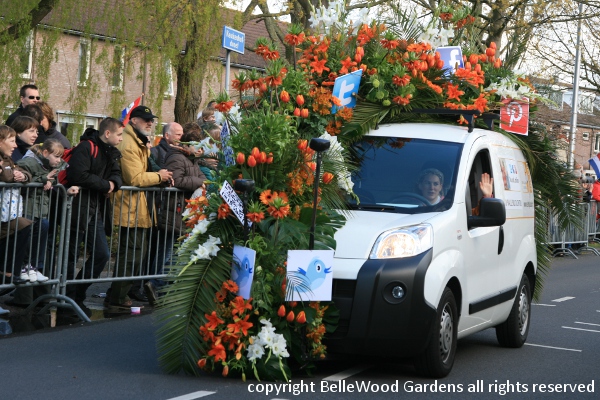 Orange tulips, orange lilies, white gladiola, palm fronds, monstera leaves. Twitter, tweet.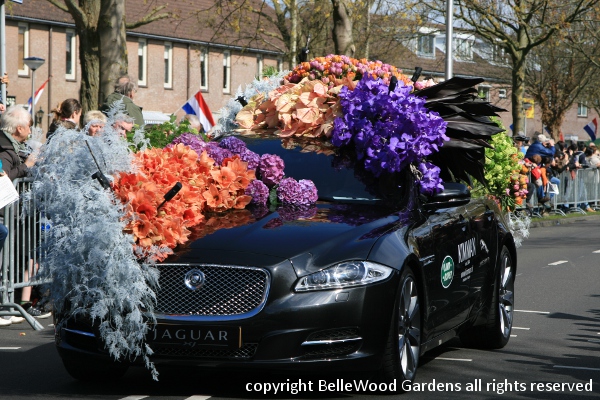 Classy car, a Jaguar. Masses of hippeastrum and hydrangeas on the hood, with
flesh-colored anthurium on the roof. Could the purple be orchids, vandas perhaps?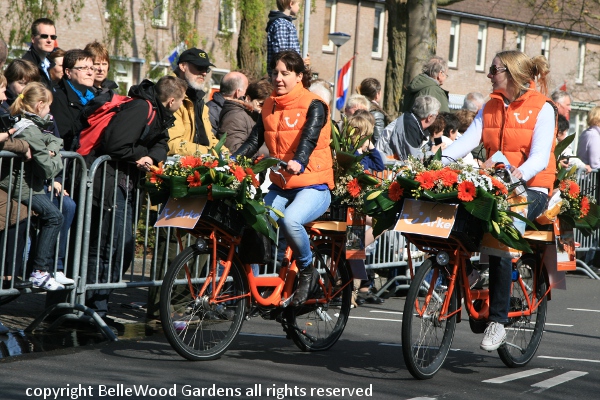 Bicycles, even bicycles are included in the Bloemencorso, orange bicycles with
orange flowers in their baskets, even orange vests on the riders. House of Orange.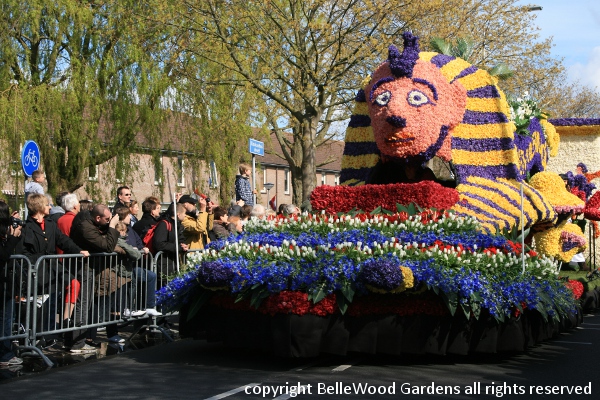 Another huge float with an Egyptian theme, pharoh made all of hyacinth flowers.
I think it is for a gambling casino, Faraohs (spelled something like that.)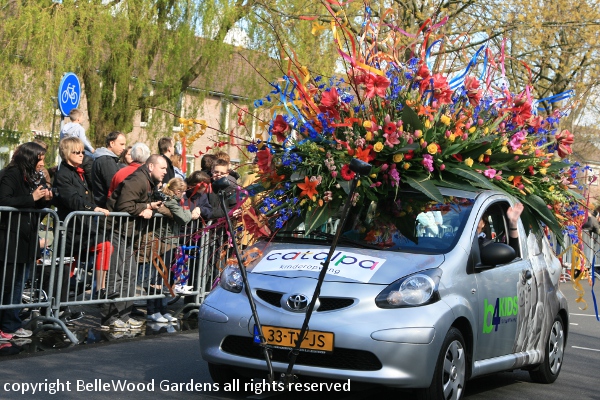 A car covered with Crayola-colored flowers, just what toddlers would adore.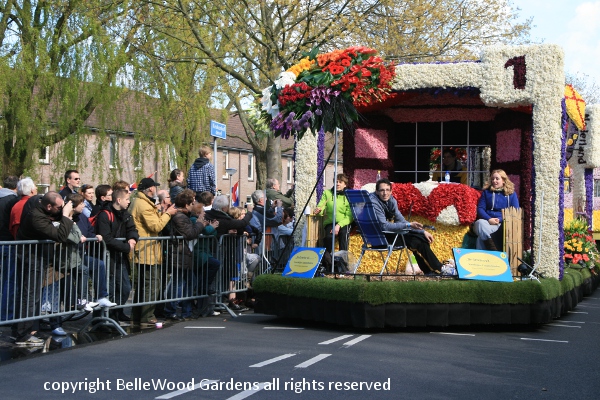 O.K. Another huge float, couple relaxed, sitting on the flower covered veranda.
What I want to know - where's the driver? Hidden in the flowers I suppose.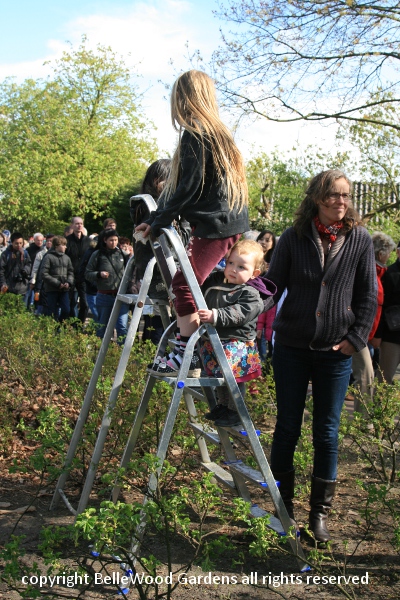 Even up front against the barricades it was a crush. Then too, people would thrust
their iPhone holding arms straight out towards the street - and into my picture. Some
parents, a few, were clever enough to bring a sturdy stepladder for very short people.
Not only got the children a better viewpoint, it kept them safe from the heaving masses.
Tour Comment: We could have gone to Keukenhof any of our days in Amsterdam. How well planned that Donna scheduled us here on the Saturday of the Bloemencorso so we got to enjoy both events.
---
Back to Top
---