Garden Diary - April 2012
Holland in Tulip Time: The Amsterdam Tulip Museum
---
Thursday, 26 April 2012
The Amsterdam Tulip Museum
---
The end is near, end of the tour that is. This morning we all leave Venlo, returning to Amsterdam midday. An afternoon on our own, farewell dinner together, pack our bags and change mindset from "holiday" and "tourist" to " headed home." Tomorrow I'll be on an airplane .
Meanwhile, there's the afternoon to me out and about in Amsterdam. A few weeks before this trip to Holland in tulip time even began I received a notice from Colorblends about the renovation and grand opening of the Amsterdam Tulip Museum. A quick phone call, and two courtesy passes arrive in the mail. This afternoon is my last opportunity. I'm determined to walk over to the museum and see what it's about.
Phil joins me. We walk past canals, a given in this city. There's a houseboat with gnomes lined up at the railing. Shop windows to investigate.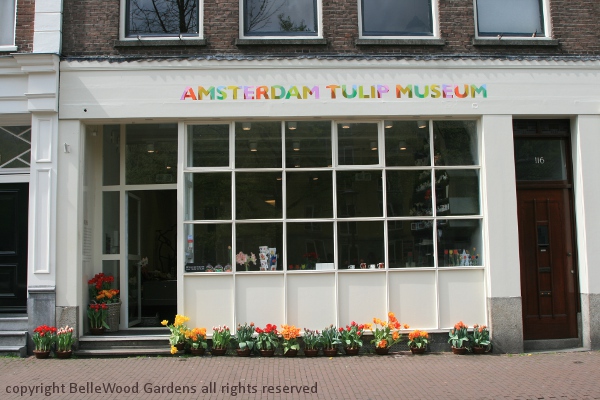 And there, across the street, is the museum.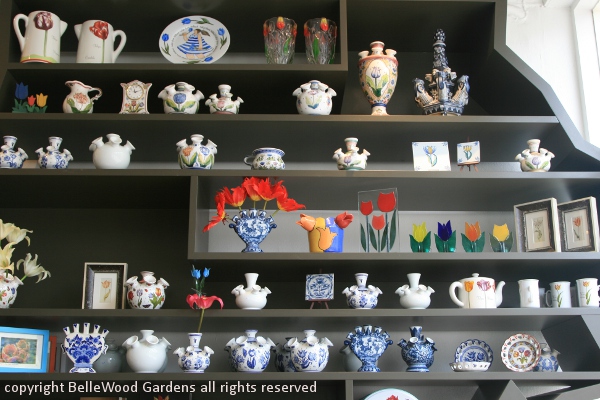 . . . .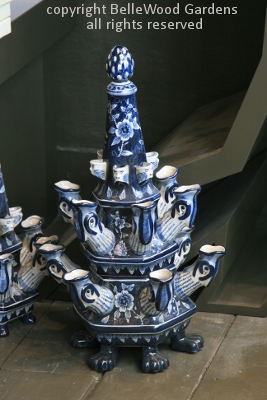 The first thing we see, inside the door, is the gift shop. Wooden tulips, tchotchkes for sale. Some traditional style tulip vases.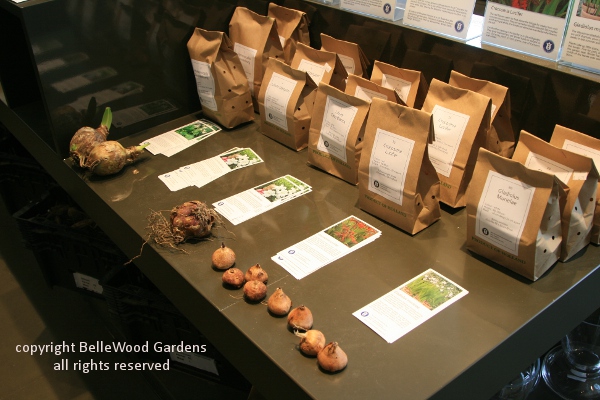 Bulbs for sale, much nicer than at the bloemenmarkt. No tulips, interesting bulbs
such as Eucomis bicolor, Hymenocallis 'Zwanenburg', Nerine 'Pink Elephant'.
Phil and I wander towards the back where a man is collecting entry fees and hand over our press passes. He's surprised. But then, I doubt many American or Canadian visitors show up with a press pass from Colorblends. And then we enter the museum. Go through a pair of swinging doors and wait a moment or two advises the sign. Lights come on and we're in a small mirrored space with tulips, wooden tulips, reflected to look like a bulb field (and we look like hordes of visitors.) Pictures of this are needed, and Phil sends me around again, and again, until we manage to sync me, the doors, the sensors, and his camera.

photo courtesy of Phil Reilly, all rights reserved
Keep in mind that bulbs are something special to me. Three of my eight books are about bulbs.
For a number of years I taught a required bulb course to School of Professional Horticulture
students at the New York Botanical Garden. For me, this was a romp through familiar facts.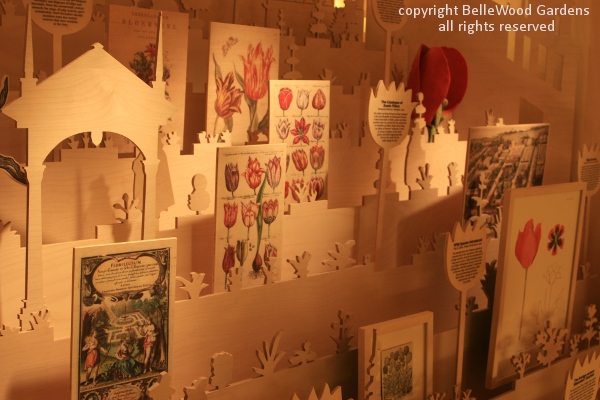 The museum has charming displays that offer tidbits of information in easy to understand snippets.
. . . .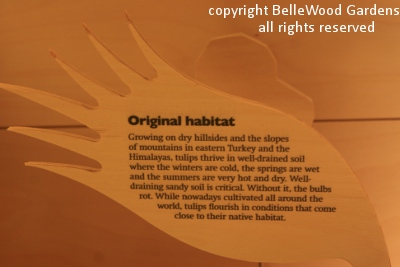 .
. . . .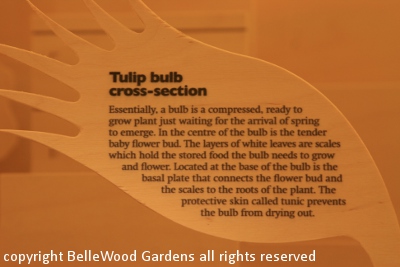 There's a brief video, a third room with colorful dangling cards that have text on the back. Another room
that looks like an old office, a book of historical tulips images and a video offering the history of bulbs.
Move on to another room with tulip vases, especially designed to display these rare and costly bulbs.
A room done up like a dining room in a Dutch house, with tulip designs on the curtains and wallpaper,
an arrangement of tulips on the table. And that pretty well takes us back to the stairs, up and out.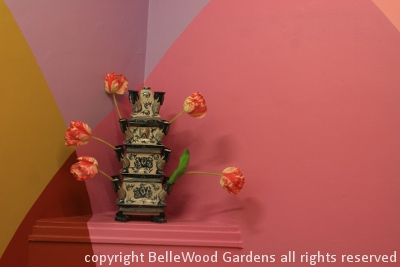 It's nicely done, somewhat simplistic but informative,
bright colors and attractive displays, and more about tulips
than the average visitor would know when they entered.
---
Back to Top
---