Garden Diary - November 2012
Thursday, 1 November through Sunday, 11 November 2012
UPDATES: After the Superstorm
---
The storm is over. Not much rain, only a couple of inches. Wind that toppled trees. Uprooting mature oak trees. Telephone poles. Heedless of where they fell. After all, what does the wind care. So trees landed on houses, on cars, across roads, onto power lines. It ended. Airports - Newark Libery, JFK, LaGuardia - were closed. Lights were out. And people had to cope with the aftermath.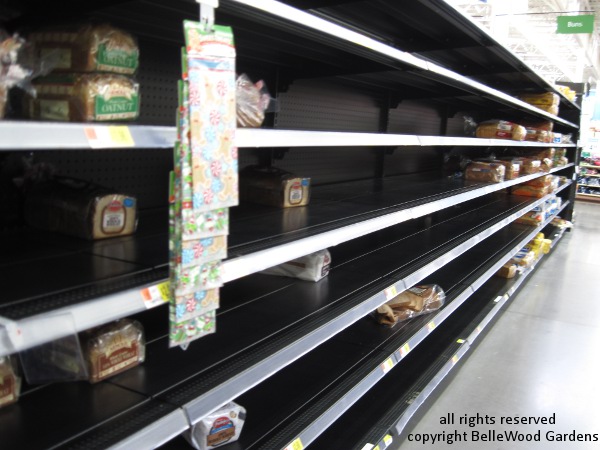 On Thursday Paul and I went to the Wal-Mart in Flemington, New Jersey. Shelves were empty of bread.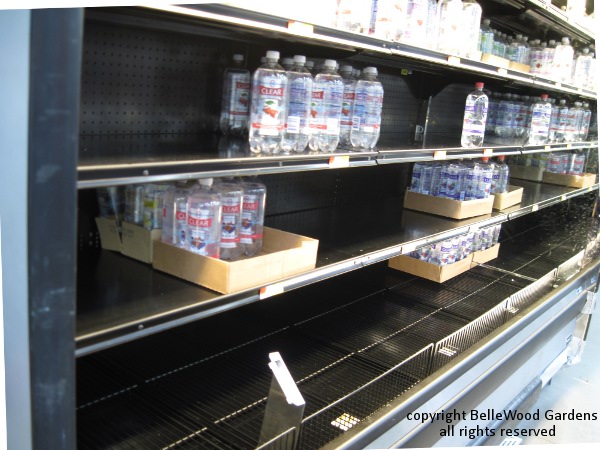 There wasn't much in the way of bottled water.
Up at the front of the store they had emergency items - more water, large flashlights,
16.4 ounce propane cylinders for camping lanterns. Foolishly, we didn't get extra
6 volt batteries or propane. We had some spares, and no idea the recovery would
be so lengthy. It was to be another eleven days before power was restored here.
We have a generator. It's a little small for our house so it's necessary to prioritized. The necessities are keeping refrigerator and freezer cold, well pump for water. Paul would run the generator three times a day: 2 hours in the morning, an hour or so in early afternoon, and 2 hours in the early evening. Well pump once a day for 30 minutes to keep the tank pressurized. At this time toilets could be flushed (we did have buckets of water and pitchers for other times.) The wood stove kept the house relatively comfortable though mornings could dip down to 50° or 55° Fahrenheit. The range is propane-fueled so while the oven could not be used the stove top burners could be lit with a match. Between generator and chainsaw we needed about 5 gallons of gasoline each day.
On Friday, 2 November I made a run for gasoline, with 4 empty
5-gallon gas cans in the back of my car. Some gas stations were
out of fuel. Lines were long. At 9:00 a.m. I joined the line at the Pilot,
a truck stop close to exit 12 on Route 78. It's up there, somewhere.
An hour later I stepped out of my car to photograph the long tail of additional
vehicles that had pulled in behind me. It took two hours before I reached the pumps.
Governor Christie issued an executive order to be implimented at noon on Monday. Gasoline for vehicles in the 10 northern New Jersey counties would be rationed based on the last digit of its license plate - odd number / odd day of the month, even / even, and vanity plates with no numbers would be considered "odd." This did not apply if you were filling gas cans. Every day was O.K. for that. Practically overnight the lines shortened dramatically. But some stations were still out of fuel.
There were positive scenarios. North Hunterdon County was passing out shrink-wrapped bundles
of water and ice. No questions about where did you live, did you have power. Want some?
You got it. There was a warming station here at the county buildings, a place to shower, charge
cell phones, lap tops. And a shelter for pets too. I saw a fire station with a sign, "potable water."
Numerous roads had signs such as this, or just plain "road closed." This one might just as well
have been closed. From the other end I saw a string of about 10 power poles in a row, toppled.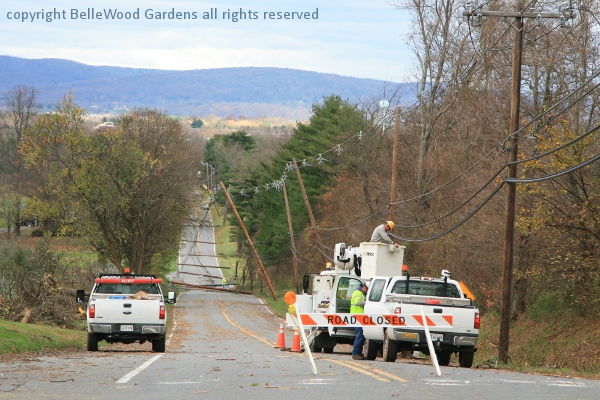 This was a major problem. Typically, the companies that manufacture the 35-to-50-foot utility poles usually operate 8-hours a day during normal weather and 16-hours a day after most big weather events. After a storm one might ship 50 truckloads, each with about 30 poles, for one or two days after a storm. Orangeburg, South Carolina-based Cox Industries has been operating 24-hours a day since the storm, sending upwards of 1,200 poles per day to warehouses in Hainesport, New Jersey and Hicksville, New York on Long Island. That's a 900-mile trip that takes two to three days.
Linemen are coming from as far away as California, flying in with their utility vehicles on cargo planes. With the major airports closed, some were sent to White Plains, New York, from where they had to drive to where they were needed. The Asplundh Tree Service truck that worked on a tree down on a fortunately shut off high voltage line at my neighbor's house had a crew chief from Indiana and work crew from Michigan.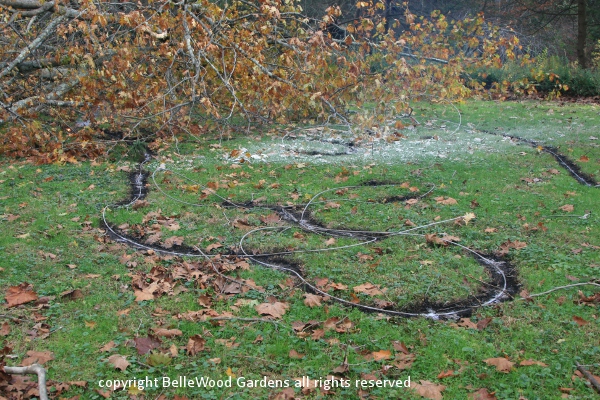 This is what it looked like on Thursday, 1 November. The high voltage line had melted channels into the lawn.
And periodically there would be a spurt of flame and some smoke where the small branches would catch fire.
Meanwhile, back at BelleWood Gardens Paul was working on getting the driveway clear.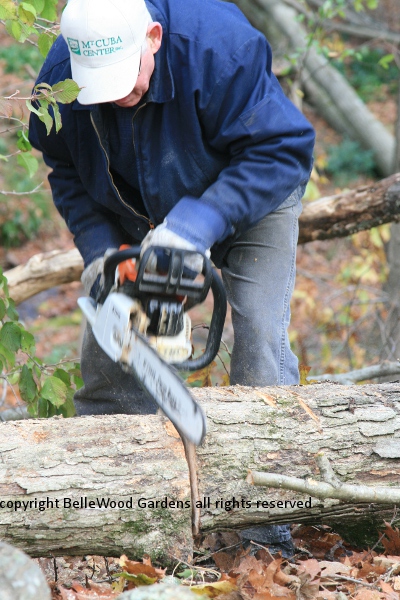 .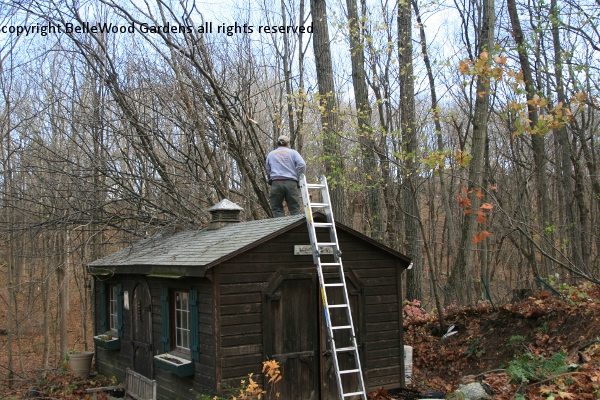 Dear man that he is, our friend Daryl stopped by to see if we needed any help. Quickly,
before Paul could say anything I said "Yes!" Prioritizing, the driveway comes first,
tool shed roof next, trees on lawn third. And if all that can be managed before winter,
that would be great. But I don't think it will happen. Too much to do and too little time.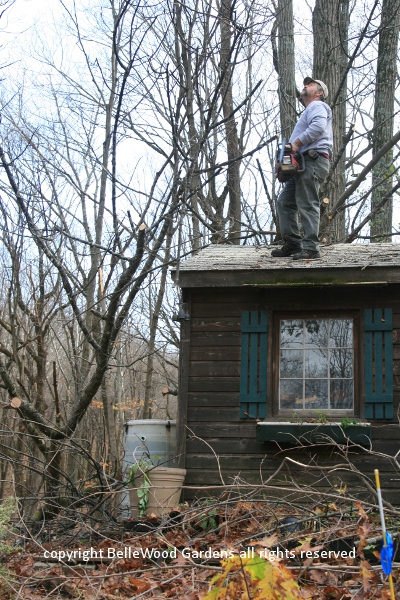 Tool shed really came out of it better than I anticipated, just one tab on one shingle torn away.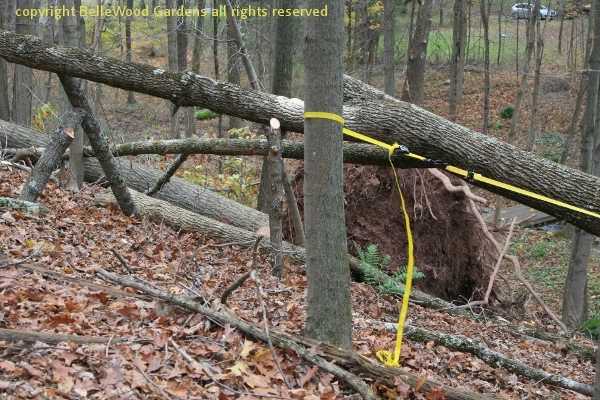 But what was behind the shed that produced all the brush that lay on the roof was really
a mess. Brush was easy, well, easier. The tree was hung up in some small trees that pinched
it, and it's on a slope. Daryl and Paul used some cut logs as braces, straps, and a come-along.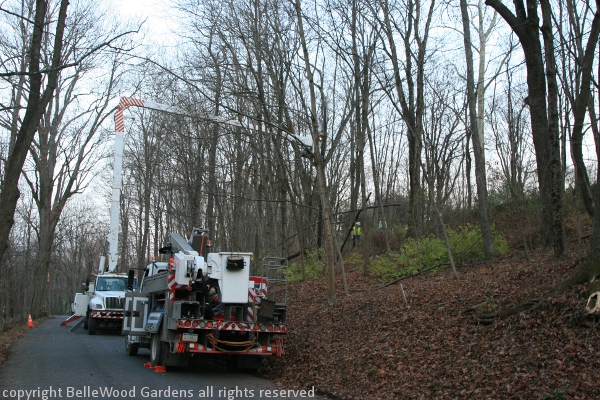 It was late afternoon on Sunday, 11 November when we saw these crews working on our road.
There are several linemen in their safety vests up in the woods, as well as the bucket lift operator.
we're electrified again, and the Internet works again. There's some issue with my e-mail and I cannot
use BelleWood Garden's. But who knew what pleasure I would find it to be, to do laundry, here at home.
Here is a link to my other storm entry
---
Back to Top
---
Back to November
---