Garden Diary - July 2011
---
If you have any comments, observations, or questions about what you read here, remember you can always Contact Me
All content included on this site such as text, graphics and images is protected by U.S and international copyright law.
The compilation of all content on this site is the exclusive property of the site copyright holder.
---
July
---
Saturday, 9 July 2011
Smallholding Day at Linden Hill: Food and Drink
---
To quote: "A smallholding offers its owners the pleasure of backyard self-sufficiency through the raising of animals and the growing of fruits and vegetables. The smallholding festival will be a day of learning devoted to becoming self-sufficient in your own backyard, garden, and kitchen." Keep that word, kitchen, in mind. The process of growing and raising food is rewarding. Dining on what you've produced is splendid.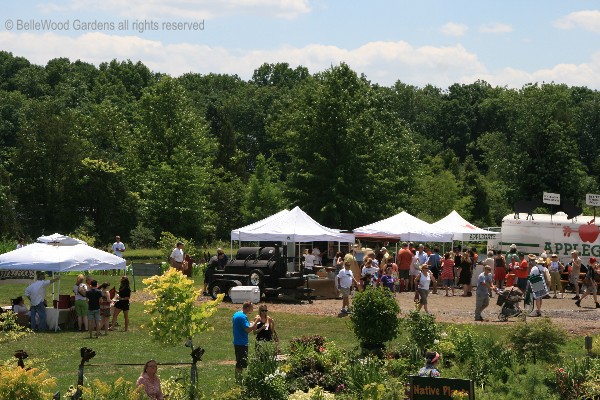 The presenters and their booths are concentrated in the spacious gravelled area between house and barn. Dairy cow and angora goats are off by the allee of metasequoia. There's - let's call it a food court - with vendors of bread and cheese, pizza and more. Whole Foods is giving away bottles of water and reasonably sturdy bags. "We want everyone to stay hydrated." said the pleasant young lady, smiling as she handed those items over to me.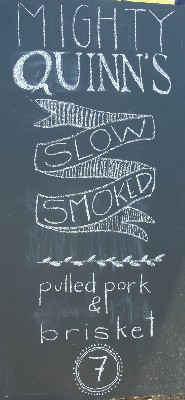 . . . .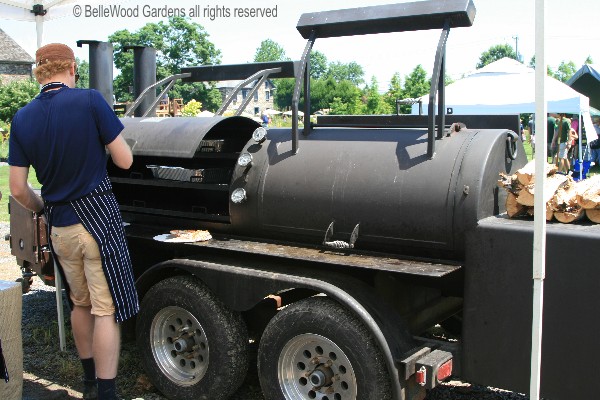 This was what caught my attention: pitmaster Hugh Mangum's massive, travelling Peoria smoker. A New York restaurant veteran
who lives in New Jersey, Hugh uses meat from pasture-fed animals. Serious about what he does, connected to the farming
season, today it is slow-smoked brisket or smoked pulled pork sandwiches, on a brioche roll with pickled onions or slaw.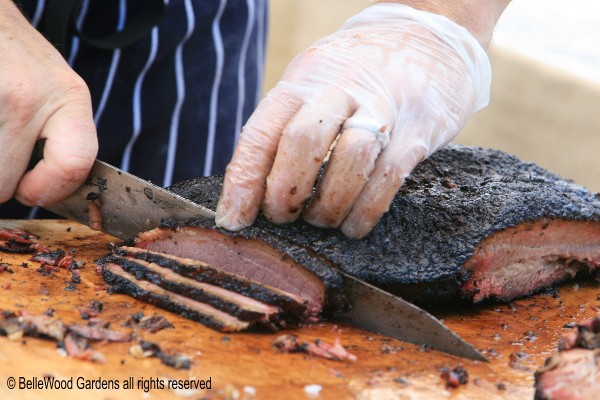 I started salivating as he deftly sliced a brisket. Bought two sandwiches to bring home, thoughtfully
packaged with sliced brisket anointed with sauce, coleslaw, slivered pickled onion in one parcel,
both rolls in another so that, he assured me, the rolls wouldn't become soggy. Reheated deliciously.
And, it turns out, every Friday and Saturday Mighty Quinn will roll up to the City Market just downriver
from me (that's the Delaware River) at 74 North Main Street in Lambertville, New Jersey. I'll be there!
.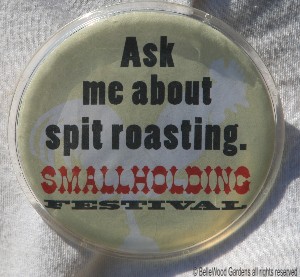 . . . .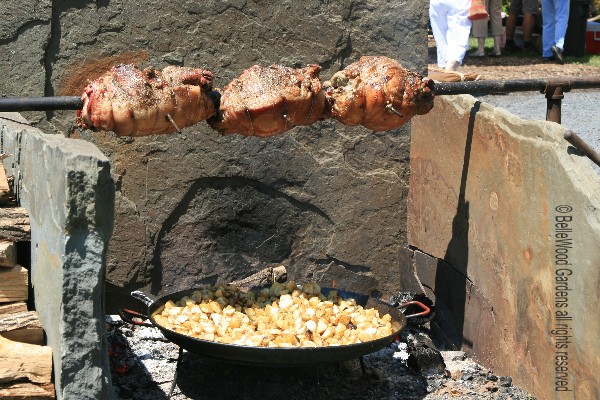 There's a difference between barbecue and spit roasting. Today's festival offered a look at both techniques
for slow cooking succulent meat. Ian has a masterful setup with Jerry Fritz' slab stone fire pit and today
he's got some succulent pork shoulders slowly turning on the spit. (By the way, take a look at Ian's
blog, good reading.) Three 20 pound boned pork shoulders, fresh ham actually. Rub with salt, plus
6 ounces of a grainy mustard such as Grey Poupon country style and 1/3 cup of ground up pickling spices.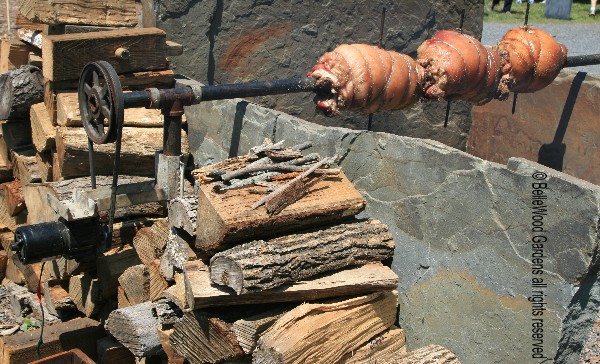 Cook for about 4 hours, slowly turning all the while. With about 2 hours to go, put a pan of cut up potatoes
below the spit where the drippings will flavor them. Let the meat reach a temperature of 145° Fahrenheit.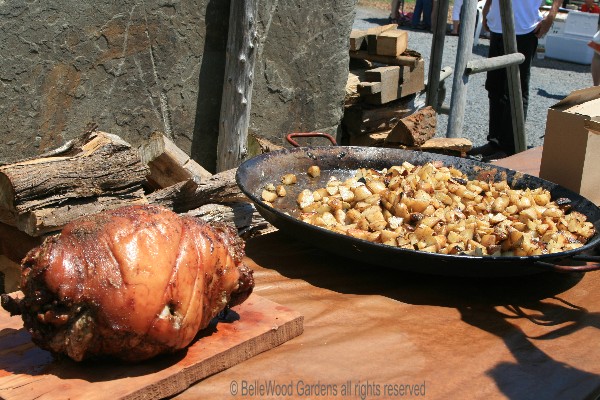 Take it off the spit and let it rest for 30, 40, 60 minutes. Internal temperature will rise to 155° Fahrenheit.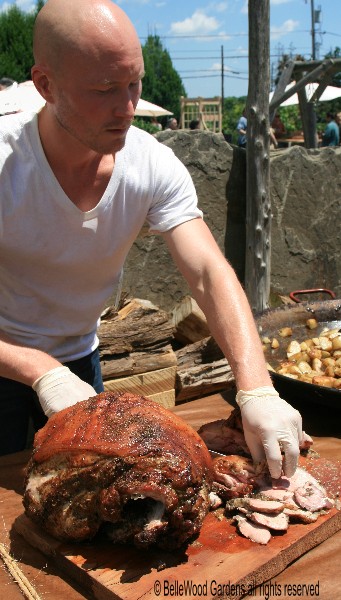 Begin slicing. Magically, a crowd will line up for a serve yourself plate of succulent pork and potatoes.
.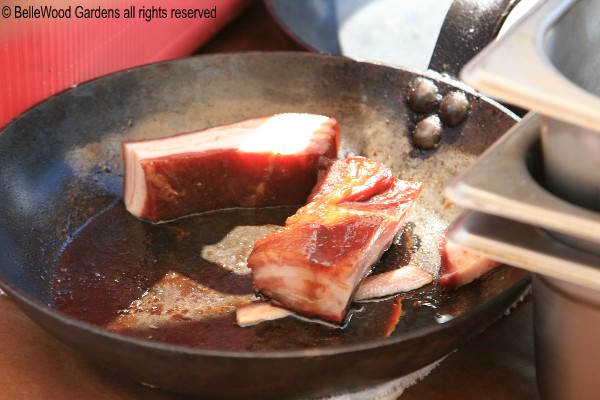 And then there's this silky, luscious looking bacon prepared by Matt Ridgeway of PorcSalt. He was gracious enough to share the recipe with festival goers: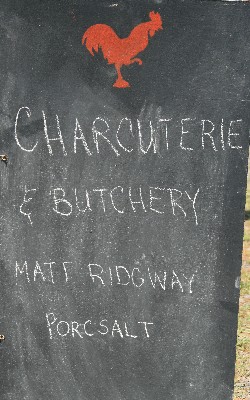 . . . .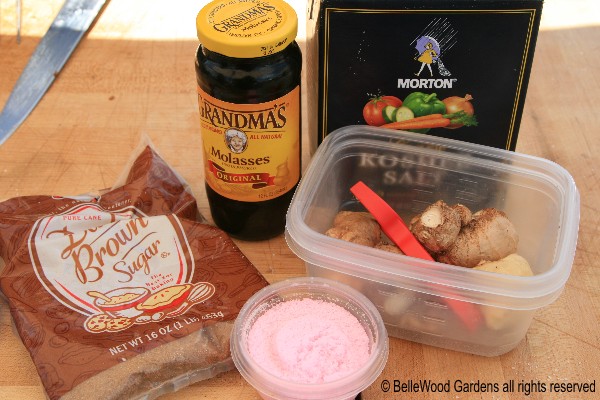 Take one 13 to 15 pound pork belly. Thoroughly mix 1 cup of coarse sea salt and 1/4 cup Insta Cure No. 1 ( (that's the pink salt)
and add 2 cups of dark brown sugar. Cover both sides of the pork belly with the dry mixture and let sit for 10 minutes until
the juices begin to flow. Rub on blackstrap molasses to coat both sides. Press on 1 small finger of ginger, peeled and grated,
and 2 cloves garlic, crushed and chopped. Wrap well in plastic wrap, place in large plastic bag, then refrigerate for one week,
turning twice. A natural brine will form. Unwrap, wipe off excess cure, then rinse lightly with warm water. Let sit for 45 minutes.
Next comes the smoking. Set a roasting pan in a barbecue grill. Light 10 chunks of hardwood charcoal using a butane torch.
NO lighter fluid! When coals are ashy and white, smother with 2 pounds of fruitwood chips that have been soaked overnight.
Place a rack over the pan, place belly on the rack, and invert a second roasting pan on top of the rack. Smoke belly for one hour.
Transfer to a 250° Fahrenheit oven and slow cook the bacon for about 90 minutes to an internal temperature of 145° Fahrenheit.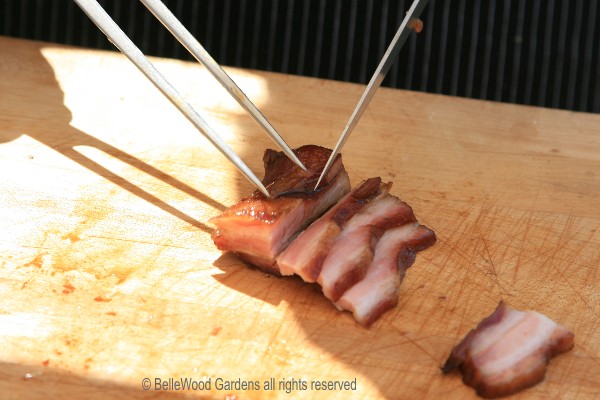 Refrigerate overnight before slicing.
.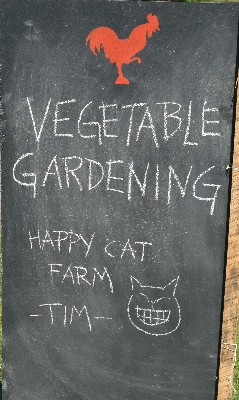 . . . .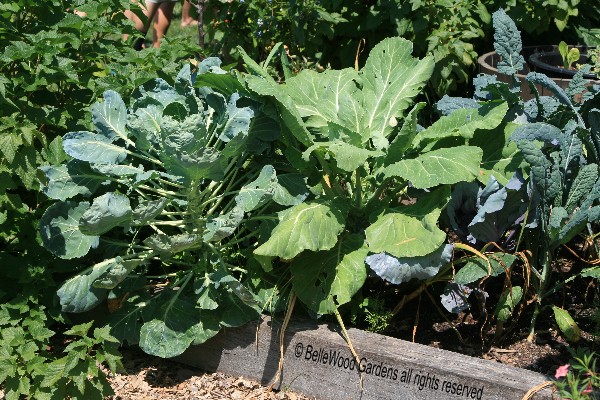 Of course no smallholder would be without a vegetable garden. Today's event had two presenters: Tim Mountz of Happy Cat Organics
and Kristin Perry of The Kitchen Potager at Linden Hill Gardens. Above is one of her raised beds with Brussels sprout and lacinato kale.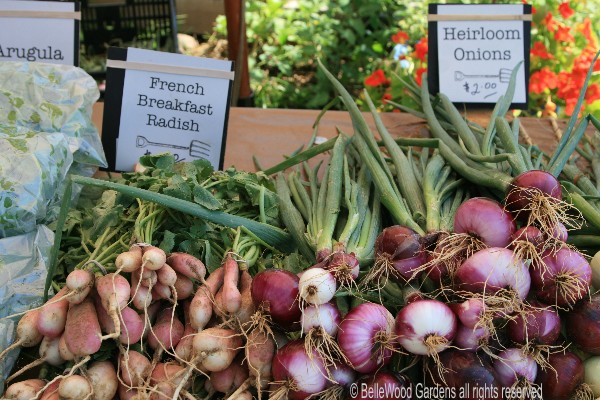 Tim had beautiful bunches of radishes and onions, beef and chicken rub, Opinel knives for sale.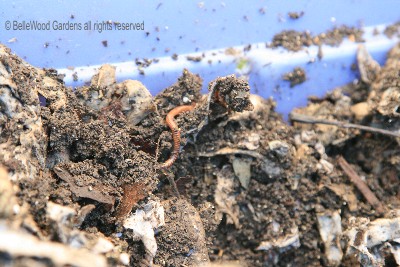 Elsewhere a woman was talking about worm boxes. She drills holes
in large plastic storage tubs. Adds barely damp shredded newspaper
and used coffee grounds. Her first worms came from Wal-Mart, where
red wriggler worms are sold to fishermen. She bought about 200 worms.
They've been breeding. Don't get night crawlers, wrong kind of worm.
Once established, the worms eat banana peels, leftover cereal, and more.
The only kind of "pet" she said, where their poop is highly desirable.
.
. . . .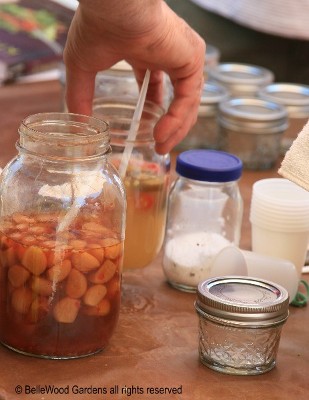 A crowd gathered around this table caught my attention. Mark "Coach" Smallwood of the Rodale Institute
was talking about lacto-fermentation and extolling the virtues of kimchi. Everyone is familiar with sauerkraut,
lacto-fermented cabbage. Lots of other vegetables can be preserved in the same way, like the garlic we sampled.
Good for you, Mark explained, with all sorts of wonderful microorganisms for a healthy gut, not vitiated by heating.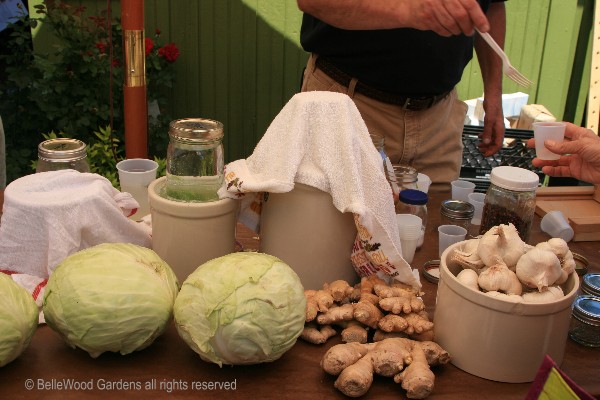 He had a great display of crocks, a cabbage slicer, ginger, garlic, and a succinct explanation of what
to do and how to do it. If you're enthused about lacto-fermentation Nourishing Traditions is his "bible".
.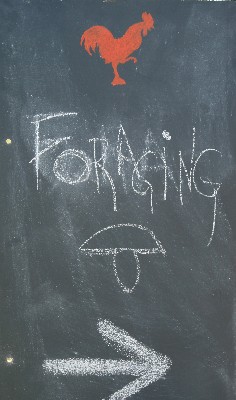 . . . .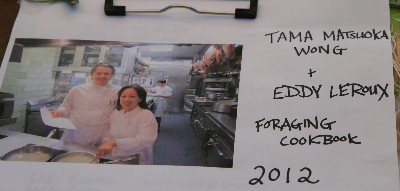 There was a table for foraging / foragers with samples of one person's weeds that are vegetables for foragers,
such as sprigs of galinsoga, tradescantia, shiso, and more. Tama of Meadows + More is the forager for
Restaurant Daniel in New York City. Samples to nibble included shortbread cookies with monarda and
little amaranth filled pockets wrapped in phyllo. She is co-author of an as yet untitled book to be published in 2012.
. . . .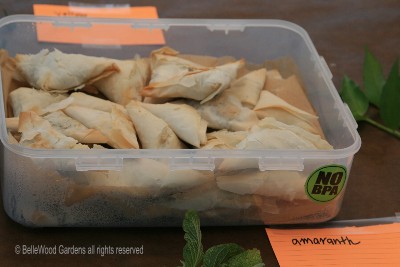 .
. . . .
A very good booth but alas, no samples to quaff. Tim Hall of The Ship Inn, in Milford, New Jersey, the state's first brew pub and just a few miles upriver
so I've had the pleasure of drinking there often. Especially appropriate that the beekeeping booths were nearby since in February 2011 The Ship
released its inaugural batch of Killer Bee, an ESB (Extra Special Bitter) infused with 65 pounds of local honey from nearby Tassot Apiaries.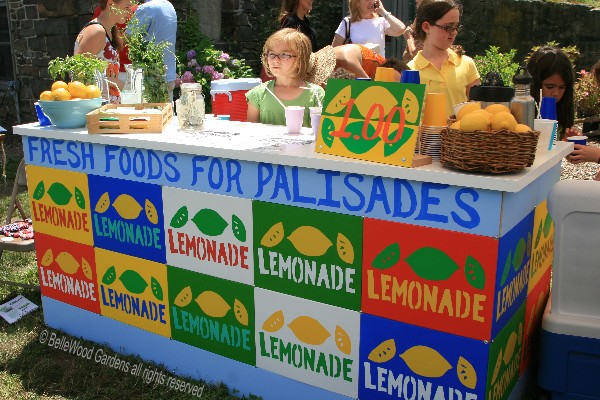 If you were thirsty for something other than water these charming young ladies were selling lemonade.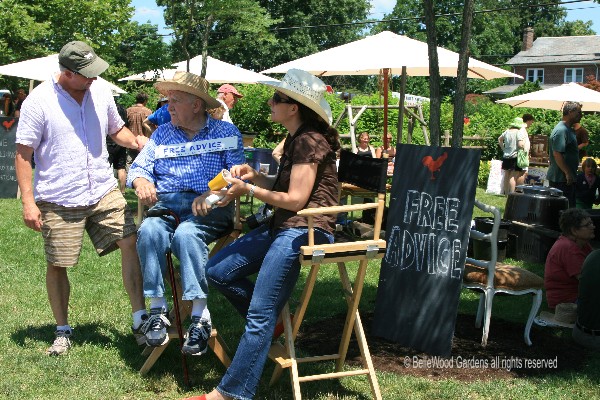 And if all the enthusiastic, knowledgeable, willing to share presenters somehow left you with questions
- some people are never satisfied - there was even a booth providing free advice, topic unspecified.
A great day with a wonderful theme, mutiplicity of topics ably discussed, good food, great weather.
Billed as the first annual, I'll be looking forward to the second annual smallholders festival next year.
Do come back for another virtual visit here, and also to the first installment of Smallholding Day at Linden Hill.
---