Garden Diary - June 2011
---
If you have any comments, observations, or questions about what you read here, remember you can always Contact Me
All content included on this site such as text, graphics and images is protected by U.S and international copyright law.
The compilation of all content on this site is the exclusive property of the site copyright holder.
---
June
---
Thursday, 23 June 2011
Sizzling Summer Bulbs
---
Today I gave a presentation on Sizzling Summer Bulbs at Back to Nature Home and Garden Center in Basking Ridge, New Jersey. What makes them sizzling, and what are summer bulbs? They're bulbs that heat up the summer garden with vibrant foliage or beautiful flowers.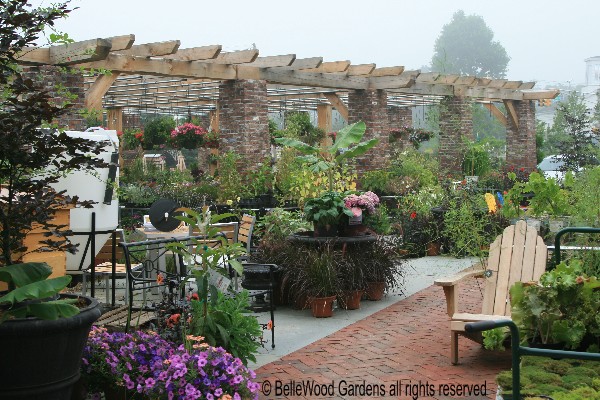 It's a foggy morning when I arrive, and rain is in the forecast. Amy had filled a garden cart with a diversity
of sizzling summer bulbs. Pictures are good but real plants are even better. Besides, instant gratification
is always nice. If I talk about some plant that catches a student's fancy they can take it home. I go out and
pull some companion plants. After all, gardens are made of plants put together so they look better than solo.
Amy used the handout I'd prepared, and pulled cannas, caladium, dahlias, elephant ears, acidanthera, and more.
Everyone is familiar with spring-blooming bulbs such as tulips, daffodils, hyacinths, and more. they're planted in the fall, sleep through the winter, then emerge with the Spring. Planted in the right place they come back year after year. These bulbs developed underground storage units to get them through the difficult times of winter cold. The stored food reserves enable them to begin growing while nutrients are scarcely available in cold soil. Summer bulbs arose in milder climates, and they cycle on dry / dormant and wet / growing seasons. New Jersey winters are generally too cold for them. After the first hard freeze in autumn they should be dug for winter storage in protected conditions.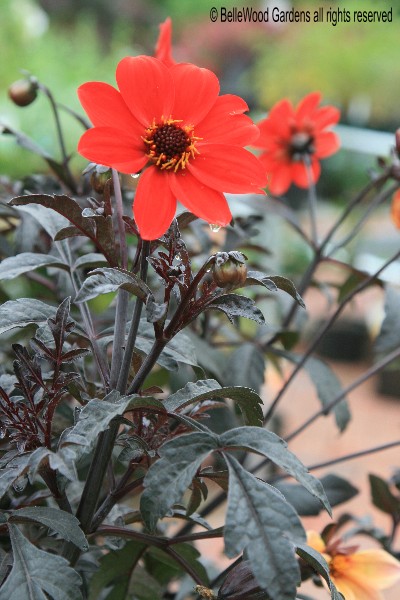 Dahlias, native to Mexico, come in a rainbow of colors. They make
an excellent cut flower, and bloom from summer until frost. These two
beauties have chocolate black foliage. Above, 'Bishop of Llandaff'
and I forgot to write down the name of the exquisite peach cultivar.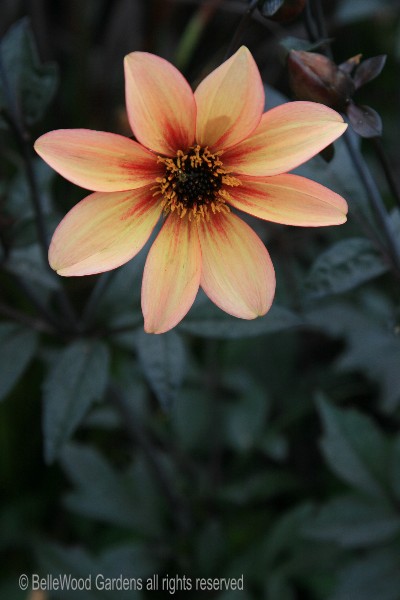 .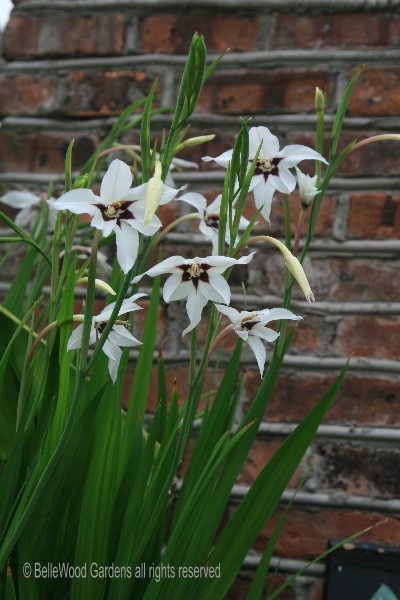 A close relative of gladiola, this pristine white flower with burgundy blotches
is peacock lily, Acidanthera murielae. Sweetly fragrant flowers, especially
at night, and ease of cultivation make this bulb a winner in anyone's garden.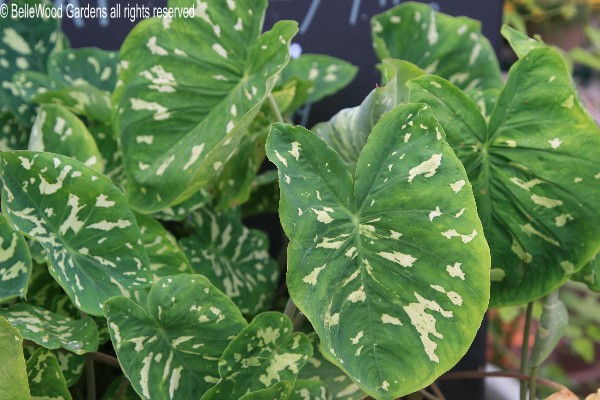 Summer bulbs for sun, for shade, and even for wet places. Elephant ears (and that includes Alocasia,
Colocasia, and Xanthosoma) all prefer constantly moist soil and even grow in shallow water. This
mid-sized charmer with apple green blotched leaves is 'Hilo Beauty'. Terrific in a container too.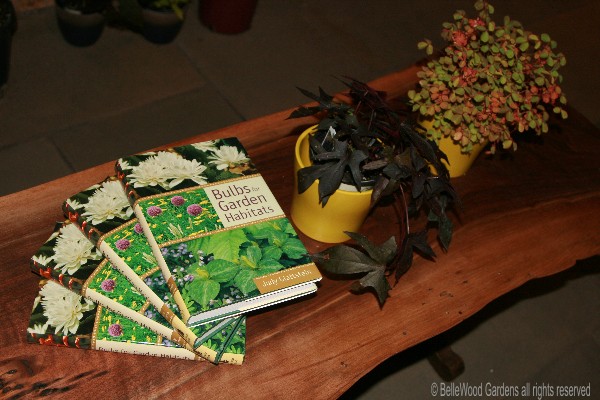 I brought some copies of my useful book, Bulbs for Garden Habitats, published by Timber Press.
And I'm pleased to say that some students took copies - of course suitably autographed and inscribed -
home with them. A good resource, since I have a home and garden of my own to return to after class.
There will be a Back to Nature Home and Garden Center class about bulbs on 13 September 2011.
Come and learn how to select, plant, and care for spring flowering hardy bulbs to welcome Spring.
---