Garden Diary - May 2011
---
If you have any comments, observations, or questions about what you read here, remember you can always Contact Me
All content included on this site such as text, graphics and images is protected by U.S and international copyright law.
The compilation of all content on this site is the exclusive property of the site copyright holder.
---
May
---
Wednesday, 25 May 2011
Pennsbury Manor
---
Over the river (Delaware, that is) and through the woods- Bonnie and I are on our way to Pennsbury Manor in Morrisville, Pennsylvania for a meeting of the < a href="http://www.tohickongardenclub.com">Tohickon Garden Club. I drive, and Bonnie brought fresh baked cherry scones, made with fresh fruit, mind you. We arrived in good time, before the other drivers as a matter of fact. Time enough for a saunter through the gift shop, and a scone.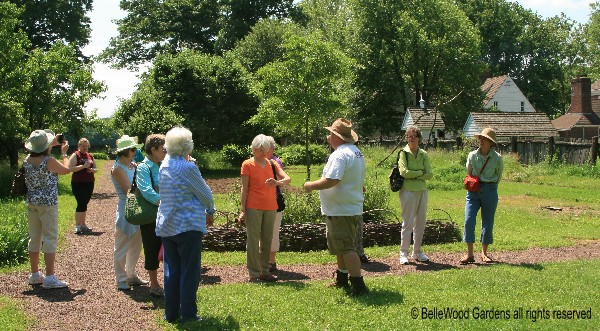 With everyone here who is coming we group up, meet the head gardener and stroll off towards the river-
the Delaware again, viewed from the opposite shore. Back then, building along a river gave easy means
of transportation, much simpler than bushwacking through the forest, building even the most basic of roads.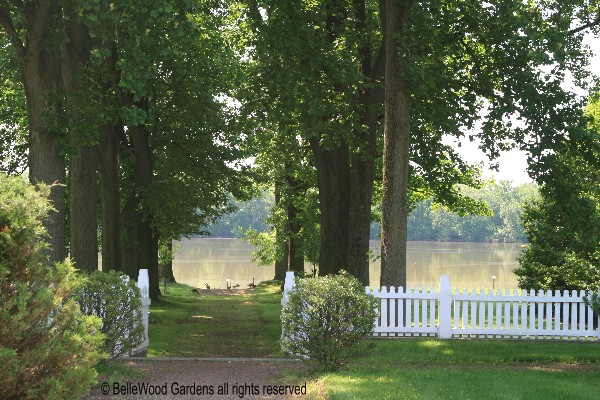 There would be a landing dock at the bend of the river, and the front of the house would face the water.
Then as now, expensive, brick was used for the front, river side of the house, clapboard for the other sides.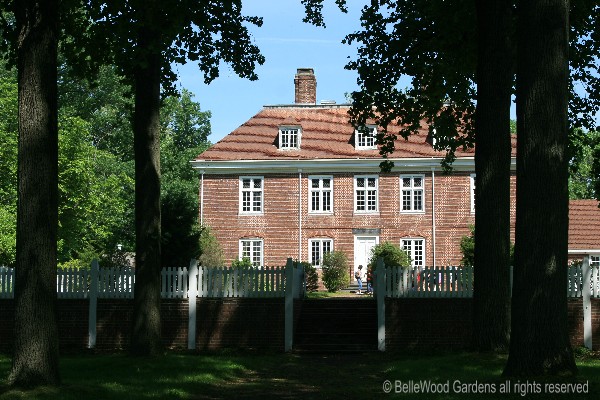 .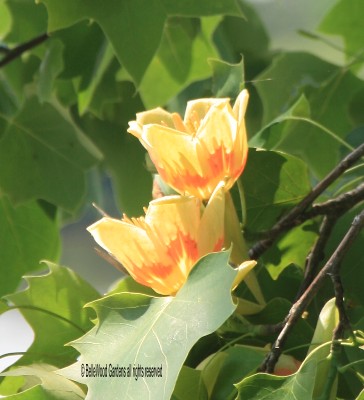 William Penn wrote that he wanted an allee of poplars from the house down to the river. No one is certain
whether these were intended to be English poplars or our native tulip poplar. No matter, the trees have been
replanted more than once. The flowers of Liriodendron tulipifera do look somewhat like a tulip, don't they.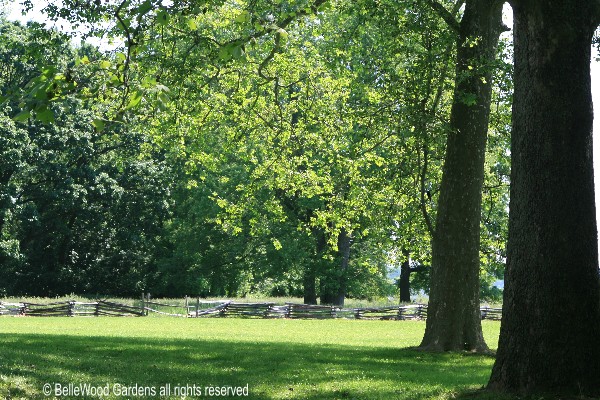 The Pennsbury Manor web site and signage in the visitors center notes that you can sponsor livestock,
all sizes and prices from chickens, sheep, cows, oxen, to horses. We did walk past several fields with
post-and-rail or simple split rail fences edging the pastures. All I saw were geese. And heard peacocks.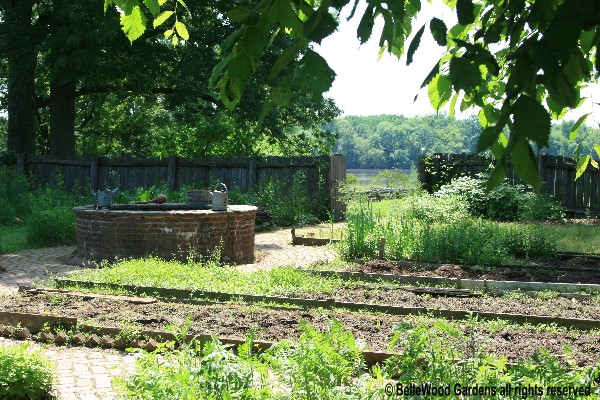 So we get to the kitchen garden, and what a disappointment. It was shabby, unplanted, and overgrown
with weeds. Several beds were dug over but held no greens or cole crops or onions showing. Our guide
said that many of what we call "weeds" would have had good use as food or medicine. True, but tansy
fighting with Oxalis stricta would be unlikely to be tolerated, or bearded iris, so thick with weeds that
they were struggling to survive, let alone flower. There were some herbs. The only newly planted were
a few moth mullein, Verbascum thapsus. There was a weedy plot filled with horseradish. And weeds.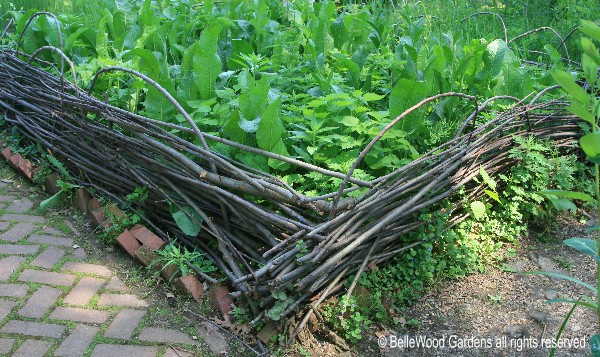 The horseradish plot was edged with a wattle fence made from thinning off the apple trees. I've seen
wattle fences in England. They were far better than this one. I take issue with the lackadsical attitude here.
School children come by the busload, over 1,000 in a single "school outing" day. The site is managed by
the Commonwealth of Pennsylvania. The head gardener is paid by a non-profit group. Children should be
shown the best. It doesn't have to be immaculate but gardens should be better than an unkempt plot of weeds.
Did I see anything there I did like? After telling us that bricks were expensive so the paths would not be laid with them, that the well coping wouldn't have been brick, that the original kitchen garden was elsewhere on the property and much larger, that gardens wouldn't have been weeded because of the labor (but he also said that Penn had indentured servants and slaves, and that the elderly and children were put to work scaring birds and other vermin away from crops so I'd think they could weed) after all of that we got to play with a cute little unglazed clay watering pot.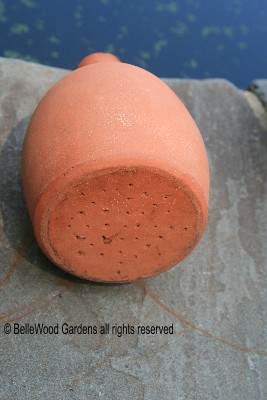 The clever little device has small holes in the bottom of a bell shaped pot, with an opening at the top. Submerge
the watering pot in a bucket of water to fill it up. Thumb over opening, then lift it out. Bring it over seedlings
or a new transplant and take your thumb off the opening. A gentle rain of water soaks the seedling plants.
Repeat again and again and again until everything is watered. It works quite nicely but is very labor intensive.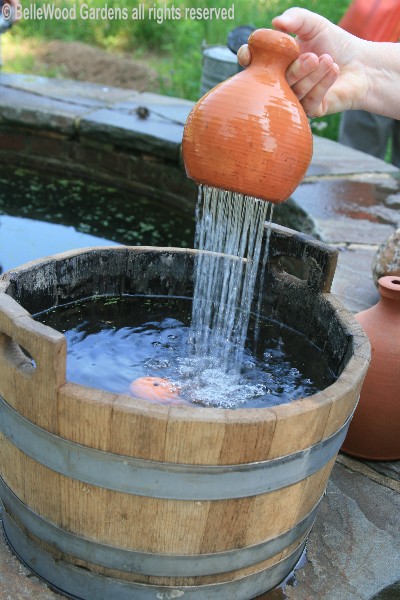 Bonnie and I left soon after lunch, didn't bother to stay for the house tour.