Garden Diary - February 2011
---
If you have any comments, observations, or questions about what you read here, remember you can always Contact Me
All content included on this site such as text, graphics and images is protected by U.S and international copyright law.
The compilation of all content on this site is the exclusive property of the site copyright holder.
---
February
---
Friday, 18 February 2011
Ott's Exotic Plants, Greenhouse & Nursery
---
We'd been to Mutschler's Florist, made a brief stop at a used book store, and had a very pleasant lunch. Wending our way homeward we decided to make yet another stop, at Ott's Exotic Plants Greenhouse & Nursery in on Route 29 in Schwenksville, Pennsylvania. Two of us had previously been here, two were first time visitors. Of course we're at the wrong end of the year for their chrysanthemum mountain - a hillside rising behind the greenhouse (itself somewhat reminiscent of the onion dome on a Russian church) that each fall is carpeted with chrysanthemums.
We parked, entered, and Joan and I started off to the jungle room under the dome. But no, Sue and Pat insisted we have to start at the leftmost area and work our way around.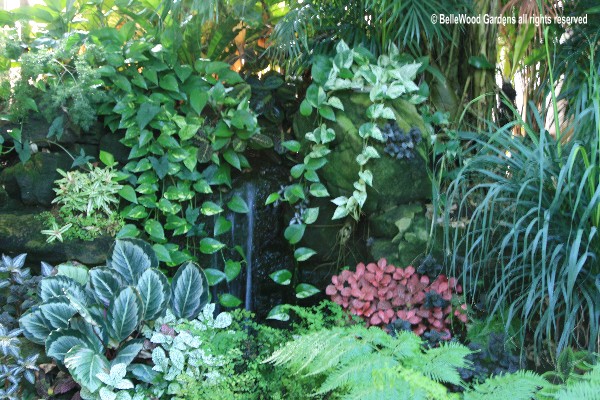 The first thing to catch my attention is a planted area delightfully landscaped with tropical foliage
and a small waterfall. The little pool at its foot was "gravelled" with coins tossed by wishful visitors.
There were plumeria for sale, just waking up from their long winter nap. A bench of African violets
were modestly priced and nice value. I'm hesitant to start with them. They seem addictive, sort of
like pistachios or potato chips. One is not enough and the next you know the window sills are filled.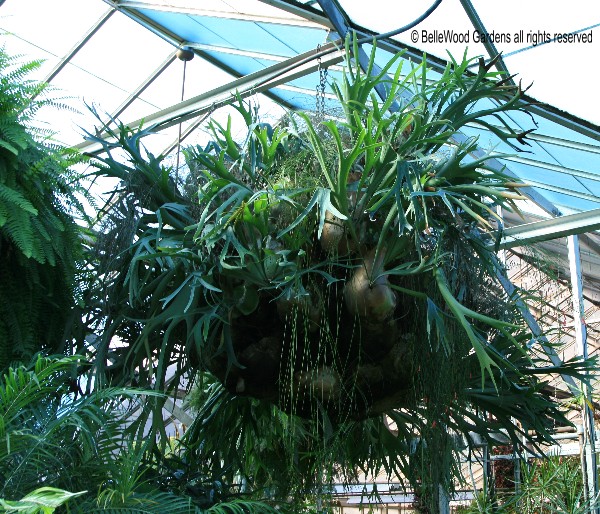 Retracing our steps back to the entry area I see this enormous staghorn fern suspended in space.
"Staghorn" does not seem to adequately do it justice. It's more of a trophy-size moosehead.
A little further, and I espy a magnificent hanging basket dripping
with a colorful begonia.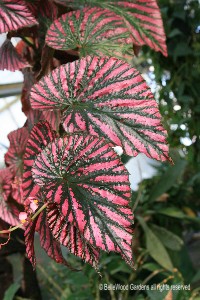 .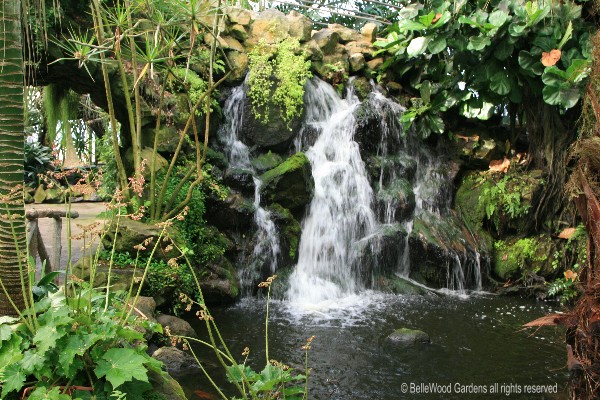 Then we reach the jungle room beneath the onion dome. (It's rounded, no spire, but can't think of
a more suitable analogy.) There's a thundering waterfall. The ground is planted with begonias
and foliage tropical plants. A path leads up and over, with a definite rise in temperature from poolside
to elevated walkway. Some huge trees more familiar as house plants -fiddle leaf fig, for one.
It really seems more similar to a botanical garden display than a retail, plants for sale, nursery.
Beyond the large jungle room is another more modestly sized space
with plants for sale. Some marvellous pots of Clivia miniata in flower.
Slow growing, these easy care evergreen bulbs are expensive.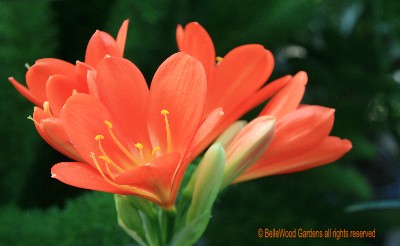 .
There were several pots of an interspecific clivia hybrid with attractive tubular, peach apricot flowers.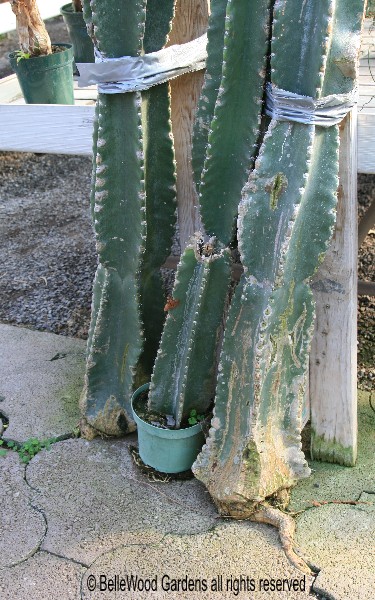 And off behind the jungle room and sales area was a warehouse sized greenhouse filled with more
plants for sale: bougainvillea, citrus in flower with their heavy perfume and boughs weighed down
with Ponderosa lemons or calmondin oranges, ready for marmalade. Everything well grown and
well groomed. There was this columnar cactus strapped up with duct tape, so long in situ that
it had rooted into the crevice between the pathway's paving blocks. Don't think it was for sale.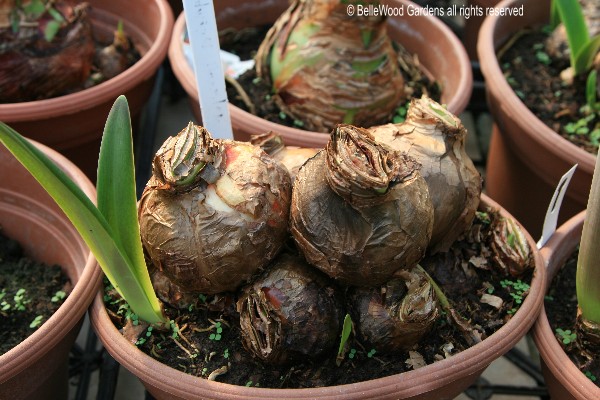 There was a bench of hippeastrum, unfortunately not labeled as to variety. Bulbs either were huge, or
were growing in multiples. In some instances the cluster of bulbs had obviously distorted the shape
of the plastic flower pot from round to oval. A reasonable $32 per pot I was seriously tempted.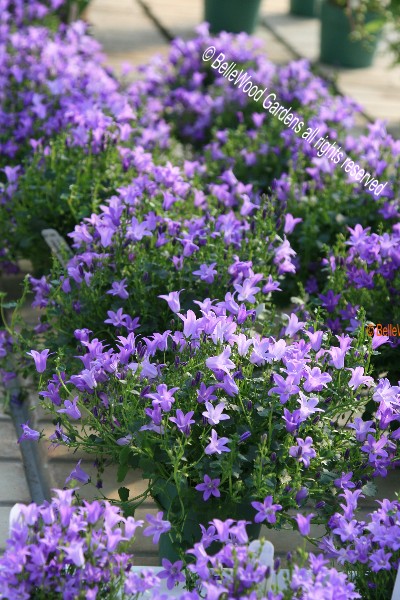 I did purchase an attractive pot of Campanula isophylla.
Italian bellflower is only hardy to zone 7 meaning it cannot survive
our winters. It will make a fine hanging basket in my cool greenhouse,
living up to its other, very appropriate, common name of falling stars.
An excellent day. Time spent in the company of friends and an outing to horticulturally interesting places.
---
Back to Top
---