Garden Diary - September 2011
---
If you have any comments, observations, or questions about what you read here, remember you can always Contact Me
All content included on this site such as text, graphics and images is protected by U.S and international copyright law.
The compilation of all content on this site is the exclusive property of the site copyright holder.
---
September
---
Saturday, 10 September 2011
Garden Conservancy Open Days: Hay Honey Farm
Having left Pickle Farm I made the short drive to Hay Honey Farm. Also in Far Hills, but in Somerset County. Lots of visitors coming and going on the lengthy, unpaved, narrow driveway, with people providing directions to available parking. The garden is spacious, so much so that people were spread out here and there with never a sense of crowding. There was more to see than I had time to cover ground. As well, the gardens are thoughtfully arranged to provide interest at different seasons - the Lilac Walk, for example, is rather plain in September but would be magnificent when in bloom. Ditto the daffodil Bowl. Regardless, there's lots to see today, particularly as today is when I'm here. Onward!
Looking at the map so thoughtfully provided, I decide to focus
my attention on the perennial border with a dash up to the hosta,
look at the bee and wet meadows, and circle back to the house.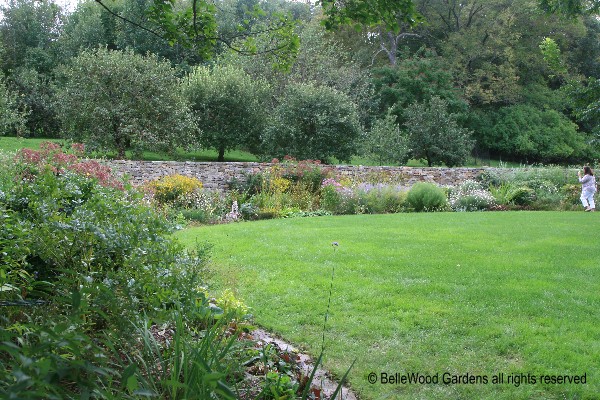 The extensive long perennial border backs up to a magnificent stone retaining wall with an orchard
above it. Must be magnificent when the fruit trees are blossoming. There's a stepping stone path
toward the back of the border. Tall plants against the wall mean that as I work my way through
I'm embraced on both sides by plants and flowers. Late summer flowers make a profuse display.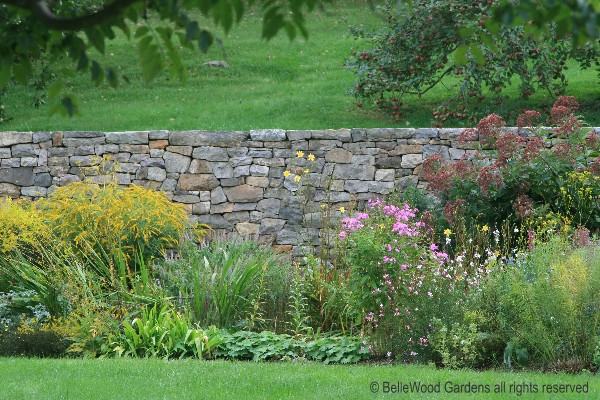 Goldenrod makes a sunny mass on the right, echoed by a few yellow flowers of an altissima daylily
in the center. Pink phlox and Joe Pye Weed to the right. It's nice to see native plants, though cultivars
to be sure, given the respect and pride of place that they deserve in a formal perennial border.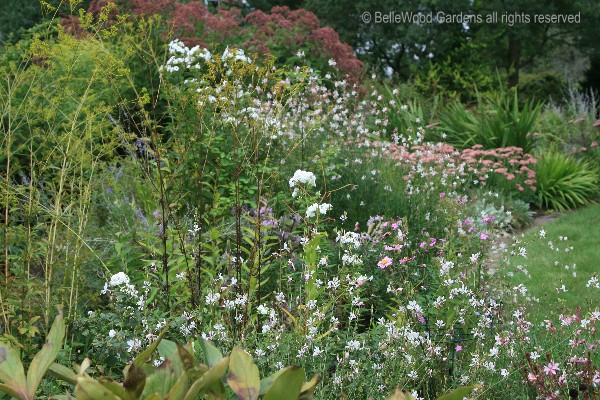 White phlox make a strong accent against the scrim of Gaura lindheimerii, with masses of sedum
beyond, and the towering rusty mauve flower heads of Joe Pye Weed in the background. To the left
with their open haze of yellow ubelliferous flowers are some Patrinia scabiosifolia. Odd to see it
here, especially in proximity to the daylilies since patrinia is an alternate host for daylily rust.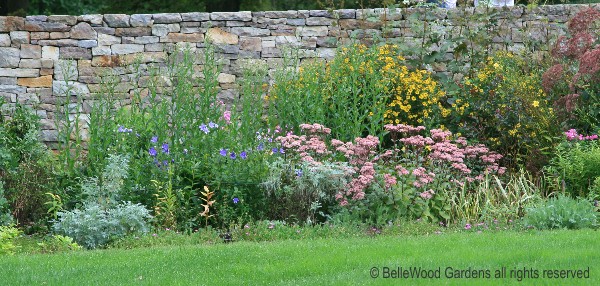 Blue bells of balloon flower, Platycodon mariesii, sedum, and yellow daisies of Helenium autumnale.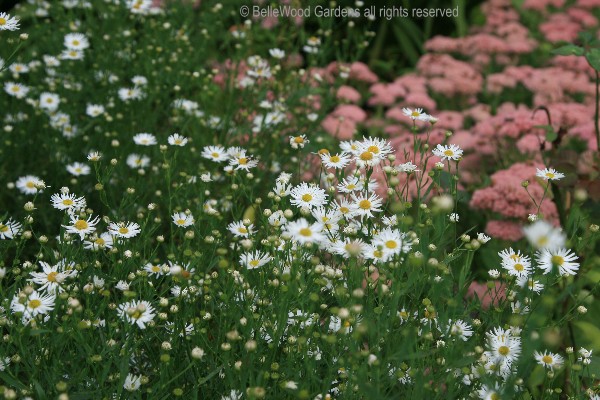 A veritable snowstorm of white flowers, Boltonia asteroides.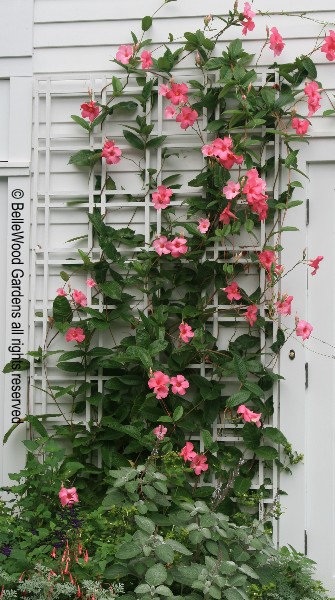 A stately Dipladenia (aka Mandevillea) scrambles up its
trellis. Readily available, but rare to see one so well grown.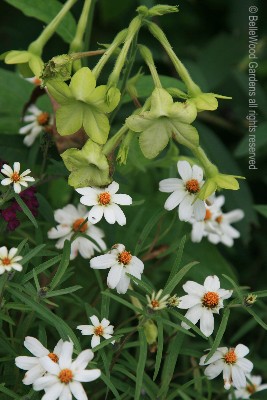 A charming combination of Nicotiana 'Lime Green'
with the little white stars of Zinnia angustifolia.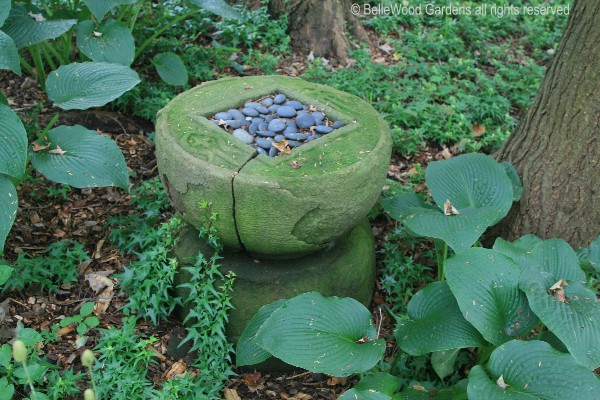 Up into the woods, avoiding the very wet track alongside the natural stream that flows year-round.
The hosta garden (clearly the deer cannot gain access!) provides a pleasant foliage tapestry.
The bee meadow has simple paths mown into the long grass, access for the tractor, and pedestrians.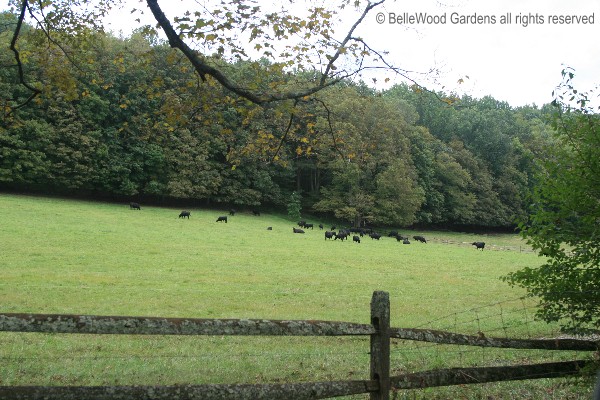 Borrowed scenery. A herd of Black Angus cattle graze in the front pasture. It was in 1989 that the farm
began its transition from cattle farm to horticulture with diverse garden areas. Cattle are still a presence.
As well as Hay Honey Farm I've been to Pickle Farm, and now I'm on my way to Tallquapie. Two gardens visited, one more to enjoy.
---
Back to Top
---