Garden Diary - March 2011
---
If you have any comments, observations, or questions about what you read here, remember you can always Contact Me
All content included on this site such as text, graphics and images is protected by U.S and international copyright law.
The compilation of all content on this site is the exclusive property of the site copyright holder.
---
March
---
Thursday, 24 March 2011
Orchid Show at the New York Botanical Garden
---
It's Spring. Snow vanishes (as least we expect it to vanish), robins return, and the orchid show opens at the New York Botanical Garden. This year's exhibition has the theme of Orchids on Broadway. Award-winning scenic designer Scott Pask and Drew Hodges, an accomplished graphic designer, provided the inspiration for this, the ninth annual orchid display in the Enid haupt Conservatory.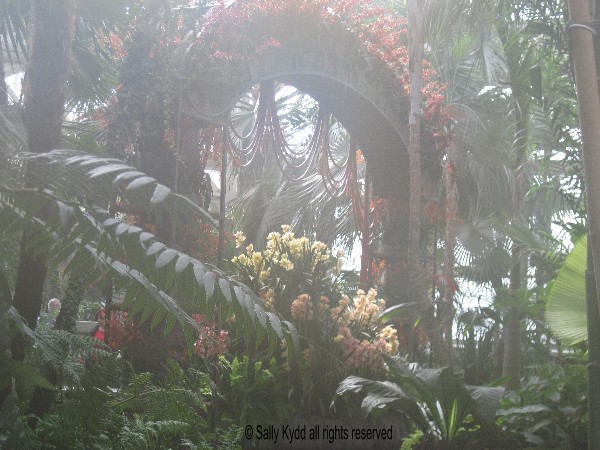 Photo credit Sally Kydd. All rights reserved
Having taken a brief walk through the snow dusted perennial garden the four of us made our way indoors.
Of course the first thing that happened was all lenses - eyeglass and camera - misted over. So romantic.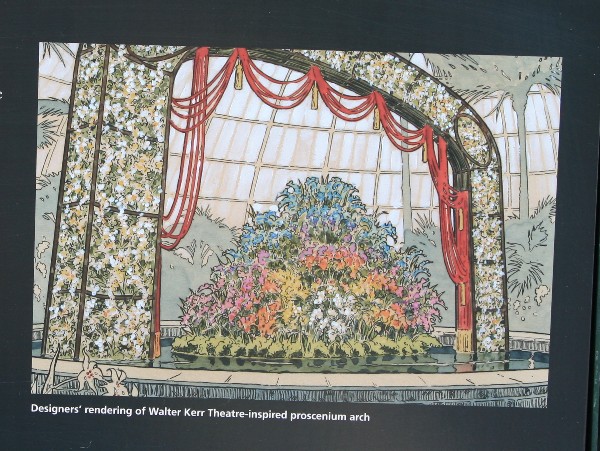 The exhibition's designers used their experience in the theater to create a wonderfully evocative show.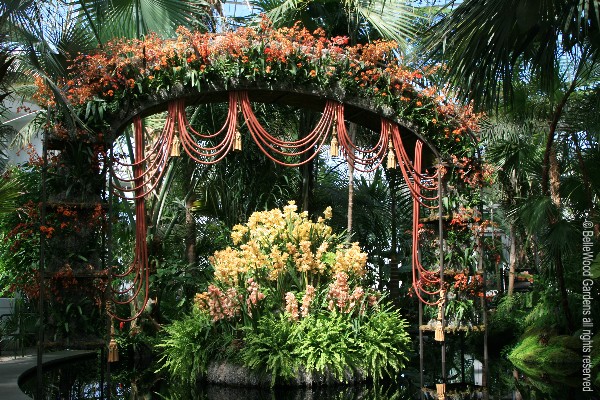 Upon entering the conservatory the first plants to be seen are stately palm trees. The palm dome
also features a reflecting pool. Inspired by the Walter Kerr Theatre a proscenium arch and curtain
of orchids frame an orchid-bedecked stage, reflected in the still black water of the pool.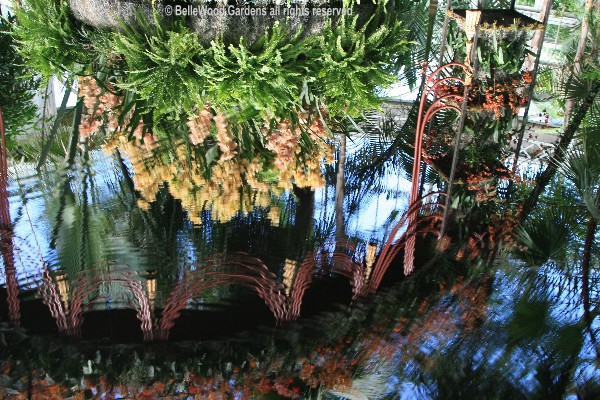 .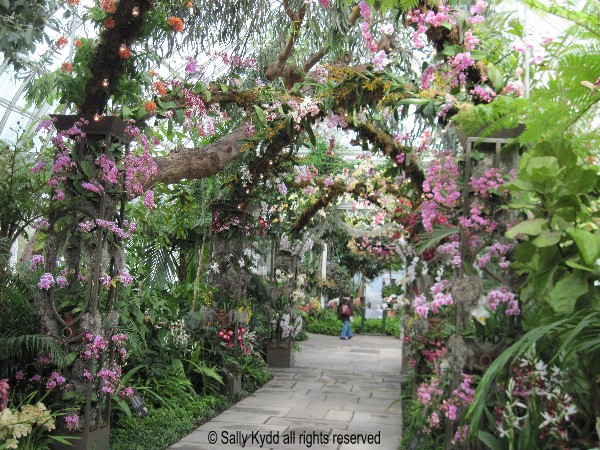 The seasonal exhibition wing welcomed us with with pillars and crossing archways dripping with orchids,
a kaleidoscope of orchids, intended to remind us of the ornate New Amsterdam Theatre.
.

Photo credit Sally Kydd. All rights reserved
Slowly pacing along the walkway, pausing to admire and exclaim over the diversity of orchids on display,
we reach its far end where a substantial chandelier, a multi-level chandelier cascading with orchids
like the glass prisms on the majestic lighting fixtures that decorated and illuminated Broadway theaters.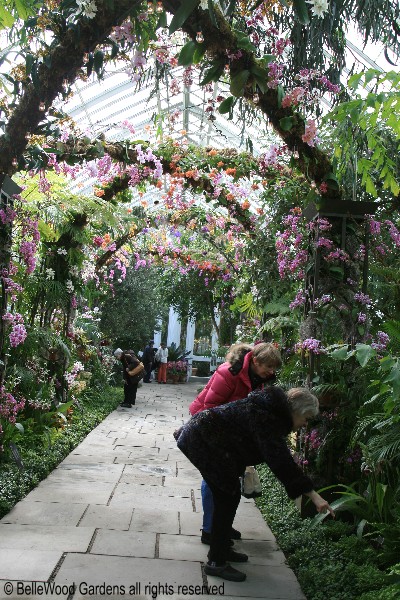 Carol Ann and Joan pause for a minute, yet again, for a closer look
at yet another of the orchids, all flowering at the peak of perfection.
Even the littlest visitor gets down to photgraph the lavish display.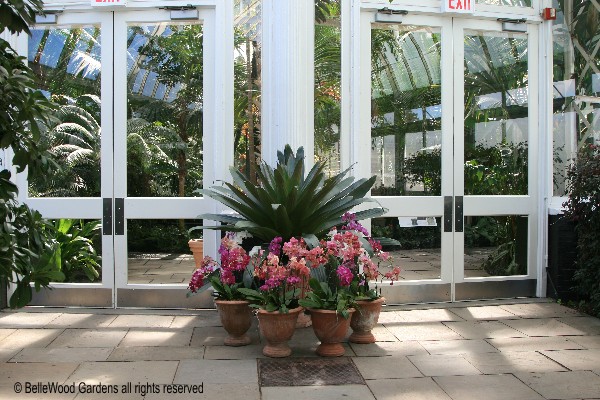 We've been down and back the walkway, and done it again. It seems as if every promanade reveals
another orchid, a different point of view. Lush, evocative, elegant - the show is all of this but not
crammed, crowded or overdone. It is just right. The display is regularly tweaked & groomed. Staff
remove spent flowers, swap out weary plants and install fresh ones. Do come for a visit. It's grand.
Open from 5 March through 25 April, hours are 10 a.m.-6 p.m., Tuesday-Sunday. Closed Mondays except for April 25, 10 a.m.-6 p.m.
Free to members, tickets are priced at $20 for adults, seniors and student tickets are $18. Children, $8, under 2 are admitted free.
Tickets may be ordered on-line