Garden Diary - May 2011
---
If you have any comments, observations, or questions about what you read here, remember you can always Contact Me
All content included on this site such as text, graphics and images is protected by U.S and international copyright law.
The compilation of all content on this site is the exclusive property of the site copyright holder.
---
May
---
Thursday, 5 May 2011
Azalea Garden at the New York Botanical Garden
---
When was it, that that I saw this green wooden fence screening off an area? A sign stated that this was the site of an azalea garden, which would open in Spring 2011. It might have been last year. It could have been as early as 2009. That's when the physical work began on the plan whose basic planting plan details for the woody plants were resolved in fall 2007. And now all the planning, hardscaping, plant acquisitions and planting are ready for the grand opening. The New York Botanical Garden's Azalea Garden officially opens to the public on Mother's Day weekend, May 8th and 9th, 2011.
It's stupendous. This is a garden that speaks to my heart.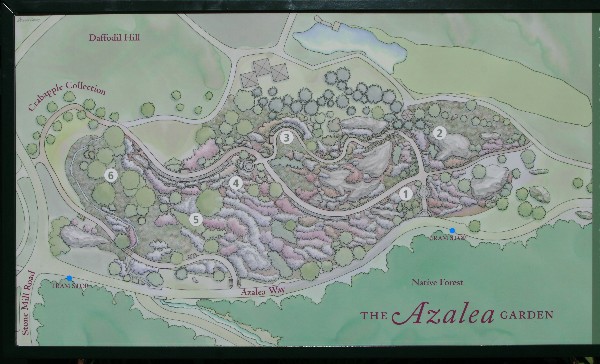 The Azalea Garden is such an inviting stroll garden that a map seems necessary only for those who feel the need to know where they are, rather than just enjoying being there. You insist, you're fascinated with maps. O.K. Here are the details and descriptions. The Dell, (1), is a low-lying woodland dell near the main entrance. (2) is the North Knoll, an elevated, rocky area. (3) is Summit Meadow, an open clearing similar to a mountaintop bald, with grasses, bulbs, and perennials that thrive in dry sunny sites with shallow soil. The Overlook, (4), is an elevated area providing wide views of the sloping bank planted with azaleas and also the garden's wooded southern portion. (5) is the Azalea Bank, where the historic azalea collection has been incorporated with new plantings. And (6) is the most heavily wooded area, the South Grove, where centuries-old native trees provide a sheltering canopy for deciduous native azaleas and shade-loving herbaceous plants.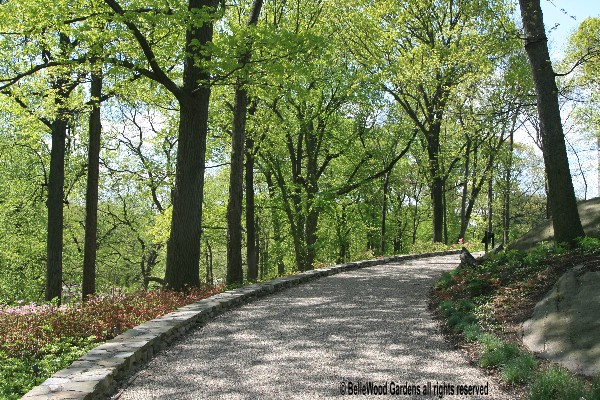 Broad inviting pathways invite visitors to stroll and enjoy the scenery. Broad enough for friends to walk
side by side. The gentle change in grade is subtle enough that you don't even notice the differential.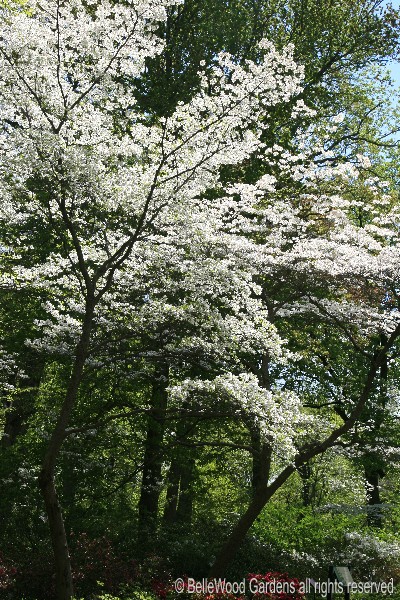 Flowering dogwood, Cornus florida, magnificent white flowers
illuminating the understory in cool contrast to the vivid azaleas.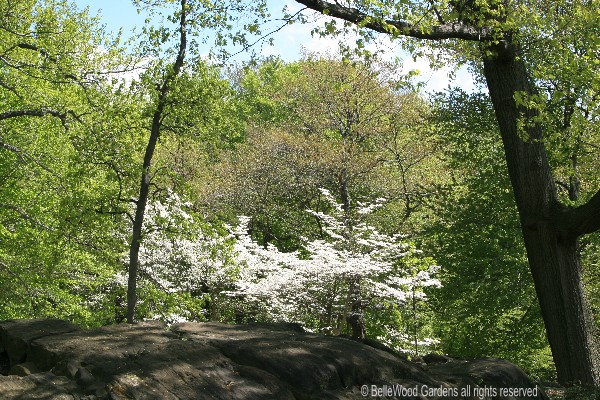 .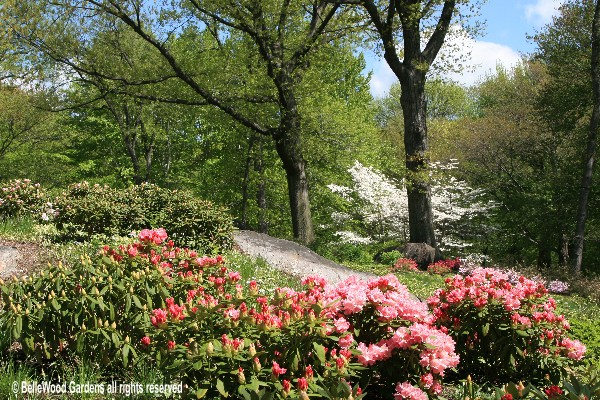 Tightly furled deep pink buds and apple blossom pale open flowers of Rhododendron yakusimanum.
Several different cultivars, such as 'Ken Janeck' were included, for an extended wave of flowers.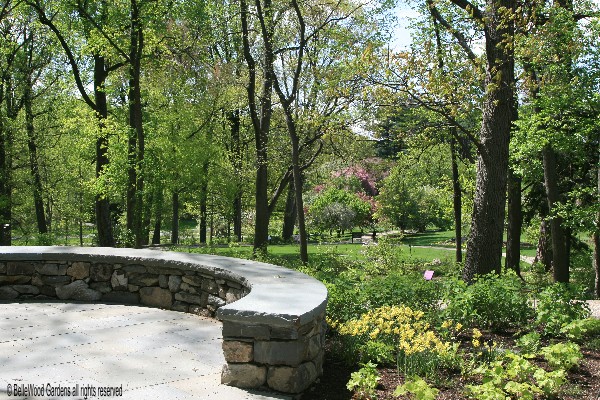 The Overlook is a marvellous place at which to pause, look into the distance where a hint of pink
locates flowering trees beyond the lawn and outside the Azalea Garden.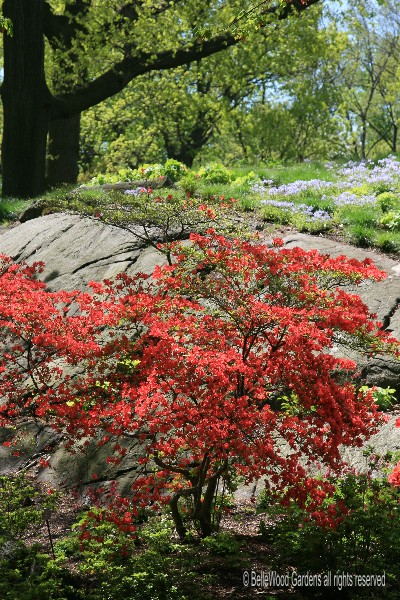 Just inside the main entrance, to the left as you enter the Dell are
some bright salmon red azaleas, their size and shape suggesting
maturity. The layered branches display against a polished boulder.
. . .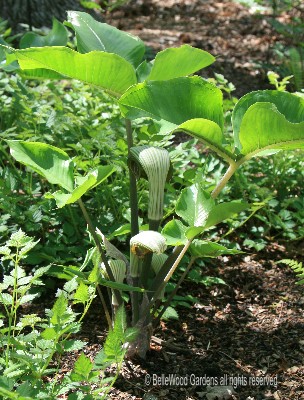 The Dell is also planted, embellished is a better word, with wonderful herbaceous perennials. Many
of them are Asian in origin, such as Arisaema sikokianum, above left, underplanted with Japanese
painted fern, Athyrium nipponicum 'Pictum' and the charming double - more correctly, crested
white flowers of Anemone nemorosa 'Vestal'. On the right, the menacing hood and bold shiny leaves
of cobra lily, Arisaema ringens. Both arisaema are uncommon. It is a special treat to see them in groups.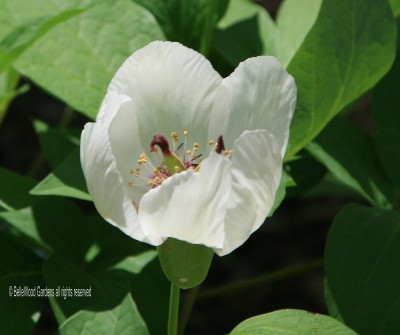 Another Asian beauty, the chalice-like white flowers of Paeonia obovata.
Shade tolerant, in autumn the ripened seed capsules will split wide open
and reveal pea-sized metallic blue seeds amid sterile vermillion remnants.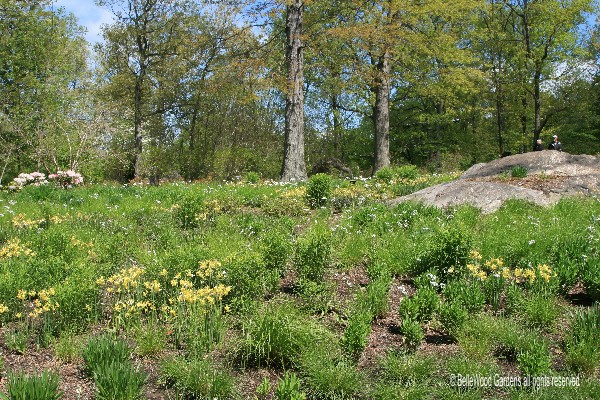 Now up to Summit meadow, where grasses, small bulbs such as dainty
daffodils and crisply white little alliums spangle the grasses. Fall will bring
rich purple asters to contrast with the changing autumn foliage downslope.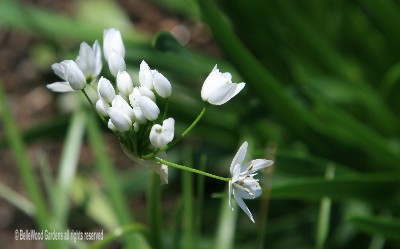 .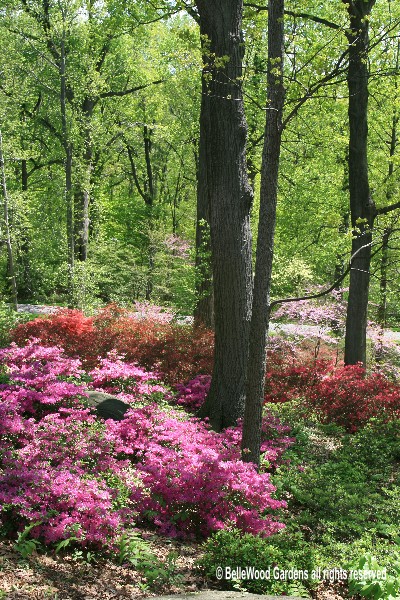 The Azalea Garden is a tour de force, an exceptional achievement. Nearly seven years in the making, from the first bushwacking exploration in October 2004 of the overgrown remnants of the original azalea collection dating back to the 1930s and 1940s to today's splendid accomplishment. The 11 acre site has magnificent topography, glacially scoured bedrock smoothed and polished aeons ago. A canopy forest of close to 300 sweetgum, tulip poplar, elms, and oaks, more than 60 of which have trunks over two feet in diameter. Dogwood filling in as understory trees. Steep slopes. Dense stands of weed trees such as tree-of-heaven blocking away the views and threatening to overwhelm the few remaining azaleas.
Planting began in Spring 2009. The final design includes 2,500 new azaleas, from March-flowering Rhododendron mucronulatum to Rhododendron prunifolium which blooms in July, and the remontant Encore™ azaleas that flower in May and repeat again in October. Trees and shrubs other than azaleas, 1,000 of them - redbuds, Cercis canadensis; magnolias;, fringe tree, Chionanthus virginicus; silverbell, Halesia diptera; bottlebrush buckeye, Aesculus parviflora; a diversity of hydrangeas, witch-hazels - an extensive list with woody plants for all seasons.
Perennials familiar and uncommon: a diversity of hostas and Epimedium; ferns; sedges; Saruma henryi with its soft yellow flowers; Leucosceptrum japonicum 'Variegatum'; and gentians and asters and more.
This is a garden to visit now, at the peak of azalea bloom time. It's a garden to visit again, in summer
under the green canopy of 200 year old trees. In autumn, when late blooming perennials are flowering.
Winter, with a dusting of snow on bare branches and monolithic, sculptural boulders. This is a garden
I want to visit again. And again. And again. So too, I believe, anyone who comes once will come again.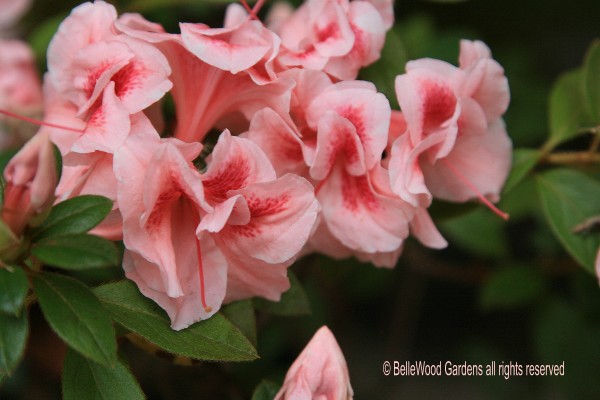 Open year-round Tuesday through Sunday and Monday federal holidays, from 10:00 a.m. to 6:00 p.m.
Grounds-only pass is $6 for adults, all-garden pass is $20 and also includes exhibitions, attractions, and
seasonal gardens (Enid A. Haupt Conservatory, Everett Children's Adventure Garden, Rock Garden
and tram tour.) To get here either drive (parking is $12), take Metro-North railroad, or use the subway .