Garden Diary - October 2011
---
If you have any comments, observations, or questions about what you read here, remember you can always Contact Me
All content included on this site such as text, graphics and images is protected by U.S and international copyright law.
The compilation of all content on this site is the exclusive property of the site copyright holder.
---
October
---
Sunday, 2 October 2011
Mushroom Foray
Last Sunday's Fungus Fest was such an interesting, entertaining, and informative event that I joined the New Jersey Mycological Association. Good timing, because there's a foray scheduled for Sunday, October 2nd. NJMA is gracious in that you need not be a member to attend one of these events but it seems rather stingy not to join. After all, an individual membership is just $10 / year if you opt for on-line delivery of the newsletter rather than printed-on-paper. Anyhow. With no idea of just what a foray might entail, no idea if there would be 6, 16, or 60 people, understanding that the foray happens rain or shine - anyhow, this morning I went driving off to the Schiff Nature Preserve in Mendham New Jersey to foray for fungi. Understand than NJMA members are passionate about all mushrooms. Me, I'm in the subset that's passionate about mushrooms not merely edible but also delicious to eat.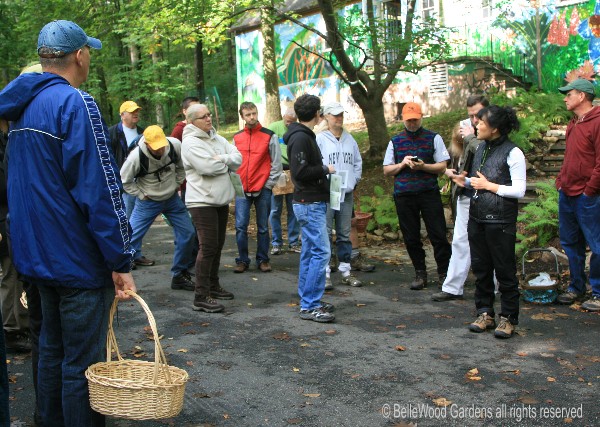 More than 6, less than 60. About 35 forayers gathered in the parking lot, collection baskets in hand.
Terri, club president, explains how we're going to set off in our search. We end up in groups of 6,
each with a leader who is expert in mushrooms. Baskets, wax paper bags, knives, loupes, books . . .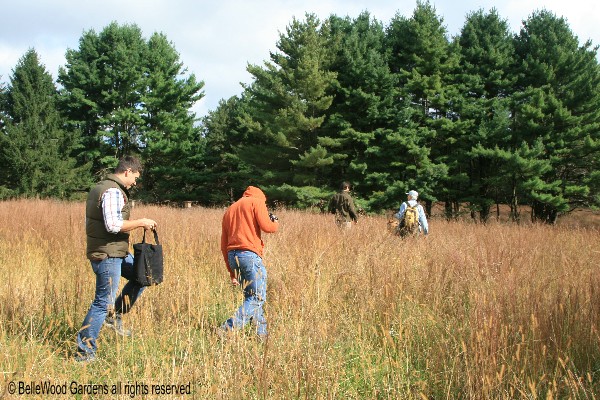 To the woods! Actually, having taken the trail up to the meadow the group is now bushwhacking through
the waist high grass heading towards the stand of mature pine trees. Some soggy bits, bear scat . . . .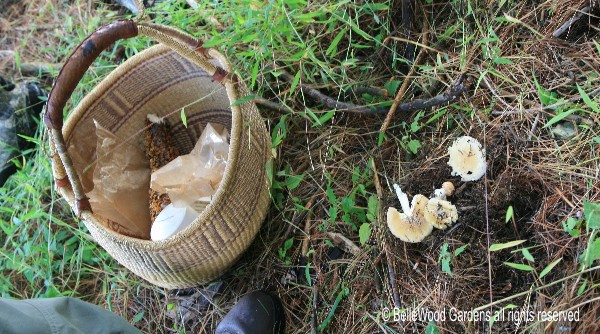 Oh yeah! We're finding mushrooms. To my inexpert eye there are lots of LBM - little brown mushrooms.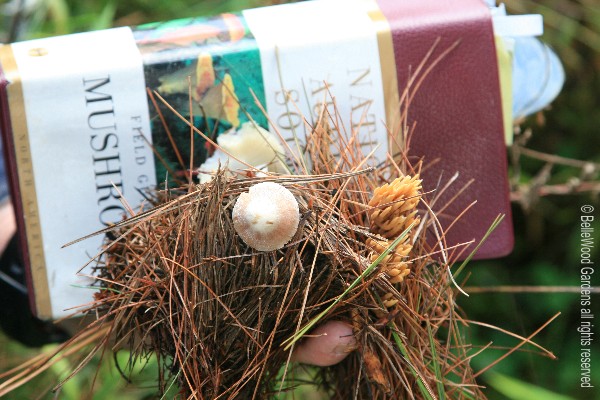 That's where guide books come in handy. The Audubon field guide to mushrooms is popular.
Collect with a sample of the substrate, that may be important.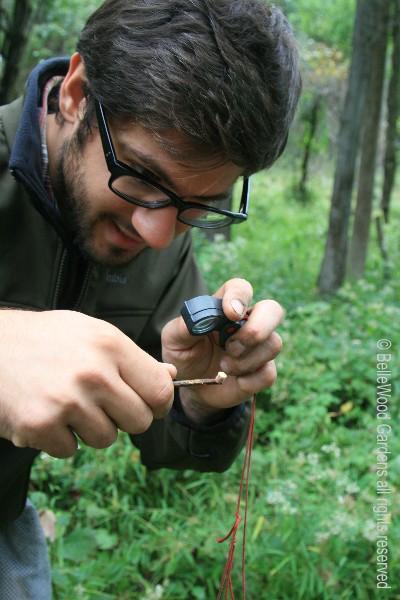 A look through a loupe shows details hidden to plain sight.
One smart forayer with a hiking staff, useful when heading down slope.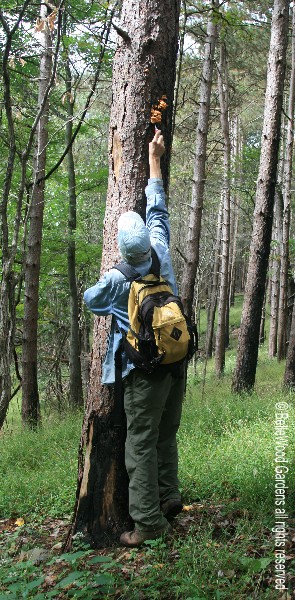 Not all mushrooms grow conveniently down on the
ground. Some require a long-armed stretch to collect.
While we find numerous LBM others are quite vivid.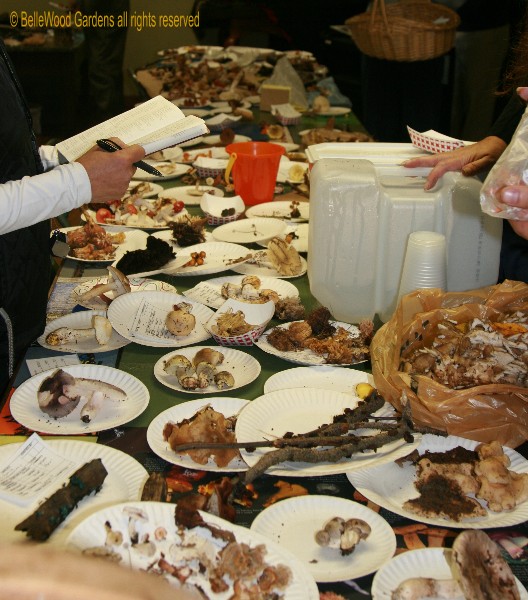 Cutting to the chase: we all come out of the woods around noon. Lunch is lower on the
priority list than identifying mushrooms. Each one gets its own paper plate and a label with
date, site (Schiff Nature Preserve), habitat (this is where the sample of substrate is useful),
collector (who found it), and name (when known). Where it's not known, leave it blank.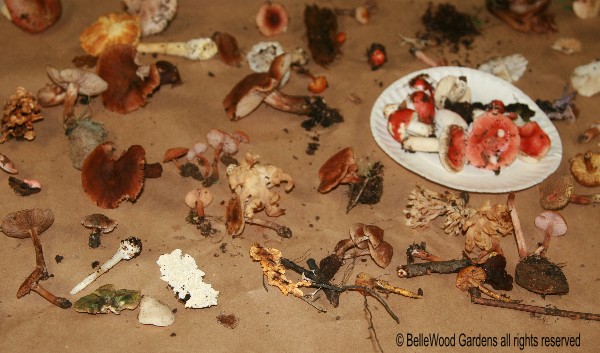 And while there are many knowns, there are also a diverse batch of not knowns.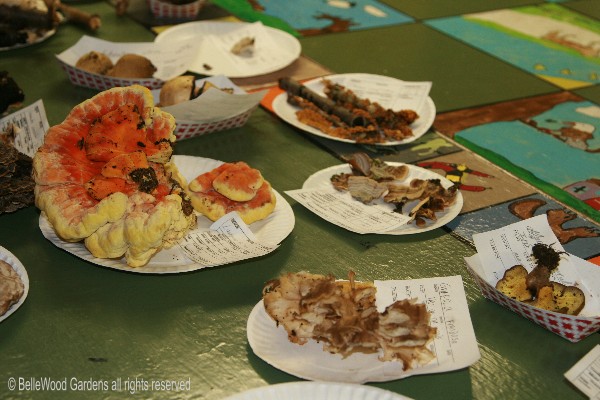 Some are easier to I.D. than others. When one is identified it's moved into another room. Some will require
more information, provided by spore prints. People drift between the knowns and unknowns. It has been
an enjoyable, informative, entertaining day in the company of some very nice people. Didn't even rain on us.
---
Back to Top
---