Garden Diary - August 2011
---
If you have any comments, observations, or questions about what you read here, remember you can always Contact Me
All content included on this site such as text, graphics and images is protected by U.S and international copyright law.
The compilation of all content on this site is the exclusive property of the site copyright holder.
---
August
---
Saturday, 6 August 2011
Garden Conservancy Open Days: Sid Jones Garden
---
I intended to head out the door t 9:00 a.m., off to Randolph, New Jersey for a Garden Conservancy Open Days garden visit. Between one thing and another I left home about 1:00 p.m. Not an issue, as the gardens are generally open from 10:00 a.m. until 4:00 p.m. and you arrange your own schedule. This will be a visit to the garden of Sid Jones, whom I've know for several years but just never got around to visiting. Intrigued by a talk he gave last year at a meeting of the Watnong chapter of the North American Rock Garden Society, Open Days seemed like a great opportunity.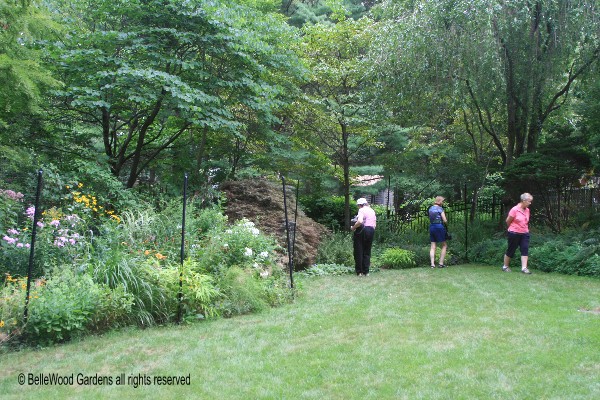 The front garden is, as so many in New Jersey are, visited by deer. A portion is fenced off, the rest is
- supposedly - planted with deer resistant plants. This can be a variable.
This hosta in a planting bed near the house has obviously been sampled.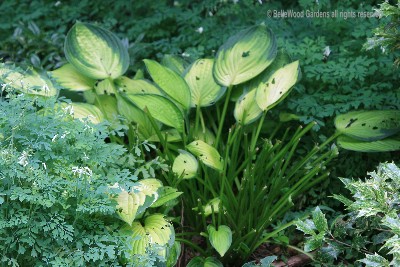 .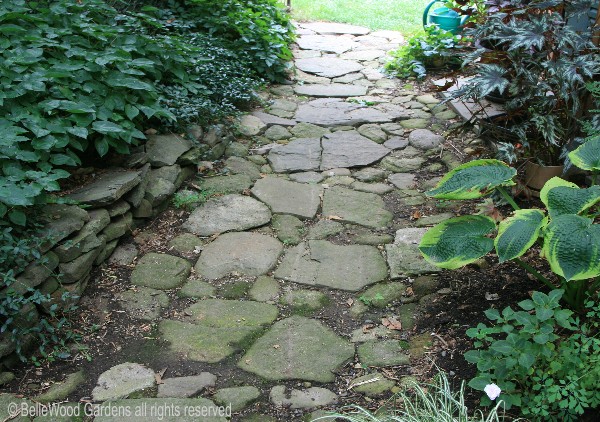 Through an open gate, down a stepping stone path, and into the heart of the garden.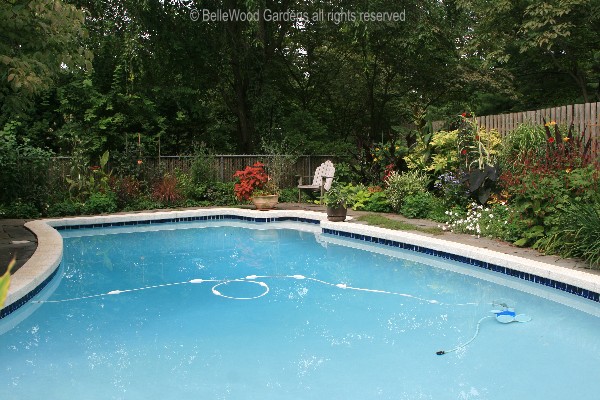 Call it a swimming pool. Clearly, it is one, but one with a pleasing shape in contrast to the usual rectangle.
Dual purpose: it is also a very attractive water feature for this part of the garden.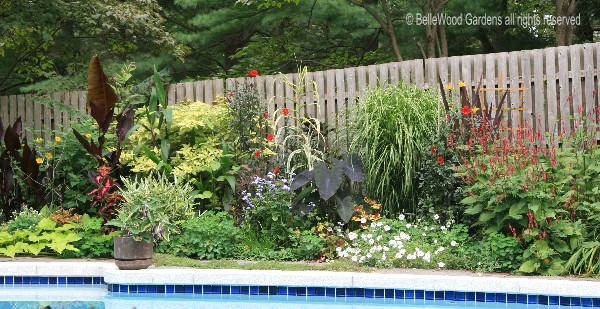 A long, rather narrow bed is densely planted with a diversity of perennials, tropicals, and annuals.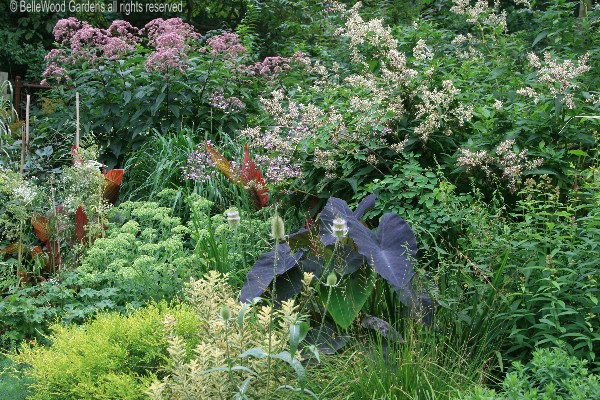 This jam-packed style, creating a rich tapestry of plants is fundamental to this garden.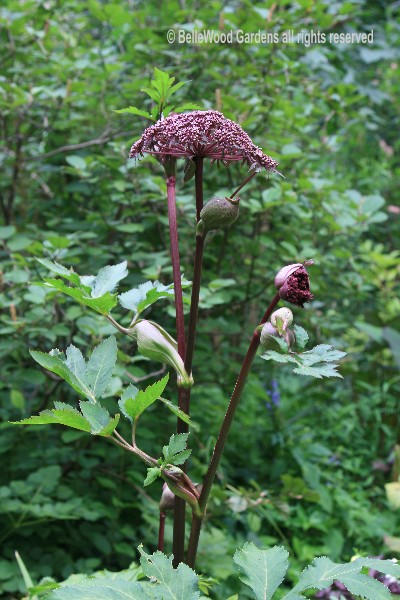 There are wonderful plants, all placed with thoughtful care. Some familiar
and others less frequently seen, such as this Angelica gigas .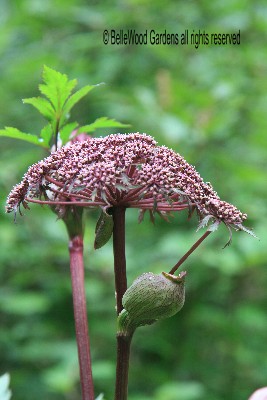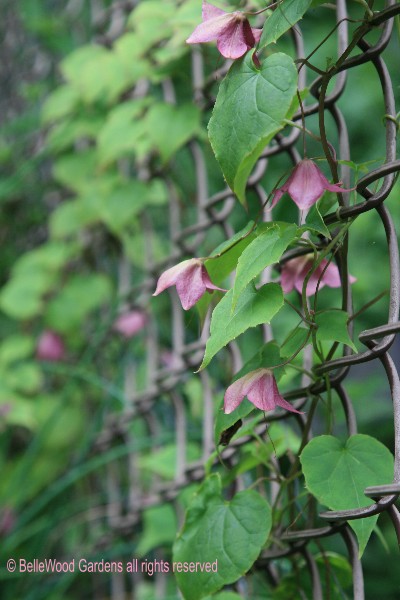 What's this? Not a clematis. It is Rhodochiton, and these are not
actually its flowers but rather the calyces of fallen blossoms.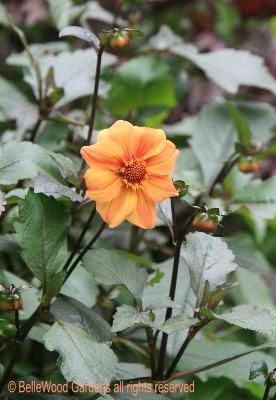 Dahlia 'Yellow Hammer. Odd. Doesn't look very yellow to me. Sid had a wonderful explanation. He bought it from Dan Hinckley when he still owned the nursery which was located in the cool Pacific Northwest. In the heat of New Jersey summers it flowers with these warm orange tones. And when the weather cools in autumn the dahlia lives up to its name.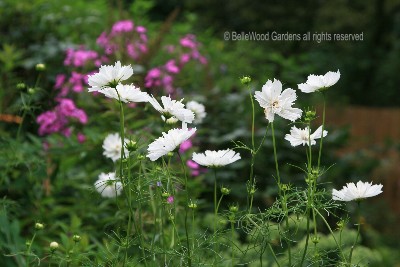 Even as familiar a flower, a cottage garden standby like white cosmos finds a welcome home.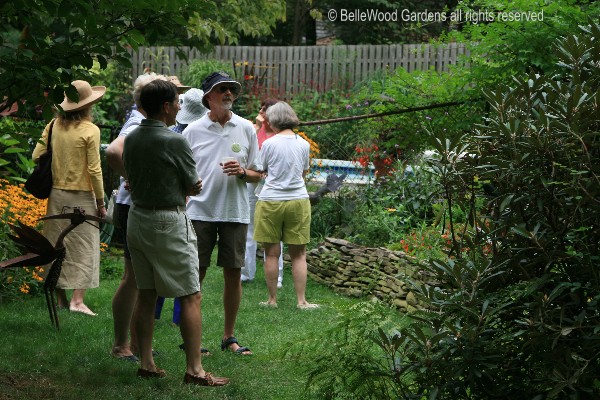 Sid was having a wonderful time chatting with the visitors. (Unexpectedly, I met my daughter's in-laws,
a couple of former students, and some other friends who also came to visit this splendid open garden.)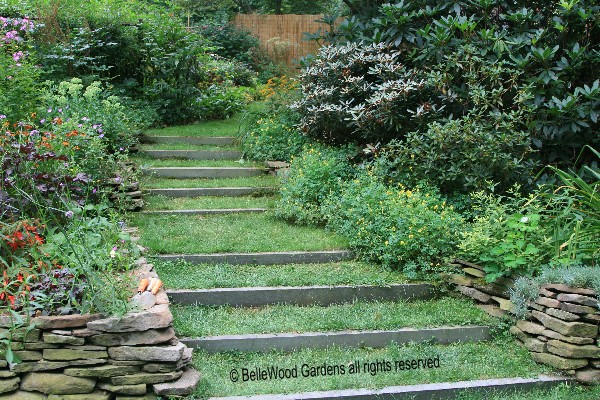 The ground rises away from the house. There are winding, sloping paths and this central flight of stairs.
The grass is "mown" with a string trimmer. The real issue, says Sid, are the stone walls, which have
become condominiums for chipmunks. And this year he is finding little pits with a tuft of fluff. You see,
this year the chipmunks are digging and eating the self-sown crocus that enhance the garden in Spring.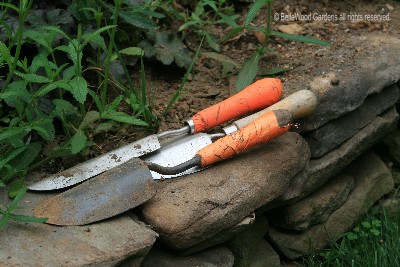 Hand tools have their handles wrapped in bright orange tape. Makes them
easier to locate when momentarily put down on the ground while working.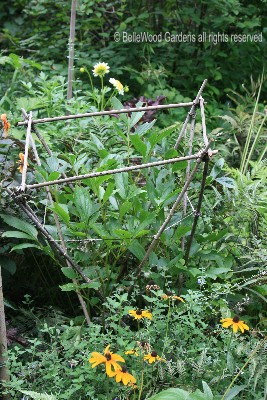 A cleverly make bamboo support for a peony.
Wings flapping, beak agape, Charlie appears to welcome visitors too.
---