Garden Diary - November 2011
---
If you have any comments, observations, or questions about what you read here, remember you can always Contact Me
All content included on this site such as text, graphics and images is protected by U.S and international copyright law.
The compilation of all content on this site is the exclusive property of the site copyright holder.
---
November
---
Tuesday, 15 November 2011
Holiday Train Show at the New York Botanical Garden
It's time. The autumnal turn into winter. The festive season is gearing up. Today is the press preview for a holiday tradition, the Holiday Train Show at the New York Botanical Garden. This is the 20th year that Applied Imagination has filled the exhibition gallery with tracks, trains, and replicas of New York City landmarks crafted from leaves, sticks, pods, cones, bark and branches creating a garden railroad to fascinate young and old.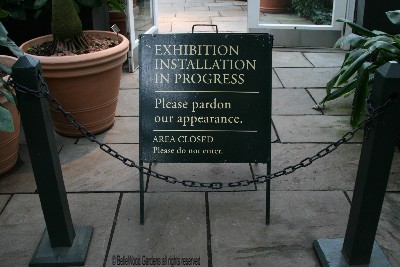 The gallery is closed while tracks, trains, bridges, and buildings are put in place.
Sshhh. We'll tiptoe in and have a look at this magical display. Quietly now . . . .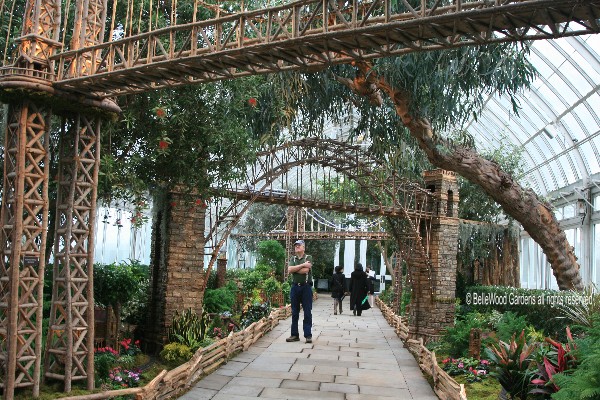 Big bridges towering overhead, trains chuffing back and forth. Gulliver in Lilliput as people walk below.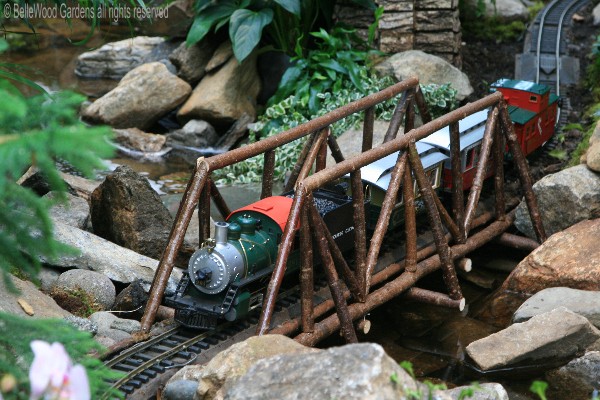 Smaller bridges spanning cataracts, with trains tooting by at ankle height.
Trains appearing out of mountainous tunnels made of slabs of wood and bark.
.
It's a massive undertaking. The setup takes 18 people a full week, 7 days. There are 12 in the core team from Applied Imagination plus 6 volunteers, many the same people year after year. By now there are 160 structures - and not sufficient space to display all of them. Which ones come out of storage this year, do they need repairs to a balcony railing, a missing shingle, another reinforcing dip of a coat of urethane. There are permanent plants that live in the exhibition wing, and colorful additions to landscape the train show.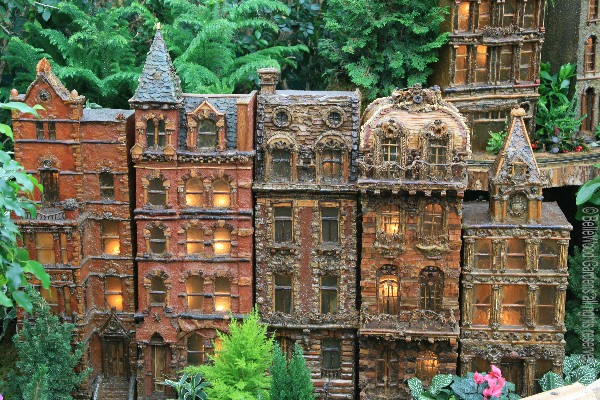 Brownstone houses all in a row, each unique as each one is truly a replica of an actual building.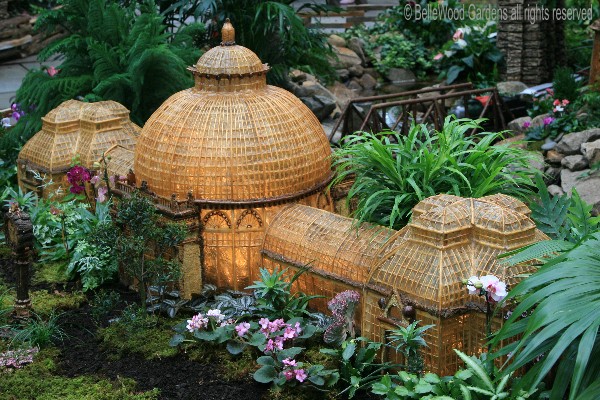 Do you feel discombobulated? Here we're standing inside the Enid Haupt Conservatory, looking at
the glowing dome of this iconic crystal palace. Inside / outside, magical imagination and a sense of wonder.
Ellis Island, mirrored in the reflective water of the Palm Court. And yes, Lady Liberty is here too.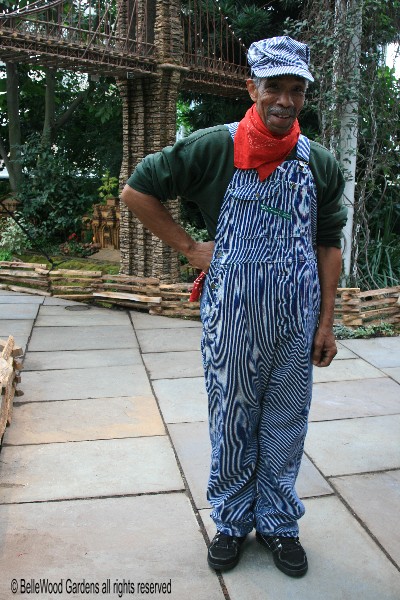 Charles Booker. His narrow striped overalls confused my camera's pixels.
He is one of the engineers who'll answer visitors' questions about the show.
Paul Busse and his son Brian, who took over as president of Applied Imagination this year. Paul thinks
it's terrific. Brian can plan and deal with inevitable contretemps while Paul just focuses on the enjoyment.
As we chatted the three of us agreed that in 20 years they're probably on their second generation, folks
who came here as children and now are coming back with toddlers of their own. Show opens this Saturday.
The 2011 Holiday Train Show is open Tuesday through Sunday, occasional Mondays, from Saturday, 19 November 2011 through Monday, 16 January 2012. You can purchase advance timed tickets here. All aboard!
---
Back to Top
---