Garden Diary - December 2011
---
If you have any comments, observations, or questions about what you read here, remember you can always Contact Me
All content included on this site such as text, graphics and images is protected by U.S and international copyright law.
The compilation of all content on this site is the exclusive property of the site copyright holder.
---
December
---
Wednesday, 21 December 2011
The Story of Domino's Adventure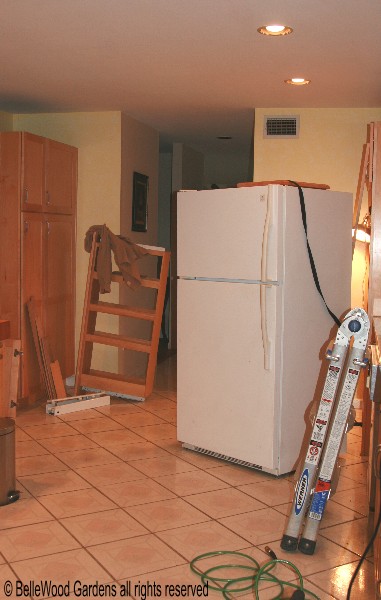 Why does my kitchen look like this?
It's like this. Domino did not show up last Thursday when I called the cats for lunch. He always shows up for mealtimes. In between too. Indoor only so I know he wasn't out gallivanting around somewhere. Searched through the house. No Domino. Looked in the basement in case he managed to sneak in. Nope. Sat in the garage with an open can of smelly cat food and some knitting, talking to the empty air. Didn't produce a cat. Now I'm getting very worried. Took a flashlight and a ladder, checked the basement to see if he had A) snuck in and then B) somehow wiggled through the sill plate to get under the slab for the kitchen / dining room portion of the house. Not possible.
Finally. Finally I hear a "mew" from the general area of the refrigerator. We look in the cupboard. No cat. Totally crazed by this point we look in the refrigerator, the dishwasher. No cat. Unload all the stuff from the 7-foot-tall pantry cupboard. No cat to be seen but when I climb into the space where the refrigerator should have been and call him, I get a steady, slightly muffled, "help me!" series of mews from Domino.
This absurdly self-confident 14 month old cat had apparently gone up from the floor onto the small refrigerator, up onto a shelf, and then up
once again onto the wall cupboards. Strolled along to the opposite end and discovered the narrow, just 4 finger wide space between the wall
& the cabinet. And, for whatever reason - a mouse, a bug, who knows - decided to dive down into the void. Which is closed off by a narrow
trim panel and further complicated by a vertical 2" X 4" support and some partial pieces of 2" X 4" that support and steady the cabinet.
There is no way to reach him, even after removing the trim panel and the pantry shelving unit.
With drill and Dremel Paul made a hole in the side of the cabinet
(much more ragged than this) and I was able to scruff Domino
and get him out of the void. He was fine, chowed down on his food
totally unfazed by his 4-hour-long adventure. I am aging rapidly.
For several days the kitchen was rather disheveled: refrigerator part-way out of its space, pantry shelving unit leaning against its cabinet with its contents arrayed on the dining room table. Apparently Domino and Mr. Poe thought this was a wonderful improvement.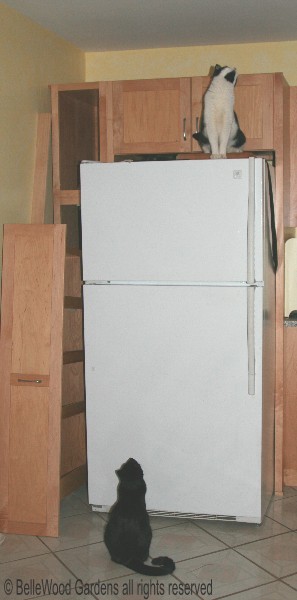 Ceiling Cat and Basement Cat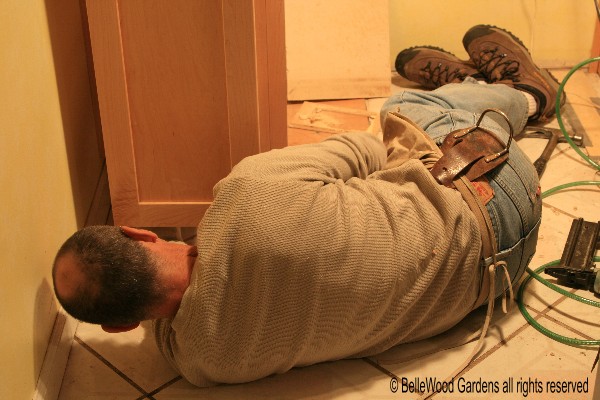 John came. He tidied the rescue opening and infilled with a nice piece of matching maple plywood.
Reinstalled the pantry support track mechanism and the shelving. Replaced the vertical trim piece.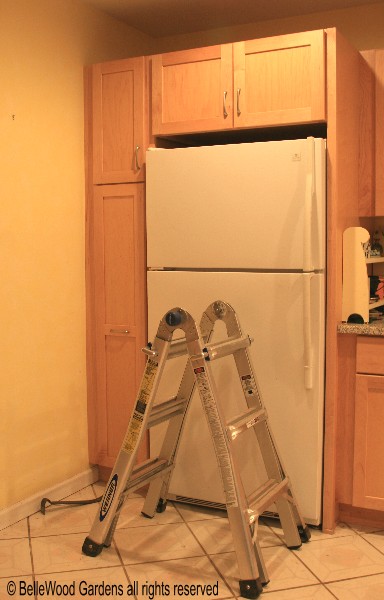 Looks like nothing ever happened.
And the last thing John did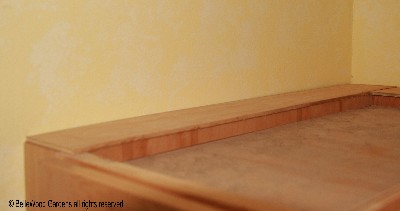 was to close off that narrow little 3 1/4 inch gap so Domino cannot repeat his vanishing act.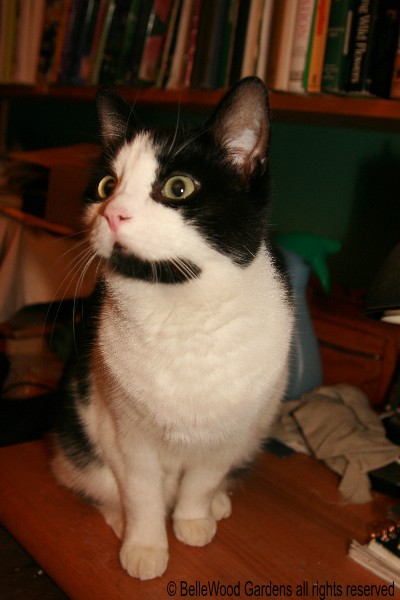 What an inquisitive, assertive, self-confident cat is Domino.
But in fact, while he looks just like what T.S. Elliot described
Jellicle Cats are black and white,
Jellicle Cats are rather small;
Jellicle Cats are merry and bright,
And pleasant to hear when they caterwaul.
I think he's more of a Rum Tum Tugger because
For he will do
As he will do
And there's no doing anything about it!
---
Back to Top
---